All Eyes on the Sky
This August (the 21st to be exact), the city of Chicago will be the closest it has been to a total solar eclipse in 92 years! At 11:54 am, we'll have "all eyes on the sky" as the Moon starts to block our view of the Sun. Will you be joining us?
#LookUp With Us
At the Adler Planetarium
We're hosting Chicago's biggest eclipse block party celebrating all things solar with FREE outdoor activities and safe viewing of the Sun and the eclipse! Join fellow Chicagoans and visitors to our great city to share this spectacular celestial experience together as a community. We're setting up under the Sun and filling our parking lot with partners from across the city to bring you live music, games, science demos, eclipse updates, trivia, food trucks, and more!
At Daley Plaza
Satellite eclipse viewing party in downtown Chicago with solar eclipse glasses (while supplies last) and telescope viewing opportunities.
At Southern Illinois University, Carbondale
We'll also have a team of Adler astronomers and educators stationed downstate in Carbondale, Illinois—directly in the path of totality—to lead eclipse-day activities, answer questions, and experience the event with the public. The crowd is likely to be very large and to include eclipse-chasers from around the world! (Tickets available at eclipse.siu.edu.)
In Perryville, MO
Our Far Horizons team is headed to Perryville, Missouri, where they'll be launching two high-altitude balloons into the stratosphere to capture 360° video of the total solar eclipse! Astronomers and experts will be on hand to answer questions and experience the event with the public.
FUN FACT: Perryville hasn't seen rain on August 21, for the past eleven years! (More information available at www.visitperrycounty.com.)
Can't Make It In Person? Join Us From Wherever You Are!
If you can't make it to any of our physical locations, not to worry! Grab your friends, family, coworkers, neighbors and #LookUp wherever you are; don't miss out on this rare celestial event! (Be sure to follow these safe solar-viewing guidelines.)
Other Resources
Get #EquippedToEclipse
If you plan on looking up—and we hope you do!—you'll need to make sure you're prepared with the proper gear. Regular sunglasses are NOT safe for viewing an eclipse, no matter what you may have heard!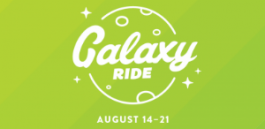 Galaxy Ride
On August 14-19, Adler educators and astronomers will facilitate free daytime and evening telescope viewings at schools, libraries, restaurants, science centers, and other interesting places all near the path of totality of the upcoming solar eclipse!
Frequently Asked Questions
Learn more about eclipses, where to view August's solar eclipse, or educational resources? Check out our eclipse FAQ!
Partner Viewing Locations
The following locations will be handing out Adler-branded eclipse glasses while supplies last and hosting their own viewing parties. Check specific location websites for details.
Chicago Botanic Garden
Chicago Park District
Chicago Public Library
Morton Arboretum
Naper Settlement
Sea Dog Cruises
Wonder Works Children's Museum
Presented by

Additional support provided by