Kavli Fulldome Lecture Series: Bringing Data to Life
In the Kavli Fulldome Lectures, Adler visualization experts help leading scientists communicate with the public—both at the museum and around the world—by following a golden rule of storytelling: Show; don't tell.
Each presentation features dazzling, animated images of real data projected onto the planetarium dome. Instead of raw data in charts and graphs, you might see the orbits of trans-Neptunian objects converge in the distant past or a gravitational wave rippling through spacetime.
Upcoming Fulldome Lecture: November 3 & 4, 2017
Are We Alone in the Universe?
Presented by Dr. Lisa Kaltenegger, Director, Carl Sagan Institute, Cornell University
Thousands of exoplanets have been discovered over the past two decades. In this lecture Dr. Kaltenegger will discuss these discoveries and explore how we can determine which of these exoplanets might be suitable for life. She will discuss techniques and  missions to detect life itself on these worlds to finally answer the question"Are we alone in the Universe?".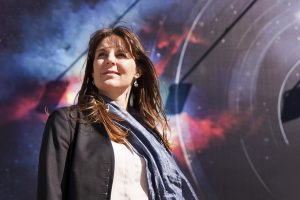 Lisa Kaltenegger is director of the Carl Sagan Institute at Cornell University and an associate professor in Cornell's astronomy department. Her research focuses on exploring worlds around alien Suns and searching for signs of life. Her awards include the 2014 Doppler Prize for Innovation in Science and the 2012 Heinz Maier-Leibnitz Prize for Physics. She was named an innovator to watch by TIME, a Role Model for Women in Science and Research by the European Commission, and one of America's Young Innovators by Smithsonian Magazine. She is featured in the new IMAX movie "Search for Life in space". Asteroid 7734 Kaltenegger is named after her.
Dr. Nergis Mavalvala, The Warped Universe: The 100 Year Quest to Detect Gravitational Waves
Enjoy highlights from our most recent lecture. Don't forget to share with friends on your favorite social network using the arrow in the top right corner of the video player!
Part One: Understanding gravity
Part Two: Gravitational ripples in spacetime
Part Three: Gravitational waves are really small!
Part Four: Building a gravitational wave observatory
Part Five: Making the precise measurements
Part Six: First recording of gravitational waves
Part Seven: What did we learn about these colliding black holes?
Part Eight: What does it all mean?
Past Kavli Fulldome Lecture Series Presenters
Dr. Nergis Mavalvala, MIT
October 2016 • The Warped Universe: The 100 Year Quest to Detect Gravitational Waves
Dr. Michael Turner, University of Chicago
May & July 2016 • From The Big Bang To The Multiverse & Beyond
Dr. Michael E. Brown, Cal Tech
March 2015 • Tales From the Outer Solar System
This presentation was the foundation for our newest sky show, Planet Nine, which Dr. Brown collaborated with us to create. In addition to the show being critically-acclaimed, an edit from the show also won a Vizzie award for People's Choice in the Video Category at the 15th Annual Vizzies Challenge presented by Popular Science magazine and the National Science Foundation.