Adler Book Club
Saturday, December 1
1:00–3:30 pm
Free With General Admission!
Join us on Saturday, December 1, for an exclusive Pop-Up Program! You'll meet reluctant intergalactic war heroes and grieving widows, explore strange worlds, and learn about the science that informs the fiction.
Adler astronomers Mark Hammergren, Mark SubbaRao, and Maria Weber will talk with local authors Sue Burke (Semiosis), Michael Moreci (Black Star Renegades), and Lori Rader-Day (Under a Dark Sky) about their new novels and the inspiration they drew from the stars.
Author and astronomer Q&A and book signings will wrap the event.
Pick up one (or three) of these books and join the discussion. Beginning in November, copies of our Adler Book Club books will be available at the Adler Store!
Attention Illinois Residents! Saturday, December 1, is an Illinois Resident Discount Day. Illinois residents with a valid Illinois ID receive FREE General Admission to the Adler.
Schedule
1:00-1:30 pm |  Mark Hammergren and Michael Moreci, author of Black Star Renegades (Science Fiction)
1:30-2:00 pm  |  Maria Weber and Lori Rader-Day, author of Under a Dark Sky (Murder Mystery)
2:00-2:30 pm  |  Mark Subbarao and Sue Burke, author of Semiosis (Science Fiction)
2:30-3:00 pm |  Audience Q&A with all authors and astronomers
3:00-3:30 pm |  Book signing; informal Q & A and conversations
Booklist
Forced to land on a planet they aren't prepared for, human colonists rely on their limited resources to survive. The planet provides a lush but inexplicable landscape—trees offer edible, addictive fruit one day and poison the next, while the ruins of an alien race are found entwined in the roots of a strange plant. Conflicts between generations arise as they struggle to understand one another and grapple with an unknowable alien intellect.
Under a Dark Sky
by Lori Rader-Day
Since her husband died, Eden Wallace's life has diminished down to a tiny pinprick, like a far-off star in the night sky. She doesn't work, has given up on her love of photography, and is so plagued by night terrors that she can't sleep without the lights on. Everyone, including her family, has grown weary of her grief. So when she finds paperwork in her husband's effects indicating that he reserved a week at a dark sky park, she goes. She's ready to shed her fear and return to the living, even if it means facing her paralyzing phobia of the dark.
But when she arrives at the park, the guest suite she thought was a private retreat is teeming with a group of twenty-somethings, all stuck in the orbit of their old college friendships. Horrified that her get-away has been taken over, Eden decides to head home the next day. But then a scream wakes the house in the middle of the night. One of the friends has been murdered. Now everyone—including Eden—is a suspect.
Everyone is keeping secrets, but only one is a murderer. As mishaps continue to befall the group, Eden must make sense of the chaos and lies to evade a ruthless killer—and she'll have to do it before dark falls…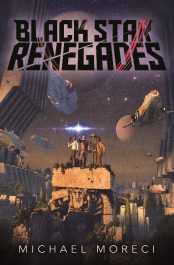 Black Star Renegades
by Michael Moreci
Cade Sura holds the future of the galaxy in his hands: the ultimate weapon that will bring total peace. He didn't ask for it, he doesn't want it, and there's no worse choice to wield it in all of space, but if he doesn't, everyone's totally screwed. The evil Praxis kingdom is on the cusp of having every star system under its control, and if that happens, there'll be no contesting their cruel reign. Especially if it's fanatical overlord, Ga Halle, manages to capture Cade and snag the all-powerful weapon for herself.
Cade can't hide from Praxis, and he can't run from the destiny that's been shoved into his hands. So he only has one option:
He has to fight.
Cade's not going to let destiny send him on a suicide run, though. With some help from his friends—rebels and scoundrels alike—Cade's going to use this weapon to chart a new destiny for the galaxy, and for himself. He just has to do so before everyone around him discovers that he's a complete and total fraud.