Adler After Dark: All-Star | July 20 | SOLD OUT!
What is Adler After Dark?
Exclusively for adults 21+, this evening offers you open access, unlimited shows, and unique entertainment every third Thursday of the month from 6:00–10:00 pm (Summer hours, May-August: 6:30–10:30 pm.)  With themes that change every month, Adler After Dark is never the same event twice. Reinvent your Adler experience every month with friends, family, or that special someone on a date they'll never forget!
---
Need some Adler After Dark costume inspiration? Check out some of our photo albums of past AAD attendees! If you're planning on attending an Adler After Dark event in costume, please see our Cosplay & Costuming Weapons Policy.
July 20: All-Star
The Universe is ruled by physical laws. But some athletes make us believe otherwise. Explore the intersections of sports and science at this "star"-studded Adler After Dark!
From Kris Bryant to Jonathan Toews, Chicago has its fair share of current and former stars. Learn more about actual solar physics (and sports on other planets) with hands-on programs and talks. Plus, check out the science behind your favorite sports (including memorabilia) with a pop-up program from our friends at the Chicago Sports Museum. Don't miss special raffles (with prizes graciously donated by local pro sports organizations), games, and watch this space as we reveal other special guests and partners in the coming weeks!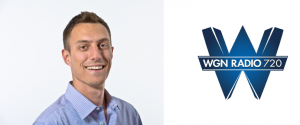 We're also excited to announce a special talk, available only at Adler After Dark, Jump Higher, Fly Farther: Sports on Earth & Space, with Adam Hoge of WGN Radio and Adam Miller of Northwestern University! Hoge, a broadcaster, and Miller, a physicist, will chat about how athletes perform seemingly "super human" feats (but are still limited by forces like gravity & friction), and how those games we know and love—like baseball and golf—would be very different in micro-gravity and other places in our solar system. Don't miss it!
Field your team and enjoy a summer night out at Adler After Dark. Holy cow!
Plan your evening in advance with the event schedule (subject to change).
What Others Says
"It's all great fun. While I did not purchase the ticket due to the theme, I thought it was very nicely planned and very entertaining. I love viewing the planets and the using the telescopes and attending the shows and lectures. It's the best $20 you can spend in the city."
"As a parent, I often do not have the time during the day to visit one of my favorite museums without my children. Adler After Dark gave me an opportunity to spend an evening with my husband, explore subjects we love, and have an interactive experience (like our children enjoy at the museum). I also love the exclusive feel of the event. It is not too crowded, and the attendants have a chance to talk to the guests in small groups. It's a great alternative/addition to the night life of Chicago."
"It was so much fun. I went…not knowing what to expect and it was a total blast. We had a drink, danced, met some new people, got glam-rock face paint, checked out the star show and the exhibits. [It was] so much more than I thought the experience was going to be and I'm definitely interested in attending future events. I have been telling all my friends and showing them photos. Great job, it was a truly memorable experience."
Tickets
Advance Purchase
$20 General Admission/$15 Adler members
At the Door (Based on Availability)
$25 General Admission/$20 Adler members
Doane Tours (SOLD OUT)
$8 General Admission/$8 Adler members
---
Doane Observatory tour tickets are available in limited quantity and sell out quickly. Tours last approximately 15 minutes and are always scheduled after sunset. Tours are subject to cancellation due to weather conditions.
Please be aware that event capacity is limited and likely to sell out. Purchase your tickets online before the day of the event as tickets may not be available at the door. Check back for up-to-date ticket availability details. For group (15 or more) or corporate booking, please contact groups@adlerplanetarium.org. Please bring your photo ID on the day of the event.