A Universe of Surprises | Nov. 1-2

November 1  |  7:30 pm  SOLD OUT!
November 2  |  12:00 pm
Our Universe is full of surprises, from ghost remnants of black hole jets to exotic planets around distant stars to Boyajian's star, the most mysterious star in our galaxy. Drs. Chris Lintott and Laura Trouille will use these unexpected discoveries to explore what we know—and what we don't—about our dynamic Universe. They'll examine how scientists cope with surprises, reveal what it's like to think you might have found aliens, and explain how you too might make a remarkable discovery from the comfort of your home. With future telescopes, scanning the sky night after night, set to provide astronomers with a dynamic view of the Universe for the first time, there's never been a better time to look up at the night sky—and be surprised!
The Kavli Fulldome Lecture Series takes viewers on stunning visual journeys to the very edge of human knowledge. Guests can enjoy the series from the Adler Planetarium in our state-of-the-art Grainger Sky Theater, as well as from anywhere in the world using YouTube 360.
Explore how to participate via our YouTube 360 live steam!
Tickets: November 1
Tickets for this lecture are sold out.
Tickets: November 2
Members and Students: $5
Adults: Included with Museum Entry + and above passes (Be sure to select "A Universe of Surprises" as your show option.)
About the Speakers
Dr. Chris Lintott
Chris Lintott is a Professor of Astrophysics at the University of Oxford. He is involved in a number of popular science projects aimed at bringing astronomy to a wider audience, including as main presenter of the BBC TV series, The Sky At Night.
Further Exploration
The Crowd and the Cosmos: Adventures in the Universe
A book by Chris Lintott available now for pre-order.
Dr. Laura Trouille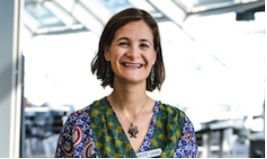 Laura Trouille is Vice President of Citizen Science at the Adler Planetarium and a Research Associate at Northwestern University. Together, Chris and Laura lead Zooniverse, the largest online citizen science platform, with 1.8 million participants worldwide.
Zooniverse Citizen Science Projects
Galaxy Zoo
For more than a decade, Zooniverse has asked volunteers to help explore galaxies near and far, sampling a fraction of the roughly one hundred billion that are scattered throughout the observable Universe.
Each one of the systems, containing billions of stars, has had a unique life, interacting with its surroundings and with other galaxies in many different ways; the aim of the Galaxy Zoo team is to try and understand these processes, and to work out what galaxies can tell us about the past, present and future of the Universe as a whole.
Planet Hunters
Discover new planets around stars outside of our own Solar System! The recently launched Transiting Exoplanet Survey Satellite (TESS) is providing us with a huge amount of data that lets us look for planets outside of our own Solar System. Over the next two years, TESS will be busy surveying two-hundred-thousand bright nearby stars, measuring and recording their brightness every two minutes. Uncover lots of interesting planetary systems and help Zooniverse explore the formation and evolution of these worlds. Findings may even bring us one step closer to answering the question that we all seek to answer: Are we alone in the Universe?