Header Image: Lauren Asta (left) and Shawn Smith (right) pose with their completed "Moonshot Murals" painted by Adler guests during Moon Bash on July 20, 2019
---
Brushes were poised and the smell of spray paint began to permeate the air. The sound of the small metal ball inside the aerosol can rattled around as the artist contemplated her next mark.
The artist in this case was a 65-year-old woman named Rita who hadn't painted in decades. She was one of the 25 people who joined us that night at the Humboldt Park Library—our first stop of seven during our "Chicago Moonshot Mural Project" earlier this summer.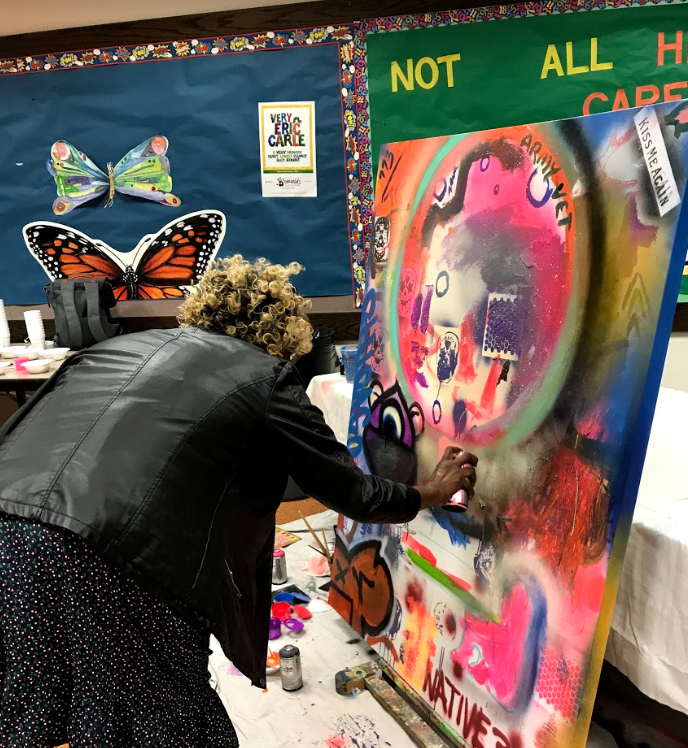 As the senior director of marketing at the Adler, I am involved in a lot of unique projects, but few have brought me as much joy and fulfillment as this project that we did leading up to the 50th anniversary of humanity's first steps on the Moon.
In celebration of the feat of Apollo 11 and the hundreds of thousands of people it took to achieve the country's "Moonshot"—something thought to be impossible, but that can, with teamwork and determination, be realized—we declared a Moonshot of our own: What if we partnered with local street artists to help Chicago neighborhoods visualize their own Moonshots for the future?
So that's just what we did.
Thirteen street artists, six Chicago Public Library events, one Adler Moon Bash, and more than 200 participants contributed to each community's Moonshot Mural—a 60×40 line art canvas drawn by a prominent Chicago street artist and painted by neighborhood residents.
The end result was nothing short of magical. West Englewood residents made their mark on "Safer streets" by Anthony Lewellen (aka @antckone) and "More education, earning diplomas, and degrees," by Don't Fret Art. With help from artist Matthew Mederer, the residents of Lincoln Square dreamt of more public art and a spotlight on the area's history.
While only a couple hundred people contributed to our neighborhood Moonshots, they looked just like the hundreds of thousands of people who put Neil Armstrong on the Moon 50 years ago. Residents of all ages and abilities, families and individuals, artists and non-artists alike came together; It was a beautiful gathering of humanity at every location.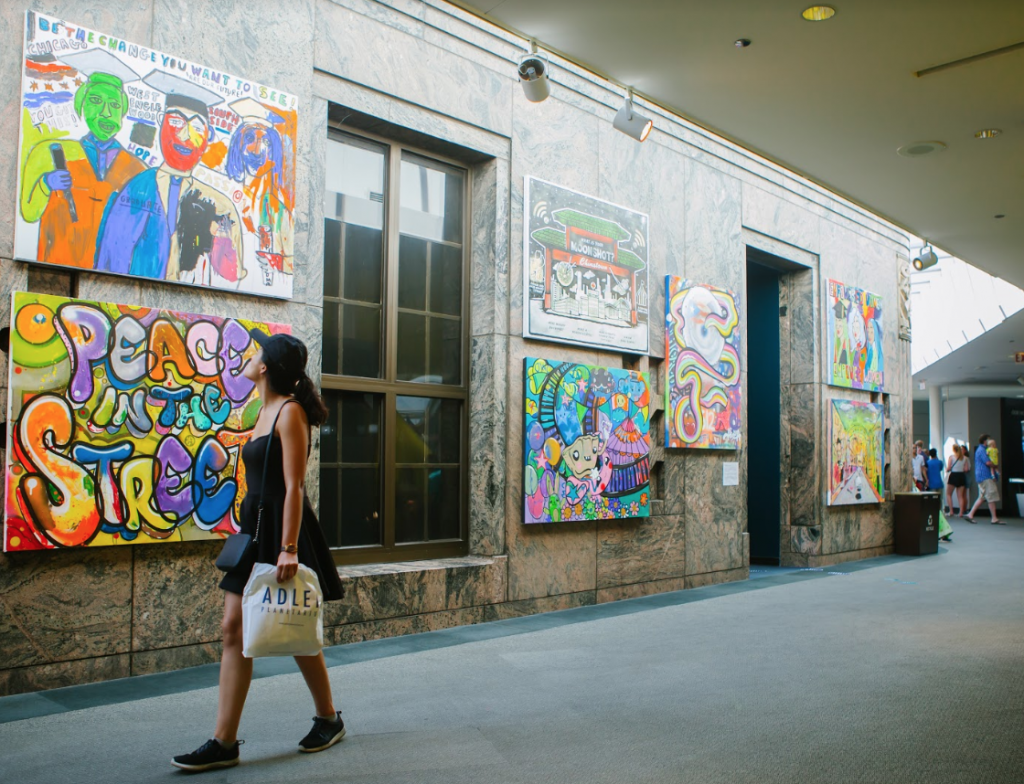 To the residents of the participating communities, thank you. Thank you for celebrating this milestone in history with us and believing in the power of possibility and teamwork. And thank you to Rita. The childlike grin that spread across your face as you left your mark on "Your personal Moonshot" by Keith Smith (aka @afrokilla) and the hug that you gave me as you left our event that night were definitely highlights in my Adler career.
See the creativity of our Chicagoland neighbors in the "Moonshot Murals" currently on display in the hallway next to Our Solar System during your next visit:
Encouraging STEM Education in Underrepresented Groups: An Interview with Dr. Ellen Ochoa
By Brenda Galan, former teen intern in the Collections Department through the Smithsonian's Latino Center Young Ambassadors Program. In her spare time, you can find her writing poetry, watching food and travel shows on Netflix, cooking, and trying to learn a new language on Duolingo!
Header Image: Dr. Ellen Ochoa floating upside down on the Shuttle. Credit: NASA
---
Early exposure to STEM education is becoming a crucial and prevalent part of today's rapidly changing world; however, for many, this is a daunting field due to rigorous coursework and a lack of support for underrepresented communities. As a first-generation college student and Latina, this is something that resonates with me on a personal level.
During my time at the Adler Planetarium, I had the opportunity to interview Dr. Ellen Ochoa—the first Latina to ever fly to space—about her journey pursuing a degree in science, technology, engineering, and mathematics (STEM).
Who was your biggest inspiration when you were younger?
I think the person that had the biggest influence on me, particularly when I was younger, was my mother. She valued education very highly. I think it was because she thought it'd lead to a life where you could have a good job and interesting challenges, but also she loved learning. She was just always interested in lots of different things. When I was growing up, she was raising five kids and didn't have the opportunity to go to college, but she was taking one college class a semester while I was growing up. She graduated from college two years after I did, but for a long time, she just took [classes] because she was interested in learning more. I think all of my brothers, sisters, and I saw that and viewed learning as one of the most interesting things you could do.
Who or what prompted you to pursue a career in a STEM field?
It took me a while to figure that out, but the main way I got into it was through my math classes. When I got to college, even though originally I was thinking of majoring in music or business, I took calculus. I started to explore other subjects and by the time I was finishing up the calculus series, I started looking at subjects that use math. I ended up talking to a couple of professors at San Diego State University and to a professor in the electrical engineering department to find out more about that subject. I didn't know anything about engineering or science at that point and, unfortunately, he wasn't very welcoming. I then talked to a professor in the physics department and got quite a different reception. He talked about things you could do with physics. I honestly didn't know what things you could do with a physics degree. He asked me what kind of math I had taken and I told him I was finishing up the calculus series and he said, "You'll be way ahead if you've already taken calculus… I think you'd do really well." So, I think it's not too surprising that I decided to give physics a try.
Have you dealt with stereotypes about women in STEM? If so, how do you tackle that in the workplace?
It's there, but I would say it's improved in the time that I've been, not only at graduate school, but in the workforce. Over the last decades, it's improved a lot, but it's still there and it's maybe not as obvious; you don't always know when you're facing it. One thing I would say is, hard work and perseverance always help and it doesn't matter what your background is. Sometimes it falls on you to help remove those stereotypes, unfortunately, by showing that you can do the work. In some cases, it's been helpful to show that those stereotypes are outdated and don't make any sense anymore. That can be a difficult thing, particularly at the beginning of a career, when you're just trying to show that you can do the work. As my career progressed, and I got into positions of management and leadership, I had the opportunity as Director of Johnson Space Center, to work on the culture and environment there. I helped increase not only the diversity, but strived to provide an atmosphere that was inclusive and supportive.
Did you ever experience imposter syndrome as it pertains to women or minorities? What advice would you give to other people who are experiencing imposter syndrome?
When I was younger, I often wondered, "Do I have what it takes?" at every step of the way when I was doing something that I hadn't done before. What makes it worse is when you look around and don't see anybody like yourself, then you really wonder. It's something that a lot of people feel, and it's not restricted to women or minorities. When I first declared physics as a major, I was glad the professor had encouraged me because I kept thinking, "I never took physics in high school and everybody in this class knows more than I do." It took a long time and different ways of validating it. I'd get the highest grade in the class and would think, "I need to not psych myself out because I can actually do the work."

When I first joined the astronaut corps, I had made it through a pretty rigorous selection process, which should have given me a fair amount of confidence. Learning to land under a parachute, being picked up out of the water by a Coast Guard helicopter, flying in a high-performance aircraft were all things I had no background in. Whereas people who had been selected from the military were very familiar with that. On the other hand, a lot of the training was like school; we had lectures and stacks of workbooks that we had to read through. I could make notes and study, so that was something I was familiar with after ten years of college.
I tried to look at it as, "I can do well on things I'm familiar with." As for the things I wasn't familiar with… We had trainers and other members of my astronaut class where the idea was, "We want you to succeed, we're helping you learn this stuff because if you're going to do well as an astronaut, this is part of it." It's taking one step at a time and saying, "I've managed to learn a lot of new things in my life and this is just one more new thing."
What do you say to first-generation college students who are interested in pursuing a STEM education?
The first thing I say is we need you, we need your brain. So I want to encourage them to do so. There are different paths you can pursue with a STEM background, and I think the world is becoming a place where different kinds of fields use some kind of science or engineering in their field. Having that background gives you many more options although, not seeing many people like us in that field can sometimes discourage people. I was often in classes, in both undergrad and graduate school, where I was the only woman and the only person of Hispanic background. That gets a little bit tiring, to be honest, but I think there's a lot that people can take advantage of. Almost everybody will have trouble in one class and find it difficult, and if you don't see anybody like yourself, you can get the erroneous impression that you're the only one going through that. A lot of universities now have student chapters of organizations like the Society of Women Engineers or the Society of Hispanic Professional Engineers. These are places where you can see other people like you, form study groups, find resources, and get encouragement.
In thinking about the future what is your biggest hope for women of color who want to pursue a degree in STEM?
I hope that a lot more will choose to do so and that they'll be welcomed into those fields. The numbers are still pretty discouraging although they're higher in some areas of STEM than others. In biology, biomedical engineering, and some of the social sciences, the numbers have gotten better for women overall and a little bit better for underrepresented minorities. Unfortunately, in some of the areas like electrical or mechanical engineering, and computer science, the numbers haven't been growing as much. There's actually a few more women in computer science now than there used to be, so I would hope that we attract more women in those areas. I think part of it is understanding, particularly on the engineering side, that engineering is about solving problems. These can be problems that both women and underrepresented minorities care about because they affect people they know and love. It's about curiosity, creativity, and working in teams; though engineering is not always portrayed that way. Sometimes talking about it in a different way helps to encourage and attract underrepresented minorities who haven't chosen those fields in very large numbers yet.
How has your narrative helped you shape the person that you are today?
It's always hard to separate how one thing affected it more than any other. I had people that discouraged me, but I also had people who encouraged me along the way. Most of those people were men because that was who my professors were, and who my supervisors were when I worked; I actually never had a woman supervisor. Different kind of people can serve as mentors, sponsors, or as people who help you out, so I certainly saw that; people gave me opportunities as I entered the work field. Both my Ph.D. advisor and associate advisor were men who've always been supportive, and I'm still in contact with them, thirty-five years later!
I don't think it's true that only people who look like you can serve as mentors and that's actually good news, because you may not see that many people like you as you go through. Yet I certainly benefited from advice and opportunities that people provided me. So, if you find you are either working for or taking classes with someone who isn't very supportive, "take steps to look around for people who will be supportive because they're out there." It may take a little bit more work to find them but those are the kinds of people that you want to talk to and get advice from.
What has been the biggest highlight in your career?
It's a hard question to answer because I'm so fortunate; of course, to have had the opportunity to fly in space and be part of a team that's trying to accomplish something whether it's a new scientific discovery or building the international space station. Other than that, I would say the opportunity to talk to lots of students, particularly girls, and underrepresented minorities has been a highlight. You probably know I have six schools named after me and I've been at the dedication of each one. So, getting to talk to the students there but also very dedicated teachers and staff has been something I never really could've imagined but has been really rewarding.

Do you have any advice for me as an incoming college freshman?
First of all, I think you have a great start in getting to do this great internship; it's quite an opportunity that I think will help as you start in school. Realize that "Okay, you know I'm gonna work hard but it's not gonna be any harder for me than for other students here." If you run into difficulties understanding something in a class, make sure you take advantage of what's out there, to help you whether it's the professor's office hours, or getting together with student chapters and organizations.
---
Interviewing Dr. Ellen Ochoa has been impactful and something I never could have imagined. Because STEM careers are prevailing in today's world, and often aren't pursued by people of color, my initial feelings about it were unnerving.
As someone from an underrepresented group, speaking to Dr. Ochoa, a woman pioneer, left me optimistic about my future. I knew that for her to overcome adversity and succeed in her field meant that other underrepresented minorities could too. Not only was the conversation empowering, but it shifted my perspective a lot in thinking about engineering. It's extremely crucial that other minorities hear the stories of those same people who've faced adversity and have overcome it. Often times, as college students from underrepresented backgrounds, we face much distress; a common form of distress for us can be imposter syndrome. When you are reminded of others who've helped pave the way for both minorities and women, though, it results in the empowerment of those seeking to attain a career in those fields.

Chicago's Black Women in STEAM Series: Meet Cacey
"Chicago's Black Women in STEAM" is a series on The Adler 'Scope that highlights the awesome women of Chicago who are doing amazing things in science, technology, engineering, art, and math fields here in our own community. Meet women of varying ages, backgrounds, and interests and learn their unique stories.
---
Dr. Cacey Stevens Bester
Assistant Professor of Physics at Swarthmore College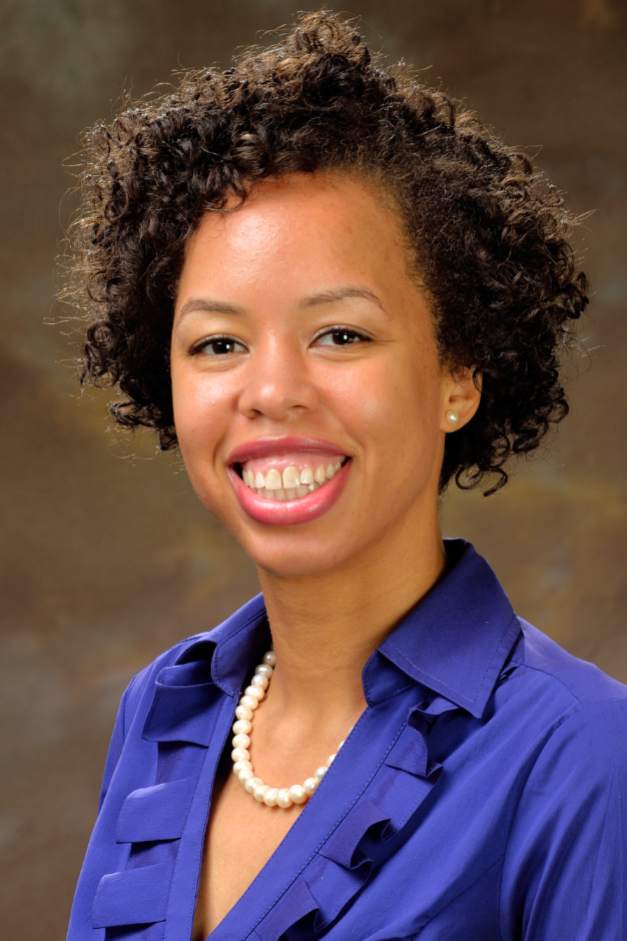 What first sparked your interest in physics?

While in high school, I found math and science classes to be the most interesting and enjoyable. My teachers encouraged me to continue in STEAM since I had a talent and interest in those subjects. During my freshman year in college, I enrolled in a course called "Discovery in Physics" to learn more about the field as I tried to decide on the right major. It turned out that I was the only student enrolled in the course that semester! Instead of cancelling the course, the professor decided to hold a class with one enrollee. It became one of the best learning experiences of my college career. The professor shared great insights about the field with me, and by the end of the semester I was hooked! I knew then that I wanted to become a physicist. That professor is still a wonderful mentor to me and has influenced me at every stage of my career.
Were there any hurdles or challenges you faced while being an undergrad/grad student?

Once I decided to pursue a graduate degree in physics, I needed to move far away from my hometown to start graduate school. I initially felt very lonely, since I was away from my family and was very unfamiliar with the new city that I lived in. In classes, I also felt isolated. I was so different from the rest of my peers. It ultimately helped me to create a study group for my classes. I invited classmates to my apartment for dinner and studying. We all got to know each other a lot better as a result and became friends. I also started a new hobby as a way to take a break from physics and get to know people in the city. Lastly, I did, and still do, travel to my hometown often to see my family and have periods of rejuvenation.
Can you tell us more about the work you did while at the University of Pennsylvania?
While at the University of Pennsylvania, I explored ways to model geological events and phenomena through small tabletop-scale experiments. For example, my experiments involve the physics of granular media, which are large collections of solid macroscopic grains. Examples are coffee beans, cereal, or rice. They can also be sand, sediment, or boulders. Granular media can be rigid like a solid or can flow like a liquid. I am particularly interested in the transition between these two behaviors. By studying the mechanisms behind the transition within lab-scale granular systems, we hope to connect the granular physics to evolution of granular media at geological scales, such as in creeping motion of landscapes or landslides.
In the past, your research interests have included "soft matter physics." Could you expand on what that is?
In physics, the "hardness" and "softness" of substances are defined by their response to external forces. Soft matter typically refers to materials that easily flow and are highly deformable with respect to the forces that they typically encounter. These materials typically have properties that are somewhere between solids and liquids. Examples of soft matter materials include foams, polymers, granular materials, biological materials, and gels, and are found in everyday objects.
What advice would you give to young girls of color who are interested in pursuing careers in STEAM?

As you pursue your interests in STEAM, find individuals who can serve as a support system for you. You will need people to advise, support, and advocate for you during the difficult times.

Do you have a favorite physics fact that you'd like to share?

Yes! Air causes a liquid drop, like a raindrop or spilled tea, to splash. This was a concept that I learned during one of my first physics research experiences. It also exposes the complex physics involved in such (seemingly) simple, everyday moments.
Adler Staff Star: Meet Karen!
---
Karen Donnelly
Executive Secretary
As someone who has worked at the Adler for the past 30 years (WOW!), what has been the most rewarding experience for you?
WOW is right… there are so many experiences and it's hard to choose. Overall, it's the people here that make working at the Adler such a pleasure. I've always liked astronomy and have been lucky to be able to work with astronomers. I've had the privilege of meeting so many great—really tremendous—people over the years.
What is your favorite exhibition, sky show, or experience at the Adler? Why?
One Adler experience I enjoy is telling guests about the background behind some of our exhibits: How did the Atwood Sphere get to be where it is in the museum? How was the large dome in the Sky Pavilion constructed? What was in the hidden cabinet in Universe In Your Hands?
I've got a few stories.
What is the one space exploration mission you'd like to see happen in your lifetime? What excites you about it?

I'd love to see the continuation and expansion of the Adler's own satellite program. First planetarium in space: yes!
Why, in your opinion, is space freaking awesome?

It's awesome because to be able to understand what you're looking at in the sky—a rainbow, an eclipse, a meteor, a space-station flyby—is a most awesome feeling. (And it's what the Adler helps people do!)
Tell us an awesome fact about yourself!
Many years ago a former Adler staffer offered to read my tea-leaves. She looked into the teacup and declared, "There's nothing here! You're going to lead a boring life!" My time here at the Adler disproves that.
Adler Skywatch: September 2019
Only two planets are readily visible in the evening skies this month, September 2019. But they put on quite a show!
The two predominant planets this month are Jupiter and Saturn. Unfortunately, at their highest they are both quite low in the early evening skies, barely reaching 25 degrees above the southern horizon at most. However, they are both quite bright, and they stand out in a part of the sky where there are few bright stars to compete. Jupiter is the brighter of the two, leading the planetary march from east to west across the southern sky. Saturn is less than 30 degrees to the east of Jupiter.
The evening of the 5th, the First-Quarter Moon appears just to the right of Jupiter. The next evening, the 6th, the waxing gibbous Moon appears between Jupiter and Saturn. On the 7th it's only a few degrees to the right of Saturn; and by the 8th the waxing gibbous Moon is a few degrees to the left of the Saturn. (Also on the evening of the 8th—though you won't be able to see it without a powerful telescope—the distant dwarf planet Pluto appears less than 0.5 degrees above the Moon.)
By 9:30 pm Chicago time this month, Jupiter is very low in the southwest sky. By 11:00 pm, Jupiter has set (or nearly so) and Saturn is low in the southwest.
The planets Mercury, Venus, and Mars appear very close to the Sun this month and thus will be difficult if not impossible to see.
The autumnal equinox occurs in the Chicago area on the 23rd, at 2:50 am CDT. On this equinox, as well as on the vernal equinox that occurs in mid-March, daytime and nighttime hours are roughly equal. As the days pass this month, the nighttime hours grow longer and daytime hours grow shorter in the Northern Hemisphere. In fact, the Chicago area receives about 80 minutes less sunlight the last day of this month than it did on the first day of the month. This reduction of sunlight causes chemical changes in trees, including lower levels of chlorophyll—the substance that makes leaves green—and so, trees begin to show their fall colors. The nights will continue to get longer in the Chicago area until around the time of the winter solstice, on December 21st this year.
First Quarter Moon: September 5th
Full Moon: September 13th
Last Quarter Moon: September 21st
New Moon: September 28th
Please note that these descriptions are for the Chicago area, using Central time.
Header Image: Stephen Rahn
Brothers & Sisters of Cronus: Meet Saturn's Moons!
Header Image: This montage of images of the Saturnian system was prepared from an assemblage of images taken by the Voyager 1 spacecraft during its Saturn encounter in November 1980. This artist's view shows Dione in the forefront, Saturn rising behind, Tethys and Mimas fading in the distance to the right, Enceladus and Rhea off Saturn's rings to the left, and Titan in its distant orbit at the top. Credit: NASA/JPL
---
Saturn is arguably one of the most iconic planets in our Solar System, immediately identifiable by its dazzling rings. But while those rings might be eye-catching, Saturn's amazing moons also deserve a look! Saturn hosts a panoply of more than 60 moons, although that number might be up for debate: some of the tiniest "moonlets" are actually embedded in its rings, where they blend in with the crowd of other small chunks of icy material that make up the rings themselves.
Planetary scientists have measured the orbits of 62 of Saturn's most notable moons, but named just 53 of them. The larger moons take the names of the Titans of Greek mythology (in Greek, Saturn is Cronus, and the Titans are the brothers and sisters of Cronus), while the more distant "irregular" moons draw their names from Norse and Gallic myths. Let's take a look at three of Saturn's most notable satellites.
Titan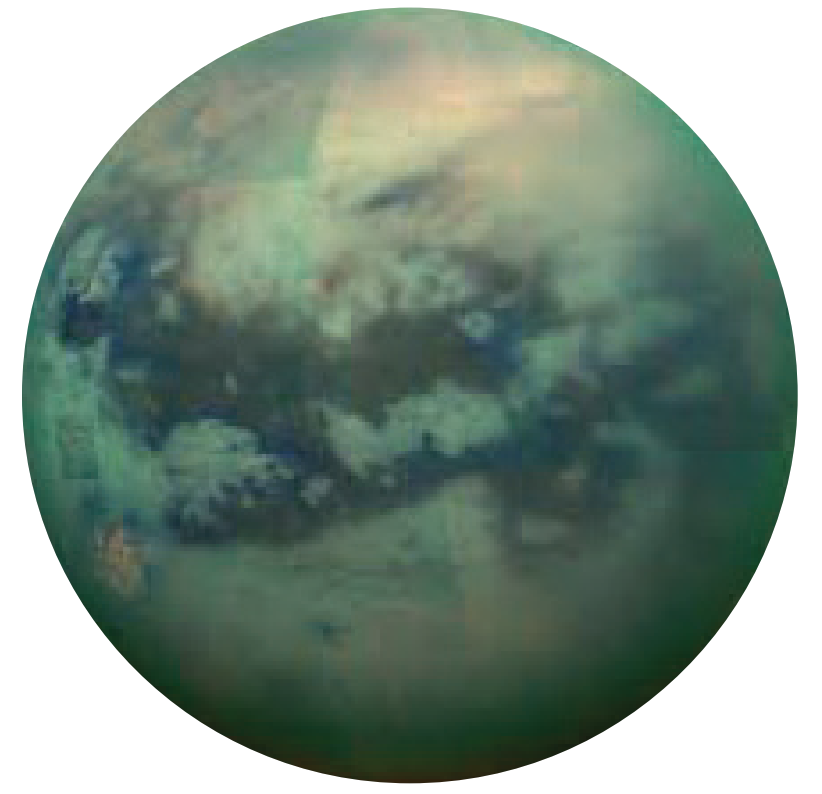 Saturn's largest moon, Titan, really lives up to its name. Larger than the planet Mercury (and almost as large as Mars), this moon makes up 96 percent of all the total mass in Saturn's moons. Beyond its size, what's most notable about Titan is that it is the only known moon with a substantial atmosphere, and also the only known body in the Solar System (besides Earth) to have large reservoirs of standing liquid on its surface. Don't pack for a Titan beach vacation yet, though: Being in the outer Solar System means Titan is a chilly -290 degrees Fahrenheit, and those lakes are largely made up of ethane and other hydrocarbons (which are liquid at cold temperatures).
Titan's atmosphere is almost all nitrogen, with a smattering of other gases, as well as a thick yellowish haze that has long challenged our ability to study the fascinating features on its surface. In fact, some of the best data on Titan had to be taken by dropping instruments below that haze, as the Cassini spacecraft did by sending the Huygens probe to Titan's surface in 2005. In some ways, Titan resembles a through-the-looking-glass version of early Earth—a geologically active world with an ever-changing surface, albeit much colder. For this reason, planetary scientists have long wondered whether life could exist on Titan, using liquid hydrocarbons for chemistry instead of water.
Enceladus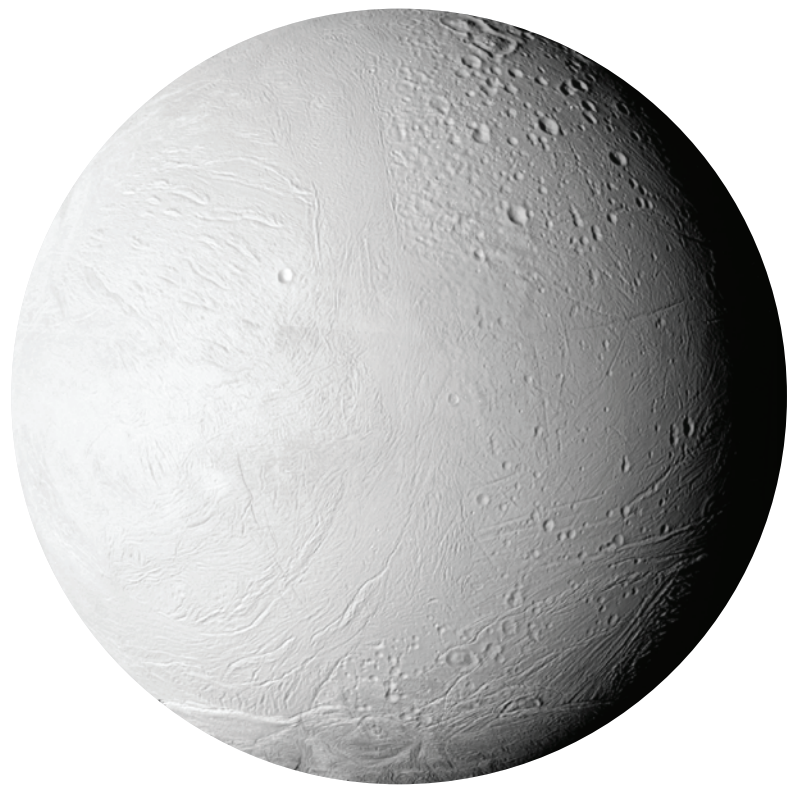 Striped with long fractures, Enceladus is known for its spectacular plumes—jets of saltwater and sand grains that spray out into space, replenishing material in one of Saturn's rings. These plumes are enticing to planetary scientists who wish to study what lies beneath Enceladus's surface: they indicate that an actual liquid ocean must be below the ice and that there must be some internal geological heating for it to remain unfrozen. Under-ice oceans are particularly interesting as potential sites for life in the Universe, but by definition, they are inconveniently sealed away under ice caps. While space missions are in the works for similar worlds (like Jupiter's moon Europa), it's a gift that Enceladus regularly spits some of this material out into space where it's easier to study.
Mimas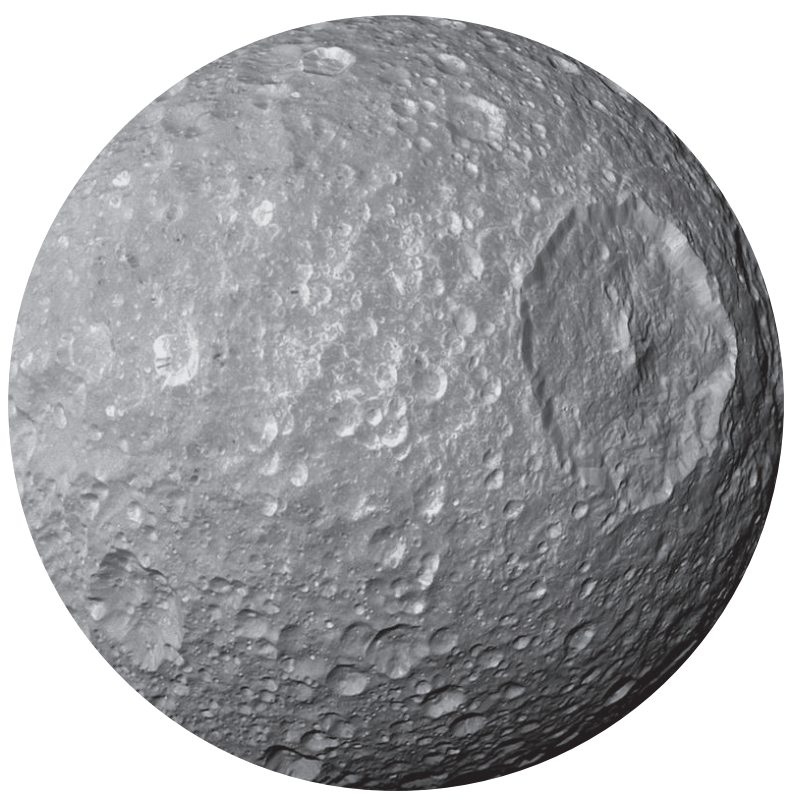 Mimas is the runt of Saturn's litter of large moons, small in both size and mass. Its low density indicates that it is likely made up mostly of ice. As an icy world without Titan's weather or Enceladus's geysers, you would think Mimas wouldn't get much attention—until you see a picture of it! Mimas sports the whopping Hershel crater, a huge black eye almost a third its diameter. This unmissable crater makes Mimas look a little like the infamous Death Star from Star Wars. Some moons will do anything for a little publicity.
---
A complete tour of Saturn's amazing moons could fill the pages of a book—and that book would have to be constantly rewritten as we learn more and more about these diverse worlds! We encourage you to visit Saturn and its many moons in the Adler's Our Solar System gallery, where you can get to know the whole family.
AstroFan: …And They Were All Yellow!
Header Image Credit: NASA/JPL-Caltech
---
"The nitrogen in our DNA, the calcium in our teeth, the iron in our blood, the carbon in our apple pies, were made in the interiors of collapsing stars. We are made of starstuff." ― Carl Sagan

Even if you're just a novice space enthusiast, I'm sure you've heard some variation of the above Carl Sagan quote. It's one of those quotes that kind of sits with you long after you've heard it.
To me, one of the most fascinating aspects of astronomy is that it sets out to answer one of the most simple yet confounding questions of them all: How did all of this stuff get here?!
One could even argue that the field of astronomy is a means in which mankind can actively peer into our own origins.
You see, Sagan was not simply being poetic when he said that we are made of starstuff—he was being literal. Check out the periodic table below that so eloquently explains where each and every element comes from.
As you can see, almost all of the necessary building blocks for life (Carbon, Nitrogen, Oxygen, Sodium, etc) originate from stars!
In turn, this means that by understanding the life (and death) of stars, we grow even closer to understanding our own origins.
Today's AstroFan is focusing on a transitory stage in star formation known as Yellowballs. This is a recently discovered phenomenon that was uncovered by citizen scientists working on The Milky Way Project, part of the suite of citizen science initiatives in Zooniverse. For those who don't know, a citizen scientist is a member of the general public who collects and analyzes data to help professional scientists in collaborative efforts.
I recently had the pleasure of speaking with the Adler's very own astronomer and star-formation-expert, Dr. Grace Wolf-Chase.
Dr. Wolf-Chase has been studying the formation of stars since the 80s and she was on the frontlines of this project when the Yellowballs were first noted back in 2012—so I knew that she would be the PERFECT person to talk to about Yellowballs.
Here is the gist of what we discussed:
For the sake of context, the formation of a star can be summed up into a few major steps. To start off, you have a nebulous (gas and dust) cloud, then you have clumps of matter that start to join together from within the cloud until such a large mass is accumulated that gravity begins to take over—and VOILA a baby star is formed.
At first glance, this might seem like a pretty straight-forward process, but like all things related to astronomy, what actually occurs is a lot more nuanced and complex. To quote Dr. Wolf-Chase, "There's just so much going on with star formation that you can't predict precisely. There's radiation, magnetic fields, winds, and competition for gas from other forming stars."
Compound all of these variables with the fact that most of the star-formation process can only be observed in wavelengths of light that are invisible to the human eye, and you end up with a lot of mysteries surrounding the physics of star-formation.
This is why the discovery of Yellowballs (YBs) is kind of a BIG deal.
YBs serve as a type of "transitory phase"… a missing link, if you will, that allows astronomers to peer into the early stages of a young star's life before it ravages through its surrounding cloudlike environment.
But what are Yellowballs?! Well, Dr. Wolf-Chase puts it beautifully:
"We're looking at a snapshot in time of stars. Think of this as a nursery school: you've got lots of children, some are big and small… there's variety—even though they're the same age. Some of the Yellowballs create big children, some form small children."
Basically, YBs are star-generating nurseries. In these regions of space, there are anywhere from dozens to HUNDREDS of newborn stars of varying mass that are nestled in a cocoon of the same nebulous clouds that helped birth them. (FUN FACT: It's currently thought that our very own Sun might've formed within a Yellowball star cluster.)
This YBs stage of star-formation lasts about 100,000 years. Some YBs form stars that reach such high temperatures that they form bubbles that destroy the surrounding gas in a million years or so. (Actually what these stars do is ionize their surroundings, which creates the bubble that eats into the surrounding cloud. These are the stars that will explode as supernovae after a few million years.)
The collaborative efforts of thousands of citizen scientists from across the globe have resulted in over 6,000 YBs documented and an academic publication on the subject (with more on the way).
There are still many questions regarding YBs, the main two are:
1. Why is there so much diversity in the mass of stars that are made in YBs?
2. What are the conditions in the YBs that produce stars that will supernovae? (This question is very important because supernovae—the death of massive stars via cataclysmic explosions—are the main source for some of life's most salient periodic elements.)
A team of astronomers and undergraduates from The College of Idaho, Iowa State University, and the Adler Planetarium, are currently working towards answering these questions. As part of their research, the collaborators are using a digital interface that can pull out each YB from a catalog, look at it from different wavelengths, and measure how much energy is being emitted from the YB. Together with distance, measuring the energy emitted by a YB helps us calculate important things like the brightness and mass of the YB.

The YBs research is ongoing and Dr. Wolf-Chase is hopeful that she and her colleagues will be able to build upon their findings to create a new citizen science project.
When asked why the average person might decide to participate in a citizen scientists effort like The Milky Way Project, here is what Dr. Wolf-Chase had to say, "There's data to support the fact that the number one reason people participate is because they want to feel that they're making a contribution to science. They want to take ownership. It's in our nature to wonder and be curious about things."
I agree with Dr. Wolf-Chase. Which is why I find the way in which the Yellowballs were discovered to be so inspiring! It reveals that scientific breakthroughs can result from a simple case of curiosity, regardless if you're a citizen or professional scientist.
It's those sparks of wonder that have inspired countless men and women to embark on a wonderful journey into the world of citizen science. Why not join them? Who knows… maybe you'll discover the next "Yellowball."
Stay tuned for more awesome space facts on the next AstroFan.
Thank you for reading!
—Bianca, a.k.a. AstroFan

This July, I had the pleasure of joining a small group of teen interns, scientists, and podcasters onboard the research vessel Neeskay. As a lover of maritime history, open water, and Moby Dick, it was something of a wish-fulfillment for me. Like the infamous Captain Ahab and his motley crew, we were in search of an elusive quarry we couldn't see or hear, an underwater target whose position we could only surmise. In our case, in place of a raging white whale, we sought out something that originated a bit farther afield: visitors from outer space.
I'd been invited to join the Aquarius Project on another hunt for meteorites at the bottom of Lake Michigan. Around nine AM, we arrived in Manitowoc, Wisconsin—myself, Chris Breskey (Teen Programs Manager at the Adler), three teen interns (Jack, Mike, and Liz), and a few others, including an audio engineer for the ongoing Aquarius Project Podcast. Before we unmoored, we all were tasked with the unexpected challenge of wriggling in and out of full-body immersion suits that must have weighed thirty pounds and felt more like straight-jackets than floatation devices. The Neeskay's venerable captain Greg was kind enough to help me zip mine up when it became clear that my arms were unlikely to move.
Once successful, we set out across the waves under a crystal blue sky, the morning sun already blazing and the breeze gently coaxing us out of the harbor and into the deep.
As you may know, Adler teens are searching for fragments of a meteor that streaked across the sky in early 2017 and exploded somewhere off the coast of Lake Michigan. Scientists and teens have since narrowed down the likeliest path of entry for the extraterrestrial fragments and are using a magnetic sled, designed specifically for this mission, to search the murky depths for small rocks from elsewhere in our solar system.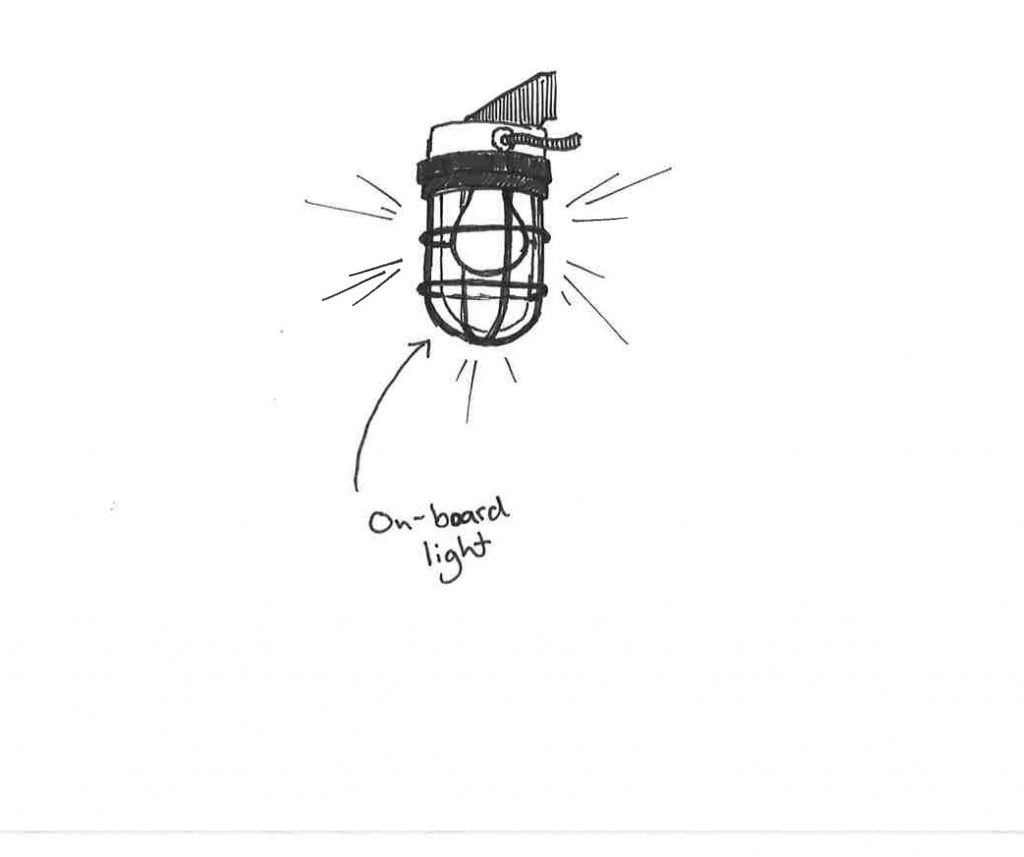 It takes a while to get from shore to the designated tow zone. Built in 1953, 71 feet long and displacing sixty-two and a half tons, the Neeskay is a sturdy old boat with a long history of scientific contribution—but she isn't known for her speed. That, coupled with the fact that each lowering of the magnetic sled takes around an hour to complete, meant that there was a lot of downtime. The teens kept busy making adjustments to equipment, analyzing samples, programming sensors, and sifting through mud. I, on the other hand, had little to do but swat flies.
So, in the tradition of my beloved 19th Century mariners who whiled away the summer days on the lazy seas of the Atlantic doldrums, I sat around, talked to the teens while they worked, observed, and drew little pictures—my own personal scrimshaw.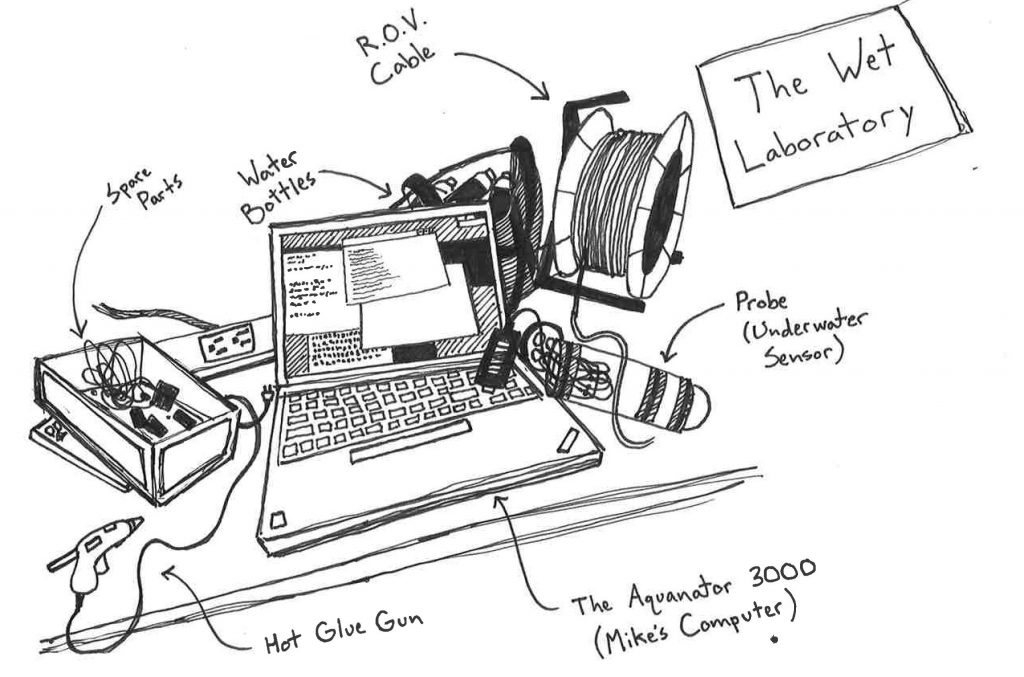 Here, for example, I wanted to capture a snapshot of the cluttered organization that was the "Wet Laboratory," a space below the top deck, behind the captain's bridge, where we watched a live video feed from the sled as it dragged across the lakebed. It was also the room where I sat with Mike, one of the three Far Horizons teens interns I met that day, and learned about the underwater sensor he was programming. As we talked, the boat engine rumbled below deck, small fans whirred above, and Mike demonstrated how the sensors recorded second-by-second data on external temperature, pressure, altitude, and depth. Here's a closer look: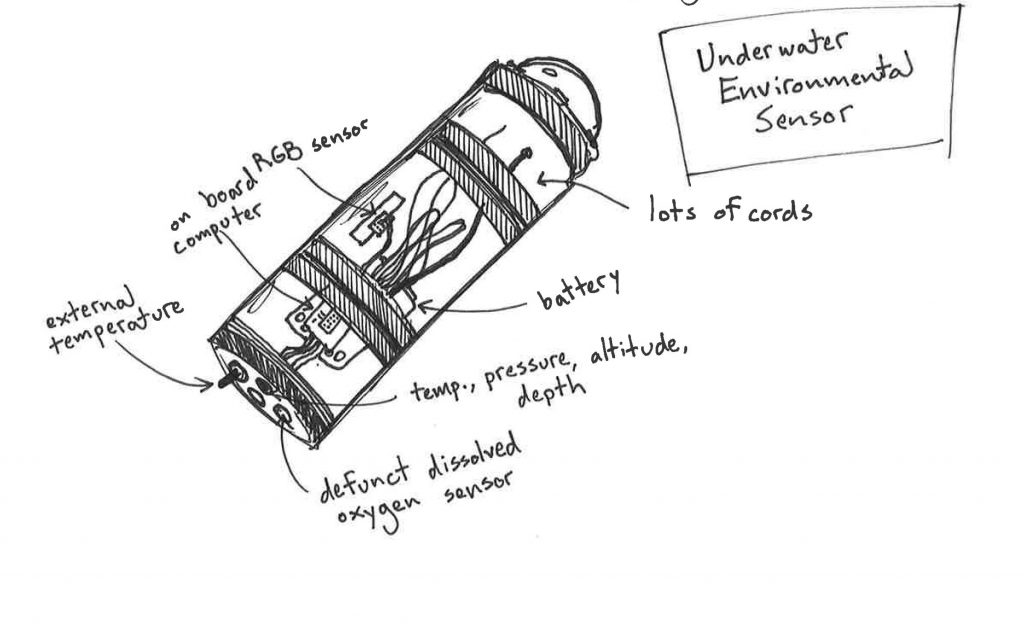 To collect useful data, the teens attached their underwater sensor to the key piece of equipment that makes the whole Aquarius mission possible: a submersible sled designed by teens and affectionately dubbed Starfall. A complex mash-up of magnetic wheels, spoilers, sensors, and "nut wizards" (a technical term—they were originally designed to capture acorns, balls, and other yard debris strewn throughout a messy lawn), Starfall is the workhorse of the Aquarius Project.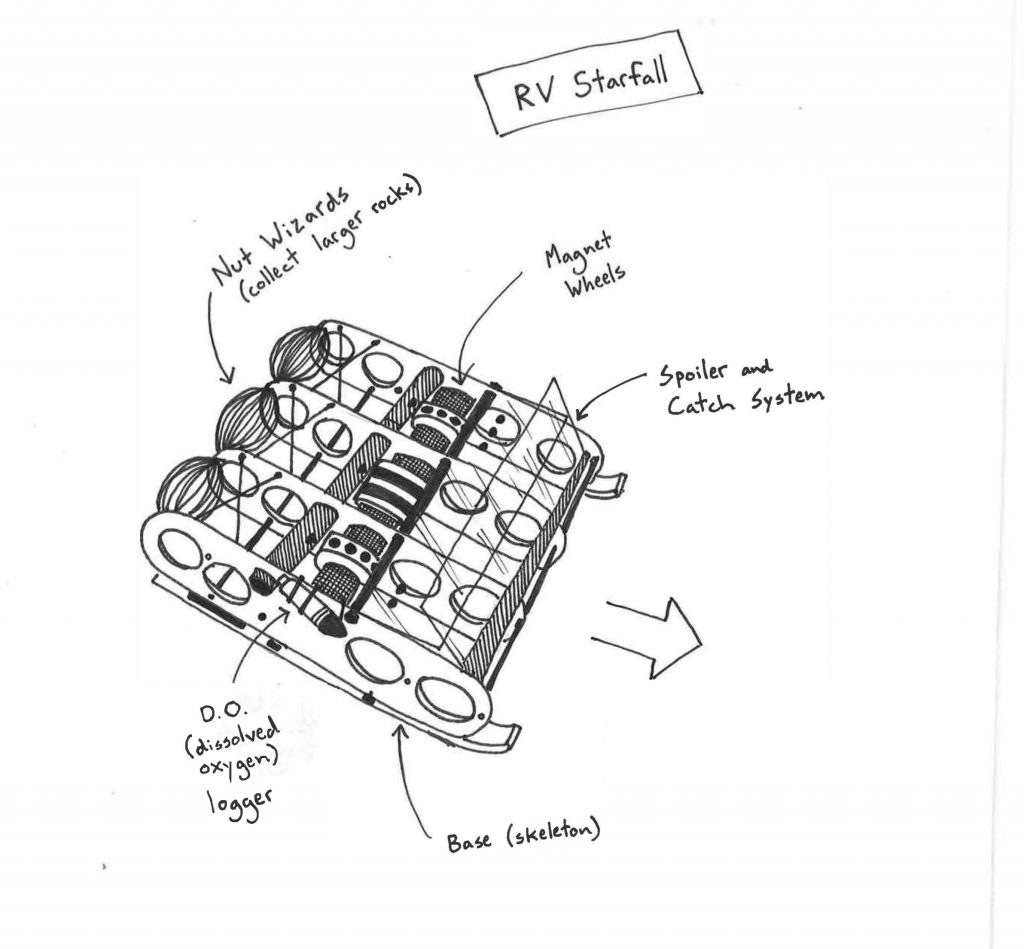 Several times throughout our voyage I watched from the decks as the crew lowered the Starfall beneath the waves and waved goodbye as it slipped into the dark. 85 meters down, it settled onto the lakebed, coaxing up a cloud of mud and quagga mussels on our computer screens that took a moment to clear up. When the dust had settled, an alien landscape appeared in the ghostly light of the ROV camera. Hundreds of feet below, under forty-six fathoms of water, muffled by darkness and pressures that would kill a human without specialized diving gear, the Starfall crawled along, with the hopes of Adler teens resting on its steel and PVC shoulders.
After about an hour trawling along the bottom at the Neeskay's minimum speed, the mechanical pulley system dragged the probe back up from the depths. Then ensued a mad dash to collect any rocks the sled succeeded in sifting from the muck. I was happy to witness for myself the distinct magnetic action of a few of these finds, and while their origin (terrestrial or otherwise) hasn't been verified as of the writing of this report, it was thrilling to see how a few little rocks can still capture the imagination and signify so much to us Earthlings.
I want to thank the Aquarius team for welcoming me on its expedition this summer. It was a voyage I won't soon forget. The conversations, the science, the horizons and the waves—even the biting flies. When I looked out and listened to the water, stretching out for miles in every direction, I thought about the amazing fluke of coincidence that brought a visitor from outer space right here to a little stretch of lake we call Michigan, a reminder that the Universe isn't so far away after all.
You, too, can follow along on this crazy journey by tuning into the Aquarius Project Podcast (available on iTunes, Soundcloud, Stitcher—or wherever you get your podcasts!). Hear the voices of Adler teens for yourself and take part in a once-in-a-lifetime mission to bring our meteorite back to light!
Sketches and drawings by Jonathan Russell.
Adler Staff Star: Telescope Teen Interns
For this month's Adler Staff Star we're highlighting our Adler Teen Telescope Interns. Read on to learn more about their time here at the Adler!

---
What prompted you to want to be a Summer Teen Intern at the Adler?
"My natural curiosity in space and of all things involving science is what really led me to intern at the planetarium. I also thought it would be a great way to network with others who share similar interests." – Andres
"I was looking for my first job and the internship had some very interesting things that I was interested in trying." – Quincy
"I used to intern at a different museum, and I really was interested in museums in general, then I got became interested in the different jobs out there in the museums" – Stephany
What's the coolest thing you've learned since interning here?
"The coolest thing that I've learned while being an intern is how the Sun has an 11-year cycle. Learning about the different things that occur on the Sun was amazing as well." – Andres
"The coolest thing I have learned here is how to make slime. I used to watch slime videos but I never knew how to make it, but now I do because of the Adler." – Quincy
"The coolest things I learned here were how to plan an event and budget my money." – Stephany
What's your favorite exhibit, sky show, or experience at the Adler? Why?
"My favorite exhibit is the Mission Moon exhibit on the main floor. My favorite part of that exhibit is actually the Gemini 12 spacecraft." – Andres
"My favorite exhibit is the Telescopes exhibit because you can look through the telescopes and then you can go and try to find out what you were looking at. It's like a challenge to find what you saw." – Quincy
"The Solar System gallery is my favorite exhibit because it gives you an idea about how far each planet is from the Sun." – Stephany
Given the opportunity, would you go to Mars?
"If given the opportunity I would go to Mars. However, I would rather design the rockets and rovers that would go to Mars—since I want to be an aerospace engineer." – Andres
"Yes, I would go to Mars because I'd want to be the first person to land on Mars!" – Quincy
"Yes because if you die on Mars you'd be famous and you would die a hero." – Stephany
Share one interesting fact about yourself!
"I love to travel and want to travel the world!" – Andres
"I play lacrosse!" – Quincy
"I like crafting and making stuff in my spare time." – Stephany
Chicago Teens Find Safe Space at the Adler
Life as a teenager in Chicago can simultaneously be one of the most exciting and isolating things in the world. With public transportation and a host of cultural and academic institutions throughout the city, it's easy to feel like the world is at your fingertips, but oftentimes there's something missing: teen-friendly spaces.
(Add on to that the common stress of social injustices and a sense that no one is listening, and it's easy to understand why teens in our age range can often feel unwelcome.)
Luckily, the Adler community is ahead of the pack, providing a variety of teen programs and spaces for teens to be unapologetically themselves. One of these programs is the Youth Leadership Council (YLC). Existing as a bridge between youth and Adler staff, YLC aims to give teens a seat at the table and provide them with a sense of agency.
In a conversation with the YLC staff sponsor l o t i, she described YLC as a "balanced, equal partnership between adults and young people. Teens and adults both have a lot to contribute, but we all have a lot to learn." What better way to learn from each other than through direct collaboration?
While YLC is an advocacy program in a STEM centered institution, l o t i takes care to note it is not a STEM centered program; it is about providing space for young people to have access to STEM in a sustainable way.
A YLC alumnus, Cortland, finds this work important because he has noticed a stigma attached to Adler and STEM institutions within his network.
"No teens in my network saw the Adler as a place where teens could go and experience something new."
While Cortland has a direct connection to Adler which allows him to be involved in the community, his main priority is engaging with teens and groups beyond the scope of the Adler community. Previous cohorts have focused on making space for teens at Adler and building connections with other local institutions such as the DuSable Museum and Chicago Public Library's YOUmedia.
This year, YLC will continue these partnerships but pivot to focus more on activism and advocacy.
"In the past, we've focused on making space, but what does making space mean in comparison to being inclusive?" l o t i poses as she explains her desire for YLC to be more active in promoting accessibility and "obvious systemic change."
In a climate where "accessibility" and "inclusion" are often used as buzzwords with little backing behind them, it is easy for teens to become poster children for disillusioned youth, but in the case of YLC and the whole Adler community behind them, it is clear that these teens are not only being welcomed, they are being empowered as agents of change to make an actual difference.