Support the Adler
Corporate partners help the Adler inspire Chicago communities to learn about the Universe inside and outside the museum walls. Your contribution will support:
Youth STEM Education
At the Adler, kids don't just learn about science—they do science. They program robots and write computer code, design experiments and launch them into space.
Astronomy Research
The Adler is one of the nation's only planeteria with an active research department. Our astronomers study exoplanets, black holes, the formation of stars, and the near-Earth objects whizzing past our planet.
World-Class Collections
The Adler is home to The Webster Institute for the History of Astronomy which houses one of the world's most valuable collections of historic scientific instruments, rare books, celestial maps, and other significant artifacts and gives visitors a tangible connection to space science.
STEM Outreach in Chicago and Beyond
Through partnerships with schools, libraries, and other community organizations, Adler scientists and educators bring STEM programming to the public in Chicago and beyond.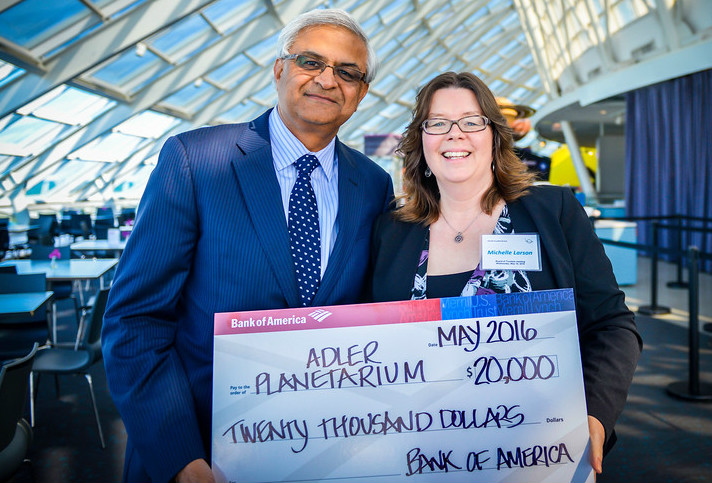 Get in Touch
For more information about corporate opportunities at the Adler Planetarium, please contact our Development Office.
Adler Planetarium Corporate Sponsors
$5,000 - $9,999
Accenture
Bloomberg*
Chicago Blackhawks Hockey Team, Inc.
Chicago Bulls
Littlefuse, Inc.
Lifeway Foods
Paragon Biosciences, LLC
TC Industries
$2,500 - $4,999
American Agricultural Insurance Company
ArcelorMittal
Plante Moran
SHURE Incorporated
Troop Contracting, Inc.
$1,000 - $2,499
Amsted Industries Foundation
J.H. Ellwood & Associates, Inc.
Midland National Life Insurance
Sahara Enterprises, Inc.
Ventas Inc.
*Employees of companies with asterisks next to their business name may enjoy special access to the Adler Planetarium. Please call 312.322.0514 to learn more about your company's specific museum admission benefits.