On Saturday, September 7, 2019, the Adler Planetarium Women's Board will host the Adler's biggest fundraising event of the year, the 2019 Celestial Ball. The annual black-tie gala raises more than $2 million for educational programming that engages people in doing science and inspires young people to pursue careers in science, technology, engineering, and math (STEM).
Over 700 guests are expected to attend, including business, civic, and philanthropic leaders. A highlight of the autumn season, Celestial Ball is an elegant evening set under the stars.
We continue our celebration of the 50th Anniversary of Apollo 11 with this year's Celestial Ball, which will honor Apollo 11 and humankind's journey to the surface of the Moon. The Adler Planetarium Women's Board has spearheaded this unique event for 25 years and raised critical funds for the Adler and our mission to connect people to our Universe.
The Adler Planetarium is pleased to present United Airlines with the 2019 Corporate Partner Award in recognition and thanks for their ongoing commitment to our mission.
If you are interested in becoming a sponsor, please reach out to development@adlerplanetarium.org.
Sponsors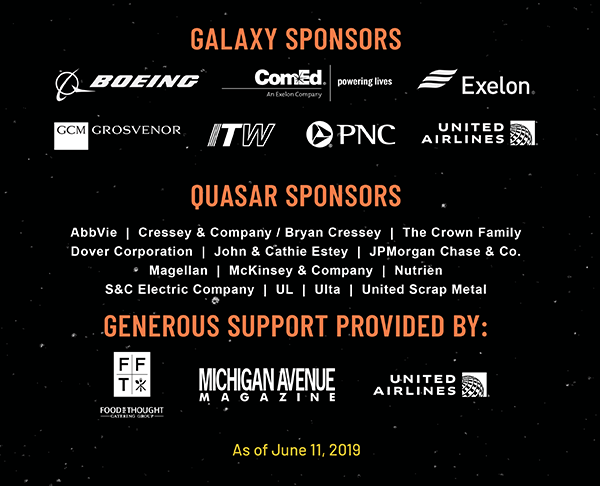 Corporate Honorees 2003–Present
2019    United Airlines
2018    Magellan Corporation
2017    Dover
2016    S&C Electric
2015    BMO Harris Bank
2014    PNC Bank
2013    JPMorgan Chase
2012    Motorola Solutions
2011    PNC Bank as "Science Education Partner Awardee" (with "Special Recognition Awards" to Gensler and to McKinsey & Company)
2010    Charter One Bank
2009    Motorola/Motorola Foundation
2008    Illinois Tool Works
2007    ComEd
2006    (none – Adler's 75th Anniversary)
2005    S&C Electric
2004    Boeing
2003    Household