The Adler Planetarium and the Adler Women's Board are delighted to announce our annual Women in Space Science Award Celebration, which will take place on May 16, 2019. This annual celebration recognizes the life and accomplishments of trailblazing women in the fields of science, technology, engineering, and math (STEM).
The luncheon will feature a keynote address by the honoree, Peggy Whitson, followed by a discussion between Dr. Whitson and the Adler's President and CEO, Michelle B. Larson, PhD. Proceeds from the event support the Adler's STEM education programs and empower young women in the Chicago area to achieve their dreams in science and space exploration.
Meet 2019 Honoree Peggy A. Whitson, PhD
Peggy A. Whitson, PhD, is a biochemist, a retired NASA Astronaut, and a world record holder in spaceflight. A veteran of three long-duration missions aboard the International Space Station (ISS), this trailblazing Iowa native has accomplished several "firsts" and broken space endurance records over the course of her career. She was the first woman to earn the role of astronaut chief, to command the ISS twice, and with a total of 665 days in space, Dr. Whitson holds the U.S. record, placing eighth on the all-time space endurance list. She also has lived in space longer than any woman world-wide. Dr. Whitson completed a career total of 10 spacewalks, another first, and the current record for women. During her final mission, Expedition 50/51/52, she broke the world record for single flight duration, 288 days.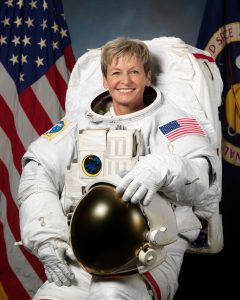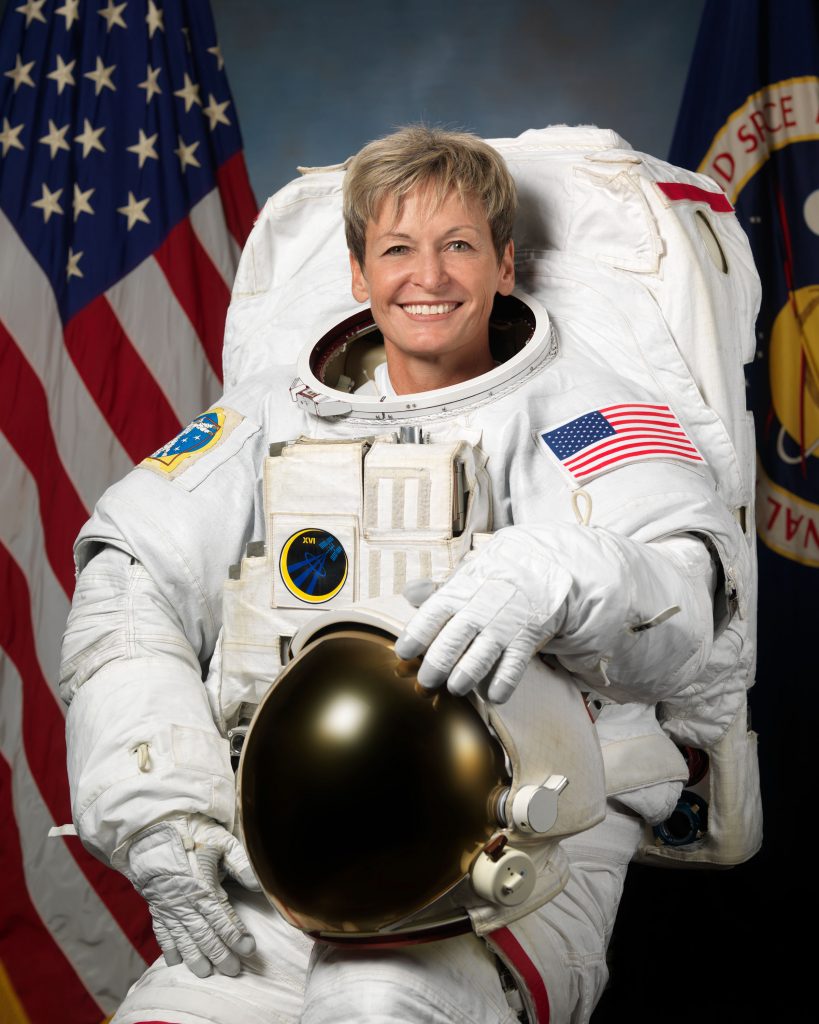 2018 Lookback and Highlights
On Thursday, April 24, 2018, the Adler Planetarium presented the 2018 Women In Space Science award to Dr. Rosaly Lopes. Dr. Lopes is a planetary geologist, volcanologist, an author of numerous scientific papers and several books, as well as a proponent of education.
The celebration concluded with a private afternoon program for approximately 250 young women from Chicago-area schools.
Past Honorees
2018
ROSALY LOPES, PHD
Senior Research Scientist & Manager for Planetary Science
NASA
2017
BETH MOSES
Chief Astronaut Instructor
Virgin Galactic
2016
WENDY L. FREEDMAN
John & Marion Sullivan University Professor of Astronomy & Astrophysics
The University of Chicago
2015
SUNITA L. WILLIAMS
Captain, U.S. Navy
NASA Astronaut
2014
GWYNNE SHOTWELL
President and COO
SpaceX
2013
AMBER GELL
Rocket Scientist &
Spacecraft Systems Engineer
NASA/Lockheed Martin
2012
DR. FRANCE A. CÓRDOVA
Director, National Science
Foundation
2011
COLONEL PAM MELROY
Space Shuttle Commander
2010
C. MEGAN URRY, PHD
Professor of Physics
and Astronomy
Yale University
2009
HEIDI HAMMEL, PHD
Senior Research Scientist
Space Science Institute
VERA RUBIN, PHD
Research Astronomer
Carnegie Institute
of Washington
2008
BARBARA RADDING MORGAN
Space Shuttle Astronaut
2007
JOAN E. HIGGINBOTHAM
Space Shuttle Astronaut
2006
COMMANDER EILEEN COLLINS
First woman to pilot a space shuttle
2005
MERCURY 13
Thirteen women trained
to be America's first female
astronauts
2004
KATHY SULLIVAN, PHD
First American woman to
walk in space
2003
JILL CORNELL TARTER, PHD
Director of SETI Research
SETI Institute