Kavli Fulldome Lecture Live Stream Information
*Push the play button on the video above to see when our live video begins, then hit "Set Reminder" to get a notification when it goes live.
Watch Live With Google Cardboard on Your Phone
Before The Lecture
Download the free Google Cardboard app from iTunes or Google Play. Follow the prompts to sync your phone to the viewer.
Download the YouTube app.
Go to the Adler's YouTube channel on your phone and launch the video. (Or view the video above.) Click the Cardboard icon in the bottom-right corner. Your screen will orient itself automatically. Insert your phone into the device and watch the test clip. Look all the way around you!
Tips and Tricks
No glasses? No problem! Live stream on your tablet, laptop, or desktop by visiting the Adler's YouTube channel during the lecture.
If you are using Google Cardboard, we suggest heading over to the YouTube channel on your phone a few minutes early. And we strongly recommend also streaming the lecture to a tablet, laptop, or desktop and taking several short breaks to let your eyes rest.
Please note: Cardboard supports both Android and iOS phones with 4- to 6-inch screens. Do not use if you are prone to seizures. Do not drive immediately after using if you feel disoriented.
FURTHER EXPLORATION | RECOMMENDED BY DR. LARSON
The Day We Found the Universe
by Marcia Bartusiak
Universe: The Definitive Visual Guide
by Robert Dinwiddie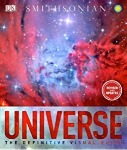 365 Starry Nights
by Chet Raymo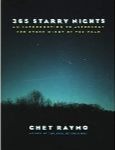 Powers of Ten
Charles and Ray Eames