Kavli Fulldome Lecture Live Stream Information
The Adler Planetarium's next Kavli Fulldome Lecture is coming to a smartphone near you!
Upcoming Lecture
Are We Alone in the Universe?
Friday, November 3 @ 7:30 pm CDT
Saturday, November 4 @ 12:00 pm CDT
Presented by Dr. Lisa Kaltenegger, Director, Carl Sagan Institute, Cornell University
Thousands of exoplanets have been discovered over the past two decades. In this lecture, Dr. Kaltenegger will discuss these discoveries and explore how we can determine which of these exoplanets might be suitable for life. She will discuss techniques and missions to detect life itself on these worlds to finally answer the question"Are we alone in the Universe?"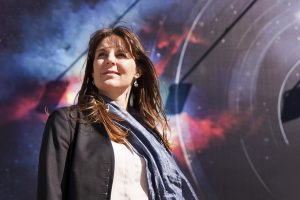 Watch Live With Google Cardboard on Your Phone
Before The Lecture
Download the free Google Cardboard app from iTunes or Google Play. Follow the prompts to sync your phone to the viewer.
Download the YouTube app.
Go to the Adler's YouTube channel on your phone and launch the video. Click the Cardboard icon in the bottom-right corner. Your screen will orient itself automatically. Insert your phone into the device and watch the test clip. Look all the way around you!
Tips and Tricks
No glasses? No problem! Live stream on your tablet, laptop, or desktop by visiting the Adler's YouTube channel during the lecture.
If you are using Google Cardboard, we suggest heading over to the YouTube channel on your phone a few minutes early. And we strongly recommend also streaming the lecture to a tablet, laptop, or desktop and taking several short breaks to let your eyes rest.
Please note: Cardboard supports both Android and iOS phones with 4- to 6-inch screens. Do not use if you are prone to seizures. Do not drive immediately after using if you feel disoriented.