Understanding Planet Transits
Header Image: Composite image of the transit of Mercury as seen from Earth on May 9, 2016. Image Credit: NASA's Goddard Space Flight Center/SDO/Genna Duberstein
---
What is a Planet Transit?
Every now and again, Earth lines up with one of our neighbor planets so perfectly that we can watch the planet travel across the face of the Sun when we peer through a solar-safe telescope.
Pretty amazing, right?
What's even more amazing is how rare these types of celestial events are. From Earth, we can only see two planet transits: Mercury and Venus. This is because they are the only two planets in our inner solar system between our home planet and the Sun.
Venus transits are the rarest—happening twice every 108 years. The most recent transit of Venus was back in 2012. The next one doesn't occur until December 2117.
Mercury transits are more frequent, happening about 13 times a century. The next one happens very soon, on November 11, 2019! After that, we'll have to wait 30 years until the next transit of Mercury, which won't be visible in Chicago until 2049.
Why Do Planet Transits Matter?
In 1639, about a hundred years after humans discovered that the Earth was not, in fact, the center of the Universe, that planets actually orbited around the Sun, and the Earth was part of a vast Solar System, two Englishmen named Jeremiah Horrocks and William Crabtree observed the transit of Venus.
This transit of Venus was the first to ever be observed by the human eye. Horrocks and Crabtree did so because they had predicted that by using basic geometry they would be able to calculate the distance between the Sun and Earth. Thanks to the law of cosines, they knew that if they knew one angle of a triangle and one side of a triangle, they would be able to work out all the other parts. They were able to estimate the distance between the Sun and the Earth within 2/3rd accuracy.
In years to come, astronomers would continue to observe each transit of Venus, refining their calculations, and eventually settling on the current distance of approximately 150,000,000 km (~93,000,000 miles).
The work of Horrocks and Crabtree on planet transit calculations was a turning point in the journey "from the classical astronomy of documentation and tabulation to the modern idea of observation, prediction, and comprehension."
Planet Transits Beyond Our Solar System
Planet transits are not just useful in calculating the geometry of our own Solar System. Observing planet transits are also one way astronomers discover and calculate exoplanets in other parts of the galaxy. Space telescopes, like Kepler Space Telescope, help as part of this process because viewing planets dozens of lightyears away from our own is difficult. Their brightness pales in comparison to stars.
With Kepler, scientists are able to explore parts of our galaxy that wouldn't be otherwise explorable from Earth. They use transit photometry to measure the minute dimming of a star as an orbiting planet passes between it and Earth. If the dimming occurs at regular intervals, then it can be discerned that a planet is probably orbiting the star.
See a Planet Transit For Yourself!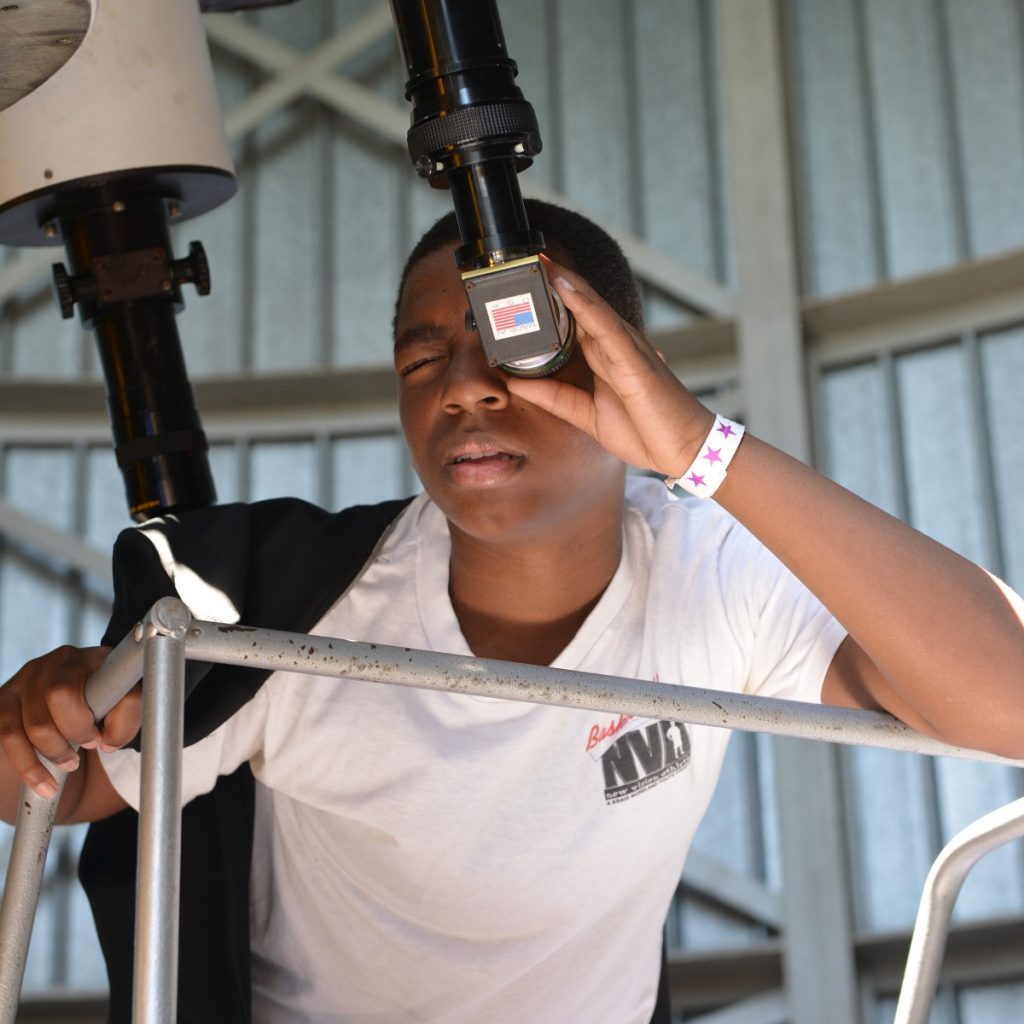 You can join us here at the Adler Planetarium as we come together to watch the upcoming transit of Mercury on Monday, November 11. This is a free event, weather-permitting event. We'll have Adler astronomers on hand to ask questions and solar-filtered telescopes available to watch Mercury as it passes by the Sun. If you're in the Chicago area, stop by!
Adler Skywatch: November 2019
Header Image: Graphic representation of the Leonid meteor shower with the constellation Leo.
---
Evenings in the Chicago area are getting dark quite early this month, November 2019. Because Daylight Saving Time ended on the 3rd, the Sun now sets before 5:00 p.m. local time. It won't be setting after 5:00 p.m. until late January.
Shortly after sunset this month, the brightest planet, Venus, is very low in the southwest sky. Not far from Venus is the second-brightest planet Jupiter. Between the 1st and the 25th, Jupiter appears higher in the sky than Venus – and they appear to be getting closer and closer each night. At their closest, on the 23rd and 24th, they are less than two degrees apart. After the 26th, they begin to move away from each other, and Venus appears above Jupiter in the sky. The evening of the 28th, Venus is less than a degree away from the bright edge of a slim waxing crescent Moon.
Once Venus and Jupiter get too close to the southwest horizon to be readily seen, look for the planet Saturn, low in the south-southwest sky in early evening. It's not nearly as bright as either Venus or Jupiter; but it's higher in the sky this month and doesn't set in the Chicago area until after 7:00 p.m. The night of the 29th, look for Saturn near the very top of a waxing crescent Moon.
Normally Skywatch includes only sights that can be seen with the unaided eye. But this month there is a rare telescopic sky sighting the morning of the 11th. From sunrise to noon, the planet Mercury passes in front of the Sun as seen from certain locations of Earth, including Chicago. This is called a transit of Mercury. Unfortunately, Mercury appears so small that it's not visible to safely solar filtered eyes. Don't look at the Sun with the naked eye, and don't attempt to view it through a telescope unless you or someone you know are very skilled at safe solar viewing through a properly solar-filtered telescope. Incorrect solar viewing can quickly cause blindness. Weather permitting, the Adler will have telescopes available for safe telescopic solar viewing on the 11th Head to the sidewalk next to the Doane Observatory for our transit telescope observing party. The next transit of Mercury visible from Chicago isn't until May 2049.
The annual Leonid Meteor Shower occurs this month, peaking during the dark hours of the 16th, 17th, and 18th. The bright waning gibbous Moon on those dates will wash out fainter meteors. However, Leonids are known for occasionally being bright and having long trails. No special equipment is needed to view meteors — just find a clear, dark place and look up. A maximum of roughly ten Leonids per hour is expected if skies are very dark and very clear.
First Quarter Moon: November 4th
Full Moon: November 12th
Last Quarter Moon: November 19th
New Moon: November 26th
Please note: these descriptions are for the Chicago area, using Central time.

Linking The World's Planetariums
By Mark SubbaRao, PhD and Colleen Cesaretti
Header Image: Mark SubbaRao runs the first tech rehearsal for the 2019 November Kavli Lecture, A Universe of Surprises, in the Grainger Sky Theater.
Equipped with two fulldome theaters within the Adler's walls, global domecasting has become an innovative way that we connect with other planetariums, countries, and people around the world.
Domecasting is a planetarium presentation that broadcasts space visualizations of astronomical data to multiple locations. Over the last four years, and in partnership with The Kavli Foundation, domecasting has become more mainstream.
We interviewed Dr. Mark SubbaRao, the President of the International Planetarium Society and Director of Space Visualization Group at the Adler Planetarium, to learn more about domecasting, how the Adler uses it, and what the future for this technology looks like.
---
As the President of the International Planetarium Society, what do you hope to accomplish?
Two major goals I have for my tenure as President of the International Planetarium Society are:
Increasing the global collaboration among planetariums.
Advancing the planetarium field in regards to how we present modern scientific data.
One project that advances both of these goals is domecasting. Through the planetarium simulcast, or domecast, one planetarium presentation can be synchronized across many facilities all around the world.
Why is domecasting important for the Adler Planetarium, and the city of Chicago?
Domecasting provides a mechanism for the Adler to reach beyond its doors. With astronomers on staff, and a team which is specialized in creating planetarium visualizations of astronomical data, we strive to innovate and advance the state-of-the-art in visual science communication. The domecasts also provide an opportunity to demonstrate these techniques to our planetarium colleagues. As much as possible, the Adler's Space Visualization Group uses open data practices, so that we not only share the visualizations we create, but the data and code that were used to create it.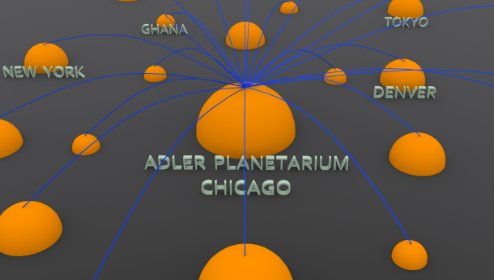 Can you tell us about the Adler's role in the Kavli Fulldome Lecture Series? How has it changed the course of domecasting at the Adler?
The Kavli Fulldome Lectures began in 2015 at the Adler Planetarium, and is the largest and most successful domecast series. Before the Kavli Lectures, domecasting was a promising technology demonstration, but now—after the six lectures in this series—it has become mainstream. The Kavli Lectures combine top scientists' live presentations with custom immersive graphics created by the Adler's Space Visualization Group. The last lecture, presented by Northwestern University's Shane Larson, was streamed to 25 remote venues around the world!
What is a rewarding aspect of being involved in global domecasting?
One of the most rewarding aspects of the Kavli Lectures has been seeing our planetarium colleagues remix our visualizations to illustrate other physical phenomena. These domecasts enhance collaboration and build a sense of global community. People are energized knowing that domecasting connects planetariums across the world. One of the attendees of the last Kavli Fulldome Lecture stated that the best part of the event was the, "Interaction and the fact that people around the globe were all listening/watching the same lecture."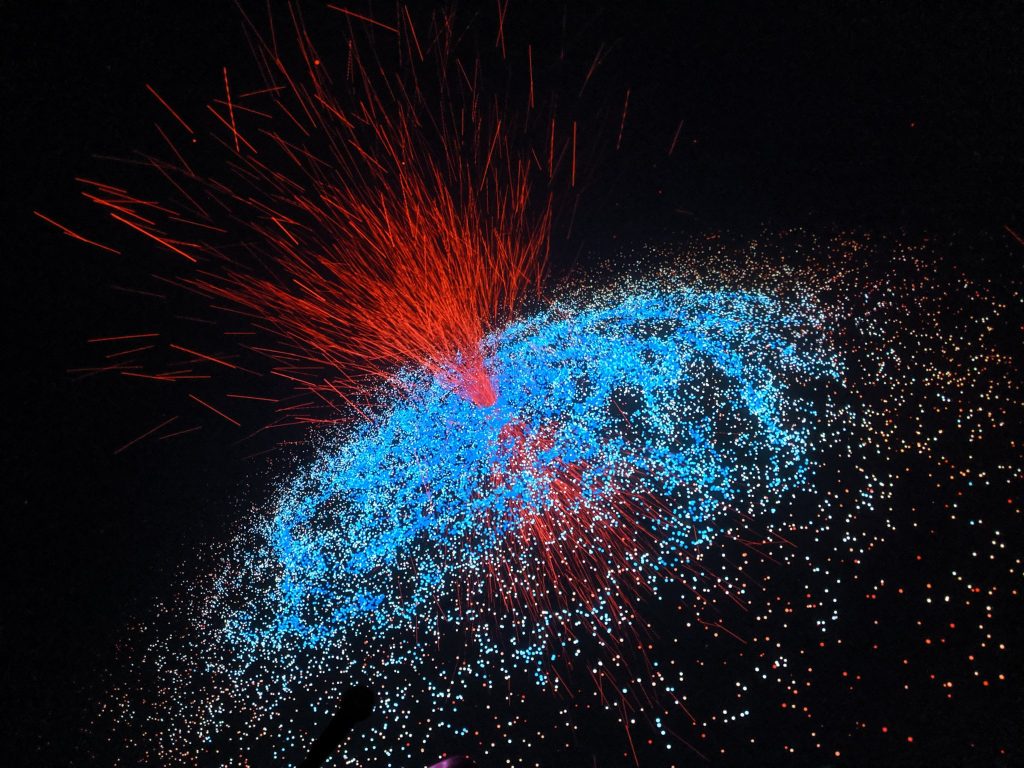 Besides the Kavli Fulldome Lecture, are there any other domecasts that the Adler participates in?
Universe Update is another domecast series which takes place during some Adler After Dark events. This domecast features the astronomical events and discoveries from just the last month. This type of event dramatically demonstrates the pace of scientific discovery and is a collaboration of the Adler Planetarium and the California Academy of Sciences in San Francisco. It is a two way domecast with both the speaker, and control of both planetariums, being traded off between Chicago and San Francisco during the event. Most often the presenters are myself, and Ryan Wyatt, Director of the Morrison Planetarium at CalAcademy.
What does the future of domecasting look like for us?
In the future we will be looking to create more domecasting opportunities as well as extending our partner network. It isn't only other planetariums that can stream our visualizations. Streaming to VR headsets lets us reach a variety of locations such as schools, bars, and hospitals.
This all sounds incredible! Are there any upcoming domecast events in 2019?
To see a global domecast in action, attend the Adler Planetarium's next Kavli Fulldome Lecture on November 1st and November 2nd titled, "A Universe of Surprises."
You can get tickets to the event or watch a live stream of the lecture on YouTube.
AstroFan: The Spooky Case of Dark Matter
Header Image: The distorted shapes in the cluster shown here are distant galaxies, from which the light is bent by the gravitational pull of dark matter within the cluster of galaxies. Image Credit: NASA, ESA, M. Postman (STScI), and the CLASH Team
---
Greetings fellow astro-fans! Halloween is almost here, and as you know, it is a time to celebrate all things spooky, mysterious, and unsettling.
For this month's AstroFan, I thought that it would be apropos for us to take a look at one of the most unsettling mysteries in the known Universe.
Dark Matter.
So sit back, grab some candy, and read on to learn more about why scientists are so perplexed about this common fixture of our Universe.
Discovering Dark Matter
The story about how dark matter was discovered reads like an epic mystery novel!
In the 1930s, a Swiss astrophysicist named Fritz Zwicky noticed something rather odd about the cluster of galaxies⁠—the Coma Cluster to be exact⁠—that he had been observing.
The galaxies were revolving through the cluster much faster than expected, especially near its outer regions. In fact, the galaxies were moving at such high speeds that the gravity around them should've become ineffective at keeping them from drifting away from one another.
Something, was keeping the galaxies clustered together.
Zwicky concluded that there had to be an unseen mass that served as a source for additional gravity, keeping the Coma Cluster from dispersing away.
And thus the concept of dark matter was born!
It wasn't until the 60s and 70s that Zwicky's observations were further expanded upon, by a young astronomer named Vera Rubin.
Using observations made about the orbits of stars within a single galaxy, Rubin was able to conclude that on average, galaxies contain about 10 times as much mass compared to what visible stars account for.
Initially, many astronomers were skeptical of these findings, but eventually, the evidence proved to be so overwhelming that the existence of dark matter became widely accepted in the space-science community.
So, What Is It?!
I bet you're wondering what exactly is dark matter?
The chilling answer is that we don't really know.
You see, studying dark matter is a bit of a difficult task due to the fact that it is completely invisible and undetectable with the use of modern-day astronomical instruments.
Here's a fun fact: Adler astronomer, Dr. Geza Gyuk, has done extensive research regarding dark matter.
In the mid-90s, Dr. Geza and a group of scientists studied a specific subset of celestial objects called MACHOs.
MACHOs, also known as Massive Compact Halo Objects, are dense objects that emit little to no light. Some examples include: black holes, neutron stars, and brown dwarfs.
Since MACHOs are simultaneously dense and not very luminous, it was originally thought that they could be a serious contender for dark matter.
However, the research conducted by Dr. Geza and his crew revealed with confidence that MACHOs were most likely not the cause of dark matter. There simply weren't enough of these objects to account for the huge amounts of unknown mass throughout the Universe.

But fret not, although Dr. Geza's MACHOs research didn't solve the mystery of dark matter, it did help narrow down some of the potential answers. To quote Dr. Geza: "If you can rule out the possibilities with an experiment, that's a good thing too."

So, if MACHOs aren't behind dark matter…then what could it be?!

Well, most scientists believe that dark matter is composed of some sort of "exotic particle" that doesn't interact with baryonic matter. Baryonic matter is the matter that you and I interact with on a daily basis—the kind of matter that is composed of protons, neutrons, and electrons.
According to Dr. Geza, a good candidate for dark matter can be found in WIMPS—aka Weakly Interacting Massive Particles.
WIMPs are hypothetical particles that make up a specific kind of dark matter, Cold Dark Matter (CDM). (CDM is a type of dark matter that moves slowly compared to the speed of light.)
These proposed WIMPs barely interact with baryonic matter and they also don't emit light, making them exceedingly difficult to observe in experiments.
What's Next
Nearly a century after Fritz Zwicky's observations, the search for CDM and WIMPs continues to rage on.
Whether through observing dark matter's effects on celestial objects or trying to capture a non-baryonic particle in the lab—scientists are as eager as ever in their attempts to solve this mystery.
When asked about the future of dark matter research, Dr. Geza had this to say: "We're hoping that the next generation of experiments will start to detect these non-baryonic particles…If they don't…people will start to get worried."
There you have it folks! You can now begin to understand just how unsettlingly mysterious dark matter currently is for those who study it.
With this in mind, as you celebrate all things spooky—swamp monsters, aliens, and the like—don't forget about the spookiest beast of them all…dark matter.
Stay tuned for more awesome space facts on the next AstroFan.
Thank you for reading!
—Bianca, a.k.a. AstroFan
---
A special thanks to Adler astronomer Dr. Geza Gyuk for providing information about dark matter!

Adler Staff Star: Meet Orilla!
---
Orilla Fetro
Exhibit Design Lead
What first sparked your interest in exhibit design?
I became interested in exhibit design while working as an exhibit graphic designer at the Children's Museum of Indianapolis. I loved seeing ideas flow from concept sketches to fleshed out ideas into tangible interactives.
You've been heavily involved in the designing of the Adler's newest exhibit Chicago's Night Sky (opening November 2019). What has been the most rewarding part of this process?
We're still in the construction and production phase of Chicago's Night Sky. There are countless hours of planning, fabricating, and designing that go into creating an exhibit—it's really gratifying to see the process start. For me, the most rewarding part is after the opening when we see guests interact with the exhibition and content.
What challenges come with designing for new exhibits?
Like with anything, time and resources always present challenges. We don't lack for wacky, out of the box ideas, though we are held to reasonable parameters and deadlines. Those parameters help spark our ingenuity, and I'm thankful to work with a league of extraordinary nerds that keep pushing for more innovative solutions.
If you had the opportunity to go on a mission to the Moon, would you go? Why or why not?
Yes! Though it reminds me of a Sesame Street song: "Well, I'd like to visit the moon on a rocket ship high in the air. Yes, I'd like to visit the moon, but I don't think I'd like to live there. So, I'd like to look down at the Earth from above, I would miss all the people and places I love, so although I might like it for one afternoon. I don't wanna live on the moon."
Why, in your opinion, is space freaking awesome?
Everything about space is simultaneously terrifying and awe-inspiring. I learn a new fact daily, and many of those days, I have the privilege of taking incredibly abstract ideas and making them accessible.
My favorite fact about space is that when we look at objects extremely large distances away, we are seeing them as they were when the light was emitted, thus looking back in time.
A (Very) Brief History of the Atwood Sphere
Header Image: A full carload of visitors is pictured either going into or coming out of the Atwood Sphere at the Adler Planetarium. Credit: Adler Planetarium
---
This November, we're debuting a brand new 5,000 square foot exhibition called Chicago's Night Sky.
This exciting new exhibition will be a celebration of Chicago, a reflection on our relationship with the stars, and an exploration of how communities connect to the sky through myth, storytelling, art, science, and literature.
But we can't talk about our night sky without talking about the historic Atwood Sphere. The Adler is lucky to call itself home to this incredible piece of Chicago history. It is the oldest sky simulator in the world still operating, debuting at the Chicago Academy of Sciences (CAS) in 1913.
Originally called Atwood Celestial Sphere, the planetarium was designed by Dr. Wallace Atwood, an American geographer and geologist, specifically for CAS with the intent to help others learn about Chicago's night sky. The commission of the exhibit cost $10,000, the largest dollar amount paid for any one single exhibit element at CAS to date.
The structure is comprised of a large, rotating sphere made of galvanized sheet-metal approximately five meters (~16 ft.) in diameter. 692 perforated holes in the metal sheeting of the dome simulate stars that are in principle visibility to the naked eye from Chicago. (Although only a few can normally be seen nowadays due to light pollution.). An attendant inside the dome operates an apparatus in order to rotate the sphere, showing how the stars seem to move altogether in the sky throughout the night as a result of the Earth's rotation.
The Sphere spent a couple of decades at CAS, but interest gradually declined from 1930 onwards due to the opening of the more sophisticated Adler Planetarium, which featured the innovative Zeiss projector. During this time, during World War II, the Sphere was placed at the service of the U.S. Naval Reserve Unit stationed on Northwestern University's Chicago campus for instruction in astronomical navigation.
In 1959, CAS would attempt to make alterations to the Sphere to make it more appealing to the public, including painting the outside to look like a terrestrial globe. These alterations would not be enough to increase public interest. Instead, the Sphere would remain dormant for several decades until it eventually would make its way to the Adler Planetarium in January 1997. As a result of this move, the Adler brought the Sphere back from the obsolescence it had originally contributed to. Since this time, guests have been able to experience Chicago's two emblematic planetariums in the same place, during a single visit.
The Atwood Sphere will play an important role in Chicago's Night Sky. It will give people the opportunity to relive a part of Chicago's history and explore our night sky, all while serving as an anchor piece for activities in the surrounding gallery.
But after several years of everyday use here at the Adler, the Atwood Sphere is in need of a little TLC. Michelle Nichols, Adler's Director of Public Observing, is currently underway in refurbishing the interior of the Sphere. The extensive list of materials needed to complete the job includes some unexpected items, including at least 700 toothpicks, UV paint, an LED blacklight, and scaffolding.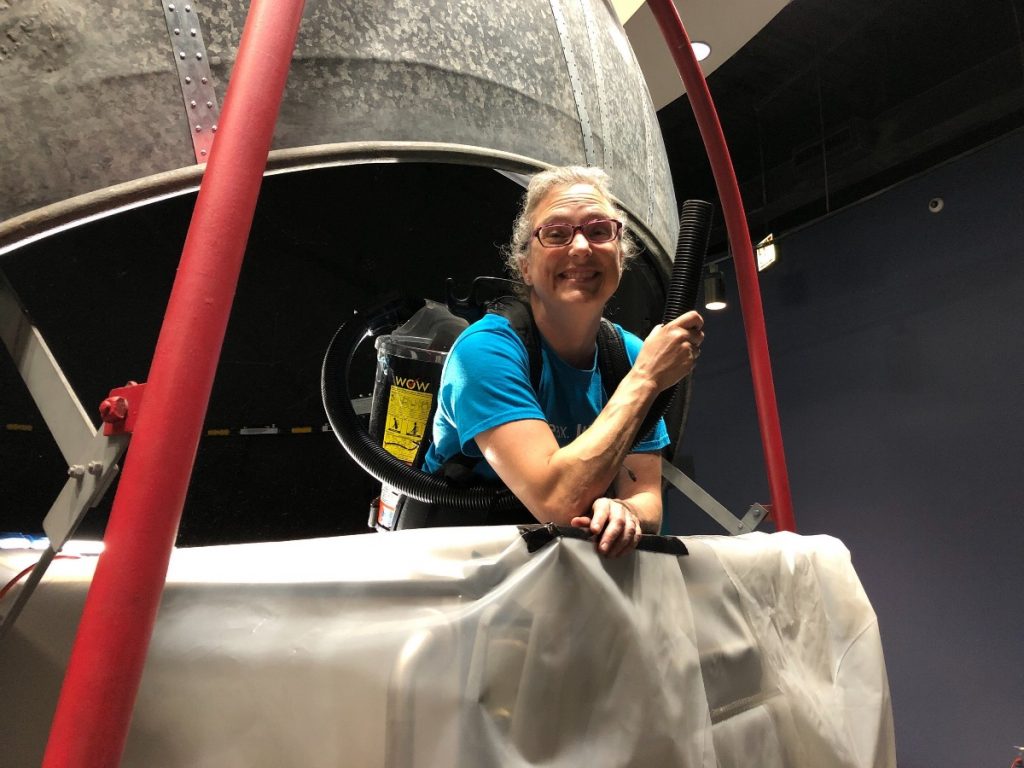 ---
Stay tuned for more details in the coming weeks about how these objects were involved in the Atwood Sphere's restoration process, as well as the debut of Chicago's Night Sky!
Chicago's Black Women in STEAM Series: Meet Felicia
"Chicago's Black Women in STEAM" is a series on The Adler 'Scope that highlights the awesome women of Chicago who are doing amazing things in science, technology, engineering, art, and math fields here in our own community. Meet women of varying ages, backgrounds, and interests and learn their unique stories.
---
Felicia Davenport
Graduate Research Assistant at Georgia Institute of Technology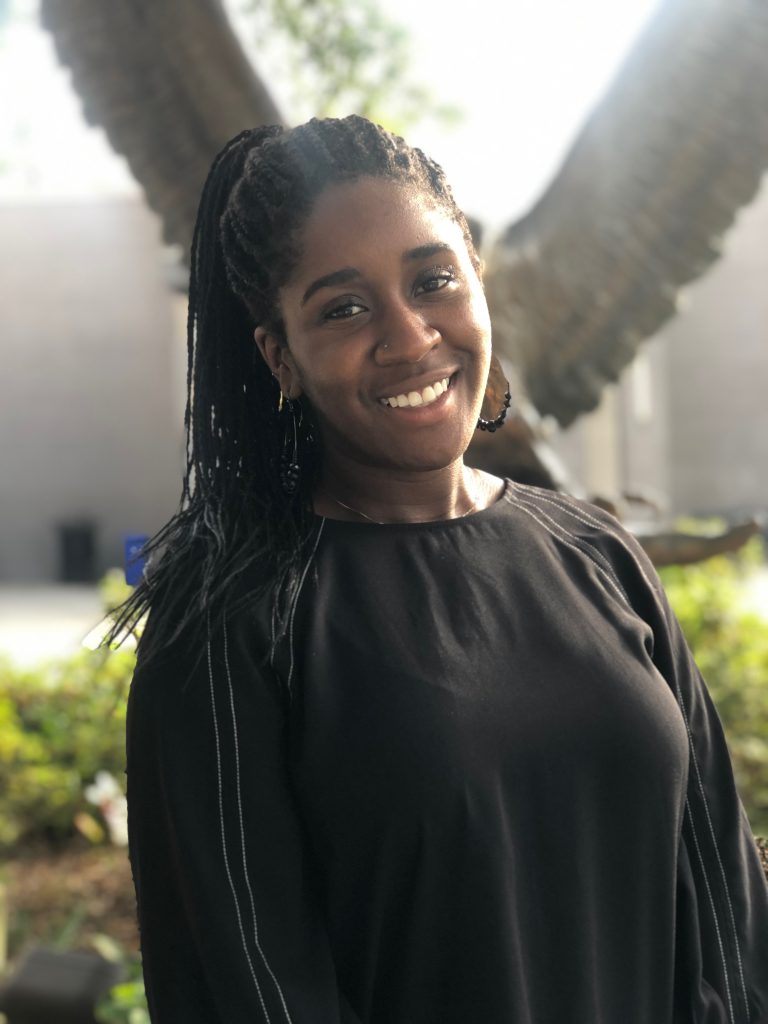 What first sparked your interest in physics and engineering?
My interest in physics and engineering was initially sparked through my experience playing golf, starting around the age of 10. I was always fascinated by the technical details of each move I was making and its importance, which I now know to be the biomechanics of the golf swing.
My sophomore year in high school, I met two new swing coaches who introduced me to a device named the "K-Vest". Using the K-Vest requires wearing straps containing motion sensors on the wrists, upper-back, and waist. This enabled me to look into the biofeedback, and create a personalized training program for an optimized golf swing.
Shortly after beginning my training with the K-Vest, I was assigned a group research project in my "International Baccalaureate (IB)" physics class, where I collaborated with fellow peers studying chemistry within the IB program. Our project consisted of comparing the composition of top, middle, and lower-tiered golf balls and testing their performance using the K-Vest monitor. We then could determine if the cost of each golf ball was true to its overall value. After presenting this work, I then realized I wanted to continue researching sports and biomechanics.
Can you tell us more about your time at Chicago State University as a physics undergrad? What successes and challenges did you face?
Looking back, I'm highly appreciative of my experience studying physics as an undergrad at Chicago State University (CSU). The department offers different curriculum pathways for preparation for the next stage in your life, and I was pleased to learn there was a Biological Science (BIO) option for physics majors. If being a STEAM student wasn't difficult enough, I also had to balance the workload of being a member and captain of CSU's Division I women's golf team, various campus programs (i.e. Honors College and Learning Assistant (LA) Program), and an undergraduate researcher. An introductory chemistry course in my first semester helped me develop essential skills for studying, time management, and conducting research ethically.
As a smaller institution that has encountered unfortunate financial difficulties, resources were limited throughout the institution, including the classrooms. However, the faculty members were eager to go above-and-beyond in providing opportunities to students which allowed their education to be comparable to and competitive with any other institution. The faculty exposed students to research practices and other valuable experiences early in their academic career to better prepare them. They also encouraged student involvement in Research Experience for Undergraduates (REU) programs at other institutions around the nation during the summer.
I was fortunate to be under the mentorship of Dr. Mel Sabella, who helped generate my exposure to these opportunities and allowed me to take leadership in being the first author in one of my two published research articles. Dr. Archibald Peters helped me in my preparation for graduate school in both the application and transitioning process. It is because of such exemplary faculty members that my experience was unforgettable and I was able to graduate with high honors.
What advice would you give to young girls of color who are interested in pursuing careers in STEAM?
It may sound cliché, but I would advise them to always pursue what they are passionate about and what drives them. If they are unsure, they can research various STEAM fields, look into possible careers that may align with their aspirations, and find people (faculty, students, etc.) who are already working in those fields or careers and reach out with their questions. Coming from someone who was, and sometimes still is, quite hesitant to network and reach out, you never know what opportunity could result from being proactive about your future. What better time to start thinking about your future career goals and aspirations than now?
Also, I feel very fortunate to have attended CSU, which was a Predominantly Black Institution (PBI), so I did not feel out of place studying in STEAM. Because of this, it was not until I started my graduate program this August that I became more proactive in finding student organizations that were designed as safe spaces for both women in engineering and Black graduate students. I'm learning how isolating the experience can be at any stage in pursuing STEAM, so I would advise young girls of color to find support groups or even try to bond with that other girl or person of color in your class so that you know you're not alone.
Until the academic culture changes, it is true that people of color, especially women, tend to have to work much harder to prove themselves in any path of life, but especially in studying STEAM. You may get challenged and pushed past your limits, but please don't lose sight of your goals and your self-worth. You are more than capable of doing anything you set your mind to do, just get out there and take charge of your dreams!
If everything went according to plan, what would you hope to be doing in your career in 10 years?
Ultimately, I would love to be a sports scientist. Whether it's helping research, analyze, and optimize the biomechanical techniques of athletes or helping design and alter equipment to enhance their performance abilities.
I also plan to be an active member of outreach programs to help mentor young students, especially those from underrepresented communities. From an academic standpoint, young students of various backgrounds may be discouraged by surrounding influencers from pursuing STEAM majors if it's an uncommon career choice within their community. The same deterrence occurs amongst young athletes, who are persuaded against studying in STEAM fields due to heavy time commitments from academics and athletics. This can lead to many students settling on another, and sometimes less desirable, path.
I want to establish and provide resources for those in this predicament to be able to experience the best of both worlds. Additionally, I would promote programs that expose underrepresented students at a young age to innovative research practices and topics to help better prepare them for the future.
Adler Teen Alumni: Heritage, Community, and the Future
By Rosalía Lugo, Teen Programs Manager, and Colleen Cesaretti
Header Image: 2017 group photo of Adler Interns, including former Adler Teen, Mia Berrios. Credit: Mia Berrios
---
Over the years, many teens have passed through our front doors, and in honor of Latinx Heritage Month, we are celebrating two of our stellar former Adler Teens, David Torrejon and Mia Berrios! We interviewed David and Mia about their experience in our Teen Programs, what their heritage means to them, and how the Adler has impacted their lives.
What program(s) did you participate at the Adler Planetarium?
David: Initially, I became involved with the Adler Planetarium through their volunteer programs as a Teen Special Event Facilitator. Because of my growing interest in astronomy and the supportive relationships I built with the staff and volunteers, my involvement with the Adler grew immensely. I later joined the Adler Planetarium's Astro Journalist Internship, Summer Internship, Youth Leadership Council as well as the Amplify Steering Committee.
Mia: I participated in the Adler's High School Summer Internship and was also a volunteer.
What are you currently doing now?
David: I am an undergraduate student at the University of Michigan at Ann Arbor. I am in the process of working towards my degree in economics through the College of Literature, Sciences and the Arts (LSA). I am pursuing my passions in public policy and economics through student-led organizations; such as the Michigan Foreign Policy Council and Michigan Economics Society.
Mia: I am currently a student at Loyola University Chicago double-majoring in environmental science and political science.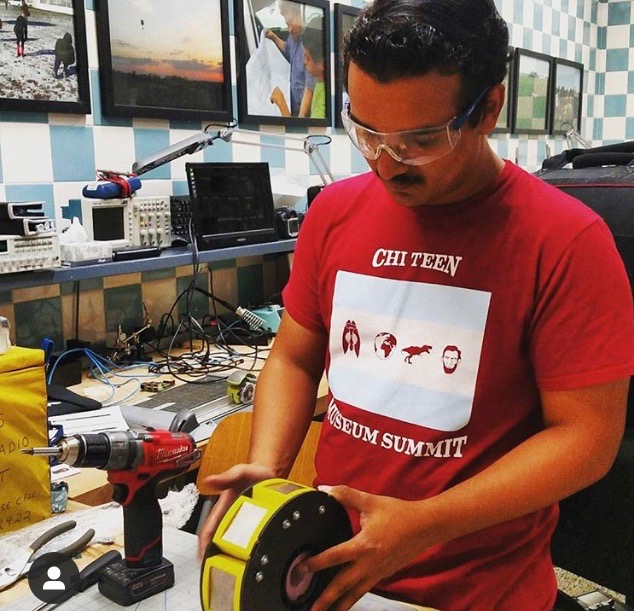 Did the work you did at the Adler impact what you are doing now?
David: Through the projects I became involved in at the Adler, I learned to assist the underserved, under-resourced communities in any way I can.
Mia: Yes! Working as a light pollution intern in 2017 inspired me to further research human impacts on our beautiful night sky, leading me down the path to study environmental science! My goal is to limit our influence on the planet so that future generations have the chance to witness a lively planet and glistening dark sky full of stars.
What does your heritage mean to you?
David: When I think about heritage, I think about the Mexican traditions, customs, language, and cultures that have been passed down to me by my family.
Mia: It means family, culture, and home. Without it, I wouldn't have the strength to keep pushing forward.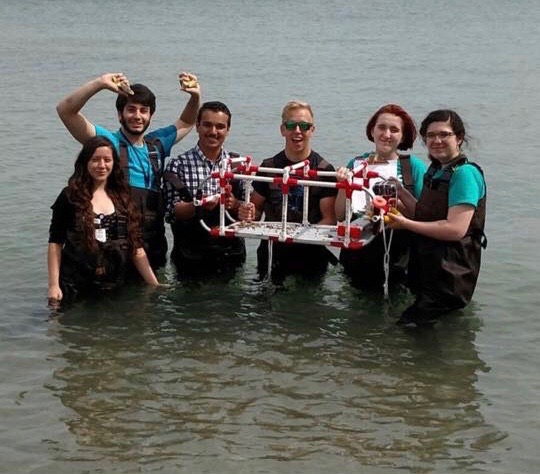 How do you celebrate your identities, specifically your Latinidad (Latinx, Latin@, Hispanic), in your work or school projects?
David: I celebrate my Latinidad with my Latinx peers on campus through "La Casa," which is a student-led organization that creates a safe and welcoming environment for the Latinx student body at the University of Michigan to come together. I have developed a greater appreciation for my Latinidad through "La Casa."
Mia: I speak up on the struggles we've endured and all the great things Latinx people have achieved. I'm proud of my culture and I love talking about it with others who don't share my heritage because it empowers me to know that I'm teaching others to be more respectful.
Ever been the first person from your community to do something? If so, what? If not, what would you want it to be?
David: I am a first-generation immigrant and first-generation college student.
Mia: I want to be the first person in my community to earn a masters degree in environmental science and create a new branch of the local government that focuses on eco-friendly practices and initiatives.
How does your community support your dreams?
David: As a first-generation college student at the University of Michigan, a predominantly white institution, I depend on my community, which consists of my family, friends, teachers, and mentors, for their endless encouragement and support. They remind me of why I am here and what I am working towards, which only further inspires me to continue to persevere.
Mia: My community supports my dreams by encouraging me to continue to achieve higher education and follow my own path because many of them were never given the chance to go to college.
It's a Marvelous Year For a Moondance
Header Image: The far side of Earth's Moon as seen based on data from cameras aboard NASA's robotic Lunar Reconnaissance Orbiter spacecraft. Credit: NASA/Goddard Space Flight Center/Arizona State University
---
Heads up! We're blasting off into a very SPACE (and Moon) themed weekend.
Today, we kick off World Space Week, which runs from October 4-10. This year's theme is "The Moon: Gateway to the Stars." World Space Week is an international effort to celebrate the contributions of space science and technology to the betterment of the human condition. It began as a UN General Assembly resolution on December 6, 1999, and organizations all over the globe participate with events that are open to the public.
Then tomorrow, October 5, it's International Observe the Moon Night! In an effort to bring everyone on Earth together, International Observe the Moon Night offers a shared opportunity to #LookUp at the Moon in order to observe and learn together. It's a worldwide celebration of "lunar science and exploration, celestial observation, and our cultural and personal connections to the Moon."
In short, the Moon is our closest celestial neighbor. And that's kind of a big deal! It was once just an object of curiosity in the sky, inspiring music, poetry, and other works of art. Then humanity looked through a telescope and saw its surface features, and eventually, we recognized it as a place. A place we could possibly one day visit. And in 1969 we did just that.
5 Fun Facts About the Moon
It's fun to wax poetically about the Moon (ha!). And just for fun, here are five fun facts about our celestial neighbor:
1. Despite popular belief, there is no far side of the Moon. It's a myth! Both sides of the Moon see the same amount of sunlight, but due to the Moon being tidally locked to Earth, only one side of the Moon is ever seen from our home planet. The side we consider the "far side" can only be seen from a spaceship!
2. The Moon is moving away from Earth at about the same rate as your fingernails are growing. Every year, the Moon moves roughly 3.78 cm further away from Earth. In just 3,000 years, the Moon will take one extra second to orbit the Earth than it does today.
3. Footprints on the Moon will last thousands of years. Why? Because the Moon has no atmosphere! This means there is no erosion by wind or water. That doesn't mean they won't get knocked out by small asteroids or comets, however.
4. During a lunar eclipse, the surface temperature of the Moon can drop 400℉. This is also due to the lack of atmosphere and the fact that the Earth blocks out light and warmth from the Sun as it passes between the Sun and the Moon during the eclipse.
5. Chicago's CTA 'L' trains travel 238,900 miles—the average distance to the Moon—in just over one day.
We Love the Moon At the Adler!
We've been celebrating the Moon all year here at the Adler—and we're not done yet! We kicked off the year with a brand new sky show, Imagine the Moon. This exciting show explores how the Moon has inspired human creativity, learning, and exploration ever since we have looked to the sky.
This summer, we celebrated the 50th anniversary of the Apollo 11 mission, which resulted in humankind's first steps on the Moon. It's estimated that it took 400,000+ individuals to make this feat happen; some names you might recognize—like Neil Armstrong—and some you might not—like Reatha Clark King and Robert Davidson. (Find out who these incredible individuals are in our "Voices of Apollo" Google Arts and Culture online exhibition!)
And in April 2020, we're looking forward to celebrating the 50th anniversary of Apollo 13. With multiple life-threatening challenges facing the crew of Apollo 13, the astronauts and the team on the ground worked together to solve an almost insurmountable challenge—and the crew made it home safely. We look forward to celebrating this story of human ingenuity and perseverance with our community next year—stay tuned for details!
So what are you waiting for?! Check out one of the International Observe the Moon nights on NASA's official website and #LookUp at the Moon for yourself!
Adler Skywatch: October 2019
Header Image: Orionid meteors appear every year around this time when Earth travels through an area of space littered with debris from Halley's Comet. Credit: NASA/JPL
---
The days are getting shorter and the nights are getting longer this month, October 2019. But the longer nights mean more night-sky objects to observe.
During evening twilight this month, the planets Jupiter and Saturn are readily visible in the south-southwest sky during evening twilight. Jupiter is the brighter of the two, situated between the Teapot asterism that marks the constellation Sagittarius and the predominantly S-shaped constellation Scorpius. To the lower-right of Jupiter is the reddish star Antares, the "heart" of Scorpius; and to the left and slightly above Jupiter is the planet Saturn, floating to the left of the Teapot. The evening of the 3rd, Jupiter appears close to the bright edge of a waxing crescent Moon. And the evening of the 5th, Saturn is near the upper-right of the First-Quarter Moon.
For those of you lucky enough to have a clear sight-line to the west-southwest, there's even more planetary action in store. Soon after sunset, the planets Venus and Mercury are barely above the west-southwest horizon. They are visible for only a short time before they set, following the Sun. Venus is by far the brighter of the two, as it's also the brightest planet in the night sky; but Mercury is brighter than most of the nearby stars as well. As the Sun sets earlier each day this month, the two planets get a little easier to see in the darkening sky. In the early evening of the 29th, a very slim waxing crescent Moon appears above the two planets.
There is one other planet readily visible to the unaided eye; but this month it's not visible until morning twilight. Shortly before sunrise, the planet Mars rises in the east. It's not very bright this month, and it doesn't get far above the eastern horizon before dawn's light blots it from view. With the Sun rising later each morning this month, Mars gets a little higher in the sky and easier to see before sunrise.
The annual Orionids meteor shower peaks this month the night of the 21st into the early-morning darkness of the 22nd. The waning crescent Moon rises shortly after midnight, causing some light interference in meteor viewing. As always, the darker the sky the better the viewing; so if you plan to look for Orionids, find a place away from artificial lights. No special equipment is needed to view meteors—just find a clear place and look up.
A maximum of perhaps ten Orionid meteors per hour is expected if skies are very dark and very clear.
First Quarter Moon: October 5th
Full Moon: October 13th
Last Quarter Moon: October 21st
New Moon: October 28th
Please note that these descriptions are for the Chicago area, using Central time.