Corporate Opportunities

Support the Adler
Corporate partners help the Adler inspire Chicago communities to learn about the universe inside and outside the museum walls. Your contribution will support:
Corporate Sponsorship
Each year, over 550,000 visitors experience the museum's interactive exhibitions, live, state-of-the-art planetarium shows, hands-on, minds-on STEAM education programs, cutting-edge research, and world class collections.
The Adler has a variety of prestigious sponsorship opportunities available that can be designed to meet your unique business objectives. Benefits, which can be tailored based on your company's objectives and commitment level, may include:
Recognition and prominent display of your company's logo:

in the museum or on location 

in advertising and/or promotional materials (print, digital, TV, collateral, etc.)

on social media

in email communications

in direct mail pieces

in the AdlerStar Member Magazine

Company name and link to company website on the Adler's Corporate Giving webpage

Free general admission to the museum for company employees

Complimentary tickets to special Adler events for your clients, executives, and employees

And much more!
Corporate Membership
Discover all of the benefits that an Adler Corporate Membership has to offer. Invite your employees to engage in hands-on, minds-on science experiences while contributing vital support to America's First Planetarium. 
Adler Planetarium Corporate Members are a premier group of companies that provide vital annual support for the museum and allow the Adler to offer innovative science, technology, engineering, art, and math (STEAM) programming to more than 535,000 visitors, teachers, and schoolchildren each year. This group is instrumental in advancing the museum's mission to inspire the next generation of explorers. 
Corporate Membership offers a wide range of company and employee benefits, from complimentary museum admission and exclusive family days, to private event discounts and recognition opportunities. Corporate Membership rewards employees and demonstrates your company's commitment to helping develop the next generation of STEAM leaders.
Current Corporate Members
Abbott
AbbVie
American Airlines
Aon plc
Bank of America
Baxter International
Bloomberg
BMO Harris Bank
The Boeing Company
CCC
CIBC
CNA
Citadel
Chicago Bulls
Chicago Sky
Chicago White Sox
ComEd
Deloitte
Discover Financial Services
Dover Corporation
Draper & Kramer, Incorporated
Environmental Systems Design, Inc.
Fifth Third Bank
GCM Grosvenor
Hinsdale Orthopaedics
Horizon Pharma
Ingredion Incorporated
Illinois Tool Works Inc.
JP Morgan Chase & Co.
Kirkland & Ellis
Magellan Corporation
Marmon Holdings, Inc.
McKinsey & Company
McMaster Carr
Motorola Solutions
PNC Bank, Illinois
PricewaterhouseCoopers LLP
RSM US LLP
Ryerson
S&C Electric Company
Skadden, Arps, Slate, Meagher & Flom LLP
UL LLC
Ulta
United Airlines
United Financial of Illinois, Inc.
United Scrap Metal
Ventas, Inc.
Walgreen Co.
W.W. Grainger
Wells Fargo
William Blair & Company, LLC
Winston & Strawn LLP
XL Catlin
Zebra Technologies
Get in Touch
For more information about corporate opportunities at the Adler Planetarium, please contact our Development Office.
Adler Planetarium
Development Office
development@adlerplanetarium.org
312.322.0332
Adler Planetarium Corporate Sponsors: $100,000 - $499,999
Adler Planetarium Corporate Sponsors: $50,000 - $99,999
Adler Planetarium Corporate Sponsors: $25,000 - $49,999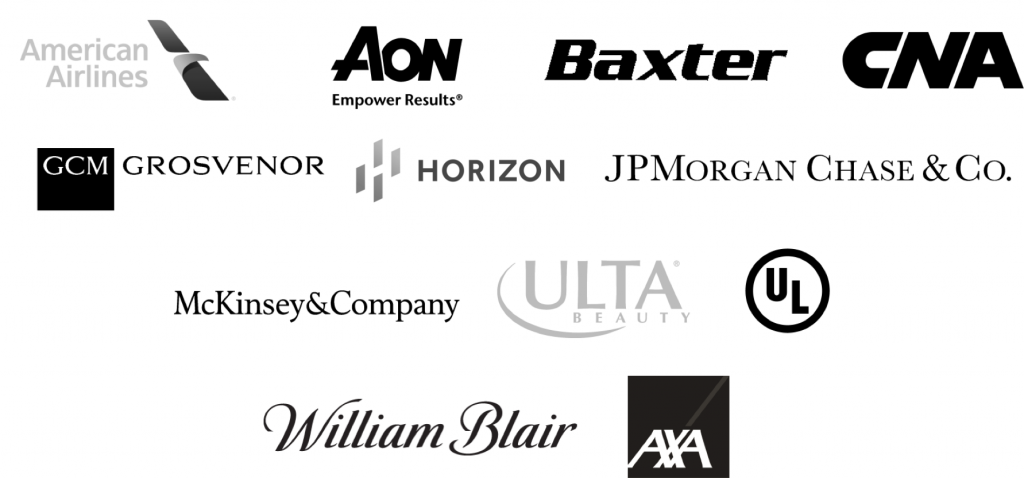 Abbott Laboratories
AbbVie*
American Airlines (AMR Corporation)
Aon Corporation
Bank of America
Baxter International Inc.*
Bears Care
Citadel LLC*
CNA Financial Corporation
Cressey & Company LP
Draper and Kramper, Incorporated
GCM Grosvenor
Horizon Pharma
JPMorgan Chase & Co
Mckinsey & Company, Inc.
PotashCorp
ULTA Beauty
Underwriters Laboratories Inc.
William Blair & Company, LLC
XL Caitlin
Adler Planetarium Corporate Sponsors: $10,000 - $24,999

CCC Information Services Group Inc.
CDW
CIBC Bank USA
Deloitte LLP
Discover Financial Services, Inc.
Environmental Systems Design, Inc.
Fifth Third Bank
Hinsdale Orthopaedics
Ingredion Incorporated
KPMG LLP
Kirkland & Ellis, LLP
The Marmon Group LLC
McMaster Carr
Peoples Gas
PricewaterhouseCoopers LLP
RSM US
Ryerson Inc.
Sidley Austin LLP
Skadden, Arps, Slate, Meagher & Flom LLP
Chicago Sky
United Financial of Illinois, Inc.
United Scrap Metal, Inc.
U.S. Bank
W.W. Grainger, Inc.
Wells Fargo & Company
Chicago White Sox
$5,000 - $9,999
Accenture
Bloomberg*
Chicago Blackhawks Hockey Team, Inc.
Chicago Bulls
Littlefuse, Inc.
Lifeway Foods
Paragon Biosciences, LLC
TC Industries
$2,500 - $4,999
American Agricultural Insurance Company
ArcelorMittal
Plante Moran
SHURE Incorporated
Troop Contracting, Inc.
$1,000 - $2,499
Amsted Industries Foundation
J.H. Ellwood & Associates, Inc.
Midland National Life Insurance
Sahara Enterprises, Inc.
Ventas Inc.
*Employees of companies with asterisks next to their business name may enjoy special access to the Adler Planetarium. Please call 312.322.0514 to learn more about your company's specific museum admission benefits.
PURCHASE TICKETS
Your all-access pass to our universe!