Adler Teen Alumni: Heritage, Community, and the Future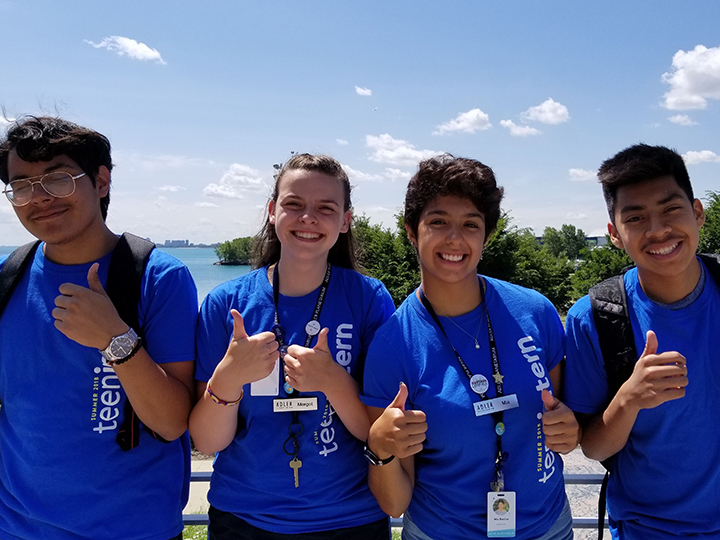 By Rosalía Lugo, Teen Programs Manager, and Colleen Cesaretti
Header Image: 2017 group photo of Adler Interns, including former Adler Teen, Mia Berrios. Credit: Mia Berrios
---
Over the years, many teens have passed through our front doors, and in honor of Latinx Heritage Month, we are celebrating two of our stellar former Adler Teens, David Torrejon and Mia Berrios! We interviewed David and Mia about their experience in our Teen Programs, what their heritage means to them, and how the Adler has impacted their lives.
What program(s) did you participate at the Adler Planetarium?
David: Initially, I became involved with the Adler Planetarium through their volunteer programs as a Teen Special Event Facilitator. Because of my growing interest in astronomy and the supportive relationships I built with the staff and volunteers, my involvement with the Adler grew immensely. I later joined the Adler Planetarium's Astro Journalist Internship, Summer Internship, Youth Leadership Council as well as the Amplify Steering Committee.
Mia: I participated in the Adler's High School Summer Internship and was also a volunteer.
What are you currently doing now?
David: I am an undergraduate student at the University of Michigan at Ann Arbor. I am in the process of working towards my degree in economics through the College of Literature, Sciences and the Arts (LSA). I am pursuing my passions in public policy and economics through student-led organizations; such as the Michigan Foreign Policy Council and Michigan Economics Society.
Mia: I am currently a student at Loyola University Chicago double-majoring in environmental science and political science.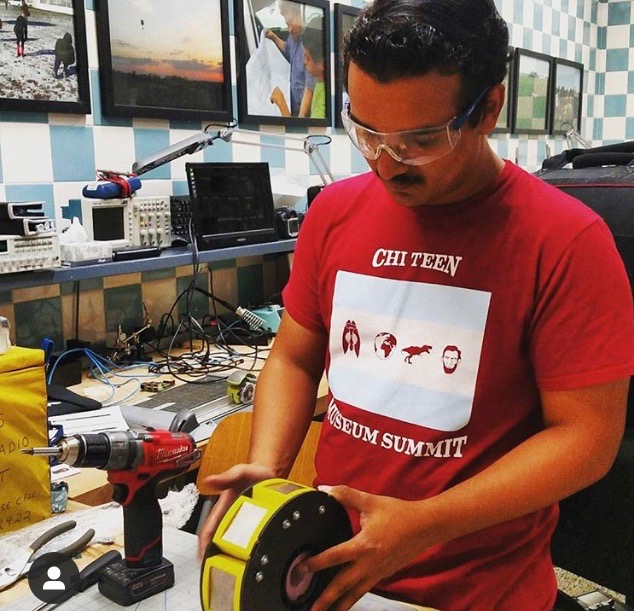 Did the work you did at the Adler impact what you are doing now?
David: Through the projects I became involved in at the Adler, I learned to assist the underserved, under-resourced communities in any way I can.
Mia: Yes! Working as a light pollution intern in 2017 inspired me to further research human impacts on our beautiful night sky, leading me down the path to study environmental science! My goal is to limit our influence on the planet so that future generations have the chance to witness a lively planet and glistening dark sky full of stars.
What does your heritage mean to you?
David: When I think about heritage, I think about the Mexican traditions, customs, language, and cultures that have been passed down to me by my family.
Mia: It means family, culture, and home. Without it, I wouldn't have the strength to keep pushing forward.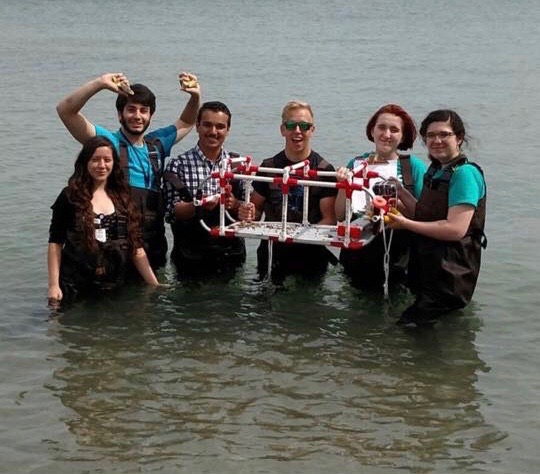 How do you celebrate your identities, specifically your Latinidad (Latinx, Latin@, Hispanic), in your work or school projects?
David: I celebrate my Latinidad with my Latinx peers on campus through "La Casa," which is a student-led organization that creates a safe and welcoming environment for the Latinx student body at the University of Michigan to come together. I have developed a greater appreciation for my Latinidad through "La Casa."
Mia: I speak up on the struggles we've endured and all the great things Latinx people have achieved. I'm proud of my culture and I love talking about it with others who don't share my heritage because it empowers me to know that I'm teaching others to be more respectful.
Ever been the first person from your community to do something? If so, what? If not, what would you want it to be?
David: I am a first-generation immigrant and first-generation college student.
Mia: I want to be the first person in my community to earn a masters degree in environmental science and create a new branch of the local government that focuses on eco-friendly practices and initiatives.
How does your community support your dreams?
David: As a first-generation college student at the University of Michigan, a predominantly white institution, I depend on my community, which consists of my family, friends, teachers, and mentors, for their endless encouragement and support. They remind me of why I am here and what I am working towards, which only further inspires me to continue to persevere.
Mia: My community supports my dreams by encouraging me to continue to achieve higher education and follow my own path because many of them were never given the chance to go to college.