Venue Rentals

We've got space for your next event!*
Host your event at the iconic Adler Planetarium for a truly memorable Chicago experience. A cultural landmark, located on the shores of Lake Michigan, the Adler has the most breathtaking view of the Chicago skyline making it the perfect backdrop for your event or an ideal filming location.
When you gather at the Adler, you are helping us connect people to the universe and each other under one shared sky.
What type of event are you looking to plan? Click the links below to learn more or submit an inquiry.
*While we hope to be able to offer them in the future, at this time, we are unable to host kid's birthday parties or marriage proposals.
WEDDINGS & RECEPTIONS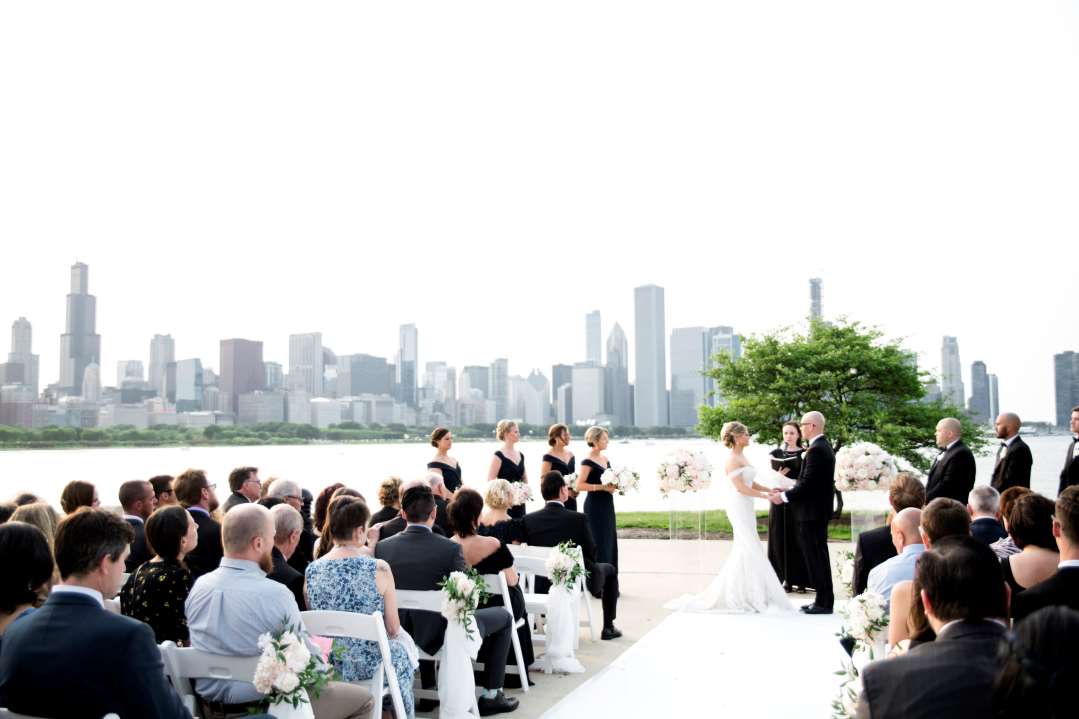 On your special day, the universe should revolve around you! With an award-winning view of Chicago's skyline and the entire known universe as your stage, the Adler is the perfect backdrop to bring your vision to life. Our experienced staff will work with you to design a menu and set the mood for your celebration, whether it's a cocktail party or a wedding reception.
CORPORATE & SOCIAL EVENTS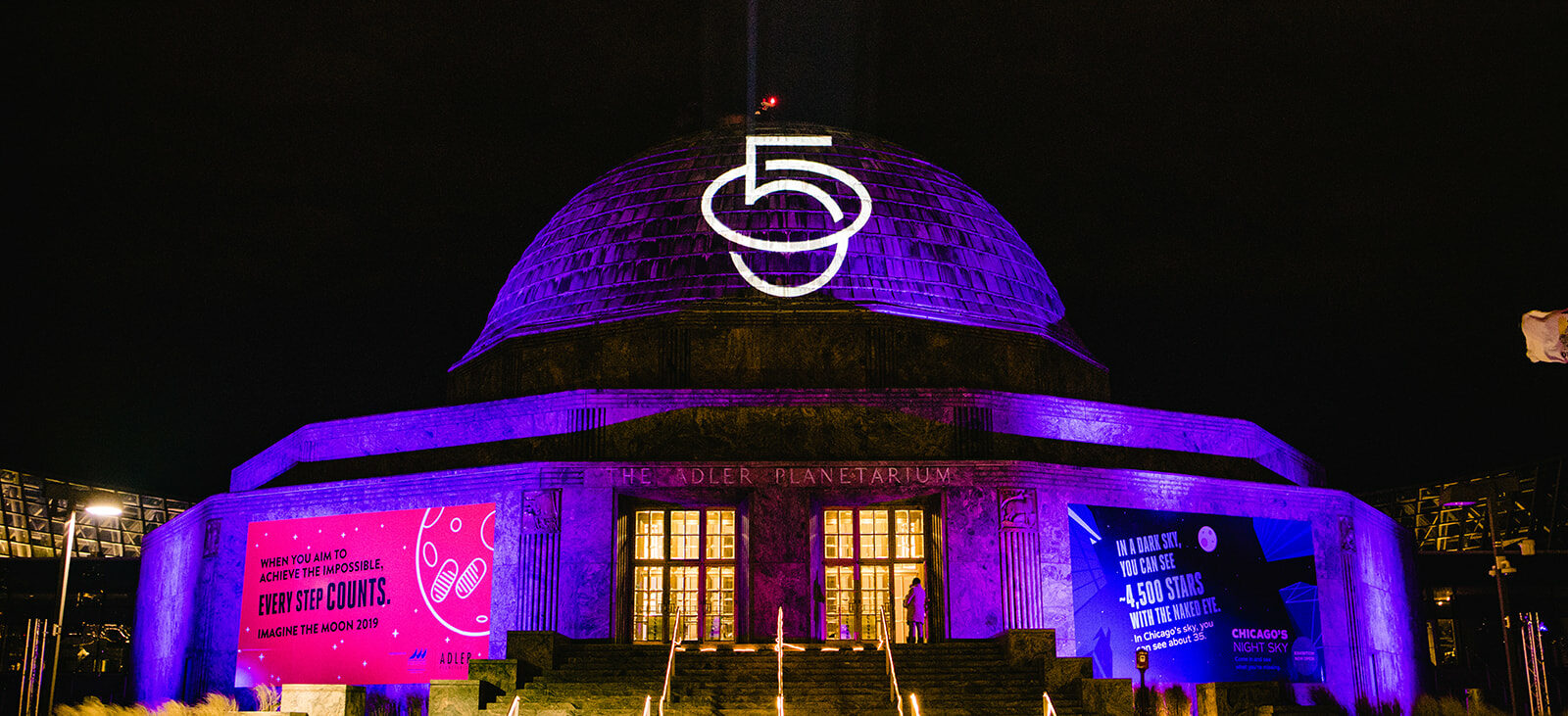 Come for the skyline. Stay for the science. The view of Chicago's skyline from the museum is reason enough to get your colleagues or corporate guests out of the uninspiring hotel conference room. But did you know the Adler is the only private event space in Chicago that invites guests to embrace their inner explorer? Help them unlock their creative potential and critical thinking skills with a mind-blowing sky show or leverage the entire universe to spark new ideas.
Have a milestone birthday coming up, a family celebration, or a simcha that you are looking to make "out-of-this-world" memorable? There's no better place than the Adler Planetarium. Leave the party planning to one of our event consultants. Inquire below.
FILMING & BRAND PARTNERSHIP OPPORTUNITIES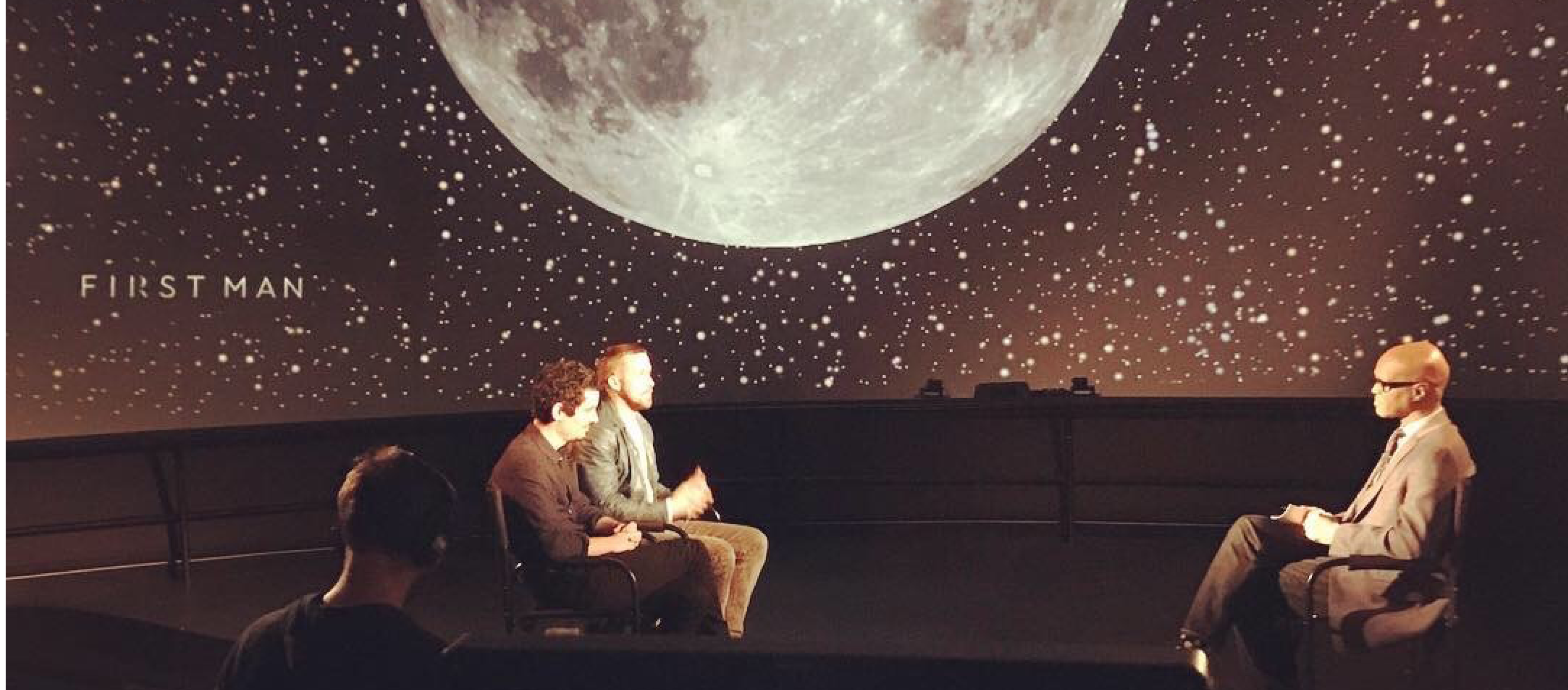 Academy-Award winning director, Damien Chazelle and award-winning actor, Ryan Gosling in the Grainger Sky Theater for their press junket for First Man
Iconic doesn't even begin to describe the Adler. For nearly a century, the Adler has been a cultural gem located in one of the best cities in the world, making it the place to film. Take advantage of the skyline views from the Sundial Plaza; come inside and take over one of our exhibits to showcase your brand; let the beauty and one-of-a-kind setting of the Grainger Sky Theater bring your vision to life.
PURCHASE TICKETS
Your all-access pass to our universe!