Adler Anywhere

Connect with us, with science and astronomy, with our universe—and with other people—exactly where you are!
On a cosmic scale, there's practically no distance between us. We're all flying through space on the same little blue planet, and we're all looking up at the same sky.
The Adler Planetarium is not only a building—it is anywhere people gather to spot a constellation, see themselves in the life story of a scientist, or sing a song about black holes. In classrooms and living rooms all over the world, we remind people that they are not so far away from us, from each other, or from the stars. 
Get Equipped To Eclipse
It's not every day that you get to see a solar eclipse from your backyard. The stars (well, one star, a planet, and a moon) are lining up to give us the opportunity to see two solar eclipses, six months apart! On October 14, 2023, and April 8, 2024, solar eclipses will be visible across North America, including here in Illinois. Learn how you can celebrate the Sun with us in the coming year at the museum and wherever you are! Get equipped to eclipse:
Start by getting to know all the different types of solar eclipses. Then, do a deep dive into all things October 2023 eclipse. Next, make yourself a pinhole projector to view the eclipse safely. Finally, if you're local, come join us at the Adler on October 14, 2023, to view the partial eclipse with us on Museum Campus.
Explore The Night Sky
Skywatch Wednesday
Tour the night sky on select Wednesdays with the Adler Planetarium's Theaters Manager Nick, who uses cutting edge visualizations, NASA images, and astrophotography to show you what you can see in the night sky throughout the year.
Sky Observers Hangout
Discover what it means to observe something in the sky—and how to see it for yourself!—with our astronomy educators! Observe upcoming cosmic happenings, enhance your astrophotography skills and see celestial objects through a telescope virtually in this live YouTube series.
Adler Coloring Books
Learn fun facts about constellations through illustrations from the Adler Planetarium's Collections in the The Celestial Zoo, Constellations Of The Zodiac, and Animals In The Sky in these printable coloring books for all ages.
Stay In Our Orbit
Wow! Signal Space Comedy Show
Laugh along with our team for some much needed space science fun! The Wow! Signal is a lightly educational space science comedy sketch show on the internet for adults that covers a variety of topics like dark matter, the Moon, and time travel. You'll laugh at our clever space jokes, sing along to our catchy original songs, and oops…you'll learn stuff about space too! Watch our latest episode all about solar eclipses and be sure to subscribe to our YouTube channel for new episodes.
Find stories that embody who we are, what we do, and give you an insider look behind-the-scenes of a space museum.
Our world class collections come to life through online Google Arts & Culture exhibitions, including this online exhibit about female science communicators and this one exhibit highlighting rare books and works on paper. Meet the people (perhaps some that you've never heard about before) that have made significant contributions to STEM fields in Raíces Bajo Las Estrellas: Rooted Under the Stars and Here, Queer and Exploring Beyond the Atmosphere.
Collaborate From Virtually Anywhere
Contribute to real scientific research from your couch! Zooniverse is the world's largest and most popular platform for people-powered research, aka citizen science! Researchers need volunteers (that's you) to assist in processing large sets of data for projects across a variety of different topics like art, biology, climate, history, language, literature, medicine, nature, physics, social science, and space.
You don't need any specialized background, training, or expertise to participate in Zooniverse projects and finding a project you're passionate about helping is easy. Just ask the other 2.4 million Zooniverse citizen scientists! All you need to contribute to real academic research is a curious mind, a willingness to learn, and a computer or phone.
Stellar activities for the whole family! Use materials you have around your house to try your hand at a variety of experiments.
Help Us Create Space For Everyone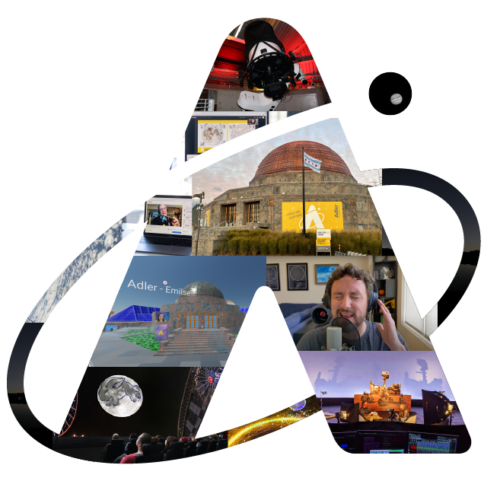 Donate today and help us continue to bring space science programming and resources to everyone, everywhere.
PURCHASE TICKETS
Your all-access pass to our universe!