Virtual Field Trips

Looking for a pandemic-safe experience that's more than just a video chat? Too far away to bus your middle school group to the museum? Visit the Adler Planetarium virtually!
In our unique virtual environment, your 5th–8th grade students will travel to our historic building on Chicago's lakeshore, experience the scale of our universe in three dimensions, and connect with each other in ways no video chat could ever replicate. Your group will have the virtual space (and the attention of our educators) all to yourselves as you learn and explore together.
Here's your sneak peek ⬇
Here's what field-trippers are saying about their experience ⬇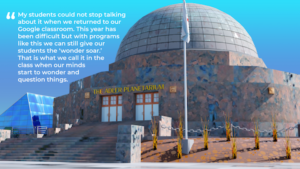 "It was so amazing that we could visit this museum, especially since we're in California!"
"I loved watching as my students were able to interact with each other just like in a brick and mortar scenario. They have really been missing that kind of interaction."
"I liked how we learned about the planets and go to see them in a different way. Rather then using a textbook or looking at a power point."
Schedule your middle school virtual field trip today! We'll provide teacher guides for before and after the experience to help you make the most of this cosmic classroom getaway.
Schedule
NOVEMBER
Tuesday, November 30
9:30am, 11:00am, 1:30pm
DECEMBER
Tuesday, December 7, and 14
9:30am, 11:00am, 1:30pm
Wednesday, December 1, 8, and 15
9:30am, 11:00am, 1:30pm
Thursday, December 2, 9, and 16
11:00am, 1:30pm
Friday, December 3, 10, and 17
11:00am, 1:30pm
January 
Tuesday, January 4, 11, 18, and 25
9:30 am, 11:00 am, 1:30 pm
Wednesday, January 5, 12, 19 and 26
9:30 am, 11:00 am, 1:30 pm
Thursday, January 6, 13, 20, and 27
11:00  am, 1:30pm
Friday, January 7, 14, 21, and 28
11:00 am, 1:30 pm
February
Tuesday, February 1, 8, 15, and 22
9:30 am, 11:00 am, 1:30 pm
Wednesday, February 2, 9, 16, and 23
9:30 am, 11:00 am, 1:30 pm
Thursday, February 3, 10, 17, and 24
11:00 am, 1:30 pm
Friday, February 4, 11, 18, and 25
11:00 am, 1:30 pm
*All times listed are Central Time
If a time slot is not available when you go to select during checkout, then it has already been booked. 
Registration must be booked two weeks in advance if paying by credit card (or for those who qualify for a free Virtual Field Trip) to allow for coordination of pre-field trip activities. Please refer to our refund and cancellation policy in the FAQ section should you have related questions.
About the Adler's Virtual Field Trip Technology
The Adler's Virtual Field Trips are held in Mozilla Hubs, a VR-style environment that is accessible through each participant's web browser. You don't need to download special software or acquire special equipment! You can use a desktop computer, laptop, Chromebook, tablet, or mobile devices. The experience runs best on laptop and desktop computers and in Chrome and Firefox browsers. More details here!
Safety/Security
Your group will access the experience via a private link, so you will have the virtual space all to yourselves! You and any other participating adults are asked to take the lead on group expectations and management while participating in the experience.

Adler is a Tier 1 Chicago Public School vendor. 
Technical Requirements
Firefox and Chrome browsers are strongly preferred

The Adler's Virtual Field Trip experience is designed to work on a variety of devices, but desktop and laptop computers provide the best experience

If tablets or smartphones are used, the quality of the experience may be affected

All registered participants should have access to an individual device to access the Virtual Field Trip
Who Should Take a Virtual Field Trip?
Virtual Field Trips are designed and recommended for middle school (6th- through 8th-grade) classes. Fifth-grade groups are welcome to register, but we created this experience with middle school learning objectives in mind.
If you would like to book this experience for a younger or older group, please contact us at vft@adlerplanetarium.org for more information before booking. This experience is not recommended for students under 5th grade. 
Free Virtual Field Trips
The Adler Planetarium is pleased to offer free Virtual Field Trips to any school where 51 percent or more of the student population comes from low-income households.
There are a limited number of free field trips available and are allocated on a first-come, first-served basis. One free field trip per class, availability permitting.
To apply for a free Virtual Field Trips, please complete this form, and one of our educators will provide you with a code to input during registration.
Frequently Asked Questions
What is a virtual field trip at the Adler and how is it different from an in-person field trip?
Virtual Field Trips at the Adler are a completely new experience, designed from the ground up with remote learners in mind. You and your students will visit a 3D immersive model of the Adler Planetarium's beautiful exterior and surrounding grounds, learning about our solar system and exploring planets like you've never seen them before!
How much does it cost?
A Virtual Field Trip is $200 per session for classes up to 35 participants (inclusive of teachers and students). 
Schools with 51% or more of the student population classified as low-income qualify for free Virtual Field Trips.
What should I do to plan for the experience? Is it moderated or will I need to create my own lesson plan?
It is moderated live by an Adler educator. During the virtual field trip, teachers will be responsible for student management, but the experience will be led by Adler staff. 
Pre- and post-field trip activities and a how-to guide are included. 
It will be important to prepare yourself and students using the how-to guide—this is a very different experience from the video chats everyone is used to!
Do students need to be all in the same place?
No! Thanks to the magic of the internet, students can join the field trip from anywhere using a unique URL during your scheduled time period. See technology requirements below.
How long is the experience?
The experience lasts from 45 to 60 minutes. If you have a time limitation, we can work with you! Let us know at vft@adlerplanetarium.org after booking.
What should I expect my students to learn during the field trip?
In the virtual environment, students will experience the size and scale of our solar system directly—by using an avatar to  "walk" around models of the planets, moons, and other solar system objects and noticing the differences between them. Being able to explore in three dimensions also creates opportunities for students to interact with each other more like they would in a physical space—they can have small group discussions, linger on items that interest them, and make discoveries with their friends. This experience is created with NGSS space science standards for middle school in mind, especially MS-ESS1-3.
What age range or grade level is this appropriate for?
This particular experience is designed for middle school students (grades 6-8). 
We look forward to creating more virtual field trip experiences for a wider range of students. If you would like to help Adler as we develop programming and resources for teachers and students, please join the Teacher Evaluator Group!
How can I schedule a Virtual Field Trip?
What happens after I register?
You'll receive an email confirming the date and time of your field trip as well as pre- and post-field trip activities and a how-to guide. 
It will be important to prepare yourself and students using the how-to guide—this is a very different experience from the video chats everyone is used to!
I'm not in the Chicago area, can I still schedule a Virtual Field Trip?
Yes! While the Adler's primary educational audience continues to be Chicago-area schools, a completely online experience means your class can attend from anywhere.
Are there accessibility options?
Because Mozilla Hubs is a new application, accessibility features are not yet available to us. Please email us at vft@adlerplanetarium.org with your specific needs so we can talk further.
What is the capacity?
For the best experience, we recommend a cohort of around 25-30 people, inclusive of both students and staff, with no more than 35. We've found that video and audio quality are significantly affected when there are between 30–35 people in the space. If your class is on the large side, we encourage you to consider booking two sessions. 
What is your rescheduling and cancellation policy?
Contact us as soon as possible—no later than TWO weeks prior to your virtual field trip date—so that we can reschedule your Virtual Field Trip for another date. Cancellations made less than TWO WEEKS prior will not receive a refund. 
The registrant is responsible for verifying that all participants' devices are able to access the experience before booking. To test, please visit hubs.mozilla.com and this reticulum.io link. In the reticulum.io link, you should be able to view a video, but there is no sound. 
The registrant is also responsible for verifying with their organization's IT representative that their internet connection is sufficient, both in bandwidth and in latency, to support their full group engaging in the session simultaneously. Blocked access or insufficient internet connection do not qualify the registrant for a refund or a reschedule, should they prevent the session from occurring. 
Please note: Adler's Virtual Field Trips use Mozilla Hubs, a new, still developing, open source platform. Our team will work to adapt and troubleshoot unforeseeable technology challenges if they occur during a session to provide the best experience possible. In case of sound impacts, the Educator will continue the virtual trip via the chat function with continued student participation. Outages are uncommon but possible. If an outage prevents a session from happening, Adler will work with the registrant to reschedule. 
Terms of the Teacher Acknowledgement Form also apply.
Can I schedule an in-person field trip?
What payment types do you accept?
At this time, we accept credit card payments only.
What other resources are available for educators like me?
Still have questions? Contact us!
Thanks To Our Sponsors
The Adler Planetarium is grateful to the A. Montgomery Ward Foundation for supporting Virtual Field Trips.
PURCHASE TICKETS
Your all-access pass to our universe!