Teen Opportunities
The Adler's Teen Programs focus on providing technical and professional skills, mentorship, and a welcoming learning environment for Chicago high school students of all backgrounds, interests, and abilities. We offer internships, workshops, after-school programs, and more. Whether you're building a website, programming a robot, blogging about current space science, or facilitating a workshop for other teens, you'll make an impact here! Want to stay up to date about our teen programs? Sign up for our email list!
---
The Adler Planetarium is grateful to the Bank of America Charitable Foundation, the Barker Welfare Foundation, Baxter, The Dover Foundation, Hive Chicago Fund for Connected Learning at The Chicago Community Trust, The Leo S. Guthman Fund, the Pritzker Foundation, S&C Electric Company Foundation, The Siragusa Foundation, and Wells Fargo for supporting teen opportunities.
OPERATION AIRLIFT
Middle and high school students will put their design, engineering, and circuits skills to work at the Adler Planetarium's "Operation Airlift" on Saturday, December 7, 2019! At this design-engineering competition, teams of students will compete with each other to design and build the best possible remotely-controlled airship. Join us for this fun day, where teens will connect with their peers, adult volunteers, and Adler Planetarium staff. If you'd like to be a part of the fun, you can apply to bring a group of students or sign up to be a volunteer!
Hangouts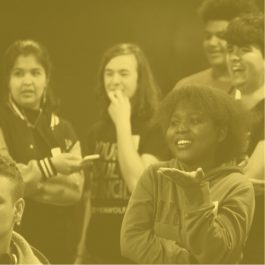 Hangouts is an event series for Chicago teens in the Cosmos. We explore young adult professional development, STEAM (science, technology, engineering, arts, math), and we socialize.
We ask questions about the Cosmos that make us say wow while addressing the pressures and ambiguities that are facing teens now.
Monday, October 7, 4:30-6:00 pm: Standardized Testing & Self-Care
Friday, November 8, 2:00-3:30 pm: Ethics, Science and Social Justice, Science
Wednesday, December 11, 4:30-6:00 pm: Community Hangout: Smores, Open Mic
Hangouts are open to teens aged 14-19, and is free with an RSVP!
Questions? Please email fsowe@adlerplanetarium.org
The Aquarius Project
In the wee hours of a Monday morning in February of last year, a giant green fireball erupted over Lake Michigan. That fireball was a meteor breaking up in the atmosphere, and the pieces of that meteor are now sitting almost 200 feet below the surface of the lake. In the coming months, an unlikely scientific search-and-rescue team will pile onto a boat, sail out to the crash site, and attempt to retrieve these meteorites.