Teen Opportunities
The Adler's Teen Programs focus on providing technical and professional skills, mentorship, and a welcoming learning environment for Chicago high school students of all backgrounds, interests, and abilities. We offer internships, workshops, after-school programs, and more. Whether you're building a website, programming a robot, blogging about current space science, or facilitating a workshop for other teens, you'll make an impact here!
Want to stay up to date about our teen programs? Sign up for our email list!
---
The Adler Planetarium is grateful to the Bank of America Charitable Foundation, the Barker Welfare Foundation, Baxter, The Dover Foundation, Hive Chicago Fund for Connected Learning at The Chicago Community Trust, The Leo S. Guthman Fund, the Pritzker Foundation, S&C Electric Company Foundation, The Siragusa Foundation, and Wells Fargo for supporting teen opportunities.
The Aquarius Project
In the wee hours of a Monday morning in February of last year, a giant green fireball erupted over Lake Michigan. That fireball was a meteor breaking up in the atmosphere, and the pieces of that meteor are now sitting almost 200 feet below the surface of the lake. In the coming months, an unlikely scientific search-and-rescue team will pile onto a boat, sail out to the crash site, and attempt to retrieve these meteorites.
Youth Organization for Lights Out (YOLO)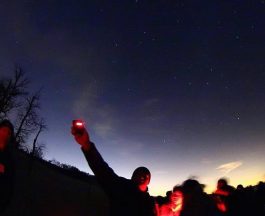 Did you know that beautiful orange glow from downtown is actually light pollution? How many stars can you see in your backyard?
Adler Planetarium's Youth Organization for Lights Out (Y.O.L.O.) is a light pollution awareness, civic action and service-learning program at World Language High School in Little Village. The program is currently an after-school program with an in-class component.
In the classroom: Students learn about the causes and effects of light pollution.
After school club: Students bring awareness to the community by:
Observing streetlight changes made by the city of Chicago in their neighborhood;
Learning how to use a telescope for solar viewing; and
Presenting at the Adler's annual Earth Fest on why it is important to reduce light pollution
This environmental issue needs your help to reduce light pollution!