Meet Our Virtual Experience Educator Team
Nice to meet you—we're your team of Adler Virtual Experience Educators!
When you virtually learn with the Adler, you get your very own Adler Educator! One of us is there live during your trip to help you guide your students as they explore our virtual space. We're ready and excited to follow your class' lead, and are always here with a little nudge in the right direction or extra info on a student's favorite planet.

Emilse Alvarado
Virtual Learning Experience – Lead Educator
Emilse (ehh-mill-say) has worked in science organizations and museums since she was a high school student. With a background in science education and psychology, she has done everything from teaching toddlers how to mix colors, training teens for their first jobs, giving presentations about animals and conservation, and making chemical reactions with grade-school students! She has always loved science and youth education, and Adler's virtual learning experiences are the perfect mix of both!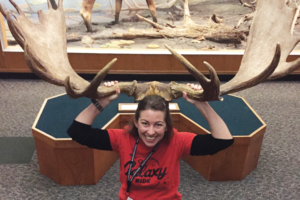 Sarah Smail
Virtual Learning Experience – Educator
Whether teaching her stuffed animals how to add at age five ,  combusting hydrogen balloons in the name of science interpretation, or (slightly more sedately) teaching middle school STEM, Sarah has always been all about learning through play and exploration. She loves being an Educator for Adler's virtual learning experiences because it's some of her favorite things put together: school groups, open-ended, informal learning, and fun new tech.

Hunter Miller
Virtual Learning Experience – Educator
A love for all things learning drove Hunter to be an educator from the start, working in museum education throughout his academic and professional career. From a young age, space caught his attention. A Moon that hung from his bedroom wall taught him to look up and pay attention to the night sky, and now he hopes to share that passion and interest with as many students as he can in Adler's virtual learning experiences!
PURCHASE TICKETS
Your all-access pass to our universe!