Adler Staff Star: Meet Chris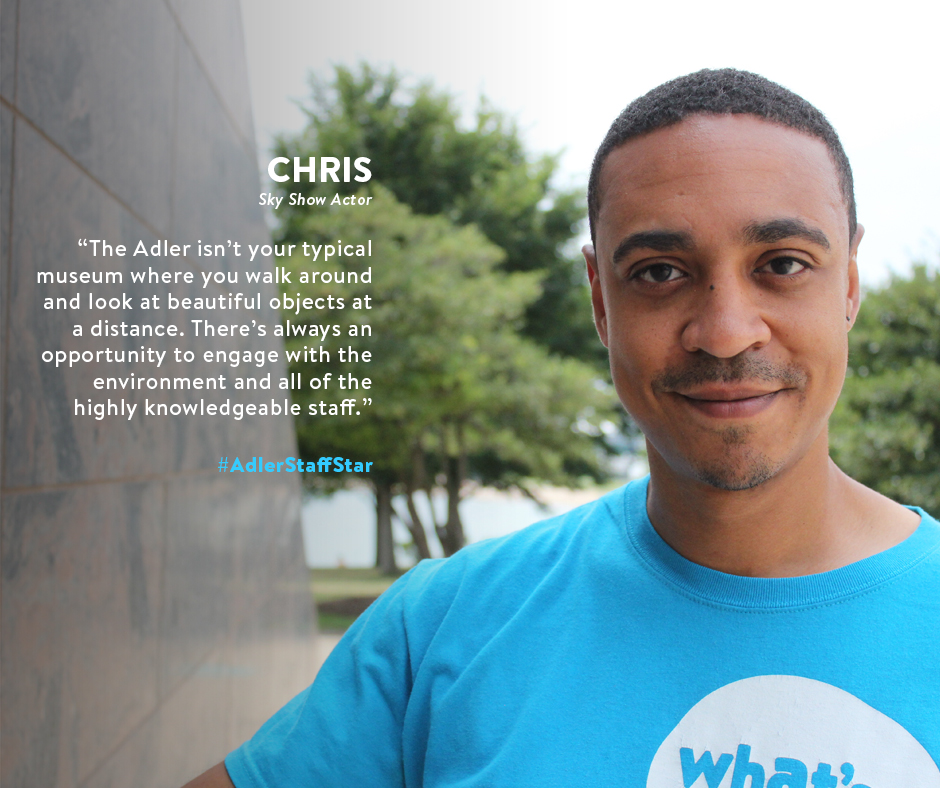 Editor's Note: Updated in May 2023 to reflect more current and updated information.
Chris J.
Former Sky Show Actor
What do you enjoy the most about working at the Adler?
I really enjoy interacting with people's curiosity here. The Adler isn't your typical museum where you walk around and look at beautiful objects at a distance. There's always an opportunity to engage with the environment and all of the highly knowledgeable staff. The museum is alive with discovery.
What is your most memorable experience as a sky show actor?
My most memorable experience playing Jesse in Destination Solar System was having the writer of the show in the audience, and I had no idea. After it was over, she introduced herself and was very kind. We took several pictures together. But the whole time I was talking to her, I kept thinking, "I hope I didn't screw up any of the lines!" I've been doing the show for 3 years now. I may have changed a joke or two to keep it fresh and interesting.
What do you like to do outside the Adler?
I am a professional actor, working in and around town. I moved to Chicago in 2013 to pursue my MFA in Acting from The Theatre School at DePaul University. Since graduating in 2016, I have done 10 plays, 2 short films, and 2 network television shows. I love to take in the incredible performance scene Chicago has to offer. While acting keeps me plenty busy, I am also a Substitute Teacher for Chicago Public Schools.
What is your favorite space fact?
My favorite space fact that I actually learned from a Destination Solar System is how Saturn's moon Titan has liquid on its surface.
Name one fun fact about yourself!
I grew up in Baltimore, MD and my elementary school had its own Planetarium. Our trips down there were always my favorite in science class!