Adler Staff Star: Pride Month!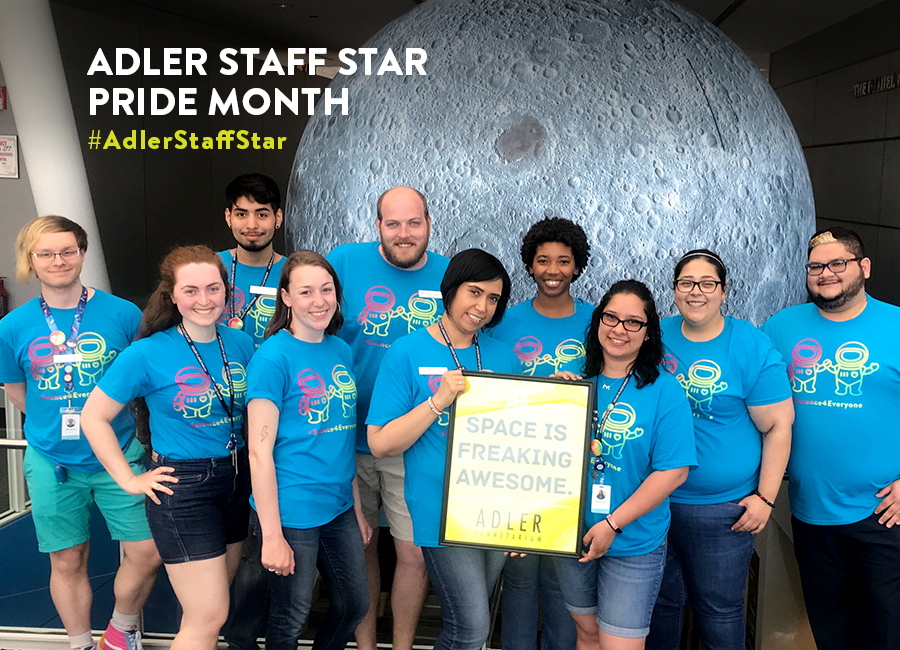 For this month's Adler Staff Star we decided to highlight the employees at the Adler who embody what it means to be an ally and a part of the LGBTQIA+ community.

---
What does Pride Month mean to you?
"Pride Month is a remembrance/memorial for the brave trans-women of color who fought for visibility and equality at stonewall, a continuation of work worldwide, a celebration of how far the queer community has progressed, and an acknowledgement of how far we still have to go. This Pride Month, I will be working especially hard to be a good ally to my trans-siblings in the community, especially to trans-people of color." – Jordan Scherer
"For me it is a time of celebration and remembrance. A celebration that encourages myself and the whole community to be who they are without apologies or mandates. Remembering those who have paved the way for the lives that we all lead now. Pride has always given me comfort and when I attended my first Pride 15 years ago it showed me that I wasn't alone, even though many in the community sometimes feel like they are." – Josh Stewart
What part of the Adler's Pride Month celebrations are you most excited about?
"I love the shirts and the buttons. I am very excited for Adler After Dark: Out in Space. The panel sounds awesome and it's just amazing to me to have an organization like the Adler showcase members of the LGBTQIA+ community and stand behind Pride." – Joseph Wesolowski
"Out of all the events the Adler is doing to support and welcome the LGBTQIA+ community, I think changing the Grainger Sky Theater to multi-colors is what I'm most excited about. I work mostly at the main box office so it's nice getting to see lively colors for a change while I'm here for shifts." – Daniel Noriega
"I love being able to look out the window and see a very inclusive Pride flag waving in the wind." – Martha Garcia

In your opinion, how can heterosexual and/or cisgender people work toward being good allies to the LGBTQIA+ community?
"I would say; just listen, be humble, and stay open to new and sometimes uncomfortable ideas. Learn about our cultures, see a drag show, talk to a trans-person or someone living with HIV. And by all means, have fun! Just don't make it about you. One of the discouraging movements I've noticed a lot more this year is a push for a "Straight Pride" counterpoint. This misses the point. Pride is a moment for those of us who have been invisible, excluded, ignored, and mistreated our whole lives. This is our counterpoint to a whole world designed for straight and cis-people." – Jonathan Russell
"Understand that 90% of being an ally is listening, the other 10% is using your privilege to speak up if and when unjust situations arise." – Jasmine Porter
"Continuing to be more proactive about inclusion and pronouns." – Kira Mangum
Share one interesting fact about yourself!
"I'm working on a pseudo-fantasy epic about mostly queer characters! My worldbuilding style is deliberately queer as well." – Jonathan Russell
"I am an identical twin. He is my best friend and we go to the Twins Days Festival every year!" – Josh Stewart