Chicago's Black Women in STEAM: Meet Brittany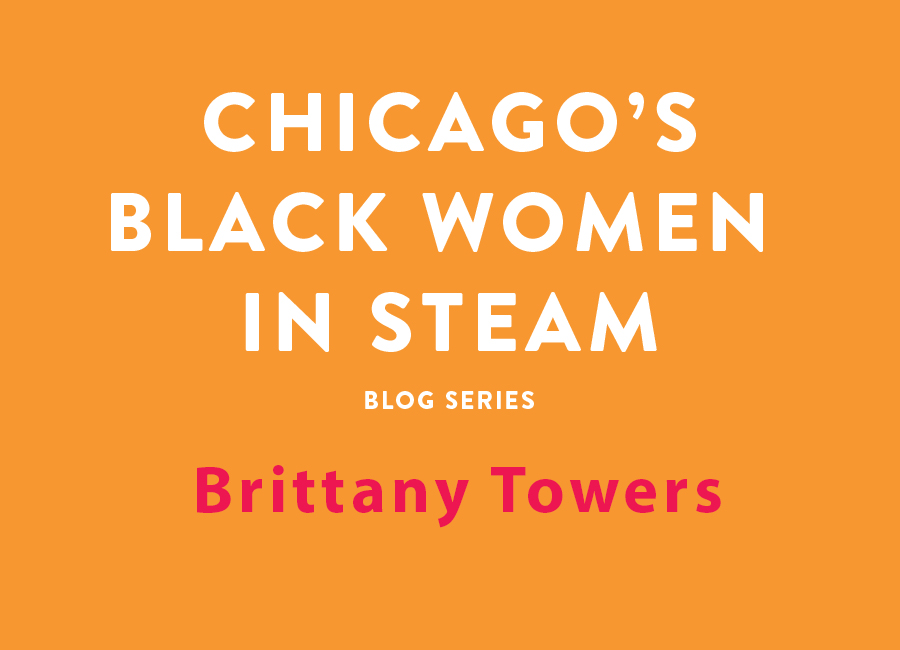 "Chicago's Black Women in STEAM" is a series on The Adler 'Scope that highlights the awesome women of Chicago who are doing amazing things in science, technology, engineering, art, and math fields here in our own community. Meet women of varying ages, backgrounds, and interests and learn their unique stories.
---
Brittany Towers
Senior Scientist at PepsiCo
What first sparked your interest in food science?
I have always loved cooking (and eating!) since I was a child. The Food Network was one of my favorite channels growing up and I watched the show "Good Eats with Alton Brown" every time it came on TV.
Seeing him talk about the science of food and how that relates to cooking/baking sparked my interest. I remember telling my Dad I wanted to be Alton Brown when I was younger—he told me that wasn't a real job. Maybe I am not on TV but I did find a way to marry my love of food with my interest and curiosity for science.
I started as a biology major when I was at Ohio State University and had no idea what I wanted to do after graduating and was not happy with the classes I was taking. I found the food science department which sparked my interest and spoke with an advisor there. I ended up changing my major to food science in the middle of my junior year and finished school on time. Goes to show that it is never too late to follow your passions!
You've worked at PepsiCo for the last 6 years (so cool!). What aspect(s) do you love the most about your role as Senior Food Scientist there?
Definitely the number of brands/products I have been able to work on early in my career. I have worked on Gatorade, Propel, Tropicana, Naked Juice and Kevita in the six years I have been with PepsiCo.
I have not only worked on the beverages within these brands I have also had the opportunity to work on Gatorade chews and bars which has helped to expand my knowledge. Working on a variety of different brands and products keeps work interesting, exciting, and allows me to constantly learn. Learning happens well past your graduation date and having the willingness to learn is a big part of being in a STEAM field. I am always growing myself and learning new things on the job.
I had the opportunity to participate in a program at PepsiCo where I was able to get my Certified Culinary Scientist Certification. This certification is for food science professionals to gain more knowledge and experience in the culinary field. I spend 4 weeks learning from different chefs from the Culinary Institute of America and I loved every minute of it. This opportunity helped me hone my culinary skills and taught me more about food than I ever would have known.
What is your favorite product that you've worked on?
I developed and launched three new flavors under the Gatorade Frost Line (Arctic Blitz, Icy Charge and Summit Storm) that grew the brand to over 1 billion dollars. This was early in my career and only the second product that I had launched and it was so exciting! As a product developer, I am in charge of the product that is inside the package. In this case, I developed the flavors and colors for these three products. It is always fun when your friends and family go to the store and buy one of the products you actually made. I can go to the store and look at a product and have pride that I worked on it—that is a really cool part about my job.
You also do work as a volunteer with "Big Brother Big Sisters of Metropolitan Chicago." Can you tell us more about your role as a mentor there?
We have a program through PepsiCo where we meet with our high school "littles" once a month in our office and participate in various activities. I love mentoring high school students because it is a great time in their life to help guide them to what they want to do in their future. I especially love mentoring those who are interested in science fields because I can share my experiences and love for food science, which is something not a lot of people know can lead to an awesome career!
What advice would you give to young girls of color who are interested in pursuing careers in STEAM?
I also highly encourage all women of color interested or currently in a STEAM field to find a great mentor. Find someone that you can connect with on both a professional and personal level who will "tell you like it is." This will help give you someone you can bounce ideas off of and to help you with your career, schooling or other interests. It can be intimidating for women of color to go into STEAM fields that are dominated by men, but having a mentor or group of women that can support you can make a world of difference when pursuing your dreams. To find a mentor, talk to your teachers, professors or people you know for recommendations. You can also reach out to local museums or colleges/universities to learn about any mentoring programs or for women that are interested in mentoring young STEAM bound women.