Does Comet C/2022 E3 (ZTF) Have A Hyperbolic Orbit or a 50,000 Year Orbit?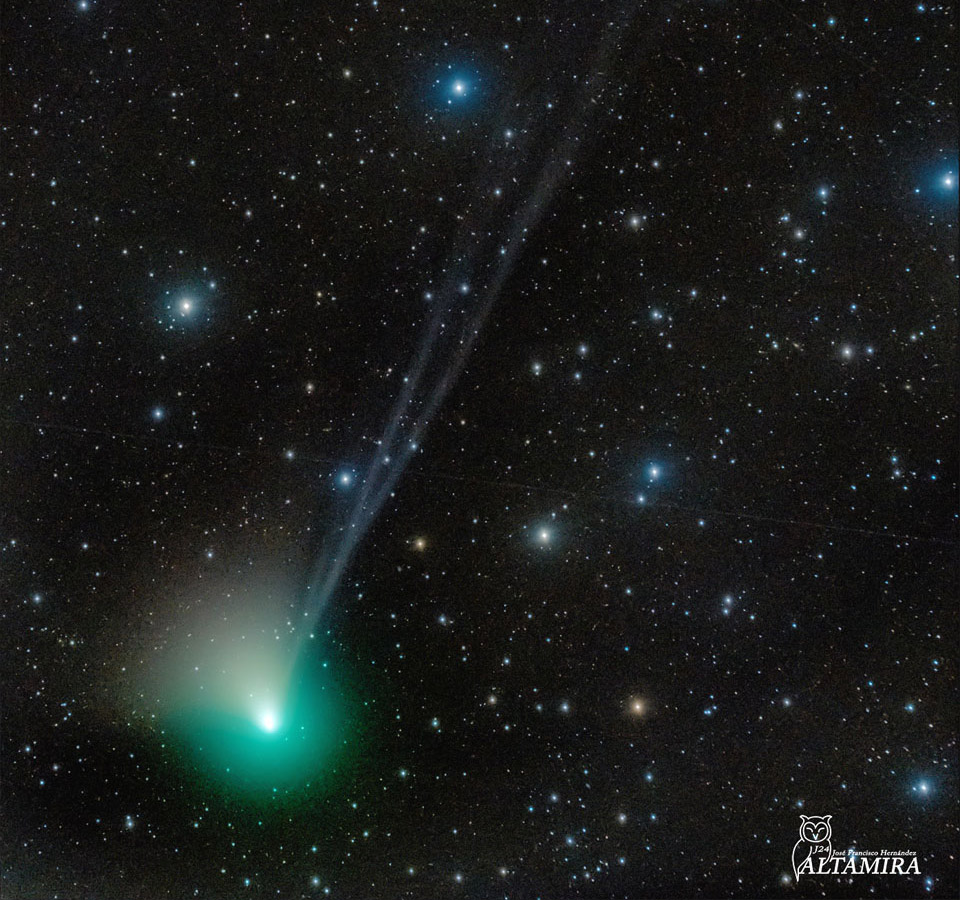 Header Image: Comet C/2022 E3 (ZTF) showing its green glow and three blue ion tails. Image Credit: Jose Francisco Hernández
Everyone is talking about the "Green Comet"—aka Comet C/2022 E3 (ZTF)—right now! This cosmic fuzzball recently made its closest approach to the Sun, and has the potential to be bright enough to be seen from Earth between January 31, 2023, and February 8,2023. Unless it breaks up over the next couple of weeks, reducing its brightness and visibility.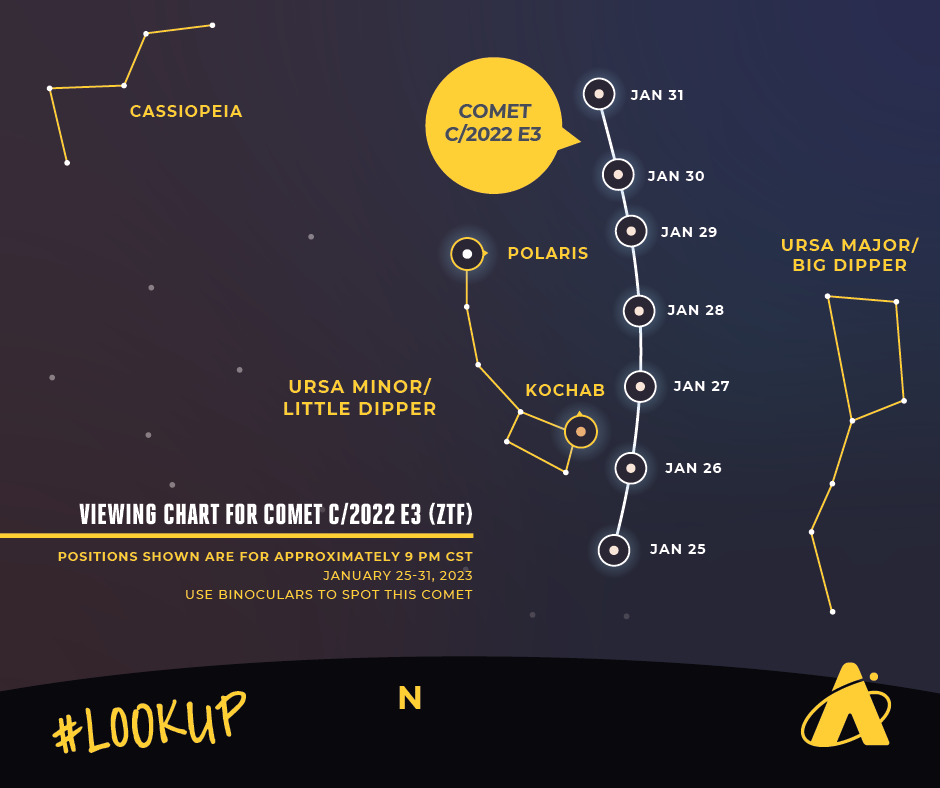 This comet is considered a long-period comet, which means it has most likely come from a very far out place in the outer reaches of our solar system called the Oort Cloud. The Oort Cloud has only been theoretically predicted due to the existence of comets like Comet C/2022 E3 (ZTF).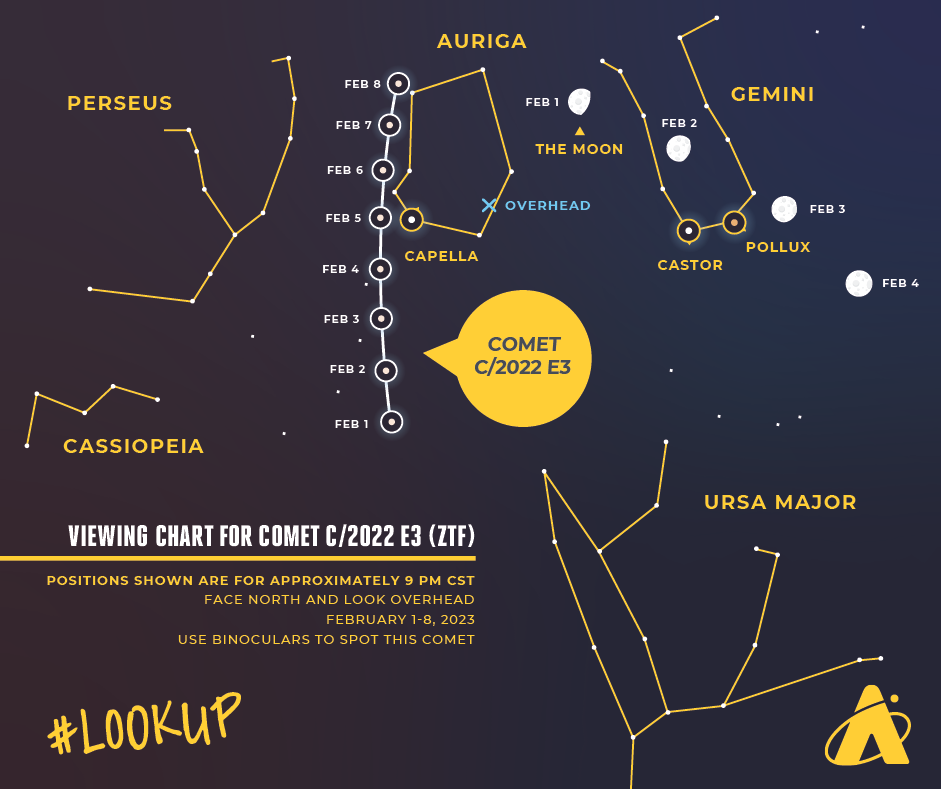 So, will this comet be visible from Earth again in 50,000 years? Or will it leave our solar system entirely?
It is estimated that this comet would have been in the inner solar system and potentially visible from Earth 50,000 years ago. This estimate was calculated using data after the comet's discovery in March 2022. If the comet's speed  is not fast enough to escape the Sun's gravity, it could theoretically visit us again.
However, if its gravity is influenced by any of the planets, its orbit could turn into a hyperbolic orbit. This means that it might have enough speed to completely escape the gravitational pull of the celestial object that is creating its orbit.
Adler Planetarium astronomer, Dr. Geza Gyuk, says, "When a solar system object is "weakly hyperbolic" (that is, it has just enough speed that it would, after thousands of years, escape from the gravity of the Sun entirely) then even small changes in speed can change the orbit dramatically. But this works in reverse also. If an object is "weakly bound" (that is, the orbit is a closed ellipse, but very large) then it can be unbound and turn into a "weakly hyperbolic" orbit very easily.
For these comets on very elliptical orbits that go out way beyond the planets and then come back in close to the center, it is very easy for them to have their orbit perturbed thus making them leave the solar system entirely. Every time they dive back in towards the Sun and planets it is a roll of the dice! Each time might be their last!
This seems to be what happened to C/2022 E3 (ZTF). On the inbound leg it was in a closed elliptical orbit with a period of about 50,000 years. So, the last time it visited us was probably about that long ago. But on the way in, the gravity of (probably) Jupiter tweaked its orbit and now on the outbound trip it is more than likely leaving the Sun forever (or just maybe only on a million year+ orbit)."
Learn From Our Astronomy Educators
Watch exclusive live episodes of Sky Observers Hangout this January! If the weather permits and visibility is good, we'll be broadcasting on YouTube a live view of Comet C/2022 E3 (ZTF) from our Doane Observatory in Chicago on February 1, 2023, or February 8, 2023! Subscribe for notifications about upcoming livestreams and new content.