Space During Pride Month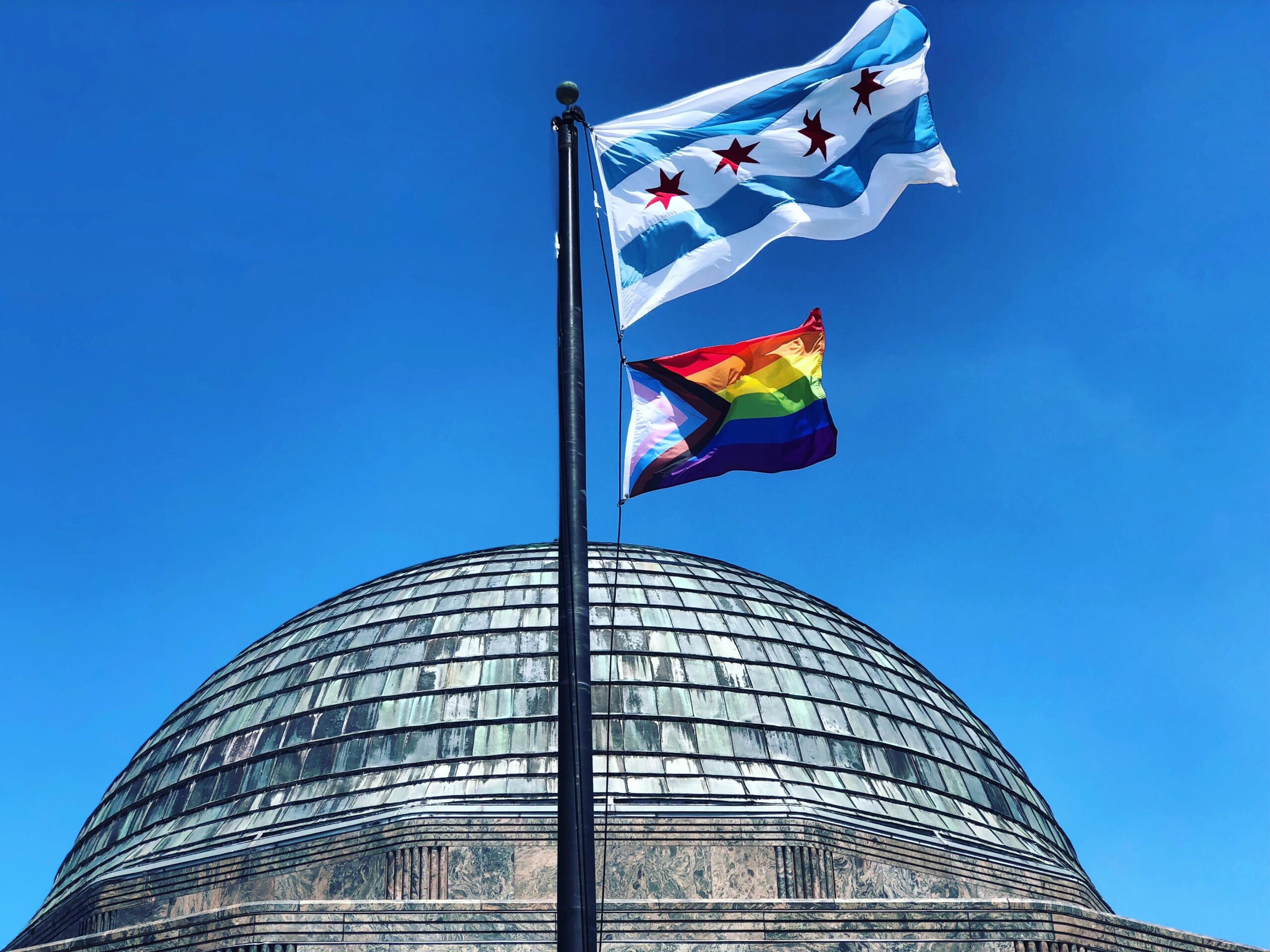 Header Image: The outside of the Adler Planetarium in June 2019 flying the Chicago flag and Progress Pride flag.
My name is Kenzie Elizabeth, and I am a LGBTQ+ filmmaker, writer, retired drag queen, and activist from Chicago, and I'm here to talk about space! And it's June! That's Pride month, baby!
This time last year, The Adler reached out to myself, and the Chicago LGBTQ+ community to collaborate on an amazing and uplifting evening for Pride, an Adler After Dark event called "Out In Space". And What. A. NIGHT. With performances by Chicago drag queens, Adler celebrated our LGBTQ+ community and the LGBTQ+ STEM community for Pride month.
This year, I'm tackling curious questions and we are reaching out to the LGBTQ+ community below, to see how we can all celebrate Pride during this very different time in space and history.
—
As a member of the LGBTQ+ community, what do you think is fascinating about space?
This year, specifically, I can't help but think about what "space" means to me as a queer person. To me, space is always mysterious, educating, and emboldening. It's home to the stars, it owns the depths of the universe, and it's the place you are right now, reading this post. Space is the great expanse of planets, and it's here on earth where we express ourselves, our genders, our pride, and it's where we (me) sit on the couch to watch ninety drag makeup tutorials in a row.
But let's be honest—it feels like lately, all we have is space. During this pandemic of COVID-19, distance from each other is necessary to keep each other safe, and space has become our intimate roommate. For some (moi), space has become that roommate—eating my yogurt and changing my Netflix algorithm by watching a CrossFit doc. (That "roommate" is my partner, whom I love, but literally can't get away from, and please I can't take another CrossFit doc.)
During this time of isolation and social distancing, how are you staying connected?
For people who need friends to stop her from cutting her own bangs (me), it feels harder to connect right now. And especially during Pride Month, I'm missing the safety and wisdom of my queer communities and havens even more.
It makes me ask: Without our big, queer spaces—those rainbow balloons! Beautiful drag queens! Big rainbow floats!—are we even queer??? Can we have Pride in a six-foot space? Basically, if a tree falls in a forest, and no one is around to hear it, is it even a Lady Gaga song???
As I, a white, gay, cis-woman, think about connecting with my community and celebrating LGBTQ+ pride this June, I am struck by what's really happening in our world: Yes, June is LGBTQ+ Pride Month—but it's also the month of Juneteenth.
In our big, big galaxy, here's what has been happening on Earth: On Juneteenth (June 19, 1865) the abolishment of slavery was established with the Emancipation Proclamation, and white Americans told ourselves that space was finally equitable for all. But racial segregation, during the Jim Crow era, made it known that space was a right Black Americans still did not have. The Civil Rights Movement of the 1960s rose against the continued denial of human rights and the historical denial of space for Black Americans through redlining, mass incarceration, gentrification, and police brutality. Throughout our racist history, Black Americans continued striving for equity, for space under our big sky, in our big galaxy.
And this brings us to today, the month of June in 2020: Black Americans are still disproportionally disadvantaged and targeted while fighting for justice—for the right to take up space. Disproportionally taken to jail, forced out of their communities, brutalized, or killed by police forces around the country, Black Americans don't even get the space to breathe.
Our space on Earth, the space we LGBTQ+ people demand during June, to proudly wear our rainbow tutus, parade in the street, and hold our partner's hand in public, has never been equitable to all.
What can everybody learn from the LGBTQ+ movement about finding and building community, especially when we feel isolated?
To be frank—we wouldn't have our LGBTQ+ community in the United States, without the Black activists who paved the way, building community and purpose for us.
Marsha P. Johnson, a Black, trans woman in New York City, fought against police brutality, in the name of gay rights—and in the summer of 1969, in the face of the antagonistic police force, she became the match that lit the legendary fire we now know as the Stonewall Riots. The Stonewall Riots began the LGBTQ+ movement we know today. The LGBTQ+ movement only knows how to fight for justice because Black Americans taught us how.
We only know how to March on Washington because Black Americans had Marched on Washington ten years prior. We had a liberation movement because queer, Black Americans like Marsha, taught us how. It brings me to a conversation with artist, Alex Dauphin of Atlanta, who took a moment to talk to me during this time of activism and social distancing.
"The only time that I don't have to think about race is when I'm alone…" She paused, and with conviction said, "But even when I am alone, I still see the world though a black, queer lens. So, I am always living through those identities."
We all have a specific lens through which we see the world. Our own telescope through which we see space. Those lenses make us who we are.
When you are queer, you live against the systems, you love against the systems, and you express your identity against the systems. We live as our true selves against the odds, in the hopes that our daily acts of bravery will forge a world less dangerous for those who traverse it after us. Being queer is innately political. Activism is in the fabric of the movement. It's what makes us look so much younger, and what makes us (me) better at karaoke. We strive for a world in which all walks of life, all genders, sexual orientations, socio-economic statuses, and races enjoy space, freedom, and justice. We fight for an anti-racist, intersectional-feminist, environmentally-sustainable space for all.
This is how to have Pride. This is Pride. Fighting for equality is Pride.
A galaxy of so many different stars, is still one galaxy, united towards this goal. A world in which we all have space is the world in which we can be fully, joyfully proud.
Happy Pride, use your voice, learn our history, and wonder at the diversity of the stars around us. Black Lives Matter.
—
The Adler is celebrating Pride month and beyond, and we want to hear from YOU! Help us celebrate by telling us a little about yourself and how you identify with our questionnaire: Exploring Infinite Identities. All are welcome to participate. There's more than enough room for hundreds of billions of galaxies—and all of us—in this rapidly expanding universe.