Adler Staff Star: Meet Star!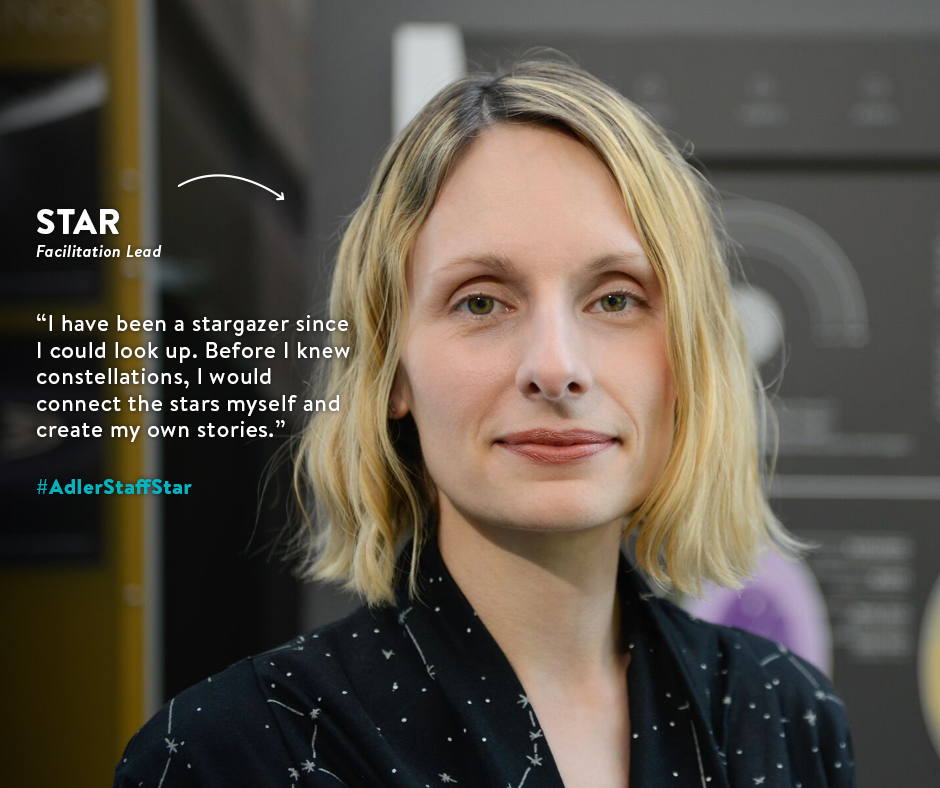 Editor's Note: Updated in May 2023 to reflect more current and updated information.
Star H.
Former Facilitation Lead
What do you enjoy most about working at the Adler?
Our facilitation team is amazing. We strive to make science accessible to all ages. We are some of the first people you will meet as you explore the museum. Whether we are providing awesome customer service or sharing the wonders of science, every interaction is unique and personal.
What is one of your favorite memories from your time at the Adler?
Every day is full of favorite moments! However, I do have a favorite day to make memories at the Adler. Every Monday our team hosts Young Explorer's Monday. It's a special day where our younger explorers can experience science on their level.
Why, in your opinion, is Space Freaking Awesome?
I have been a stargazer since I could look up. Before I knew constellations, I would connect the stars myself and create my own stories. Space can mean different things to different people. Whether you are an inspired artist like Van Gogh, or an astronaut preparing for your first visit to the International Space Station. It's an honor to explore its wonder. Space belongs to us all.
What do you like to do outside of the Adler?
I was a volunteer at the Adler many years ago. I continue to volunteer for local museums and schools. I also like to organize events for conventions. However, I spend most of my time with my 3 children and my dog, Nova. I fondly refer to my children as my "satellites."
Name one fun fact about yourself.
When I am not peering into the sky, I am flying kites in the sky. I own a myriad of sizes and designs. My favorite kites are stunt kites. I love the feeling of having an extension of myself high in the sky practically dancing in the wind.