Adler Space Tours
Welcome to the Adler Space Tours travel agency. We're your guide to the stars!
Feeling a little claustrophobic here on planet Earth? Ready for a summer vacation that will take you places literally no one has ever visited before? Adler Space Tours understands. There's never been a better time to escape to our universe!
Discover your planetary neighbors, explore mysterious worlds, and get ready for galactic adventures throughout space (and time).
Space may be infinite, but summer is not, so blast off with our exclusive vacation packages today. Your destination awaits!
Say "goodbye" to conventional travel and map out some memories.
Space is meant to be explored. With so many incredible sights, unusual attractions, and can't-miss stops along the way, you'll want to book your next trip before you've finished your first!
Adler Space Tours vacation packages include one featured adventure and suggested popular attractions.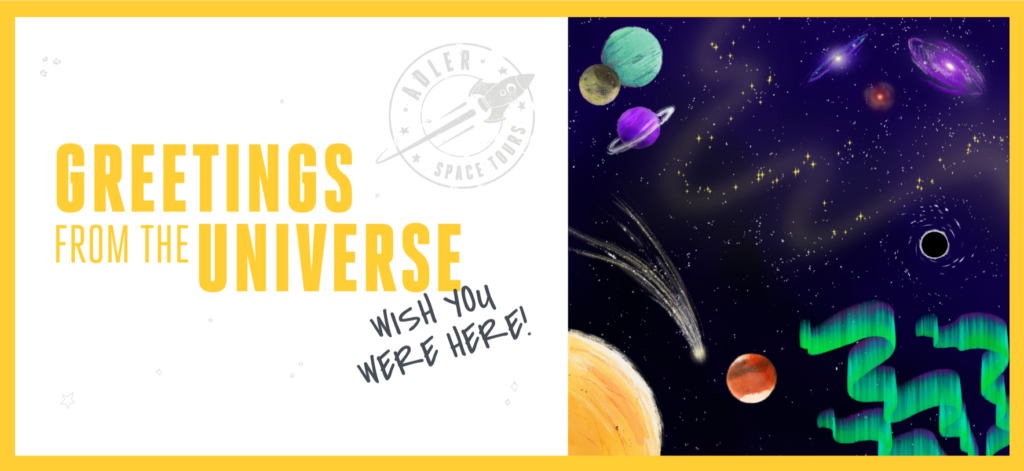 Looking for the perfect destination? We have suggestions.
August 10-16 Featured Destination: Planet 9
Something big is out there. Be the first person to see it!
You're a savvy space tourist. You've spent the summer rocketing around the universe, stopping by obscure galaxies, weekending on Mars—you've seen a lot. But there's one thing you definitely haven't seen yet. Nobody has. It's a planet—probably—on the outskirts of our very own solar system. No, it's not Pluto (no disrespect, but Pluto hasn't been a planet since before smartphones). This week's destination is a very large object scientists are calling Planet Nine, and if you can find it, you can go there before the crowds start to gather.
Featured Adventure: Backyard Worlds: Planet 9
You may be thinking this package sounds too good to be true. But we would never sell you a ticket to a place unless we were pretty sure you could actually go there. Scientists think Planet Nine exists based on what they have seen when studying the motion of objects in our solar system. Their calculations suggest that a planet-sized thing is out there, exerting gravity in ways we can measure. Now, they need YOU to help spot it in a huge collection of images from NASA's Wide-field Infrared Survey Explorer (WISE) mission.
Popular Attractions
Previously Featured Destinations
PURCHASE TICKETS
Your all-access pass to our universe!