Adler Staff Star: Meet Quo!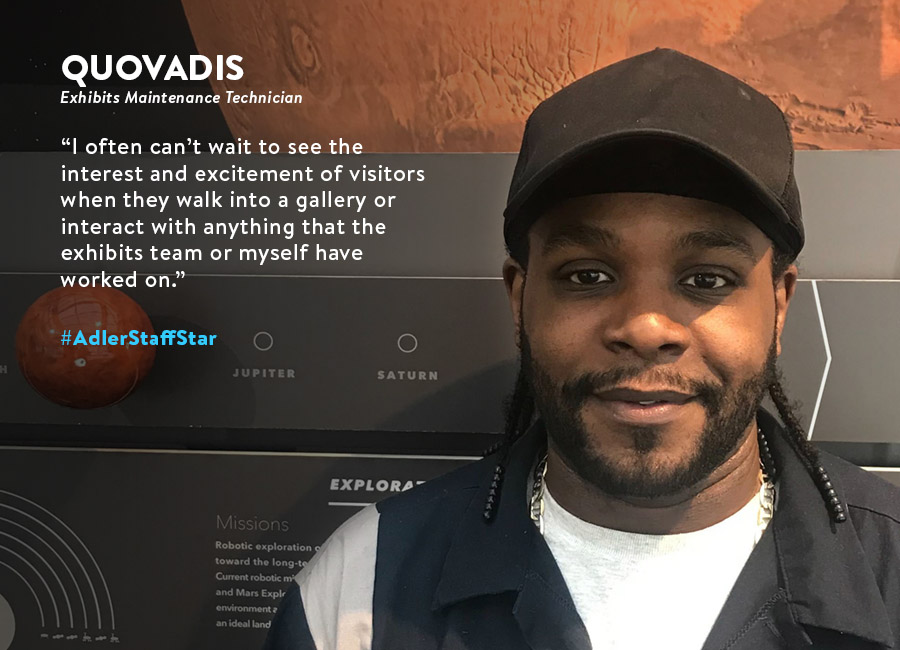 Quo Raines
Exhibit Maintenance Technician
What do you enjoy the most about working at the Adler?
What I enjoy most about working at the Adler (besides the everyday interactions with guests), is the opportunity to showcase my talents and dedicated hard work via exhibit galleries, pieces, and displays for all the world to see. I often can't wait to see the interest and excitement of visitors when they walk into a gallery or interact with anything that the exhibits team or myself have worked on.
What is one of your favorite memories from your time at the Adler? (We heard you've been at the Adler for 20 years this January… Congratulations!)
I have a ton of good memories here at the Adler; the opening of the sky pavilion, renovation of Mission Moon, former Presidents' motorcades shutting down the campus, famous celebrities dropping by, the 2017 solar eclipse party, reuniting lost parents with their kids, and running into some teens I mentored as kids when I was a teen. All that to say, nothing compares to the time I encountered a guest at the prism doors whom was cradling the book "QUOVADIS" in her arms. We both looked at each other as if we had saw a Supernova explosion. What are the chances? Only at the Adler!
Why, in your opinion, is space freaking awesome?
Space is freaking awesome simply because of what we already have uncovered and what we have yet to discover in the vastness of space.
What's your favorite place to eat in Chicago?
If not in my own kitchen where I often prepare some of the most delicious meals in town, I really enjoy eating at "Fire Jerk" and "La Concina Jalisciense" for a quick bite when I'm out.
Who is your favorite space scientist?
Mae Jemison, as a youngster on the "honor roll" I was invited to a rally which was to welcome her back home from her space flight in 1992. At the time she was a rock star and hometown hero. She engaged and inspired us to become interested, and understand the significance of math and science. Years later as a teen, I would continue that pledge and joined a community based organization "Science Linkages In the Community" in order to help inner city youth understand the importance of math and science. Can you guess where our first field trip was to? Yes the Adler.
If you had the opportunity to take a 10-year-trip to Mars, would you do it? Why or why not?
No. Simply because I am afraid of flying and I wouldn't want to leave this GREAT city or our AWESOME planet behind.