Making Stellar Connections With Students and Teachers, One Field Trip At A Time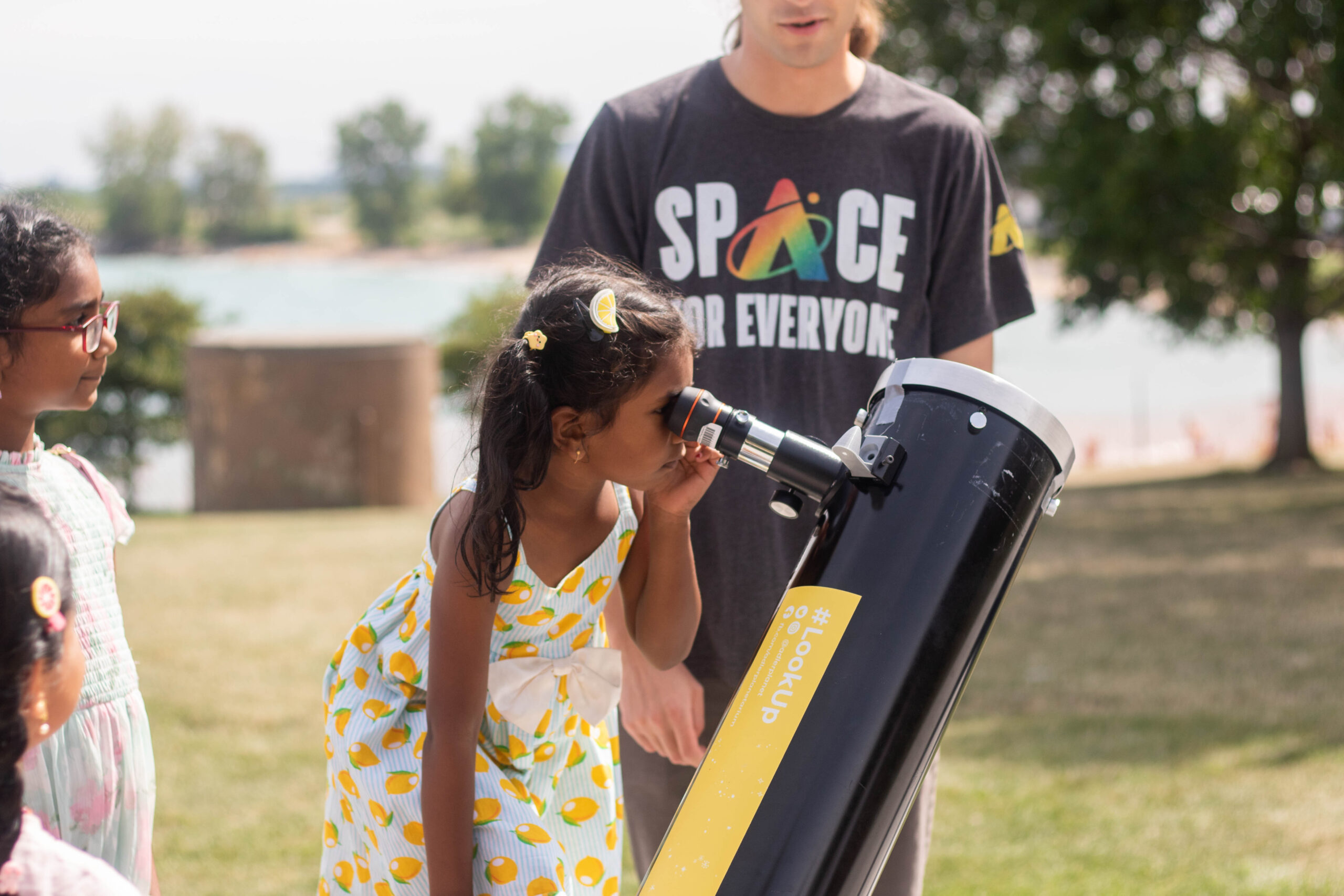 Header Image: Kids looking through a telescope outside at the Adler Planetarium.
Author: Emilse Alvarado, Virtual Field Trips Educator and Sarah Smail
Picture this: It's a crisp Tuesday morning. Your class is happily singing 'The Wheels on the Bus' as you pull up to the Adler. You walk into the group entrance and you hear other teachers lining up their classes as you make your way to a show theater full of school children cheering and laughing. You continue your visit to lunch in the cafe with only teachers and their students (and a perfect view of Chicago's skyline). Across the way there are groups of students sitting on floor tiles, making a rubbing of a Mars terrain with the guidance of Adler Educators. Sound like a totally different galaxy? Nope. This is what every Tuesday and Thursday are like at Adler's Field Trip Days.
Trips to the Adler are fun for everyone, but we know that the needs of teachers and students are different than the average visitor. Each grade level requires different levels of engagement and activities to help them develop crucial social-emotional learning principles and skills. This is why we've designed two different Field Trip experiences that cater to students' needs. 
During Adler's Field Trip Days, students have exclusive access to the museum! Our favorite part about these Tuesdays and Thursdays is seeing students truly be themselves𑁋they can laugh, play and cheer to student-only space shows and engage with our Adler Educators like never before. Teachers also enjoy the opportunity to really connect with their students outside their classrooms and collaborate with other teachers who are doing the same. As an Adler staff member, the joy of hearing student-only voices enjoying a day outside the classroom is immeasurable.
Field trip experiences are always designed with students in mind, but the educator is equally as important. Adler proudly partners with teachers in the Chicago-land area to offer feedback and support on Adler's programming. Last school-year was completely focused on building back our in-person experiences and one of our Teacher Advisory Group teachers visited the Adler to pilot the program. After this teacher's visit, she couldn't say enough about how nice it was "to be with only other school groups" and not have to "worry about dampening her students' energy." We love to see students' amazement in a new activity, but this time, experiencing a teacher's reaction to a program that she helped shape was equally as heartwarming.
But the Adler's commitment to students goes well beyond the walls of our museum. For many schools, in-person field trips bring financial and logistical challenges. Virtual Field Trips aim to remove those barriers by bringing outer space straight to your classroom for less than the cost of a bus (and free for schools with 51% or more students who are low income)! Older students log onto our immersive, 3D-platform where they explore the planets as avatars. Students choose to be an astronaut, a robot, or even a duck to dive into our 3D solar system! Learners choose their own itinerary and investigate planets' geographical features with a partner, in a small group or with the Adler Educator (that's me!) much like they would explore our museum galleries in-person.
Younger students join us on a video call where they lead the educator to their favorite planets and ask all the questions they can think of! Students most enjoy the opportunity to take control of their experience; they explore what they find most interesting to them and are encouraged to take chances, investigate that "what if?" and even participate in a rocket-launch countdown into outer space.
Out of over 150 virtual field trips, the most memorable are those where students direct the conversations to their true interests. In one particular virtual field trip for sixth graders, exploring at Mars really piqued students' interests and started a chain reaction conversation! Students started with questions like "What is Mars made of?" and "What do you need to survive on Mars?" and then proceeded to ask everything from "Who built this place?!", "How did they make it?"  and "What do you have to do to work at the Adler?" The answers to these questions led to comments like "Jupiter is my favorite, no offense to the other planets!" and "This place is so cool, I want to be an astronomer when I grow up!" Educators live for these types of interactions with students. One question about Mars led to asking more in depth questions about the creation of our virtual platform and then asking about STEAM careers. This one virtual field trip I will never forget. 
After being closed for nearly two years, Adler staff had the unique opportunity to redesign school experiences that were devoted to the student audience. Since launching Virtual Field Trips in 2021 and Field Trip Days in the spring of 2022, the Adler has engaged over 9,000 students and teachers! And these engagements have not been limited to Chicago. Through virtual field trips, we've welcomed school groups from seven different states and two other countries. 
As an educator, the privilege to create experiences that are equally educational and fun while encouraging students to be curious and to be themselves is special. And although we've navigated through many unknowns in the process, experiencing the joy of students when they've finished an Adler field trip makes it all worthwhile.