The Universe that unites us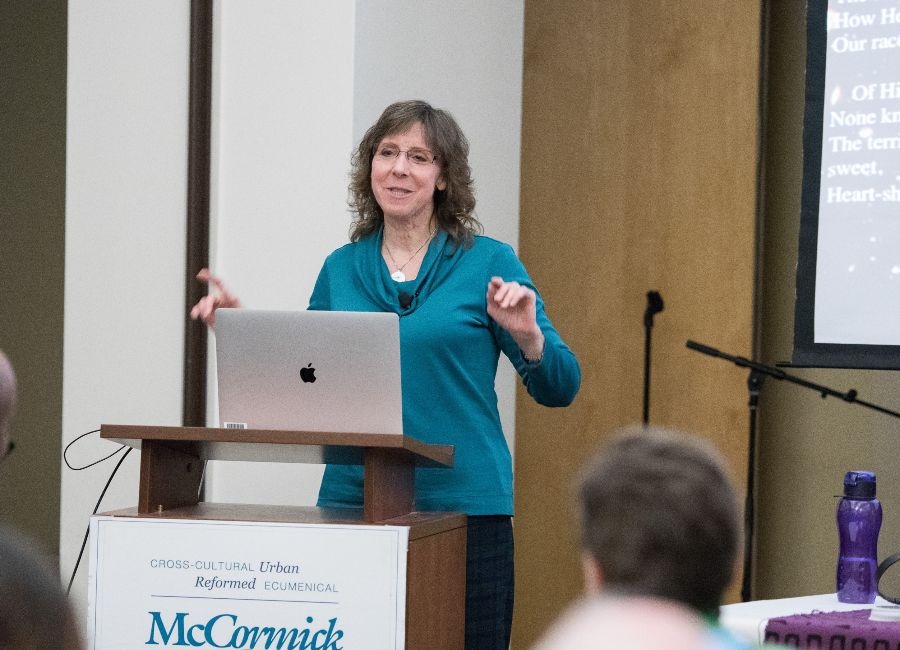 Header Image: Grace Wolf-Chase giving a lecture at McCormick Theological Seminary, February 2019. Photo Credit: Tricia Koning Photography
---
It's a Thursday night in February and I am seated in a classroom at McCormick Theological Seminary in Hyde Park, waiting for a science lecture to begin.
At this moment in history, when so much of our cultural discourse is a loud argument about who belongs where, it feels a little subversive to be here. If you ask the internet—or the people with the largest megaphones—science and religion are supposed to be mortal enemies. Scientists are supposed to hate religion, and religious people are supposed to fear and distrust science. But no one in this crowd is here for a fight.
A woman named Anna Case-Winters, a professor of theology who helped organize McCormick's Science for Seminaries lecture series, steps up to the podium to introduce tonight's speaker. At the other end of the room, there's a translator sitting behind a screen, echoing the professor (who is speaking English) in Spanish. It is essential, they both say, for theological education to reckon with a scientific understanding of our Universe. That's where tonight's speaker, Grace Wolf-Chase, comes in.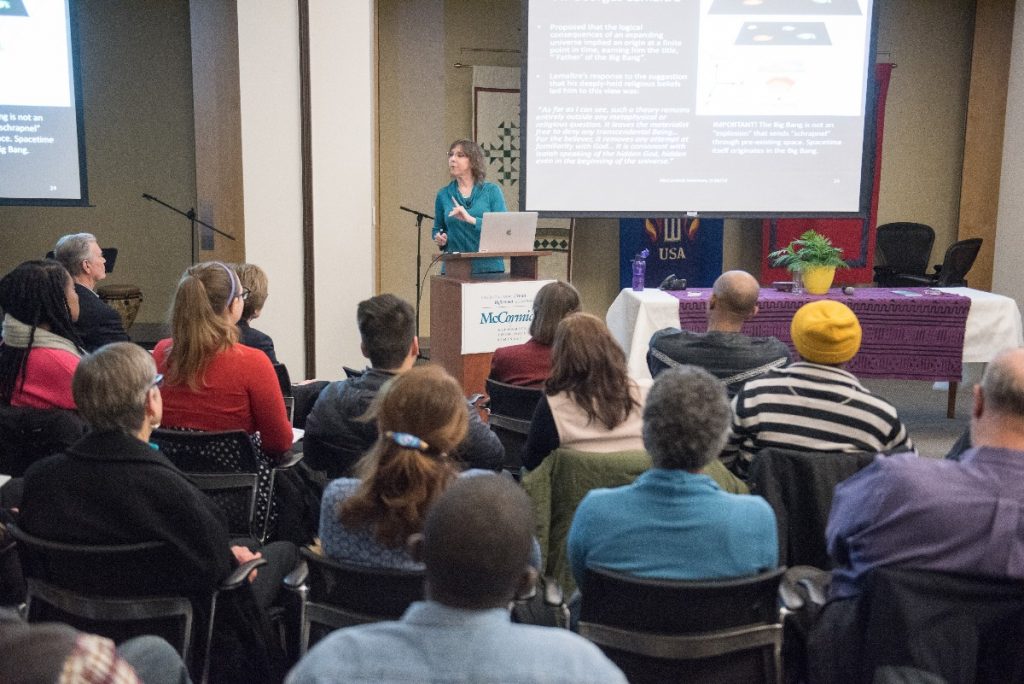 Grace has been an astronomer at the Adler for more than 20 years. When she arrived at the museum back in the late 90's, she became a member of (as far as we know) the first/only all-female astronomy research department in any cultural institution. For Grace, a lifelong Lutheran, there's no contradiction in being a religious scientist—just like there was no contradiction in being one of only two women in her physics program at Cornell or the only girl on her competitive figure skating team who was into Star Trek. It's another idea that bears repeating in our cultural moment: People can be a lot of things all at once.
Being native to both scientific and religious communities gives Grace an ability to speak to each in its own language. But what strikes me, an outsider at this lecture, is how little translation is necessary. If not for a few slides about the contributions of religious thinkers to science, the ways science has helped shape religious conceptions of a higher power, and a history-of-the-Universe timeline that includes a notable event in the history of Christianity, you'd hardly guess the lecture was prepared for seminarians and not, say, first-year astronomy students. It's a crash course in what we know about our Universe so far, how we know it, and how amazing it all is.
When Grace mentions that there are more stars in our Universe than grains of sand here on Earth, a man behind me lets out an audible "Wooooow."
Grace's outreach to religious communities is personal for her—she wants religious people to feel welcome in scientific circles—but the benefits are for everyone. As Grace pointed out in her lecture, some of the of the biggest breakthroughs in our scientific understanding of the Universe (the Big Bang theory, to name just one) came from people who were also deeply religious.
If we can learn to look past whatever we think makes us different from each other, we may discover that the Universe itself is our common ground.