Adler Teams Up With Museum Campus Partners and NASA to Hunt for Sunken Meteorite
On Monday, February 6, 2017, at approximately 1:30 am CST, a 600-pound meteorite streaked through the Midwest sky and landed in Lake Michigan, around 10 miles off the coast of Sheboygan, Wisconsin.
Later that day, Adler astronomers began an email conversation regarding the news, including the possibility of retrieving fragments of the meteorite at the bottom of the lake using a robotic device.
While seemingly far-fetched, the thought sparked the interest of Chris Bresky, Adler's Teen Programs Specialist, who couldn't shake the idea. Could something like this really work? The possibility was too good to pass up.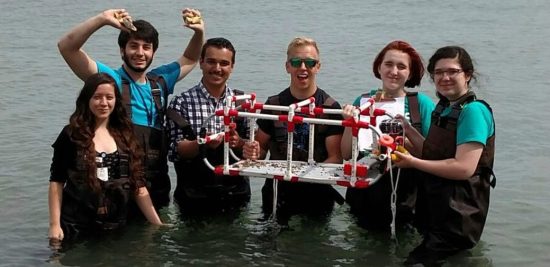 Chris Bresky and Adler teens test first iteration of ROV sled.
2018 Chicago Innovation Awards
The Aquarius Project has been named a Top 100 Finalist for the Chicago Innovation Awards! We now need your vote, and your friend's vote, and your friends of friend's vote for the People's Choice Award (on Page 9 of the ballot). Voting is open until October 5th. We appreciate your support!
About The Project
The Aquarius Project is a teen-driven underwater ROV meteorite hunt led by scientists from the Adler Planetarium's Far Horizons program, and experts from the Shedd Aquarium, The Field Museum, and NASA.
Open Explorer
Follow the journey with Adler teens as they blog about their experiences participating in The Aquarius Project on Open Explorer, a digital field journal.
Podcast
When a meteor crashes in your backyard, you pick it up. When your backyard is a 22,000-square-mile Great Lake, you call your friends and improvise… follow along with us as the story unfolds!