Scopes at the Adler
All that you know and love about our traveling telescope program, 'Scopes in the City, has come "home!" 
'Scopes at the Adler combines everything you love about our neighborhood telescope program and brings it home to the Adler's Doane Observatory, where the largest publicly accessible telescope in the Chicagoland area is waiting for you to look through its eyepiece. Join a small group of stargazers and the Adler's public observing team to see the sky over Chicago like you've never seen it before. You'll also learn how telescopes work and how to find bright stars and constellations using modern and historic tools—and you can try out a working replica of astronomer Galileo Galilei's handmade telescope.
'Scopes at the Adler events are clear sky events only meaning tickets will go on sale the morning of the event when we are guaranteed good weather! CAPACITY IS EXTREMELY LIMITED (only 12 slots per evening), so you'll want to follow us on Twitter @AdlerPlanet or join our Facebook Group to be the first to know when tickets drop.
WATCH THIS SPACE FOR TICKETS TO OUR NEXT EVENT
Tickets are $25. Ticket sales for this program are online only, and all ticket sales are final (no refunds). No on-site tickets will be sold. 12 tickets maximum sold per event.
This program is recommended for ages 8 and up. 
More details about the experience, the schedule and helpful hints can be found below.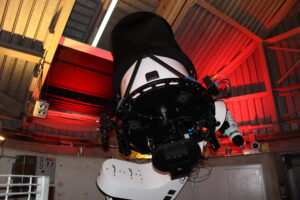 About the Experience
In this unique small-group experience in the Adler's iconic Doane Observatory, guests will turn their eyes to the skies in exciting ways! Try a working replica of Galileo's historic telescope, investigate modern tools—and a historic analogue—to find bright stars and constellations in our Chicago night sky, and use a small telescope to find interesting faraway objects. As the highlight of the evening, be among the first to look through the Adler Planetarium's new 24-inch reflector: the largest publicly accessible telescope in Chicagoland!
Anticipated Summer Schedule
If the event is cleared for good weather, tickets will be put on sale the morning of the event!
July 19, 20, 22
Guest arrival: 8:45 pm
Program begins: 9:00 pm
August 9, 23, 24, 26
Guest arrival: 8:45 pm
Program begins: 9:00 pm
Sept 20, 22, 27, 28, 29
Guest arrival: 7:45 pm
Program begins: 8:00 pm
All events are approximately one hour.
If the event is cleared for good weather, tickets will be put on sale the morning of the event!
Helpful Hints
WHERE IS THE DOANE OBSERVATORY?
The Doane Observatory is a small building located just to the east (lake side) of the Adler Planetarium. Walk past and around the main Adler Planetarium building to reach the Doane Observatory. This event will take place at the Doane Observatory only; the main museum will not be open on program nights and remains closed until March 2022.
GETTING HERE
We strongly recommend taking public transportation (#146 CTA bus), ride shares, or taxis to the Adler Planetarium on program evenings. Parking on the Museum Campus is limited in the evening hours, and cars parked along Solidarity Drive past 10 pm may be ticketed and/or towed. On-street parking may be available but tends to fill up quickly. The parking lot next to the Adler Planetarium, owned by the Chicago Park District (not the Adler Planetarium), is not open in the evenings. The Soldier Field underground parking garage may be available on program evenings, but this is not guaranteed; garage opening and closing times are not at the discretion of the Adler Planetarium. Please allow plenty of time to arrive on the campus and walk to the Observatory.
THE ENVIRONMENT
The Telescope level of the Doane Observatory is not handicapped accessible. The Observatory is not heated or cooled and will always be at the ambient outdoor temperature and humidity levels. There are no seating areas in the Observatory. Program participants will need to climb short flights of concrete and/or metal stairs, walk and stand on concrete walkways, and participants will occasionally utilize telescope equipment in darkness for stretches of several minutes at a time. Please wear comfortable clothing and shoes.
GUEST SAFETY
Be a masked hero! Masks are required indoors for all guests and staff for your safety and the safety of those around you.
PURCHASE TICKETS
Your all-access pass to our universe!