Ask Adler

Have an Astronomy Question?
We have an email address and hashtag for that! Read through our FAQ or submit a question to one of our astronomers. (This resource is for astronomy-related questions only. Please send customer service inquiries to guestservices@adlerplanetarium.org.)
Ask Adler Hashtag
#AskAdler
To submit a question via Twitter, use the hashtag #AskAdler. Our social media team will assist in getting a response from one of our astronomers.
Ask Adler Email
askadler@adlerplanetarium.org
Guests can send us their general astronomy questions to the Ask Adler email address, and expect a response usually within a week's time. We ask for your patience and understanding if high volumes of emails make response times longer.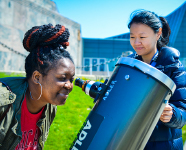 Check Out Our FAQ!
The fastest and easiest way to get your question answered is to check out our Ask Adler Frequently Asked Questions webpage. We keep this page up-to-date with some of your most burning questions and provide quick, easy answers to get you on your way.
We recommend starting here, and then if you can't find the answer you're looking for, send us a message via phone, email, or hashtag!
Read our FAQ
PURCHASE TICKETS
Your all-access pass to our universe!