Did you know that the very first astronomers used only their eyes to make observations of the night sky? Launching into astronomy, especially sky watching, doesn't have to be a significant investment of time and money. If you're not sure where to start, then you've come to the right place! Whether you're interested in our plethora of sky observing opportunities or you want to get involved with the astronomy community, this page will be a guide to your venture into our Universe.

If you're looking for a quick and easy way to jump into astronomy, the Adler's 2019 Look Up: A Skywatcher's Companion is designed to ease new skywatchers into the wonderful world of astronomy.
Observing Opportunities
Doane Observatory
The Adler's Doane Observatory offers visitors the chance to use the largest aperture public telescope in the Chicagoland area. The Doane is open *every day from 10:00 am to 1:00 pm, as well as for other Adler events such as Members' Nights, Adler After Dark, and more.
*Access to the Observatory is facilitated by Adler Planetarium telescope volunteers; as such, this schedule may change without prior notice.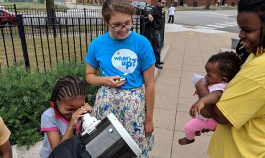 'Scopes in the City
'Scopes in the City is a staff-led free telescope observing program that takes place in Chicago's neighborhoods. Depending on the dates, times and locations of the 'Scopes in the City events, attendees may be able to observe the Sun, Moon, Jupiter, Saturn, and more!
Doane at Dusk
Want to visit the Doane Observatory at night to look through the big telescope? Doane at Dusk offers visitors the unique opportunity to see a variety of celestial objects—and it's free! No tickets required!
Upcoming Sky Events
Transit of Mercury Viewing Event @ Adler Planetarium
Date: Monday, November 11, 2019
Cost: Free
Details coming soon!
How to Get Involved in the Community
Astronomy Clubs
Local astronomy clubs are a great way to get started in sky watching! Most astronomy clubs also have regular "star parties" where members can get together and set up telescopes of all shapes and sizes. This is a great opportunity to see objects in the sky, see if you like the hobby, and see how things look through different telescopes.
A list of astronomy clubs in the Chicago area:
Dark Sky Parks
You don't need to travel around the world to get a glimpse of the Milky Way. Dark sky parks are designated areas that restrict artificial light pollution, making it possible to see the vivid beauty of the night sky—firsthand!
For an easy adventure, Chicagoans can get their own dark sky fix just two hours away from downtown Chicago. Illinois' only official dark sky park, Middle Fork River Forest Preserve, gives visitors nightly access to the park's dark skies.
Telescopes: What Am I Looking For? Where Do I Buy One?
Getting Started
Wondering which telescope is right for you? Check out this video that our Adler Teen Interns created!
Telescope Borrowing Programs
Not sure if you're ready to purchase a telescope? No problem! Telescope borrowing programs are a really good way to go if you want to see how interested you are before investing the money in a telescope of your own. Visit librarytelescope.org to find out if your public library has telescopes for patrons to borrow. Remember, most, if not all, libraries will only allow patrons with library cards for their specific local library or district to check out resources such as telescopes. 
Not sure of the lending rules? Contact your local library to inquire. Don't see your town's library listed? Check back at the site in a few months. More libraries may have been added to the database in the meantime. Also, let your library know if you have suggestions for resources to borrow. They will appreciate the friendly feedback!