Adler Sky Observing 101: Where to Go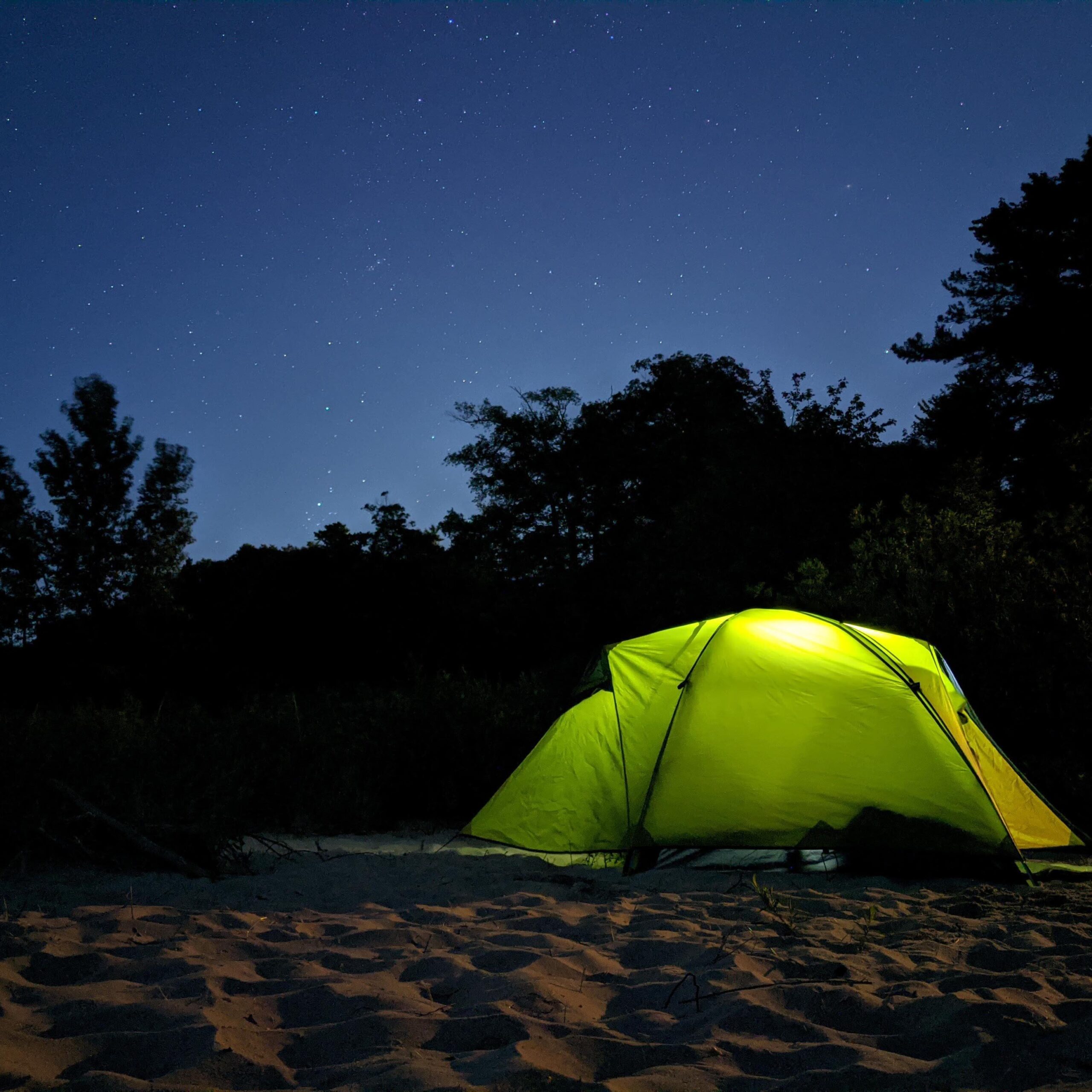 Header Image: A green tent on sand with silhouetted trees and a blue night sky with stars. Image Credit: Nick Lake 2020
Editor's Note: This blog was originally published in June 2019 and was updated in April 2022 with more current information.
Interested in observing the night sky but not sure where to start? No worries! We've compiled the following list of sky observing locations in or near Chicago and the midwest, including a couple organizations for you to use as your guide.
Places To Go Near Chicago
The western entrance of the 606 Trail at 1801 N. Ridgeway, Chicago, IL is relatively clear of buildings, though not necessarily clear of light pollution. The 606 Trail is open until 11:00 pm daily.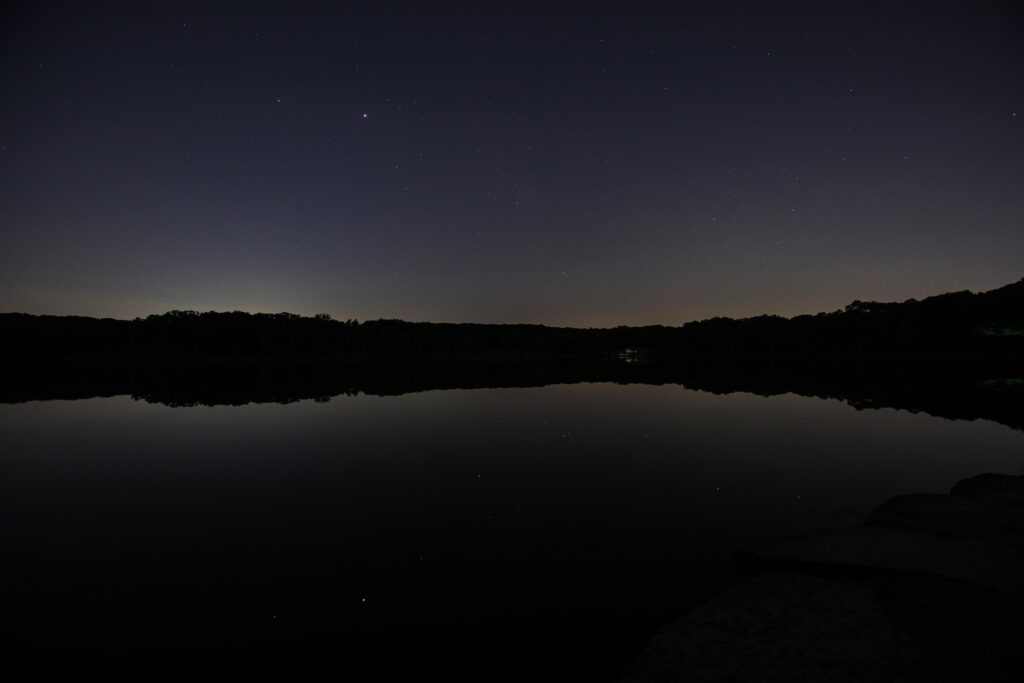 Did you know the largest Urban Night Sky Place in the world is in Illinois? Located in Willow Springs, IL, the Palos Preserves stretches 6,662 acres. This area emits nearly 1000 times less light than downtown Chicago, and the Forest Preserve works to actively preserve and protect the local nighttime environment. The Adler Planetarium and Adler Teens from our Far Horizons Stratonauts program helped get Palo Preserves this historic designation! The Palos Preserves closes at sunset, however, the area is sometimes open for astronomy events.
The Forest Preserve District of Cook County has several parks that offer overnight camping. Check their website for available dates and overnight camping rates. Some locations are closed on certain days of the year or during certain months of the year. All other forest preserve locations generally close at sunset. Check with individual parks for closing times.
CHICAGO LAKEFRONT
Locations along the shore of Lake Michigan looking east offer slightly darker skies. Locations include Loyola Beach, Foster Beach, Montrose Beach, Rainbow Beach Park, 12th Street Beach, Margaret Burroughs Beach and Park, Oakwood-41st Street Beach, 57th Street Beach, 63rd Street Beach, South Shore Beach, and Calumet Park.
Located at 1300 S. DuSable Lake Shore Drive, Chicago, IL, this observatory is directly behind the Adler Planetarium and open for speciality events and during Adler at Night (weather dependent).
State Parks & Illinois Dark Sky Park
ILLINOIS STATE PARKS

The Illinois State Parks website lists the best places to go stargazing.
Illinois State Parks that are a relatively easy drive from Chicago include:
Adeline Jay Geo-Karis Illinois Beach State Park
Goose Lake Prairie State Natural Area
Kankakee River State Park
Starved Rock State Park
Weinberg-King State Park
Siloam Springs State Park
Note: Those interested in visiting should check with individual parks to find out if campground sites are only available to those camping overnight.
INDIANA DUNES STATE PARK
The Indiana Dunes State Park is only a little over an hour's drive from downtown Chicago. Check the Indiana Dunes website for rules, regulations, hours, and fees.
WISCONSIN STATE PARKS
Wisconsin State Parks that are a relatively easy drive from Chicago include:
Richard Bong State Recreation area (open year-round until 11:00 pm). A vehicle admission sticker is required. Overnight camping (for a fee) is available.
IDA DESIGNATED DARK SKY PARK: MIDDLE FORK RIVER FOREST PRESERVE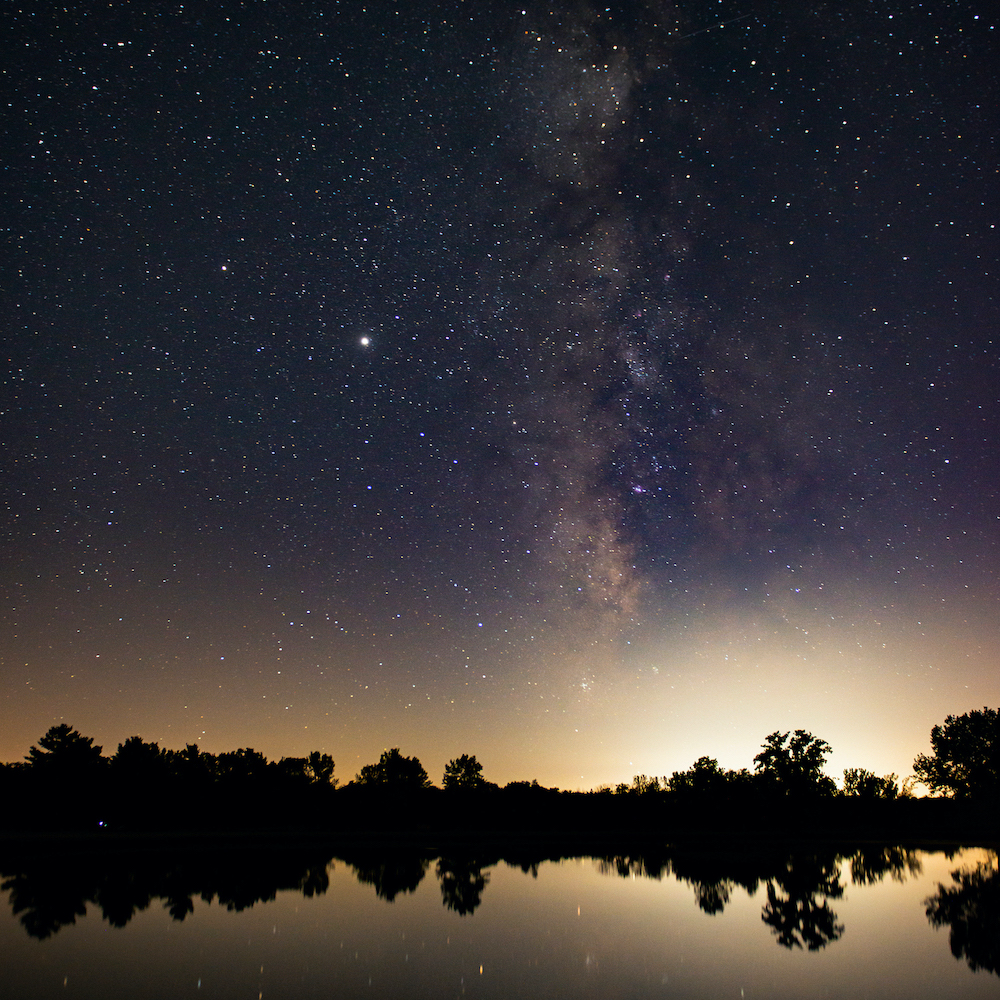 Did you know Illinois has an International Dark-Sky Association designated Dark Sky Park? Located about two hours south of Chicago, northeast of Champaign, IL, the Middle Fork River Forest Preserve is a great location to see a star-filled dark sky. Check the website for more information about where to go, camping options, and more. 
Astronomy Groups
Astronomy & Stargazing Resources
Learn About Observing With Our Astronomy Educators
Before going on your next out-of-this-world night sky observing adventure, watch episodes of Sky Observers Hangout or Skywatch Wednesday to prepare! Learn how to observe upcoming cosmic happenings, enhance your astrophotography skills and see celestial objects through a telescope virtually with our astronomy educators.
Note: the information listed in this blog is subject to change without prior notice, so check with relevant local authorities regarding any required fees, overnight use, availability, etc. Practice safe sky observing at all times. Beware of any ground obstructions or other hazards in any location. Follow all national, state, and local laws, rules, and regulations. Stay off of private property unless you have the property owner's expressed permission. The Adler Planetarium assumes no responsibility or liability for any injuries or damage sustained during any activities at any of these locations or events.