AstroFan: Understanding Chicagohenge
Header Image: Chicagohenge as seen from West Adams Street. Image Credit: Tim Hara
Update: This blog is revised each year with updated dates of Chicagohenge and the equinoxes.
Greetings fellow Chicagoans! It is almost that time of year when nature and architecture harmoniously come together to create the phenomenon known as Chicagohenge.
For those who don't know, Chicagohenge occurs twice a year and happens when the Sun directly lines up with Chicago's east-west facing streets. 
Not only is this event a beautiful sight to behold, but the science behind it is quite interesting—let's dive in!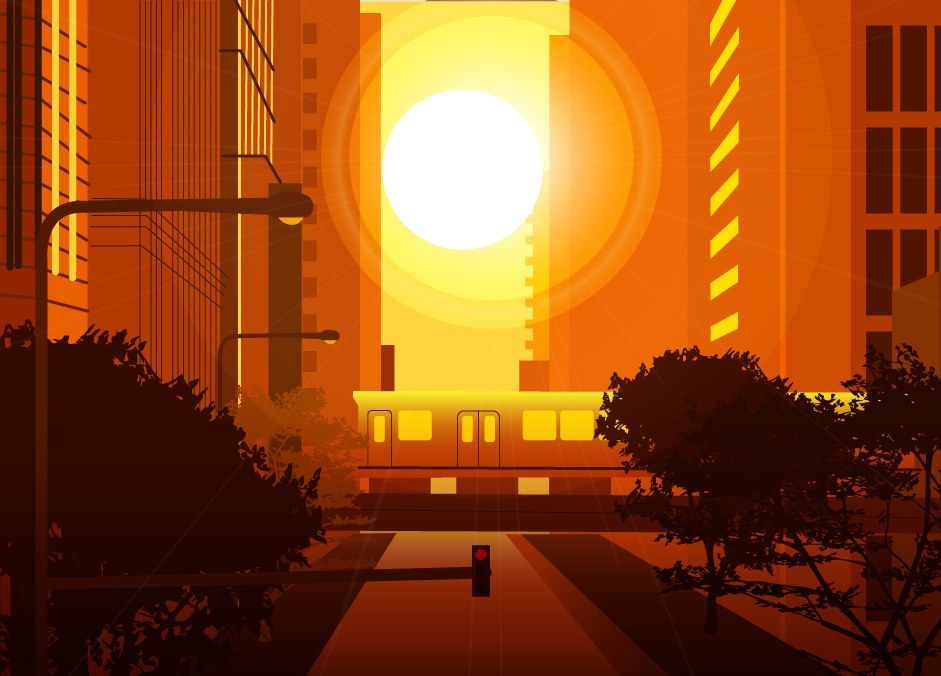 About Chicago's Grid
To fully understand Chicagohenge, you have to be aware of the two main factors that cause it: Chicago's grid plan and equinoxes. 
Let's first touch on the grid plan that Chicago was built on. A grid plan is when the streets of a city run at right angles to each other forming a (you guessed it) grid!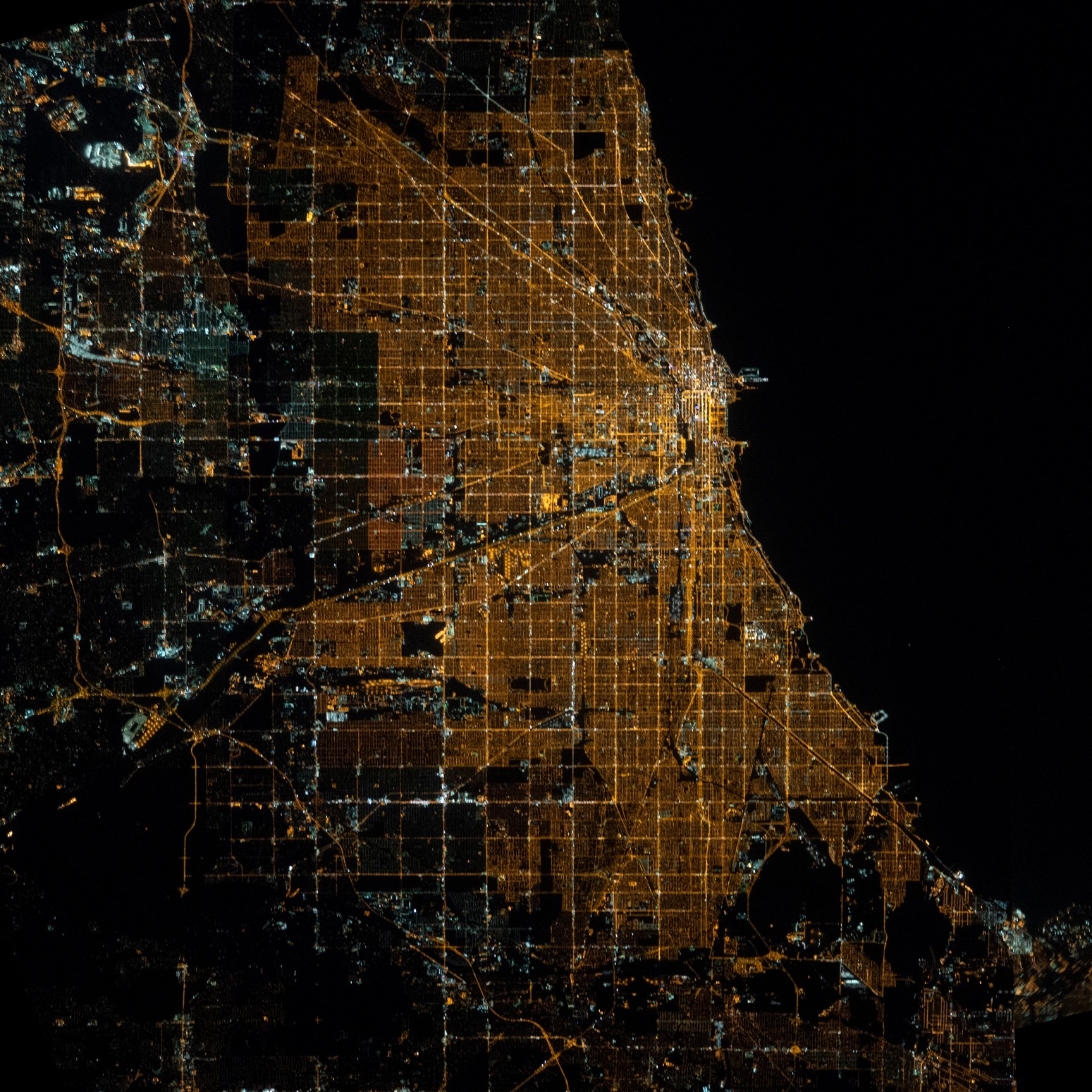 The present-day Chicago grid system can be attributed to the Public Land Survey System—a surveying method created in 1785 that was used to divide land for selling and settling. But this style of city design has been around since the dawn of civilization and can be found in the ruins of ancient Rome, Greece, and others. 
The benefits of a grid plan are numerous. They help make cities more walkable, navigable, and adaptable. Plus they end up resulting in cool astronomical and architectural events (like Chicagohenge)!
Fun fact: Chicago's streets line up almost perfectly with the cardinal east and west directions on a compass. This in turn, sets up the perfect stage for Chicagohenge to take place.
Chicagohenge is named after the famous prehistoric monument, Stonehenge. However, did you know that Stonehenge isn't actually a henge after all?
Now that we've got the basics of Chicago's grid mapped out—let's dive into the role that equinoxes play in the makings of a Chicagohenge. 
Equinoxes 101
As the Earth orbits around the Sun, it is also spinning along its tilted axis. 
Since the Earth's axis is tilted, sunlight is not always distributed equally. At any given point, one-half of the Earth is tilted towards the Sun more than the other. As the Earth orbits around the Sun, the part that was tilting away from the Sun begins to be the part that is facing towards the Sun. This is why we have seasons! 
There are two times during the year when the Earth's equator receives most of the sunlight. When this happens, our planet's Northern and Southern Hemispheres experience equal amounts of day and night—hence the term equinox. 
There are two equinoxes each year, one that marks the start of spring (Spring Equinox) and one that marks the end of summer (Autumn Equinox).
During an equinox, the Sun rises and sets directly to the east and west.
Thanks to Chicago's perfectly lined grid system, the bi-annual equinoxes mark a time when the Sun rises and sets directly in line with Chicago's east and west streets, causing Chicagohenge!
When and How To See Chicagohenge
Be on the lookout for Chicagohenge on March 20-23, 2023 and September 20-23, 2023. The best time to view the Chicagohenge is when looking due east or due west around sunset or sunrise on these day(s) leading up to or after the equinoxes. 
Finding a place to spot Chicagohenge is a no-brainer! Simply find one of Chicago's east-west facing streets, plop a seat, and enjoy the view.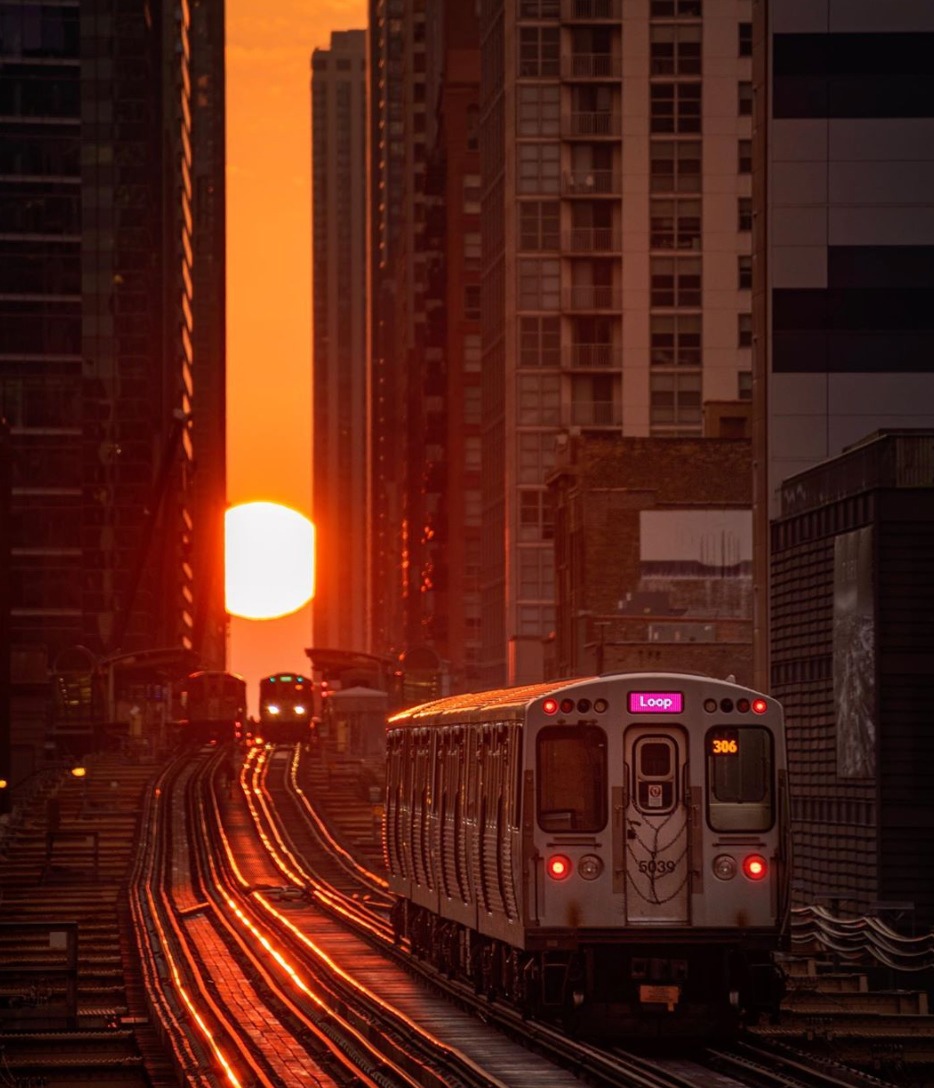 If you do decide to check it out, snap a pic and tag @adlerplanet and #Chicagohenge on your favorite social media channels! It's sure to be a sight worth stopping to look at!
Stay tuned for more awesome space facts on the next AstroFan.

Thank you for reading!
—Bianca, a.k.a. AstroFan
Learn From Our Astronomy Educators
Watch exclusive episodes of Sky Observers Hangout to learn more about this equinox phenomenon. Our astronomy educators show you how to observe equinox sunrise and sunset alignments in your area and you can learn how to photograph Chicagohenge!