Adler Staff Star: Meet Chris!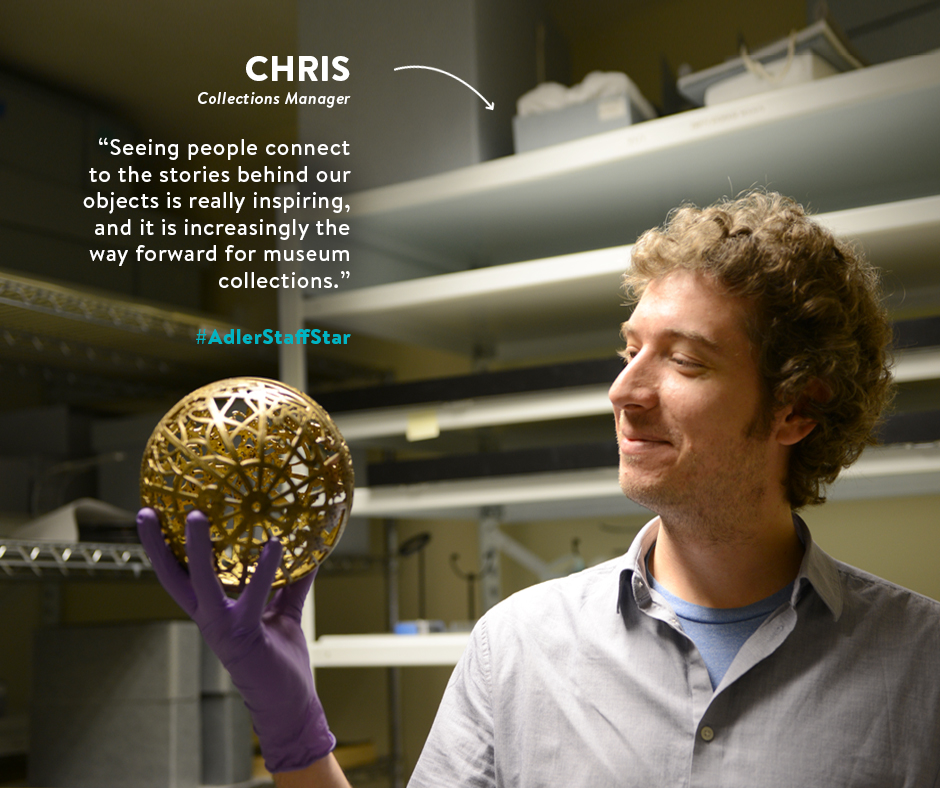 Chris H.
Collections Manager
What do you like the most about working at the Adler?
Two days ago, I cleaned one of the oldest astrolabes in the world.  Yesterday, I took photos of one of the only known totally-ivory telescopes.  Today I prepared a mysterious gold medallion for exhibition.  How many people get to do that for a job?  I have to keep pinching myself and reminding myself that this is NOT a normal job, and how lucky I am to work at a place that allows me to do this every day.
What is your favorite item in our collection?
I feel like I shouldn't pick just one, but if I have to I think my favorite item in the collection is object A-398.  Object A-398 is a hollow brass celestial sphere that is one of a kind.  Made in what is now Lahore, Pakistan around 1679, this object is exceptionally beautiful and rare.  Normally, celestial spheres are solid or are printed on the inside of hollow spheres, but A-398 is cast in a much more ornate and delicate way.  It is a beautiful and striking piece that I love telling people about, and love to show off at Adler After Dark events whenever we get the chance.
What is your fondest Adler memory?
There's too many to count!  My favorite days are Adler After Dark nights, partially because of all the fun and excitement that happens, but also because we set up "collections corner" stations and show off and talk to people about various objects in the Adler's collection.  It's awesome to see people who normally don't know or care too much about historic objects get really excited and into the stories we tell.
What are your goals for the Adler in 2018?
Seeing people connect to the stories behind our objects is really inspiring, and it is increasingly the way forward for museum collections.  The Adler's collection is full of objects that have really cool, interesting, scary, or bizarre stories that don't get told often enough, and I want to share those with the world.  We're working really hard on being able to tell those stories to the world so we can keep impressing and "wowing" people.
Share one interesting fact about yourself!
I have no idea how to fold a fitted sheet.  Every laundry night I think "today's the day", but no matter how hard I try I just can't do it.