Adler Staff Star: Meet Karen!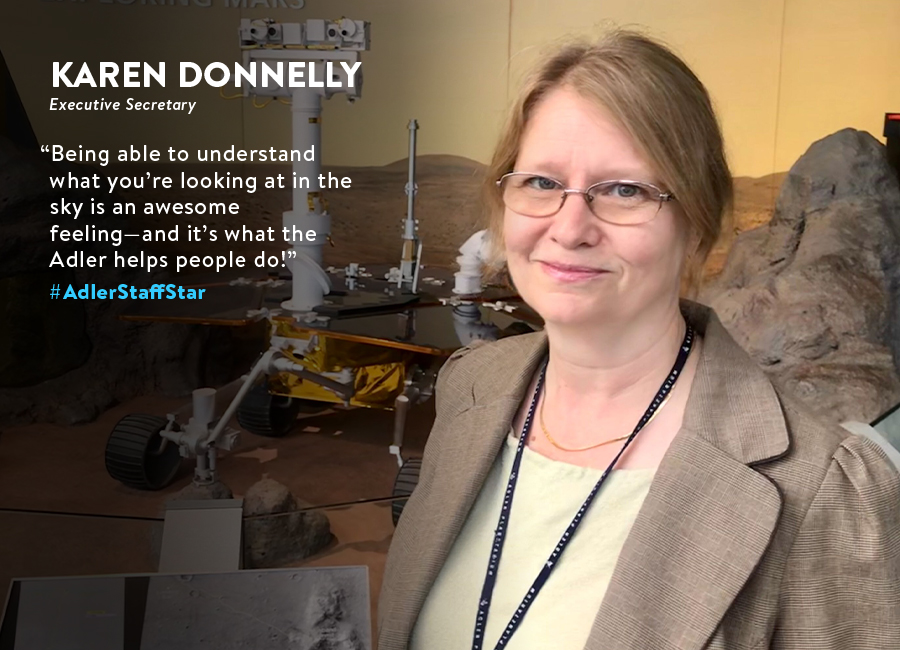 Karen Donnelly
Executive Secretary
As someone who has worked at the Adler for the past 30 years (WOW!), what has been the most rewarding experience for you?
WOW is right… there are so many experiences and it's hard to choose. Overall, it's the people here that make working at the Adler such a pleasure. I've always liked astronomy and have been lucky to be able to work with astronomers. I've had the privilege of meeting so many great—really tremendous—people over the years. 
What is your favorite exhibition, sky show, or experience at the Adler? Why?
One Adler experience I enjoy is telling guests about the background behind some of our exhibits: How did the Atwood Sphere get to be where it is in the museum? How was the large dome in the Sky Pavilion constructed? What was in the hidden cabinet in Universe In Your Hands? 
I've got a few stories.
What is the one space exploration mission you'd like to see happen in your lifetime? What excites you about it?
I'd love to see the continuation and expansion of the Adler's own satellite program. First planetarium in space: yes!
Why, in your opinion, is space freaking awesome?
It's awesome because to be able to understand what you're looking at in the sky—a rainbow, an eclipse, a meteor, a space-station flyby—is a most awesome feeling. (And it's what the Adler helps people do!)
Tell us an awesome fact about yourself!
Many years ago a former Adler staffer offered to read my tea-leaves. She looked into the teacup and declared, "There's nothing here! You're going to lead a boring life!" My time here at the Adler disproves that.