How To Make A Galaxy Cheesecake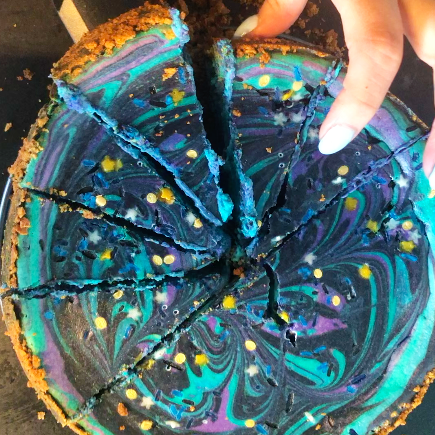 Header Image: Galaxy cheesecake slices cut up and being served.
What's cooler than a regular cheesecake? A galaxy cheesecake! Celebrate National Cheesecake Day every day with a delectable dessert that is truly out-of-this-world.
Ingredients: Cheesecake
72oz soft cream cheese

1 1/4 cups sugar
1.2 tsp salt
4 eggs
3 tbsp lemon juice
1 tbsp vanilla extract
1 cup sour cream
1/2 cup heavy cream
Gel based food coloring: blue, green, purple, black
Star sprinkles
Ingredients: Crust
Ingredients: Optional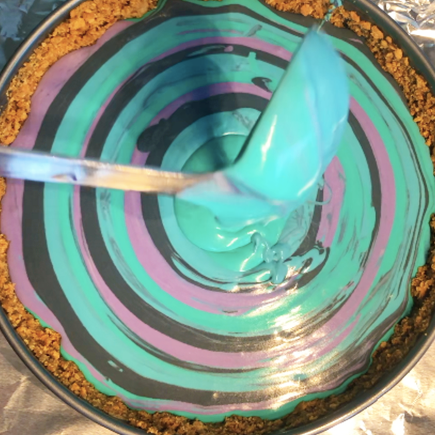 Directions
Preheat oven to 325.
Beat cream cheese until smooth and lump free. Add sugar and salt while keeping mixer running. With mixer running on low add one egg at a time until fully incorporated. Add lemon juice and vanilla extract. Then add sour cream. Last add heavy cream and mix until just done.
Crush the graham crackers either by hand or in a food processor. Add melted butter, salt and sugar and mix. In a greased springform pan press the graham crackers in to base and up sides.
Split the cheesecake batter in to four separate bowls. Add gel coloring to each bowl to create the four colors. In the prepared springform pan add the batter by ladle full (about 1/2 cup) alternating colors. Once all the colored batter has been added swirl with a chopstick, toothpick, or knife to get a spiral design. Add some star sprinkles.
Now you're ready to bake! Bake 55-65 minutes depending on your oven. You want a little wobble still but the edges should be set.
Let cool in the oven with the door just cracked for an hour. Then chill for 4 hours in the fridge.
Optional: decorate with whipped cream and more sprinkles.
Serve and enjoy!
Recipe Inspiration: Delish