Journey to the Starlit Forest: An Adler Teen's Experience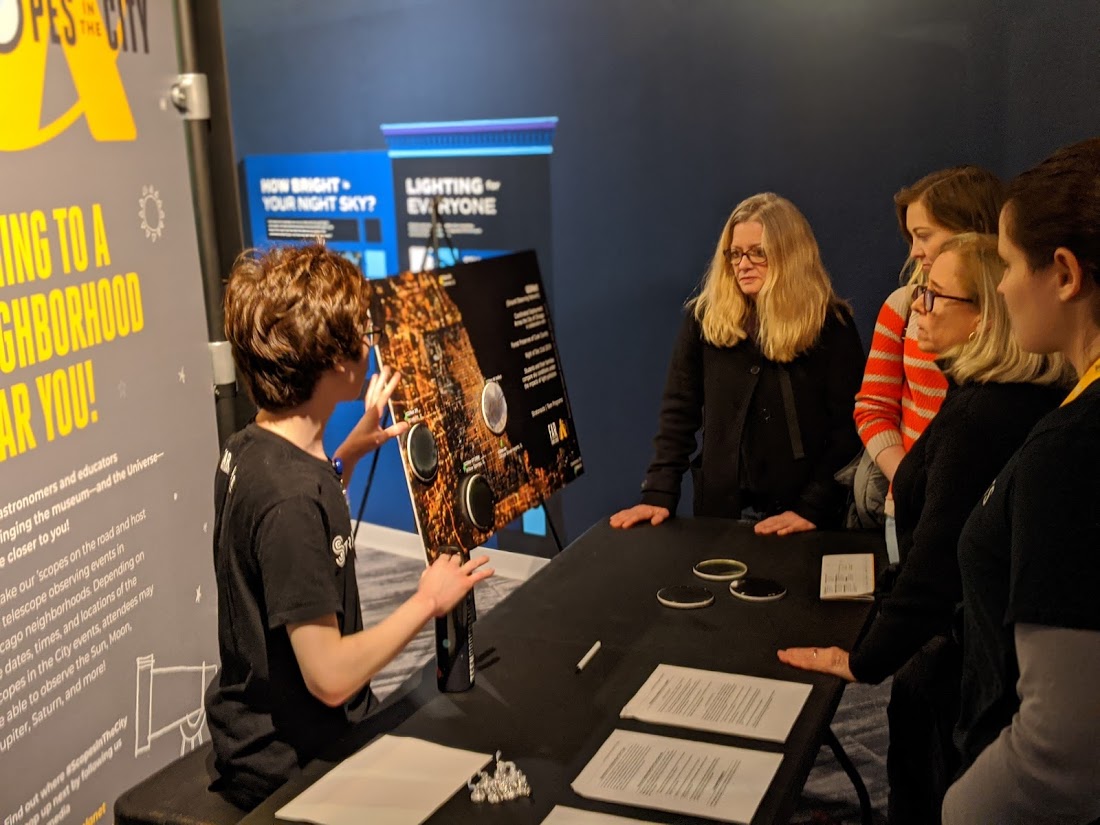 Header Image: Adler Teen Stratonaut Duncan A. Yuen presenting the team's findings about light pollution from the trip to Little Red Schoolhouse at an Adler Planetarium event.
Seeing a night sky—specifically one that is not affected by light pollution—can be life-changing! If you live in Chicago or a large city with lots of lights, those lights will drown out thousands of twinkling stars. Several of our Adler Teen Programs allow teens to study and view a dark night sky, sometimes for the very first time. Adler Teen Stratonauts member Duncan A. Yuen went on a trip to the Little Red Schoolhouse Nature Center in Willow Springs, Illinois in 2019. There, the teens studied light pollution by collecting data using GONets! Read about their trip and his experience looking up at the stars.
—
About a year ago, I joined the Adler Teens Stratonauts Program for their 2019 to 2020 term. I had quickly situated myself to experience the many opportunities provided, such as helping to track light pollution and design the tools used to do so. Meetings were an hour's drive both there and back, but the weekly gatherings had made it not merely just worth the wait, but something to look forward to as well. Here today I'll be writing of a specific case in which we as a group travelled to the Little Red Schoolhouse, a locale in the Forest Preserve District of Cook County, to take readings that aid them in obtaining qualification by standards of the International Dark Sky Association to be designated an Urban Night Sky Place.
It was on the 21st of December that we went out, the very day of the Winter Solstice. I met everyone there due to it being faster for me to drive than meet with everyone else for a bus, and we arrived before sunset so that we could set up the GONets at various spots around the area. GONets—Ground Observation Networks—are the devices custom made at the Adler to track light pollution. After preparing our tools we moved to the main lodge where dinner was provided as we waited for the GONets to commence their imaging process of the night sky as the Sun was slowly tucked out of view and the Moon's ascent began. During the evening we had a pleasant time with a bonfire organized for roasting marshmallows after supper, though that's not to say that the research had ceased during that period. While we had time to enjoy ourselves during that period, we had orchestrated the deployment of GONets in other locations prior to leaving. Family and entrusted friends were tasked with the assignment to set up the devices at our chosen locations at sunset.
In total we had a network of 11 GONets collecting readings simultaneously and distributed throughout an area of about 80 miles across, making it the largest deployment of all-sky cameras used to map light pollution to date. By 8pm we had gathered three hours worth of readings and set out through the serene forests shrouded in darkness to retrieve the GONets before leaving. As the night came to a wrap, I decided to stick behind for a bit longer. The Little Red Schoolhouse's bonfire had a few attendees besides us, and so there I remained roasting a couple more marshmallows. As I soon walked away to my transport pleased with the night, I heard behind me the distant voices fading with the ever growing space between me and those starry skies. One voice I could make out during my departure was that of a child who spoke that Santa was not real, though of course rest assured for any who read this article, upon asking the other Stratonauts on my phone my disbelief was soon put to rest, as I on very good authority was assured that there was no way such a jolly man could be a fraud.
Now, of course, I'm not to send you, my observer, off with no take-away. While the stories one can tell of adventures at the Adler Planetarium are precious, the drive behind our expeditions is what brings us all together. That motive, at least for me, is the contribution to humanity. While to send one's mind among the stars to explore the vast expanse of infinity may be the dream of many, it is important to keep grounded in the meantime so that reaching out towards the stars stays possible in the future. While I hope for the Stratonauts to be the beginning of more for me, it has taught me to appreciate those on the ground as well as the starbound adventurer; for those who wonder what mysteries the night sky may hold may one day be the ones to continue the grand work of mankind's celestial endeavors, and as the stars fade into the background of the night it similarly fades from possibility. What you can do to help is simple, being efficient with one's own use of lighting, advocating for better policies in your area, and studying more on the topic-for to learn is the strength of humanity.
—
Here at the Adler Planetarium, we have tons of STEAM (science, technology, engineering, arts, and math) opportunities for teens to get involved! Through our Adler Teen Programs, you can dive into engineering challenges with the Stratonauts, study the impact of light pollution with Y.O.L.O, and so much more. Read Adler Teen Alum Grace Crim's experience visiting Little Red Schoolhouse Nature Center to see a dark sky outside of Chicago and follow Adler Teens on Instagram and Twitter to stay up to date with the incredible work they do. You can also learn about light pollution and how the Adler is working to raise awareness and solve this issue by watching this episode of Adler Astronomy Live.