Adler Skywatch: April 2021
Traditionally April's Full Moon has been called the "Pink Moon," for the flowers that begin to bloom in the warmer weather. However, some people will be calling it a "Supermoon" this month, April 2021.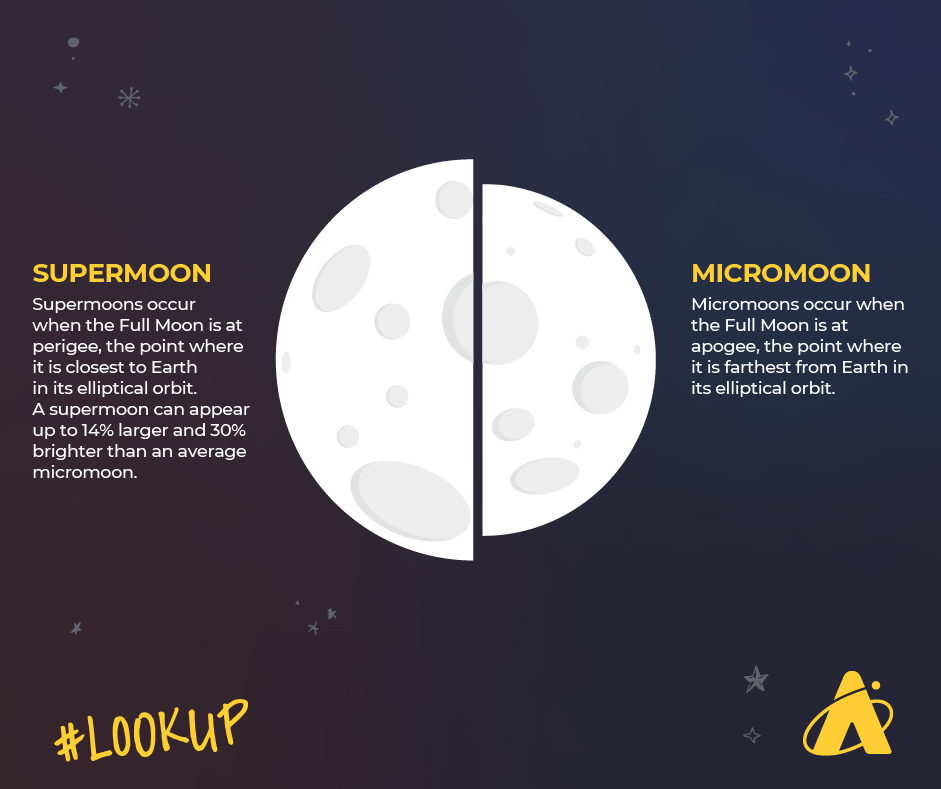 The Moon's orbit around the Earth isn't a perfect circle; sometimes the Moon is further away from Earth, sometimes it's closer. When the Moon is closest to Earth in its orbit, it's called "perigee." And when a Full Moon occurs near perigee, it's informally known as a Supermoon. The average distance from the Earth to the Moon is about 239,000 miles. But this month's Full Moon, which rises on the 26th (in the Chicago area), is close to perigee and about 17,000 miles closer to Earth than average. Because it's closer than usual, it looks a little bigger—emphasis on "little," since you may not even notice the difference. The Moon the night of April 26th rises in the east-southeast shortly before sunset, and it sets in the west-southwest shortly before sunrise on April 27th; so you'll have plenty of time to study the Moon's size.
For those looking for planets, look about halfway up the western sky shortly after sunset to see the planet Mars amid the bright setting stars of winter. The Red Planet appears not far from the reddish stars Betelgeuse (in the constellation Orion) and Aldebaran (in the constellation Taurus). This month, Mars is dimmer then both Betelgeuse or Aldebaran. Keep in mind, however, that Mars is also much closer to Earth than either of the stars. Aldebaran is over 60 light-years away, and Betelgeuse is over 500 light-years away. A "light-year" is the distance that light travels in a year—nearly six-trillion miles. By comparison, Mars's distance can be measured in light-minutes. The evenings of the 16th and the 17th, look for Mars near a slim waxing crescent Moon. Mars sets in the west-northwest around the midnight hour Central daylight time.
After Mars sets, the next planetary action does not occur until about an hour before sunrise. Low in the southeast sky, look for the bright planet Saturn and the really bright planet Jupiter. The morning of the 6th, a slim waning crescent Moon appears below Saturn; and the morning of the 7th, an even slimmer waning crescent Moon appears below Jupiter. Here's a fun fact for the month: if you draw an imaginary line from Jupiter to Saturn as you see them in the sky, and extend that line beyond Saturn a little longer than an equal distance between the two planets, you'll be looking in the neighborhood of the dwarf planet Pluto. In fact, the morning of the 5th, a waning crescent Moon is below Pluto, the same as it is below Saturn and Jupiter the following two nights. Of course, you can see the Moon with the unaided eye—but not the dwarf planet Pluto.
The planets Mercury and Venus appear too close to the Sun this month to be readily visible.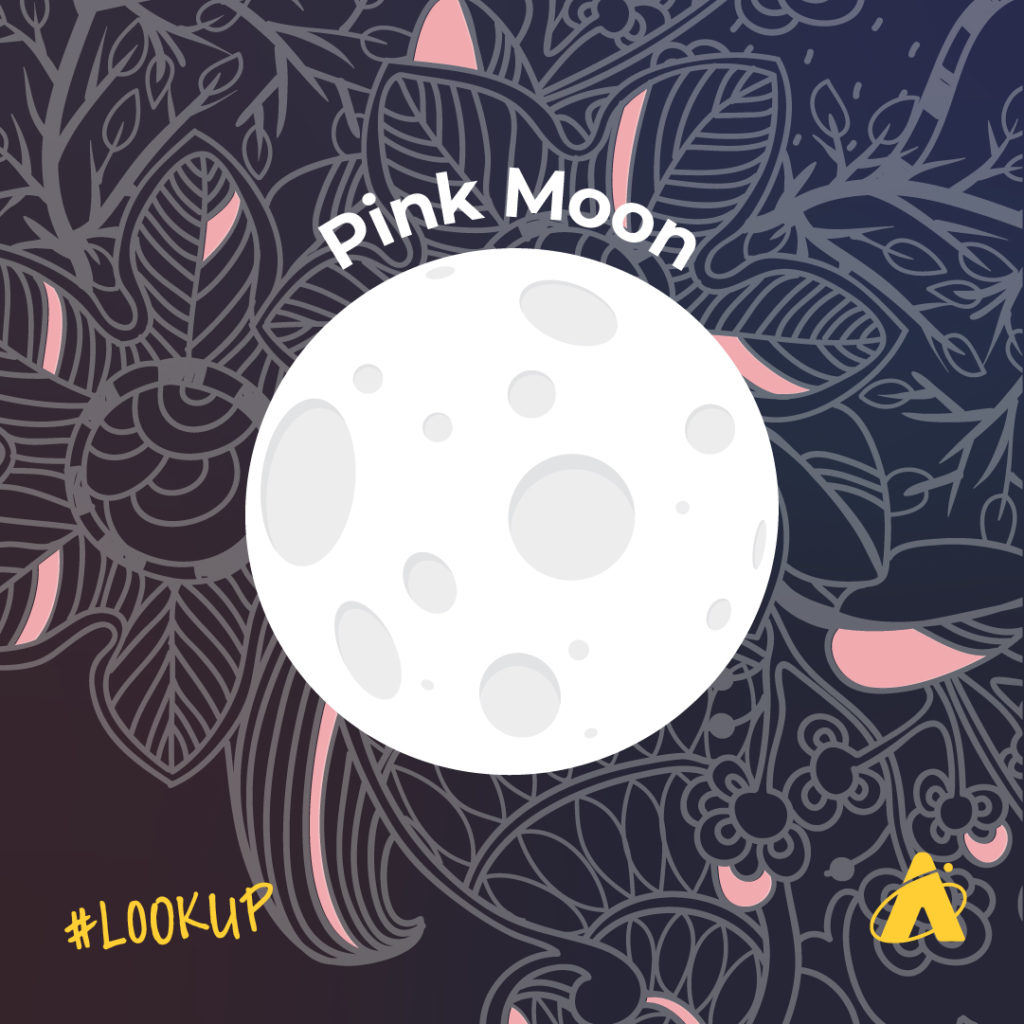 Last Quarter Moon: April 4
New Moon:  April 11 
First Quarter Moon:  April 20  
Full Moon:  April 26
Please note that these descriptions are for the Chicago area, using Central time.
Subscribe To Skywatch Weekly This April
Tour the night sky weekly with the Adler Planetarium's Theaters Manager Nick, who uses cutting edge visualizations, NASA images, and astrophotography to show you what you can see weekly in the night sky.
Learn From Our Astronomy Educators
Watch exclusive live episodes of Sky Observers Hangout this April! First, our astronomy educators will show you how art has been intertwined with science—especially astronomy—for a long, long time on April 5th. Then, we'll learn all about the Moon on April 19th. There is lots to observe in the spring sky! New episodes air every two weeks on Mondays. 
This Citizen Science Month, join a real research project with Adler Zooniverse!
Did you know that anyone (that means YOU) can become a citizen scientist? If you're reading this, you already have everything you need to contribute to real research projects—and maybe even discover something no one knew they were looking for!
April is Citizen Science Month, and you can celebrate by joining the millions of Adler Zooniverse volunteers from all around the world.
How Do I Become A Citizen Scientist?
Signing up to become a volunteer citizen scientist through Adler Zooniverse is super easy and totally free! Just go to zooniverse.org and click register. Then, you'll create a username, password, and enter your email address. After you press register, you're all set! You can begin finding citizen science projects you're passionate about and interested in—like Penguin Watch, OceanEYEs, and Radio Meteor Zoo.
Here are a few projects that need your help!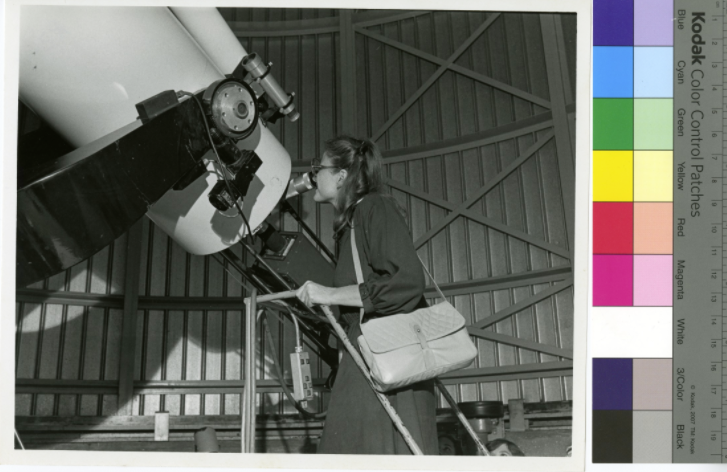 Help make the Adler's digital collections catalogue easier to search! Our team used artificial intelligence to tag the images in our collections catalogue, and now they need your REAL intelligence to make sure the words match the images.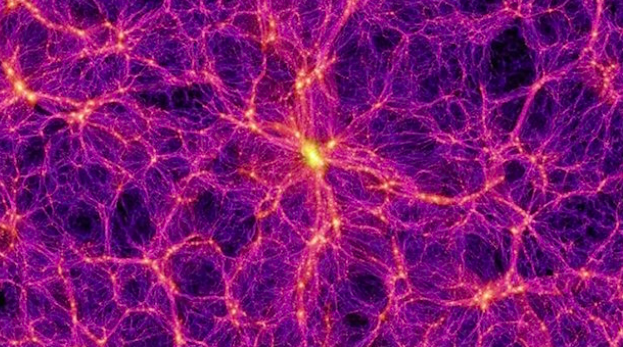 Nobody knows what dark energy really is, but scientists can measure what it does! With your help, the Dark Energy Explorers research team will create an enormous map of the universe and use it to track the effects of dark energy through space and time.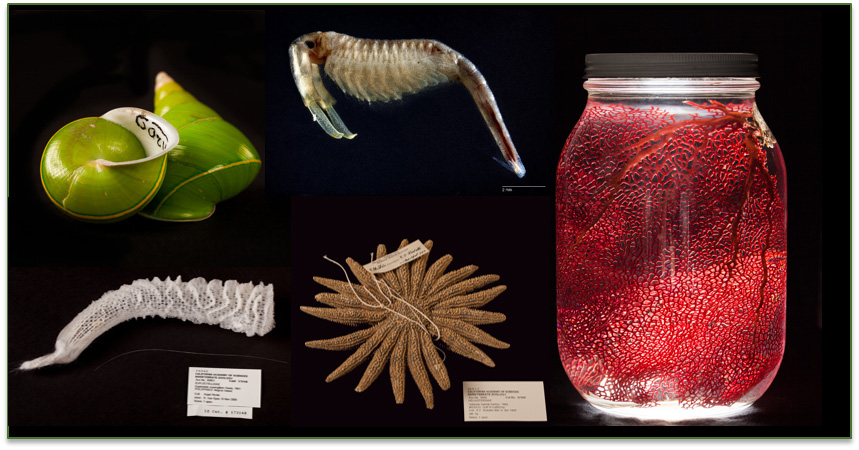 Imagine a vast library of tiny ocean life, filled with specimens waiting to be studied. Sounds cool, right? Well, there's a catch: you can't use a computer to find out what's inside because the labels have never been digitized! Join this project to turn those paper labels into a searchable database and help scientists around the world learn about marine biodiversity.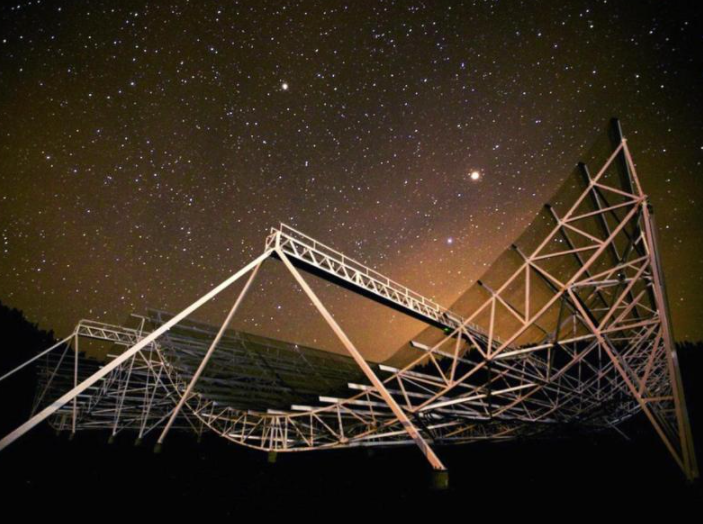 Did you know scientists have detected super short bursts of radio waves from space? We'd love to tell you more about them—why they happen, where they come from, that sort of thing—but we can't because no one knows that stuff! Help the Bursts From Space team get to the bottom of these mysterious blips.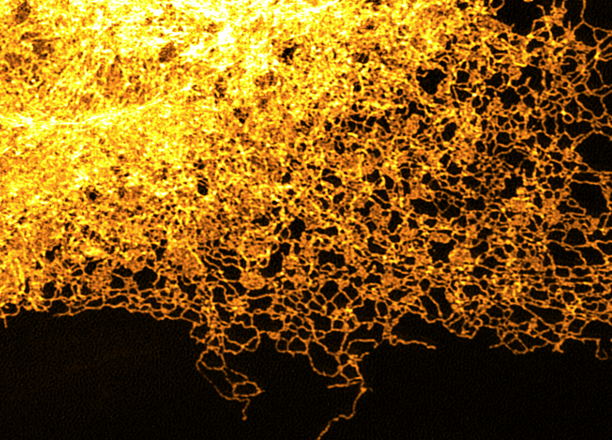 One cell is simple compared to a whole body, but there's a lot of complexity to be found when you peek under the membrane. In this project, you can help scientists understand the endoplasmic reticulum, a structure that helps keep cells—and bodies—running smoothly.
Learn More About Adler Zooniverse
Zooniverse is the world's largest and most popular platform for people-powered research. This research is made possible by volunteers—more than a million people around the world who come together to assist professional researchers. In 2020, Zooniverse gained over 263,000 volunteer citizen scientists. You don't need any specialized background, training, or expertise to participate in Zooniverse projects. It is easy for anyone to contribute to real academic research, on their own computer, at their own convenience.
Adler Skywatch: March 2021
Header Image: Chicagohenge Image Credit: @cdats
It's the month named for the god of war, Mars; and the planet Mars is a great focus for the month of March 2021.
Last month, NASA's Perseverance Rover successfully landed on the planet Mars. It joined the still-operating Curiosity Rover already on the Martian surface. Perseverance allows NASA a new set of rover-based experiments, such as collecting core samples from rocks and, for the first time, using microphones to listen to wind and rover activity on the Martian surface. This month, take a moment to seek out Mars for yourself.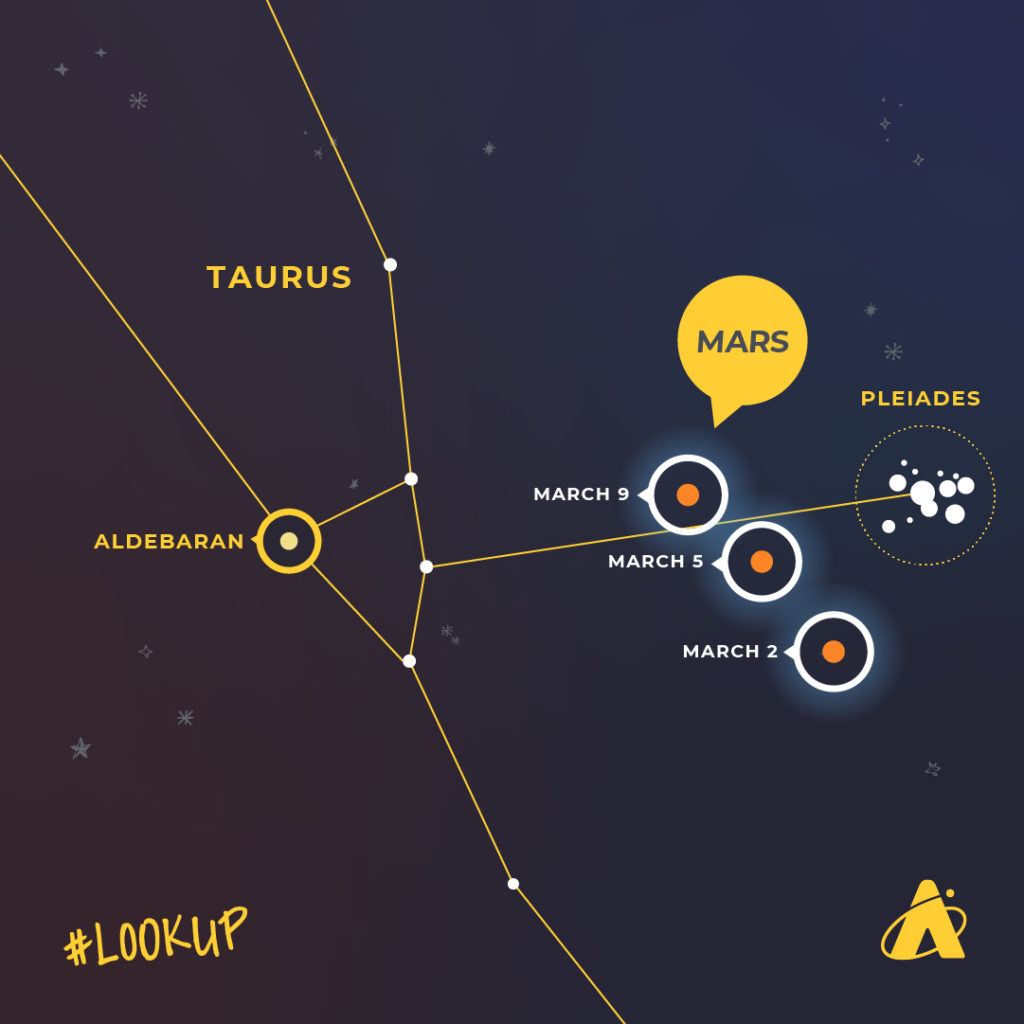 Look about 60 degrees high in the southwest skies during evening twilight to see the Red Planet. It's not as bright as it was at its brightest and closest-to-Earth, back in October; but, hovering at around first-magnitude brightness, it still catches the eye. It sets in the west-northwest around midnight Chicago time this month. 
The first week of March, Mars appears to pass a few degrees to the left of the Pleiades star cluster. The following week, it appears a few degrees to the right of the reddish star Aldebaran, in the V-shaped asterism that marks the constellation Taurus the Bull. On the 19th, a waxing crescent Moon is near both Mars and Aldebaran. As the evenings pass, and as Earth travels around the Sun and continues to move away from Mars, Mars gradually loses brightness, and is nearly one-half magnitude dimmer on the 31st as it was on the 1st. Mars's dimming will continue for the next few months, and it will also get lower in the evening sky as the months pass.
The other planetary viewing this month takes place during morning twilight, but you'll need a very clear view to the east-southeastern horizon to see it. About an hour or so before sunrise, the planet Saturn rises in the east-southeast. During the first week of the month, the planet Mercury rises soon after Saturn, followed by the much brighter planet Jupiter. Mercury and Jupiter appear less than a degree apart the morning of the 5th. After that date, Jupiter rises before Mercury each morning. While Jupiter and Saturn get a little higher in the pre-dawn sky each day this month, Mercury moves lower in the sky after the 5th; and after the 10th or so, the brightness of the dawn sky may make it impossible to see. This month, none of these planets will get higher than ten degrees above the horizon—if that high—before dawn's light blots them out.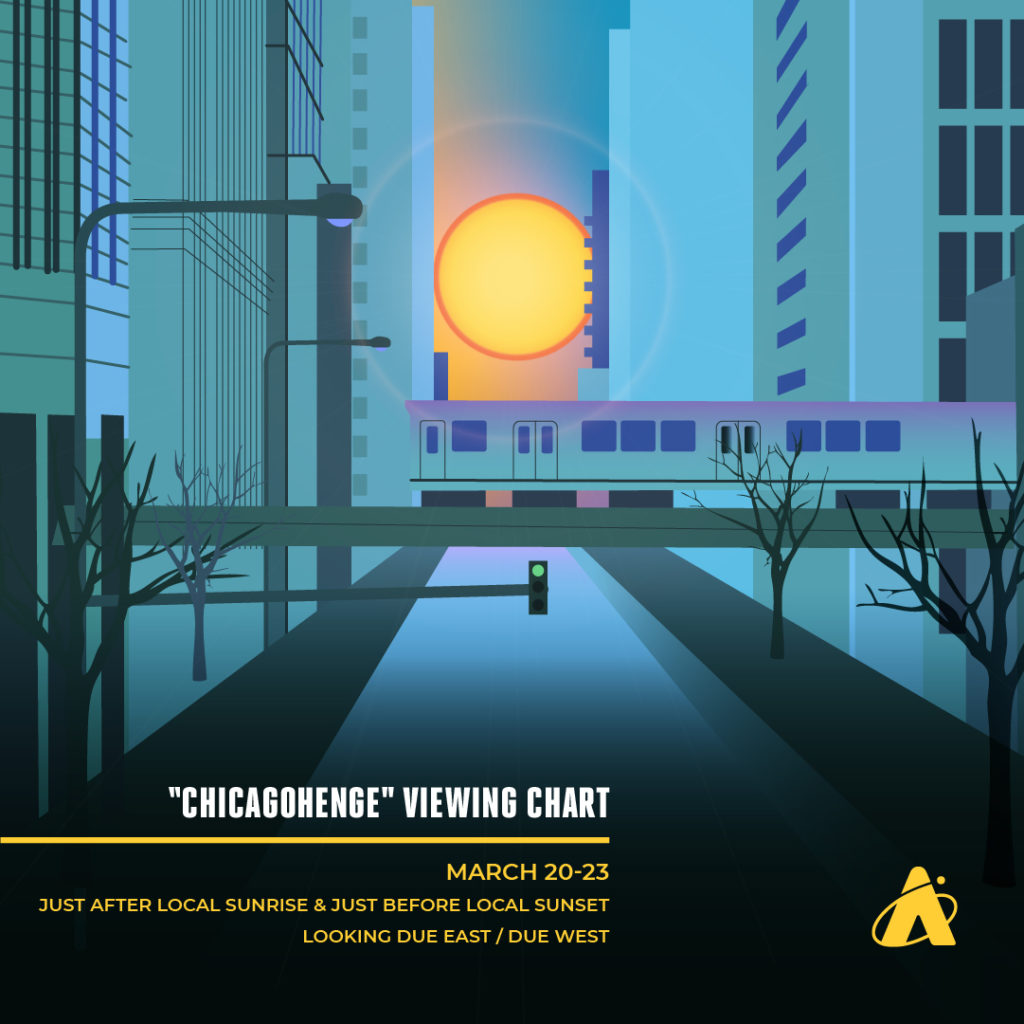 The brightest planet, Venus, is not very far from Jupiter, Mercury, or Saturn this month. However, it appears much too close to the Sun to be readily visible.
Daylight Saving Time starts at 2 a.m. local time the morning of the 14th.  People in areas that keep Daylight Saving Time need to "spring forward" and move their clocks ahead one hour on this date. We'll get that hour back later this year, on November 7th.  
The vernal equinox, marking the start of Spring in the northern hemisphere, occurs at 4:37 a.m. Central Daylight Time on the 20th. On this date the Sun rises due east and sets due west; and daylight and nighttime hours are nearly equal. If you're in Chicago, you can also witness the phenomenon "Chicagohenge" near the spring equinox.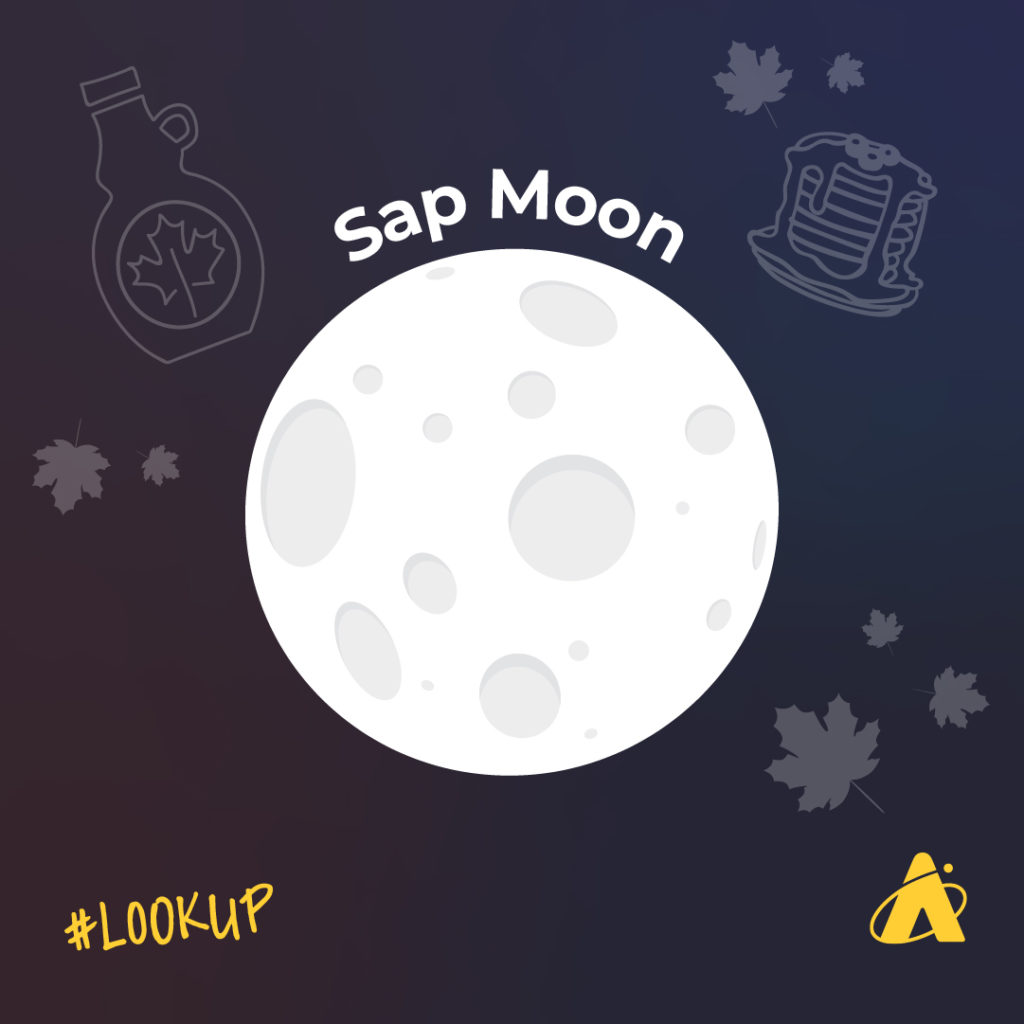 Last Quarter Moon:  March 5
New Moon:  March 13 
First Quarter Moon:  March 21  
Full Moon:  March 28
Subscribe To Skywatch Weekly This March
Tour the night sky weekly with the Adler Planetarium's Theaters Manager Nick, who using cutting edge visualizations, NASA images, and astrophotography to show you what you can see weekly in the night sky.
Learn From Our Astronomy Educators
Watch exclusive live episodes of Sky Observers Hangout this March! First, our astronomy educators will show you how to view the spring equinox and its associated phenomenon Chicagohenge on March 8th. Then, we'll learn all about what you can see in the spring sky, including spring constellations, bright stars and deep space objects on March 22nd. New episodes air every two weeks on Mondays.
10 Things You Should Know About The Mars Perseverance Rover Mission
Header Image: Illustration of Mars Perseverance landing on the Red Planet. Credit: NASA/JPL-Caltech
Humans have been fascinated by the fourth planet from the Sun for centuries. At one point, there were some astronomers who were absolutely convinced that canals—created by alien life—stretched across its surface. One thing is for sure: we love exploring this little red planet and uncovering the secrets hidden beneath its oxidized iron-rich soil. There are tons of reasons why NASA's Mars Perseverance rover mission is exciting for space exploration and space science research, so we've highlighted a few things you should know! 
Congrats Perseverance and NASA
The Mars 2020 Perseverance rover successfully landed on the Red Planet on February 18, 2021! Here's the first image the rover took from its landing site on the Martian surface.
Wheels are on the Martian soil! 👏🥳 Wow, what a journey Perseverance and Ingenuity have had. 🔴Congrats on a successful landing @NASAJPL and @NASAPersevere! We cannot wait to see what Mars Perseverance will discover as it rolls across the Red Planet. #CountdownToMars #mars2021 https://t.co/Eqcuf7Of5x

— AdlerPlanet (@AdlerPlanet) February 18, 2021
Perseverance Is The Fifth Rover To Travel To Mars
In 1997, the first rover landed on Mars. To date, four rovers—Sojourner, Spirit, Opportunity, and Curiosity—have all successfully landed on the Red Planet. Perseverance is now the fifth rover to successfully land on and study Mars.
The Mission: Search For Ancient Life
The main goal of the Mars 2020 Perseverance mission is to search for ancient life! The rover will collect soil samples with the hope of getting them back to Earth for further examination. It will also study the climate and geology of the planet, and help us determine if future human exploration on the planet is possible.
Fun fact: Did you know that NASA rovers have been carrying secret messages to Mars for years? Curiosity's wheels spell out "JPL" in Morse code as it rolls across the surface, which actually helps NASA confirm how far the rover has traveled. Most recently, the supersonic parachute that safely glided Perseverance to its landing site had an intricate design with two encoded messages in binary code: "Dare Mighty Things" and the GPS coordinates of JPL. One more secret: "Explore As One" is etched in Morse code on an aluminum plate that holds three chips with 10.9 million names from NASA's "Send Your Name To Mars" campaign!
Seven Months Later…
The Perseverance rover launched on the Atlas V-541 rocket from Cape Canaveral Air Force Station, Florida on July 30, 2020. It has taken about seven months to get to Mars. Originally, the rover was set to launch earlier in July 2020, but the launch date was pushed back several times due to potential contamination and mechanical issues.
Remember the hype around the #CountdownToMars launch in 2020? At the 46 second mark in this NASA video, see if you can spot our astronaut friend and the iconic Adler Planetarium dome! Pretty cool, right?
We put out the call, and you answered. Thanks to everyone, all over the world, who sent in their well-wishes and helped #CountdownToMars. pic.twitter.com/mobLaXvxxD

— NASA's Perseverance Mars Rover (@NASAPersevere) July 30, 2020
Say Hello To Helicopter Ingenuity
A little helicopter named Ingenuity has accompanied Perseverance on the seven month journey to Mars. This helicopter will test the first robotic space flight ever on a planet in the solar system other than our own! Check out this cool space visualization, created by an astronomer at the Adler Planetarium, inspired by what Ingenuity's first flight path might look like.
As Heavy As A Hippo
Not only is Perseverance the most sophisticated rover to ever rocket to the planet, but it is the heaviest, too! Perseverance weighs 2,260 pounds. For context, Sojourner weighs 23 pounds, Spirit and Opportunity weigh 374 pounds each, and Curiosity weighs 1,982 pounds. 
Perseverance Was Named By A 7th Grader
NASA held a Name the Rover essay contest in late 2019 for K-12 students across the country to submit essays to help decide the Mars 2020 rover's name. Alexander Mather, a 7th grade student from Virginia, wrote his essay on the word perseverance, which was selected from a pool of 28,000 entries.
"We as humans evolved as creatures who could learn to adapt to any situation, no matter how harsh. We are a species of explorers and we will meet many setbacks on the way to Mars. However we can persevere. We, not as a nation, but as humans, will not give up. The human race will always persevere into the future." – Alexander Mather
Jezero Crater Was Once A Lake
The landing site of Perseverance is incredibly significant. It is believed that the Jezero Crater used to contain and pool liquid water, which makes it a great place to search for ancient microbial life. It is 28 miles wide and has an ancient river delta that Perseverance will search.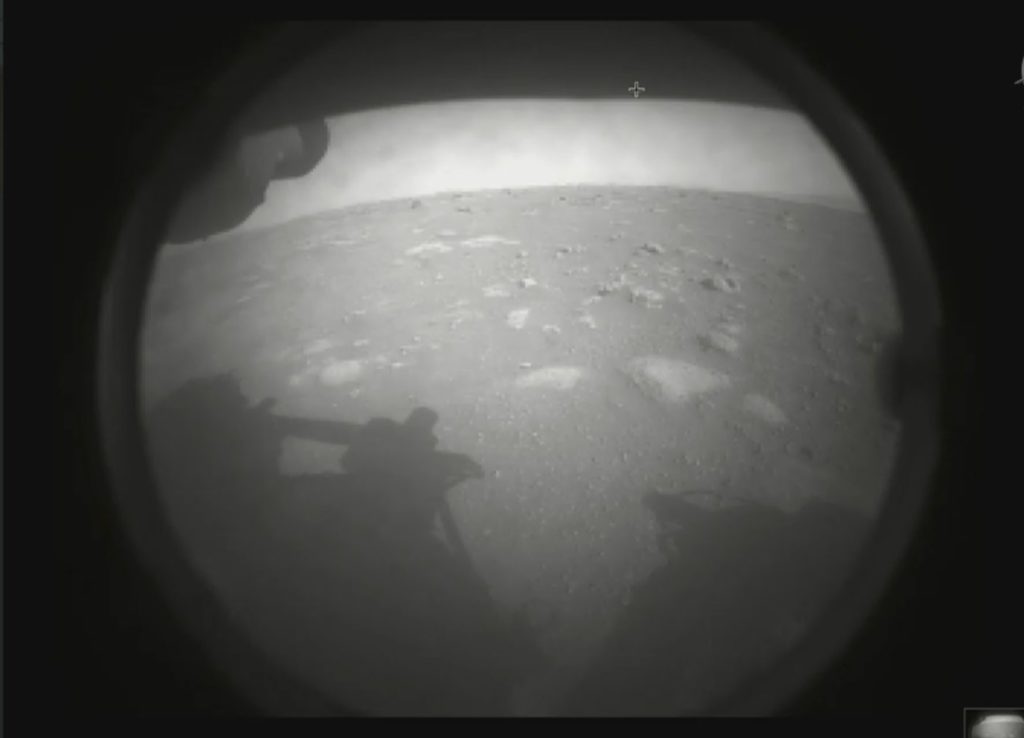 What Does Mars Sounds Like?
Perseverance is equipped with two microphones that will send us sound recordings of the planet. In fact, it already sent us a recording while en route.
Perseverance Will Spend At Least One Mars Year Gathering Data
Perseverance will spend at least 687 Earth days studying the planet. A sol, which is one day on Mars, is about 39 minutes longer than a day on Earth. The Curiosity rover has been exploring Mars for over 3000 sols.
Landing On Mars Is Tricky
Entry, descent, and landing—EDL for short—is the autonomous process Perseverance used to land on Mars! The rover successfully landed on Mars on February 18, 2021 around 3pm CST. As it descended through the planet's atmosphere, Perseverance needed to survive the "seven minutes of terror" before it could send a radio signal and images back to the NASA JPL mission team on Earth. Due to the delay in how long it takes us to receive and transmit signals back to anything on Mars, the rover did this process successfully and completely on its own! Learn more about the rover's tricky entry, descent, and landing.
Celebrate This Landing, Mars-di Gras Style
The Mars Perseverance rover  landed on the Red Planet at about 3pm CST on February 18, 2021. Watch the recap of our special online Mars Rover Landing Watch Party presented by Bank of America and CNA, and check out other Mars related projects and videos from Mars-di Gras.
The Aquarius Project Podcast: The Full Story
Header Image: Adler Teen's who were a part of the Aquarius Project used this underwater sled to search for meteorite fragments.
This teen-led underwater meteorite hunt is the podcast you need right now
First: The elevator pitch. A meteor crashes into Lake Michigan. An actor who works at the planetarium on the lakeshore assembles a ragtag underwater meteorite search-and-rescue team: Chicago teenagers, a cop, some astronomers, a graduate student, a marine biologist, a building engineer. Can the team bring back a piece of a space rock from 200 feet underwater? Nobody knows. Nobody has ever even attempted such a thing.
The Aquarius Project Podcast follows the team from its humble beginnings in 2017 all the way out to sea and back to the lab in 2020. You will love getting to know the incredible cast of characters, stepping inside their journey, and finding out what they brought back from the depths.
Now: Why do you need this story at this moment in history, in the dead of winter, in the middle of a global catastrophe? I'm so glad you asked.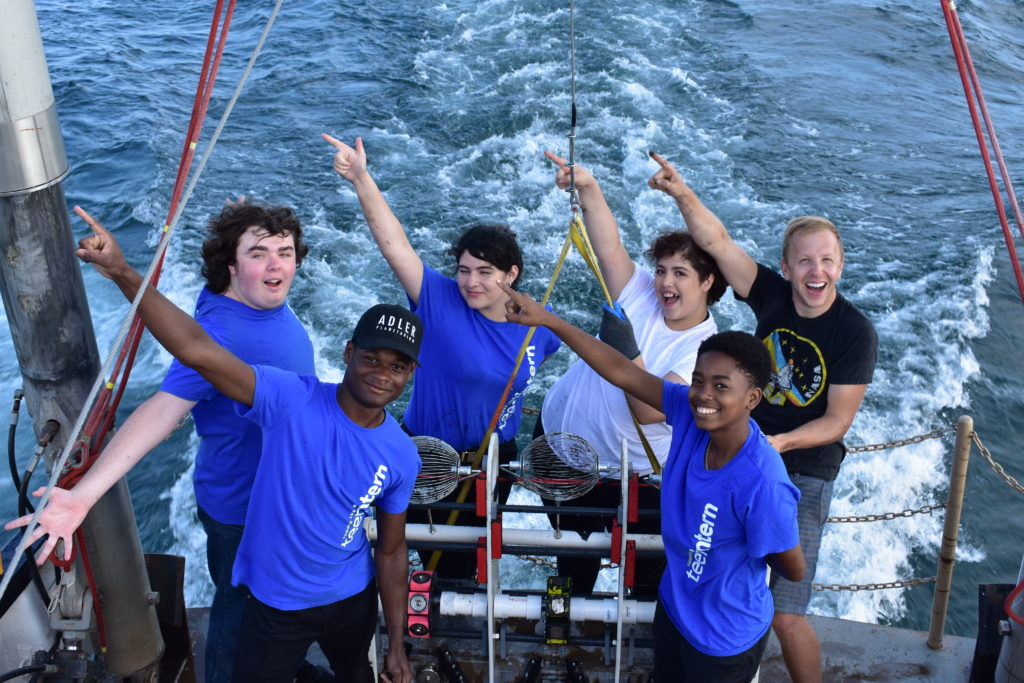 The Aquarius Project is a story about people who don't have a lot in common other than being in roughly the same place and/or wanting to accomplish the same goal. They make a great team—not in spite of their differences, but because of them. People who are different from each other can work together, learn from each other, become friends, and make discoveries they weren't even looking for. We have proof.
It is also a story about how to approach big, complex problems nobody knows how to solve—how to get curious, vulnerable, and very comfortable making mistakes. How to ask for help when you need it and bring your whole self to a team that needs you.
Oh, and it's a story about an UNDERWATER METEORITE HUNT. What are you waiting for? Listen to the full six-episode series of the Aquarius Project Podcast on your platform of choice.
Listen to the Aquarius Project on:
Watch More About The Aquarius Project
Watch Adler Teens, Adler staff and a NASA scientist speak about their experience hunting for underwater meteorites in this episode of Adler Astronomy Live that aired on our YouTube channel in 2020!
Adler Skywatch: February 2021
Header Image: Mars can be seen here during its opposition in October 2020. Image Credit: Astrophotographer Nick Lake
Is that bright "star" in the sky really a star, or could it be a planet?  There's plenty of both to look for this month, February 2021!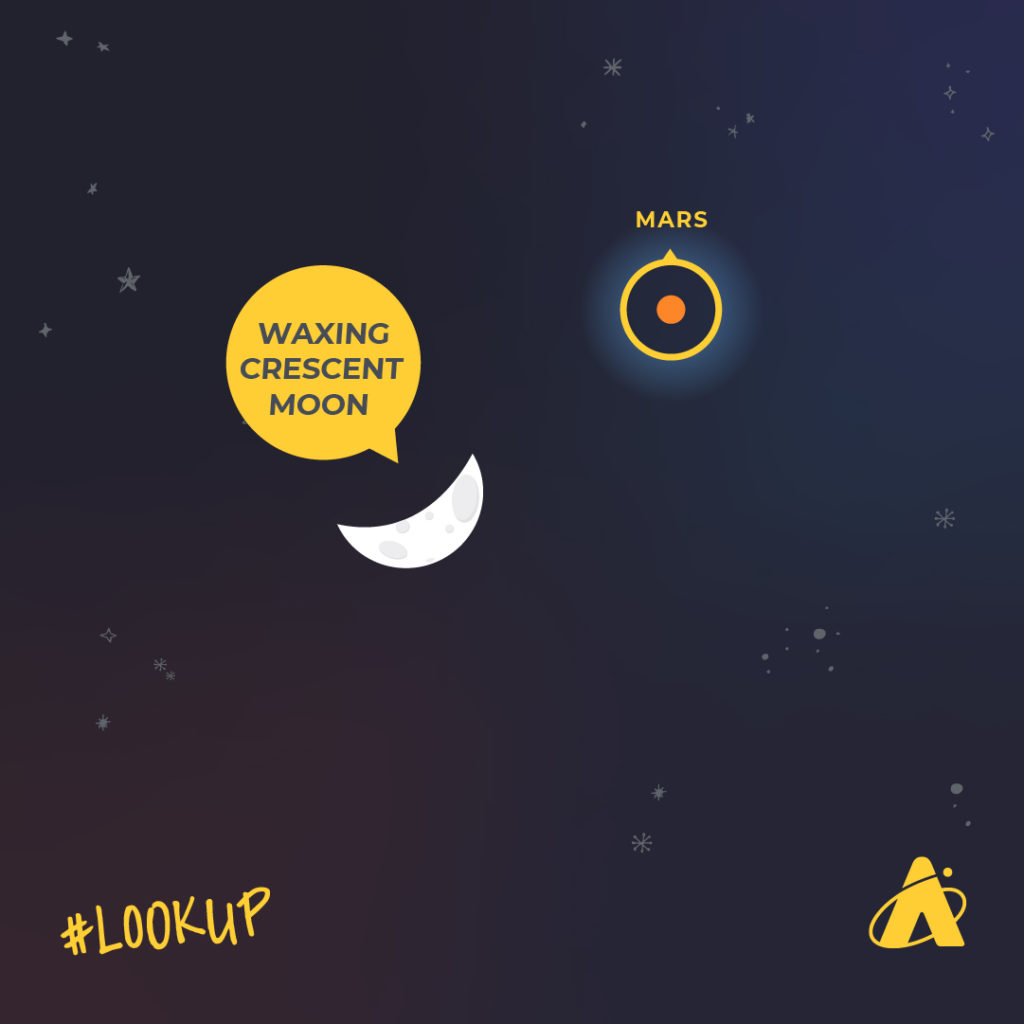 Shortly after sunset, look high in the south-southwest skies to see the planet Mars. Its steady gleam distinguishes it as a planet, as opposed to the twinkling stars. The evening of the 18, it appears less than five degrees away from a waxing crescent Moon. By about 11:30 p.m. Chicago (Central) time, Mars appears very low in the west-southwest sky. The Mars Perseverance rover will land on the red planet at about 2:30pm CST on February 18, 2021. Join us all week long for Mars-di Gras leading up to the historic landing,  including special online events like our Mars Rover Landing Watch Party presented by Bank of America and CNA.
Roughly 20 degrees east of Mars this month is the twinkling star Aldebaran, the "eye" of the constellation Taurus the Bull. Both are about the same brightness this month, and they share a similar ruddy color. As Mars moves westward across the evening sky, the bright night stars of wintertime follow not far behind. East of Aldebaran, there are Betelgeuse and Rigel, in the constellation Orion the Hunter, with its three-star belt. East of Betelgeuse is the star Procyon, in the tiny constellation Canis Minor.  And below Procyon is the brightest star in the night sky, Sirius, in the constellation Canis Major. Fun fact: these stars make up the winter circle that dominates the night sky this time of the year.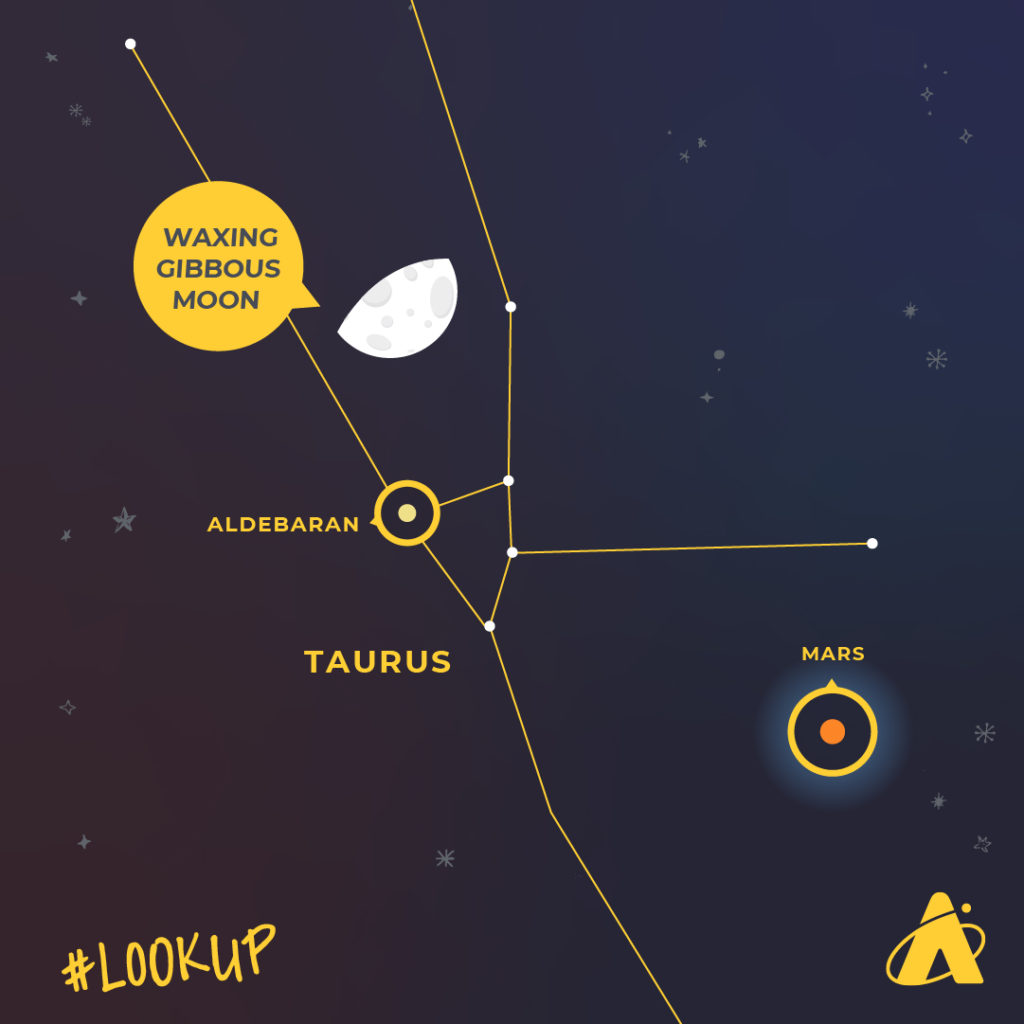 Last month, those people with a clear sight-line to the southwest horizon briefly had the opportunity to see the bright planets Jupiter, Saturn, and Mercury very close to each other in the early evening. By the second half of January, however, Jupiter and Saturn were setting around the same time as the Sun, so they were virtually impossible to see. This month, sky-watchers get the opportunity to see these planets together again—but not until the last few days of the month, and not until just before sunrise. If you have a clear sight-line to the east-southeast horizon, see if you can spot them about a half-hour before dawn. Mercury and Saturn rise about the same time; Mercury is ever-so-slightly brighter and to the left of Saturn. A few degrees below and to the left of Mercury is Jupiter. The planets fade quickly as the rising Sun brightens the sky. If you miss them this month, you'll have a better chance to see them in March.
Like last month, the planet Venus appears too close to the Sun to be readily visible.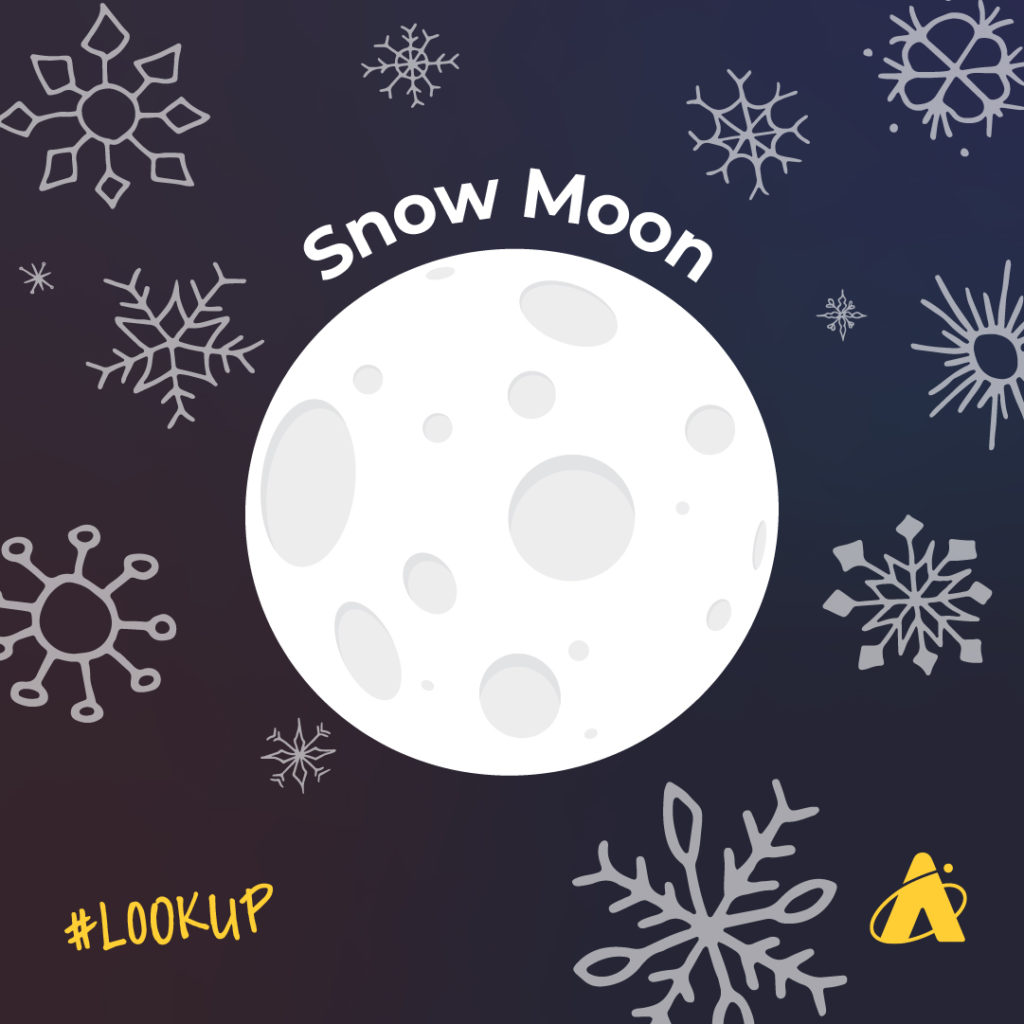 Last Quarter Moon:  February 4
New Moon:  February 11 
First Quarter Moon:  February 19  
Full Moon:  February 27
Please note that these descriptions are for the Chicago area, using Central time.
Subscribe To Skywatch Weekly This February
Tour the night sky weekly with the Adler Planetarium's Theaters Manager Nick, who uses cutting edge visualizations, NASA images, and astrophotography to show you what you can see weekly in the night sky.
Learn From Our Astronomy Educators
Watch exclusive live episodes of Sky Observers Hangout this February! First, our astronomy educators will teach you how to spot several Zodiac constellations in your night sky on February 8. Then, we're giving you a behind-the-scenes tour of the Adler Planetarium's Doane Observatory and our new 24-inch telescope on February 15. New episodes air every two weeks on Mondays.
Happy stargazing!
Adler Skywatch: January 2021
Header Image: Night photography set up with Comet NEOWISE in the background, taken in July 2020. Image Credit: Nick Lake
It's the beginning of 2021, stargazers! Earth is in the "just-right" zone for life to form—it orbits not too far from the Sun, and not too close. However, Earth's distance from the Sun varies slightly every day. We reach our closest point to the Sun for the year this month, January 2021.
Perihelion is the point in Earth's annual orbit when it's closest to the Sun. It usually occurs every year in early January. In 2021, perihelion occurs on January 2nd, at 7:50 a.m. CST. At this time, Earth is just over 3 million miles closer to the Sun than it is at aphelion, which occurs in early July. If you're wondering why the weather isn't warmer at perihelion than it is at aphelion (at least in the northern hemisphere), it's because the difference between the two distances is only about three percent.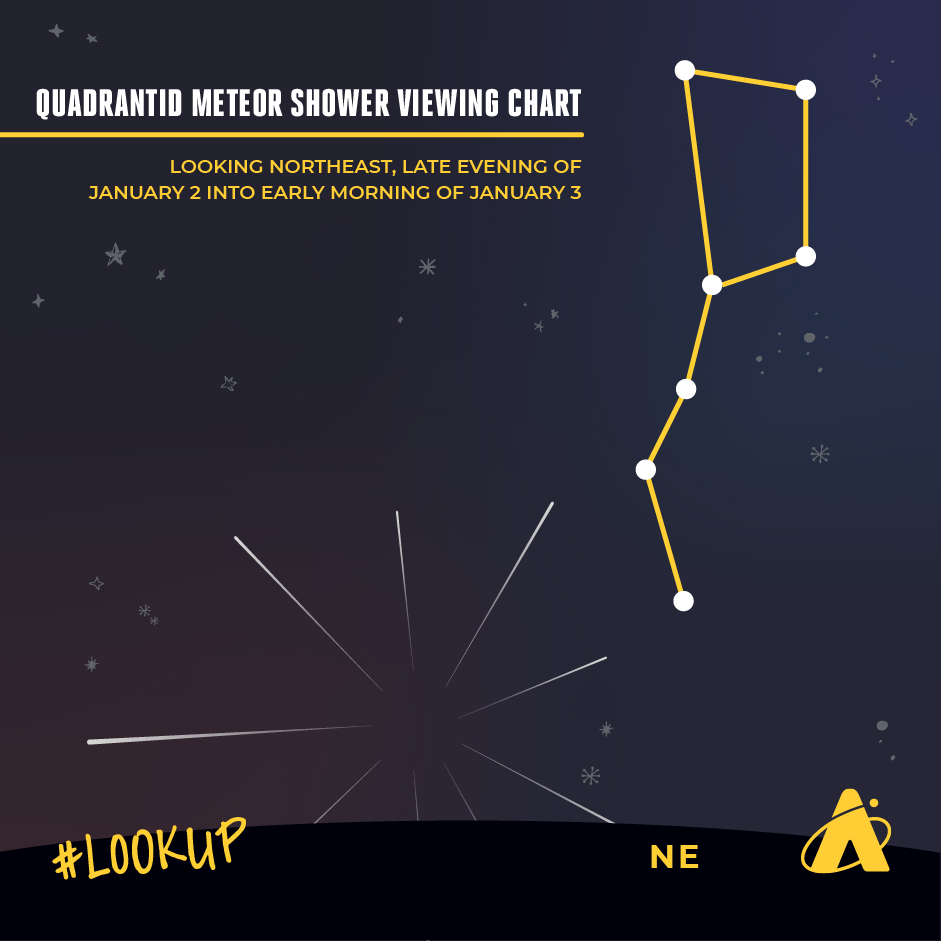 The annual Quadrantid Meteor Shower also occurs early this month. This year it peaks the night of the 2nd and the early morning darkness of the 3rd. If you're viewing under very dark, very clear skies, up to 40 meteors per hour are estimated at the shower's peak. However, the waning gibbous Moon that night will blot out fainter meteors. So will viewing near city lights. No special equipment is needed to view meteors—just find a clear, dark, safe place, dress warmly, and look up. 
For about the first two weeks of the month, the planets Jupiter and Saturn appear within a few degrees of each other, very low in the southwest sky only minutes after sunset. They're not visible for long, as they set earlier each day. If you have a clear sight line to the southwest, try looking around the 10th, when you may see a third planet close by—the planet Mercury. The three planets form a small, nearly equilateral triangle in the early evening twilight of the 10th. Jupiter is the brightest of the three; then Mercury, then Saturn. After the 13th, Jupiter and Saturn appear so close to the Sun that they will be difficult if not impossible to see. However, Mercury moves a little higher above the west-southwest horizon nearly every day this month. It reaches its highest point in the sky the evenings of the 24th through the 26th—though it never gets much higher than 10 degrees above the horizon after sunset.
Also in the early evening, look to the south about 60 degrees high, or about two-thirds of the way up between the horizon and the zenith directly overhead, to see the planet Mars. It's quite colorful and bright this month, though it gets dimmer with each passing night. The evening of the 20th it's above the First Quarter Moon; and on the 21st it's to the right of a waxing gibbous Moon. Mars sets in the west-southwest around midnight Central time this month.
The planet Venus is normally the brightest planet in the night sky, but this month it appears too close to the Sun to be readily visible.
Last Quarter Moon:  January 6
New Moon:  January 12 
First Quarter Moon:  January 20  
Full Moon:  January 28
Please note that these descriptions are for the Chicago area, using Central time.
Watch Skywatch Weekly This January
Tour the night sky weekly with the Adler Planetarium's Theaters Manager Nick, who using cutting edge visualizations, NASA images, and astrophotography to show you what you can see weekly in the night sky!
Learn From Our Astronomy Educators
Watch exclusive live episodes of Sky Observers Hangout this January! First, our astronomy educators and the Curator of Herpetology from the Peggy Notebaert Nature Museum will discuss the issues our planet faces due to light pollution on January 11th. Then, we'll learn all about star colors and what they tell us about the stars we see in our sky on January 25th. New episodes air every two weeks on Mondays.
The Jupiter And Saturn Great Conjunction Of 2020
Header Image: The Jupiter-Saturn Great Conjunction happening in December 2020 can be viewed when lookin southwest after local sunset.
In astronomy, we often tie a time period to something. "It's been 50 years since this one thing happened," or "it's been 3 years since we saw this other event in the sky." Every once in a while, we get to view something, or a version of something, that literally no one currently alive on Earth has ever seen. Such an event, called the Jupiter-Saturn Great Conjunction, is happening in December 2020!
Fixed Stars and Wandering Stars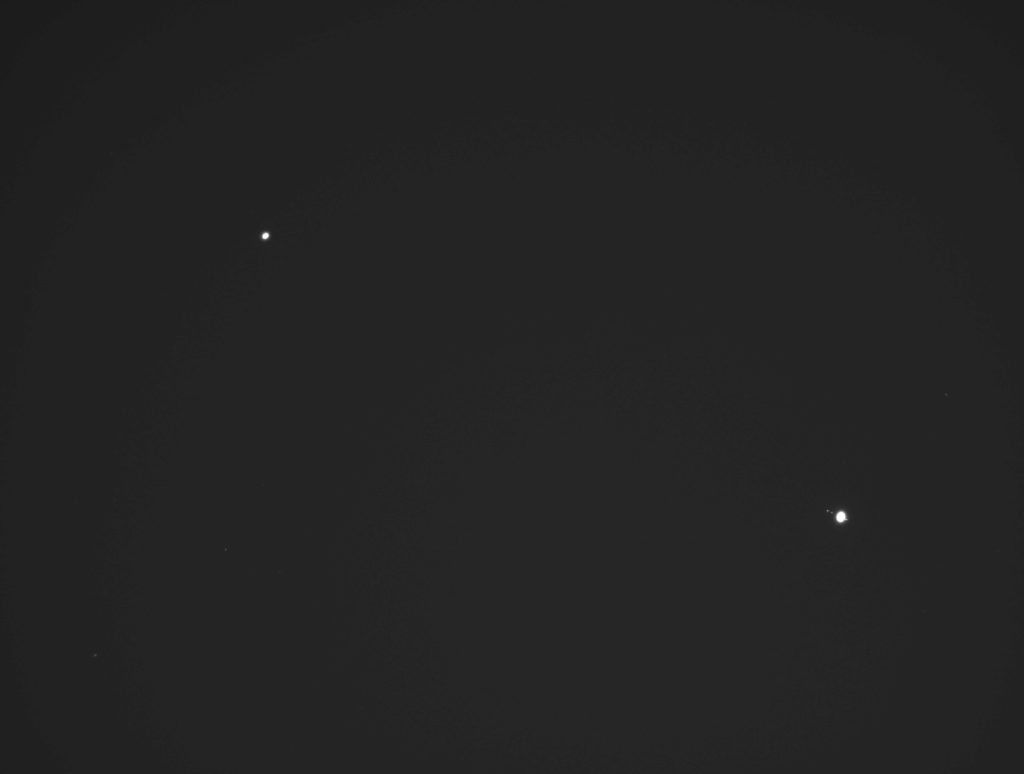 People have been looking up at the sky, well, forever. We've been trying to figure out the meaning of what we see in the sky for just as long: what are those lights I see, and what are they doing there? And our questions can go deeper: why do they move as they do, and what does this movement mean? 
There are several thousand lights visible in a dark sky. Some are bright, many are dim. These lights appear to move across the sky, night after night. As time passes, different lights are visible during different parts of the year, but their relative positions to each other stay the same. In other words, they are "fixed." We call these "fixed" lights "stars," a word that comes to English from many different languages including Latin ("stella") and Greek ("aster"). 
Watching the stars, year after year, people noticed that the movements of a few of the stars appeared different from all the others. Some moved in one direction, then another, with the fixed stars as a backdrop. Others were seen in the morning before sunrise or in the evening after sunset, never straying too far from the Sun. The ancient Greeks called these special moving stars planētes asteres, which means wandering stars, or simply, planētai, which means wanderers. The English word is planets. They were not the first people to notice these wandering movements; there are even earlier records from the Babylonians, and it is highly likely these sorts of observations go far, far into the distant past throughout cultures all over the world. The movements set these wandering objects apart as something important, something to be noticed, watched, tracked, and even interpreted.
Sometimes these wanderers came in close proximity to each other; this is called a conjunction. People took—and still take—special notice of conjunctions, and the meaning of conjunctions was and is discussed, debated, revered, reviled, or feared. To many, conjunctions were auspicious events.
The Great Conjunction of Jupiter and Saturn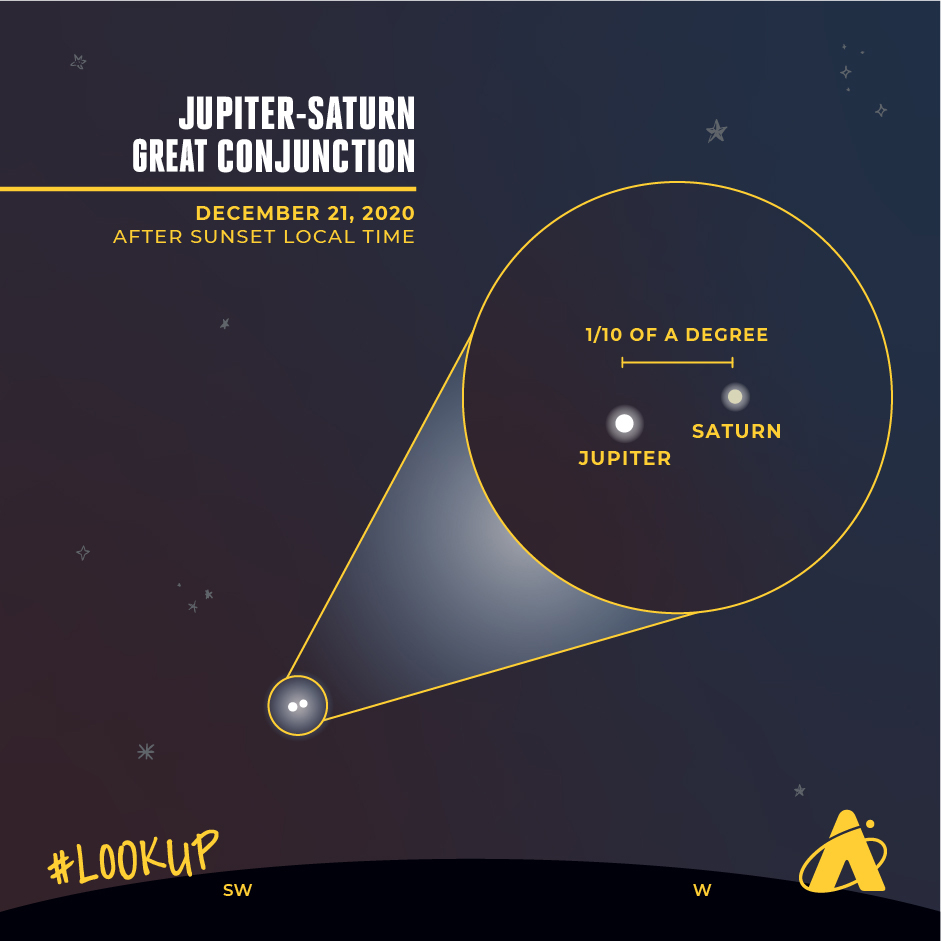 Jupiter and Saturn are two celestial objects that periodically experience conjunctions. Jupiter's quicker movement and Saturn's slower movement bring them to the same direction in the sky as seen from Earth approximately every 20 years. The last conjunction of Jupiter and Saturn was in mid-2000. Throughout the first half of December 2020, you will be able to see these two planets appearing to draw closer together each night. The best time to see them is about an hour after your local sunset time. At Chicago's latitude, look to the southwest to see two close objects fairly low in the sky. The brighter one is Jupiter. The dimmer one is Saturn. If you want to see exactly where and when to look for them for your specific location, check out Stellarium's online web app. Just input a date, time, and location, and see when it would be best for you to find our two close wanderers. 
On December 21, 2020, Jupiter and Saturn will appear so close together that they will be about 1/10th of 1 degree apart. This very close conjunction is given a special name: a great conjunction. They won't appear to touch each other, but the proximity of this conjunction is closer than any Jupiter-Saturn conjunction since July 1623. That particular conjunction would have been hard to see because it would have been mostly lost in the glare of the setting Sun. The last time Jupiter and Saturn appeared this close AND they were easily seen away from the Sun's glare? March 1226. This December's conjunction is, indeed, a rare event. If you look at Jupiter and Saturn through a moderately magnified telescope, you should be able to fit both of them in the same eyepiece view.
And in case you were wondering, yes, occasionally two planets do appear to graze or even merge briefly. This is called a mutual occultation. The last mutual occultation of Saturn by Jupiter was about 8,000 years ago. The next mutual occultation to be seen on Earth—albeit not as easily, due to the glare of the Sun, and not spectacularly, due the need for a telescope and the small relative sizes of the two objects—is a Mercury-Neptune occultation in the year 2067. There is also a mutual occultation of Jupiter by Venus in 2065, but because the two will be so close to the Sun, it will be extremely difficult, if not impossible, to observe them.
Can You Spot This Conjunction?
If your local weather does not permit you to view Jupiter and Saturn on December 21, 2020, don't worry. You will see them appear to slowly draw closer in the days just before December 21 and slowly move apart in the days after. Whenever you get a clear patch of sky after sunset right around December 21, 2020, go out and view this amazing once-in-400-years spectacle, and let us know what you see by tagging #LookUp on Instagram and Twitter.
Keep Exploring Online With Us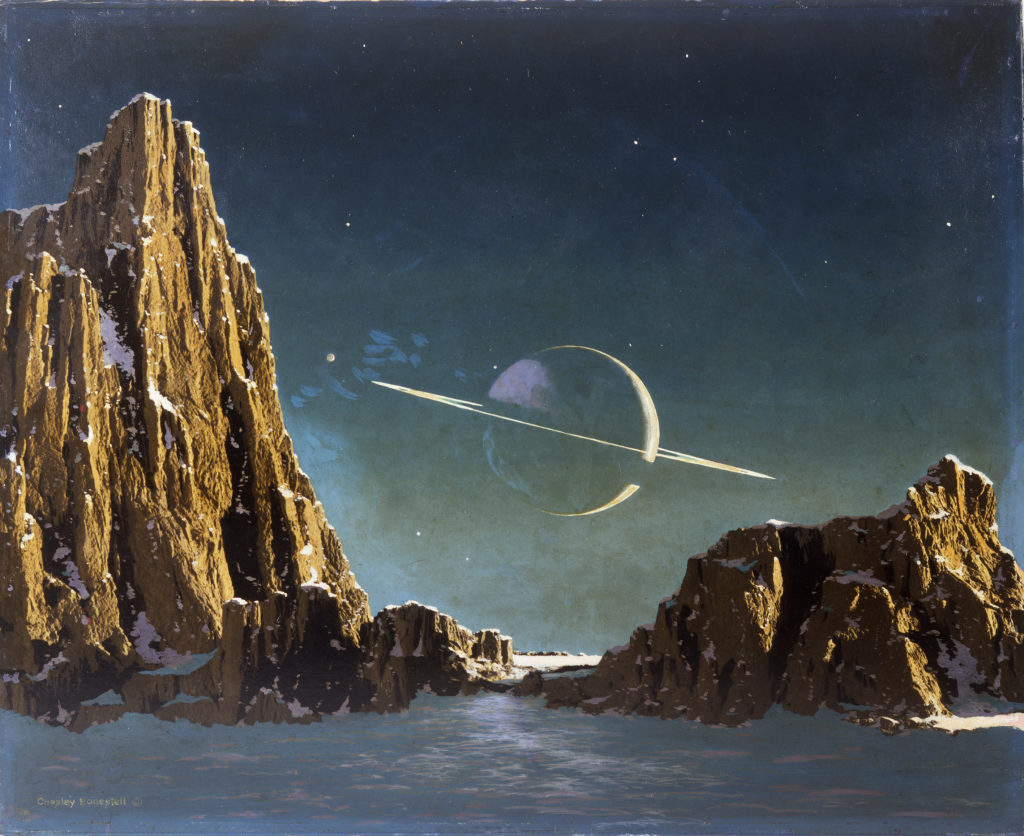 Learn more about this great conjunction through our historic artifacts and collections pieces in the Adler Planetarium's online exhibit through Google Arts and Culture. Watch an exclusive episode of Sky Observers Hangout where our astronomy educators will show you how to spot the extremely rare Jupiter and Saturn Great Conjunction on December 21st, the winter solstice. Don't forget to subscribe to our YouTube channel to get reminders about all of our online educational astronomy programs, including Skywatch Weekly.
DIY At Home: Star Stories
When you look up at the night sky, what do you see? Perhaps on a clear night without clouds or moonlight you might see many, many dots of light. They appear randomly distributed across the dark background of the sky. As humans, our brains want us to find order in the chaos and we start connecting the dots, starting with one bright star and moving to another.
Patterns that people identify in the night sky are called constellations. Constellations have been collectively identified by humans throughout the ages and across cultures. They tell stories and record history.
Our star story activity challenges you to create your own constellation using materials found in your home. Recently, Adler's Program Development Manager, Sarah Smail, demonstrated this activity for guests of the Adler's Celestial Ball. Follow along with the recording below as she helps guide us through this activity.
Getting Started
The star story activity is designed to work with limited supplies that you're likely to have at home. Supplies include:
Thick paper (Ideally black or dark blue, but any color will do)
Colored pencils or markers (Or any other art supplies you like to create with)
Light source (Desk lamps or flashlights work well)
Hole punch (Optional; you can use a pencil if you don't have a hole punch)
Creating Your Own Star Story
Starting with your piece of paper, determine what pattern you want your constellation to take shape in the night sky. Perhaps it's a bunny like Sarah chose in the video, or your favorite tree, or whatever fun shape you can think of!
Then using your pencil or marker, draw out the shape you want your constellation to take on the piece of paper.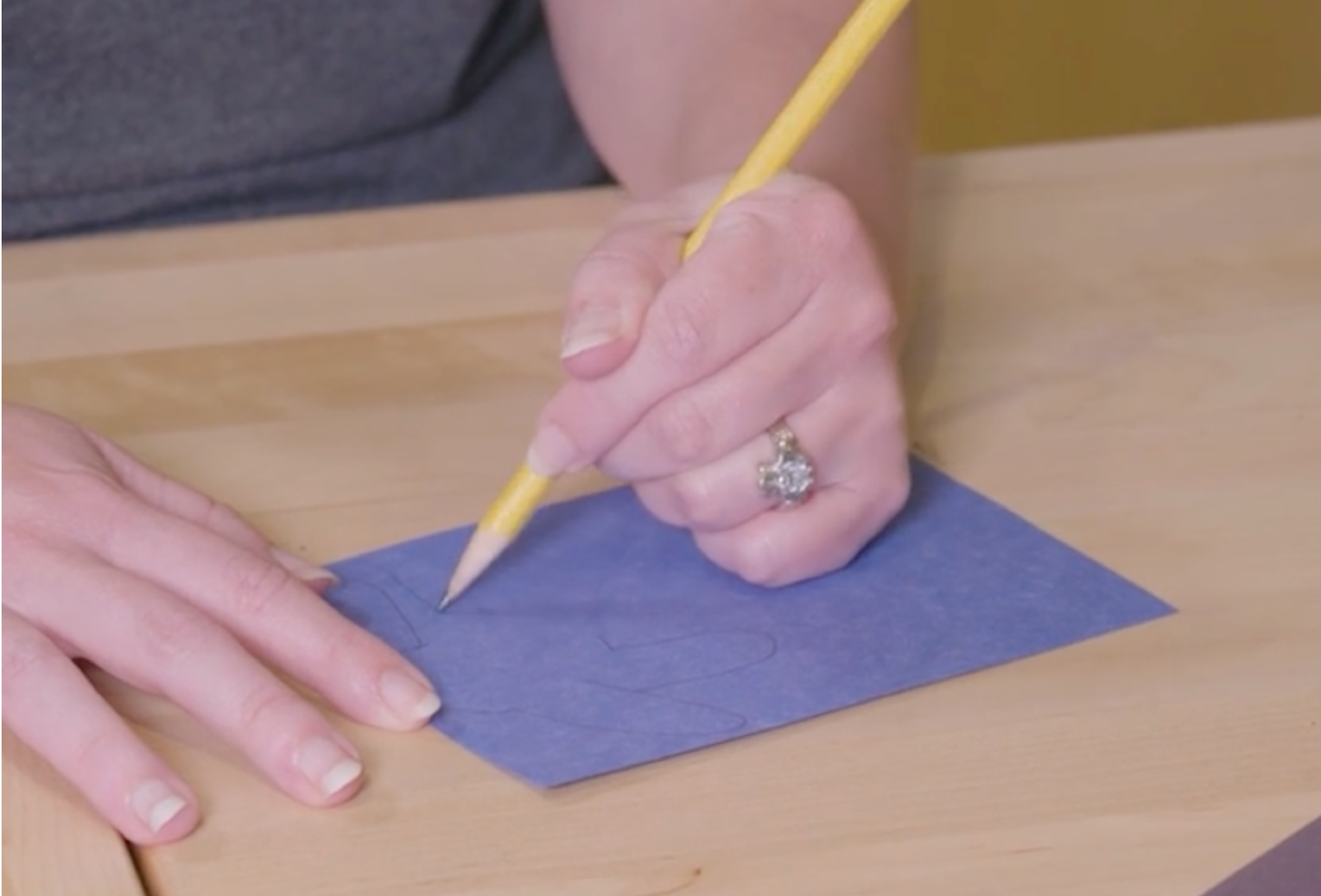 Once your pattern is complete, decide where you want your stars to sit within your pattern and mark them using your pencil.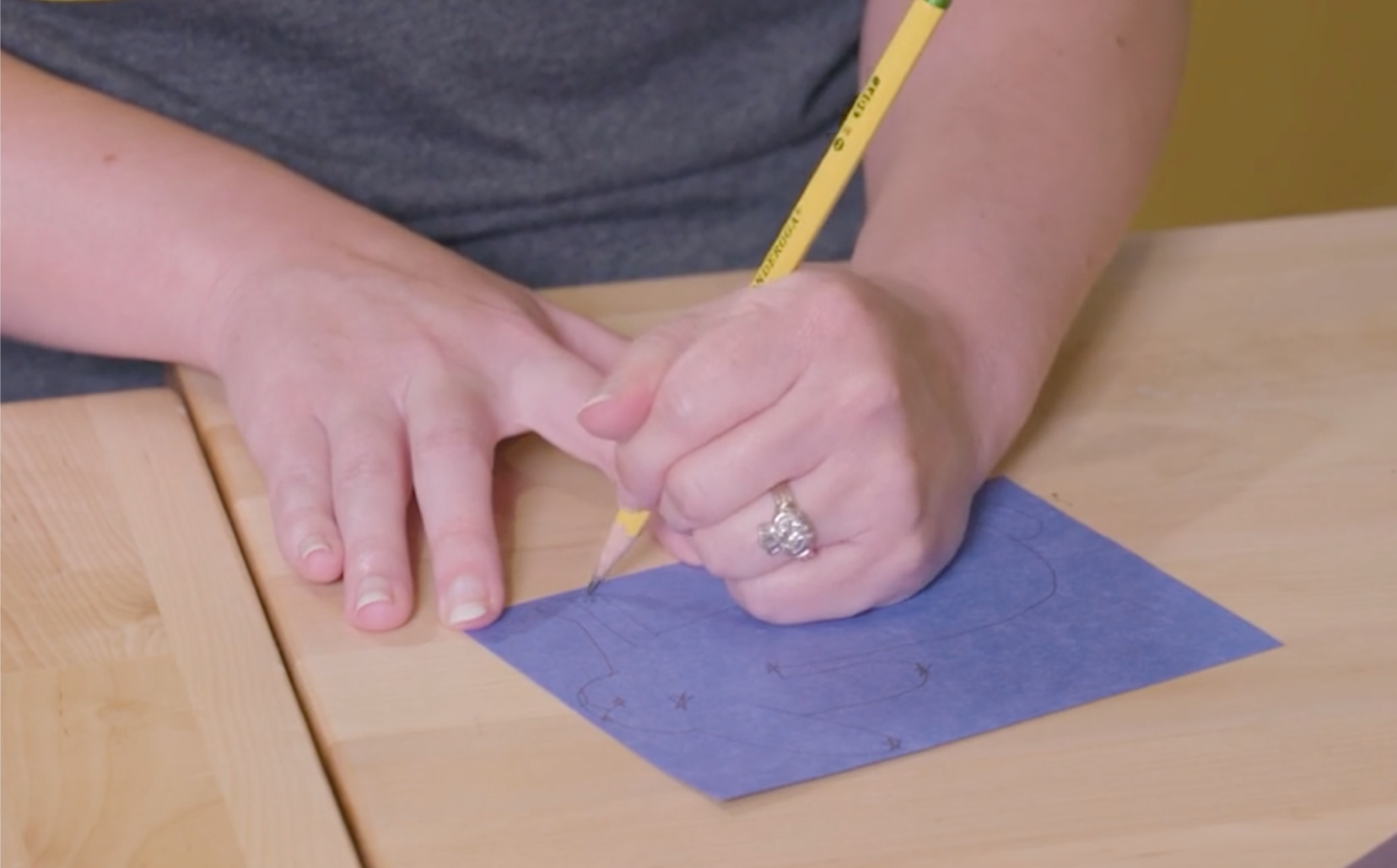 Finally, use the hole punch (or a pencil) to punch out the stars in your pattern.
Now all that's left is to hold your star story up to the light to let it shine through onto a wall!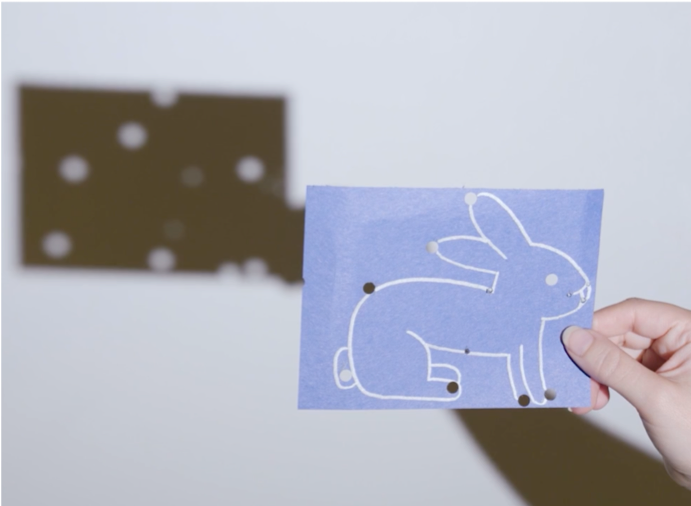 When You're Done
When your whole family has finished creating their star stories, take turns doing a show and tell. Ask each other questions like, "Why did you choose that pattern?" Or "How is this pattern special to you?"
Share your creations with us on social media! Take a photo and upload to Instagram or Twitter and tag @adlerplanet for a chance to be featured on our social media channels.
5 Cities, 50 Years, 5,000 Miles: The Remarkable Afterlife of America's First Planetarium Projector
Header Image: The Zeiss Mark II projector can be seen here in the Adler's original domed theater in the 1930s. Image Credit: The Adler Planetarium Archives
Written By: Mike Smail, Director of Theaters and Digital Experience
In January of 1970, the Adler Planetarium de-installed our original Zeiss planetarium projector (the first one in the Western Hemisphere) and shipped it to Jackson, Mississippi, where it was to be re-installed in the soon-to-be-constructed city planetarium. But, when the Russell C. Davis Planetarium opened in downtown Jackson in 1978, the installed projector was a Minolta S-IV. What happened to the Adler's Zeiss? Why wasn't it installed in Jackson? And where is it now?
Let's Start At The Beginning
The Zeiss Mark II was in place for Adler's opening, May 12, 1930. In 1960, Adler upgraded the projector to a Mark III, adding individual projectors for the 42 brightest stars, an upgraded Moon projector, and new chromium-coated, photo-engraved star plates (replacing the original hand-punched copper plates).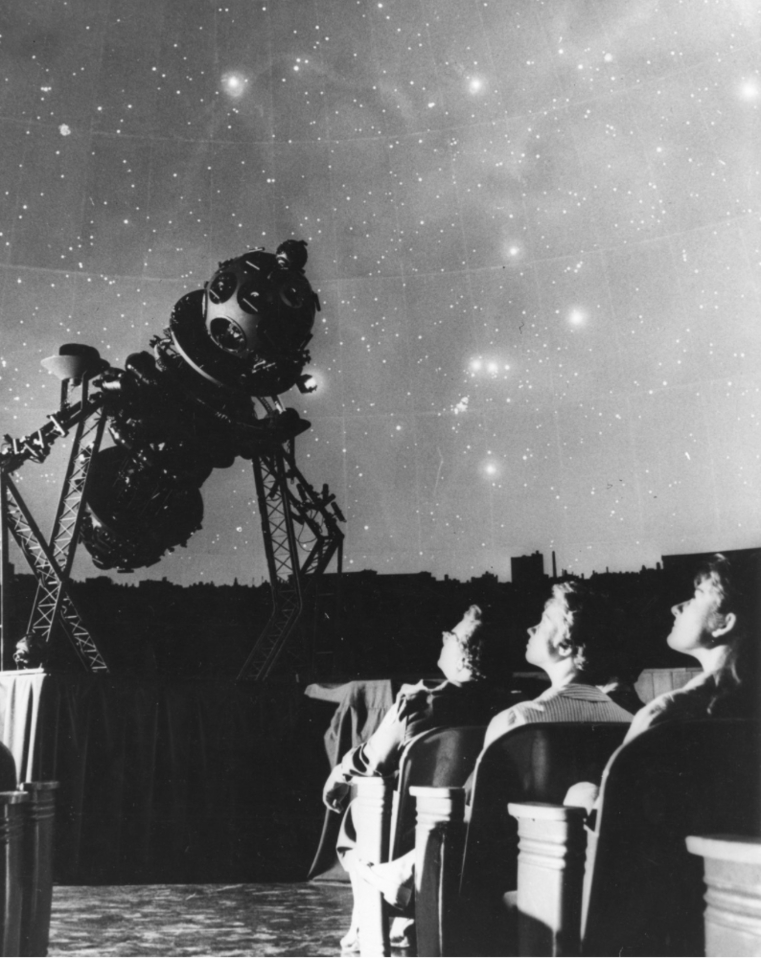 By 1968, Zeiss had released their newest large planetarium projector, the Model VI, and the Adler was in the midst of researching our next planetarium projector purchase. Coincidentally, that same year, William Clark, President of Observa-Dome in Jackson, Mississippi, approached the Adler to inquire if we'd be willing to sell our projector. Like many communities at the time, Jackson was attempting to access matching funding from the National Defense Education Act to purchase the projector. In order to meet funding timelines, Observa-Dome acted as a go-between, purchasing the projector from the Adler, and then selling it to Jackson.
December 31, 1969 was the projector's last day in operation. Technicians from Adler and Observa-Dome spent the next two weeks carefully disassembling the projector and crating it for shipping. The Adler's new Mark VI had arrived from Oberkochen, Germany, so we repurposed those crates to ship the projector to Jackson.
As previously mentioned, the Davis Planetarium opened in 1978, but with a Minolta S-IV projector. So why not the Zeiss? When the team in Jackson investigated the actual costs of re-constructing and updating the Zeiss, they found it would cost $230,000. When they reached out to planetarium manufacturers for new projector price quotes, they received an offer from Viewlex (then Minolta's US planetarium distributor) that was about $100,000 less than Zeiss repair costs. Viewlex also offered Jackson $30,000 in trade-in for the Adler's Zeiss. So, as a part of that sale, Adler's Zeiss was shipped to Viewlex's Long Island warehouse space, where it sat for the next year or two.
Then in 1980…
Viewlex Audio-Visual Inc. went bankrupt. The freight and storage company that owned their warehouse began calling up Zeiss planetaria around the country, looking for someone willing to purchase Adler's Zeiss. One of their calls was to Sam Mims, one of the two Planetarium Curators at the Louisiana Arts & Science Center in Baton Rouge. Realizing the danger of this historic artifact being scrapped, Sam assembled a few interested parties (including his co-curator Wayne Coskrey), and agreed to purchase the projector. After finalization of the purchase, the projector was shipped to Sam's father's chemical warehouse in Baton Rouge, Louisiana.
At this time, the Louisiana Arts & Science Center's planetarium was also a Zeiss Model III, originally installed as a Model II at Los Angeles' Griffith Observatory. But Sam and Wayne didn't have plans to use the Adler Zeiss for spare parts, they wanted to get it in the hands of someone who could properly preserve its historical value. For several years, the Baton Rouge group ran ads in a variety of astronomical and planetarium trade publications looking for a buyer. By 1987, they found that buyer. Don Greider, a solar engineer from Mechanicsburg, Ohio arranged to purchase Adler's Zeiss with the goal of re-assembling it in his workshop. That was the last time anybody outside of the Greider family saw, or heard about the Adler's Zeiss for over 20 years.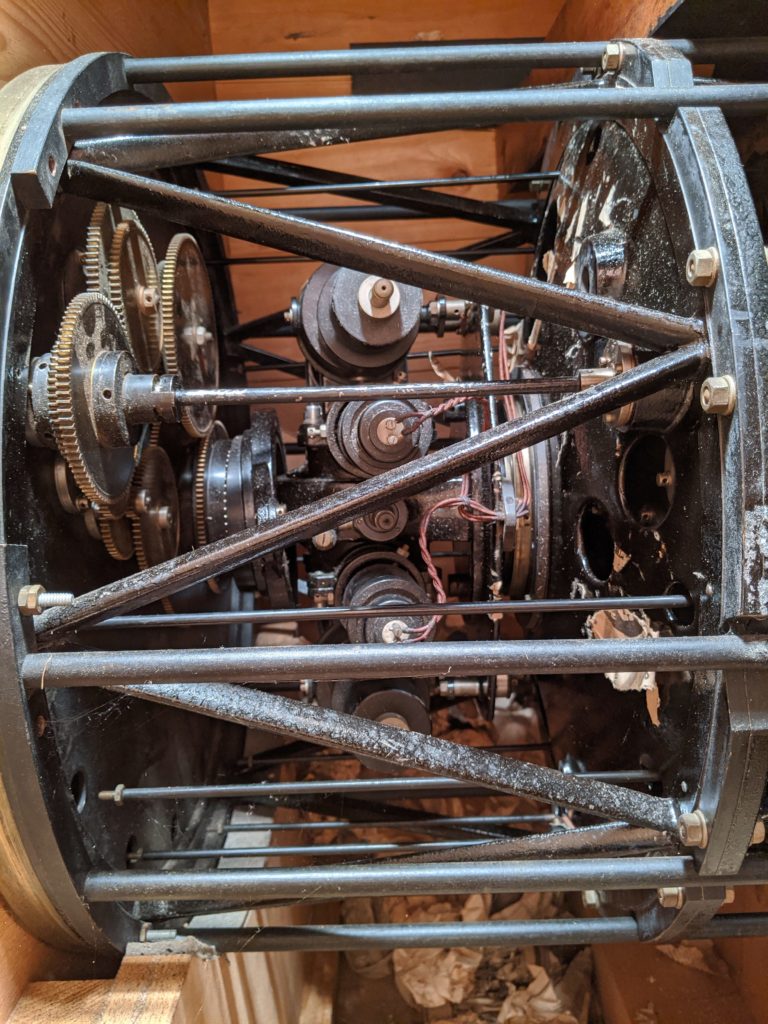 In the run-up to the 2008 Presidential election, the Adler was thrust into the political spotlight, as presidential candidate John McCain accused candidate Barack Obama of requesting a 3 million dollar earmark for the Adler to buy an 'overhead projector'. As a result, we found ourselves making numerous clarifying statements to the press about the differences between a classroom overhead projector and the latest in high-end planetarium technology.
Don Greider caught an NPR report about this, and gave Adler a call, offering his services in manufacturing replacement parts for the now almost 40-year old, Zeiss Mark VI. Don also mentioned that he had Adler's original Zeiss crated up in his barn/warehouse. This led to a series of phone calls, and even an in-person visit or two over the next few years, but by the end of 2012, Don had dropped out of communication.
Now, Let's Jump To 2020
On February 17, 2020, I received a voicemail, forwarded from the museum's main line. It was Don Greider's son, Ken. He was making arrangements to clear out the barn, and wanted to know if we were interested in purchasing our Zeiss. On February 29, a small group from Adler drove out to the Greider farm, southwest of Mechanicsburg, Ohio in an attempt to verify that it was Adler's Zeiss, and to inspect the condition of the parts. So what did we find?
We found a series of large wooden crates. Inside of them were the center axle, two planet cages, and two starballs from a Zeiss III projector. Using shipping labels on these crates, we could track their movement between the projector's various locations. We also discovered dozens of pieces of ancillary projection equipment: arrow pointers, constellation projectors, lamp housings, just to name a few. In the packing material surrounding the North planet cage, was a piece of the December 21, 1969 Chicago Tribune, confirming that this was Adler's long-lost Zeiss.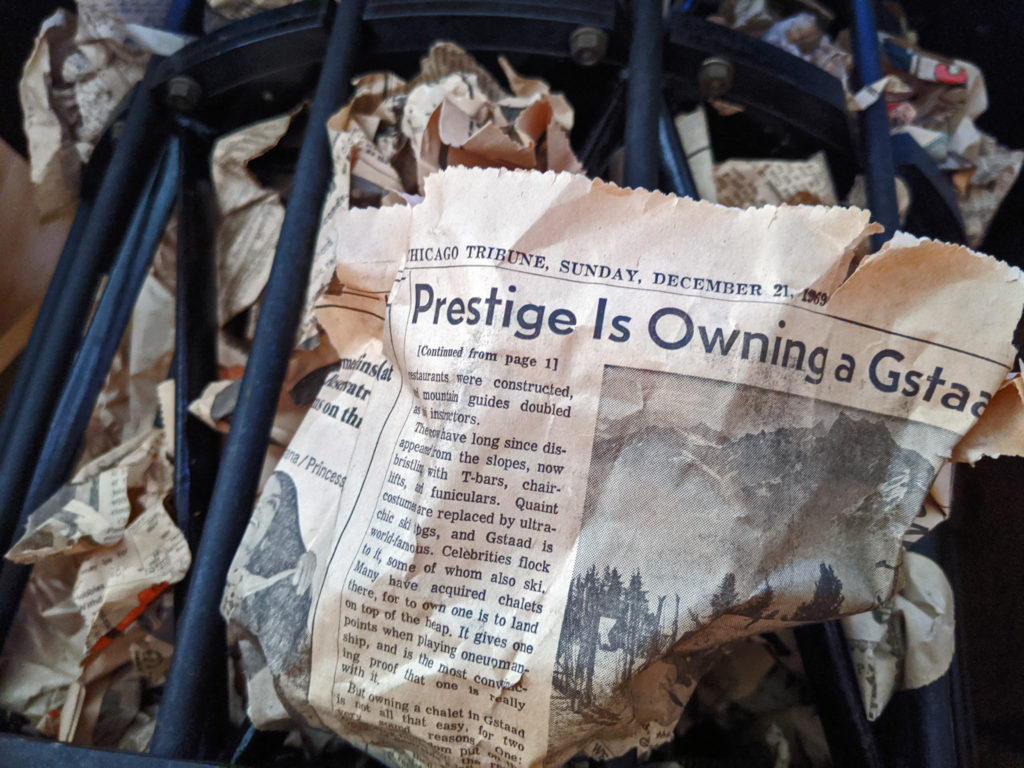 After a bit of back and forth, we settled on a price, and purchased our Zeiss projector back from the Greider family. We made a second trip to the farm in mid-June, to pack up as many of the small pieces as we could fit in our Adler van. The third and final trip was at the end of June; it was to oversee the removal of the final four crates. One crate had been stored outside and was already starting to decay, so the 3,000 pound center axle piece had to be removed. While investigating options for doing so, we discovered a handwritten 'Happy New Year 1970' message written on the inside of the crate, and signed by several Zeiss Planetarium factory employees. We made a point to remove and save this piece of the crate for the Adler's collection. After removing the center piece from the crate, our shipping contractor transported it to Columbus, Ohio where they re-crated it, and then shipped all four crates to the Adler's off-site storage warehouse in Chicago.
What's Next For The Zeiss Mark II
Since the return to Chicago, we've inventoried all the projector components, and now we're determining how we approach projector restoration. Our eventual goal is to reassemble the projector for public display at the Adler Planetarium. So, stay tuned! It's been an exciting journey already, and we're just getting started.