Mission Moon

Launch a stomp rocket, race against the clock to save the crew of Apollo 13, look inside the Gemini 12 spacecraft, and take a very personal journey into space with NASA's Captain James A. Lovell, Jr.
Mission Moon invites you to experience America's first steps into space through the eyes of Captain Lovell and his family. You'll find out how the United States became the first nation to put a man on the Moon, what it's really like to be an astronaut, and why it takes a team to explore uncharted worlds.
Captain Lovell's story is full of twists and turns, setbacks and successes. It's the story of a national hero, but it's also the story of a kid from Wisconsin who loved rockets. It's the story of a husband and father whose supportive family helped him become extraordinary.
Failure Is Not An Option
During their ill-fated journey, the crew of Apollo 13 faced a life-threatening situation when rising carbon dioxide levels in the lunar module forced them—with help from mission control—to design and build a special filter with on-hand materials.
Try your hand at building a filter out of off-the-shelf materials to save the mission! Learn more about this crisis and explore select objects from the mission in our updated Apollo 13 case, which includes Jim Lovell's Lunar Surface EVA Helmet, Apollo 13 Plaque, and more!
Apollo And The Next Giant Leap
Explore select Apollo-era objects in Apollo And The Next Giant Leap, an exhibition from NASA, including an Apollo 8 backup spacesuit and portable life support system (PLSS). Discover NASA's plans for the next giant leap as we set our eyes on returning humans to the Moon and Mars.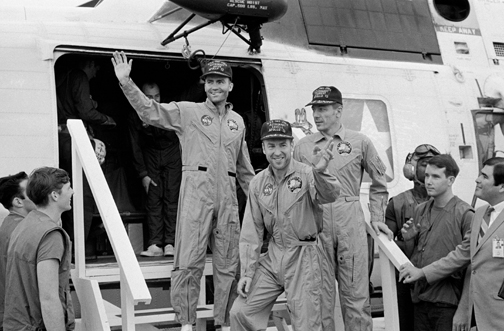 Deeper Exploration
PURCHASE TICKETS
Your all-access pass to our universe!