Eclipses Across Illinois

Eclipse obsessed? Catch two solar eclipses with the Adler Planetarium.
It's not every day that you get to see a solar eclipse from your backyard. The stars (well, one star, a planet, and a moon) are lining up to give us the opportunity to see two solar eclipses, six months apart! On October 14, 2023, and April 8, 2024, solar eclipses will be visible across North America, including here in Illinois. Learn how you can celebrate the Sun with us in the coming year at the museum and wherever you are! Let's get equipped to eclipse.
To stay up-to-date with all things solar eclipse, sign up for our emails and select "Eclipses Across Illinois + Solar Eclipse Info" as one of your interests.
Tell Me More About The Upcoming Solar Eclipses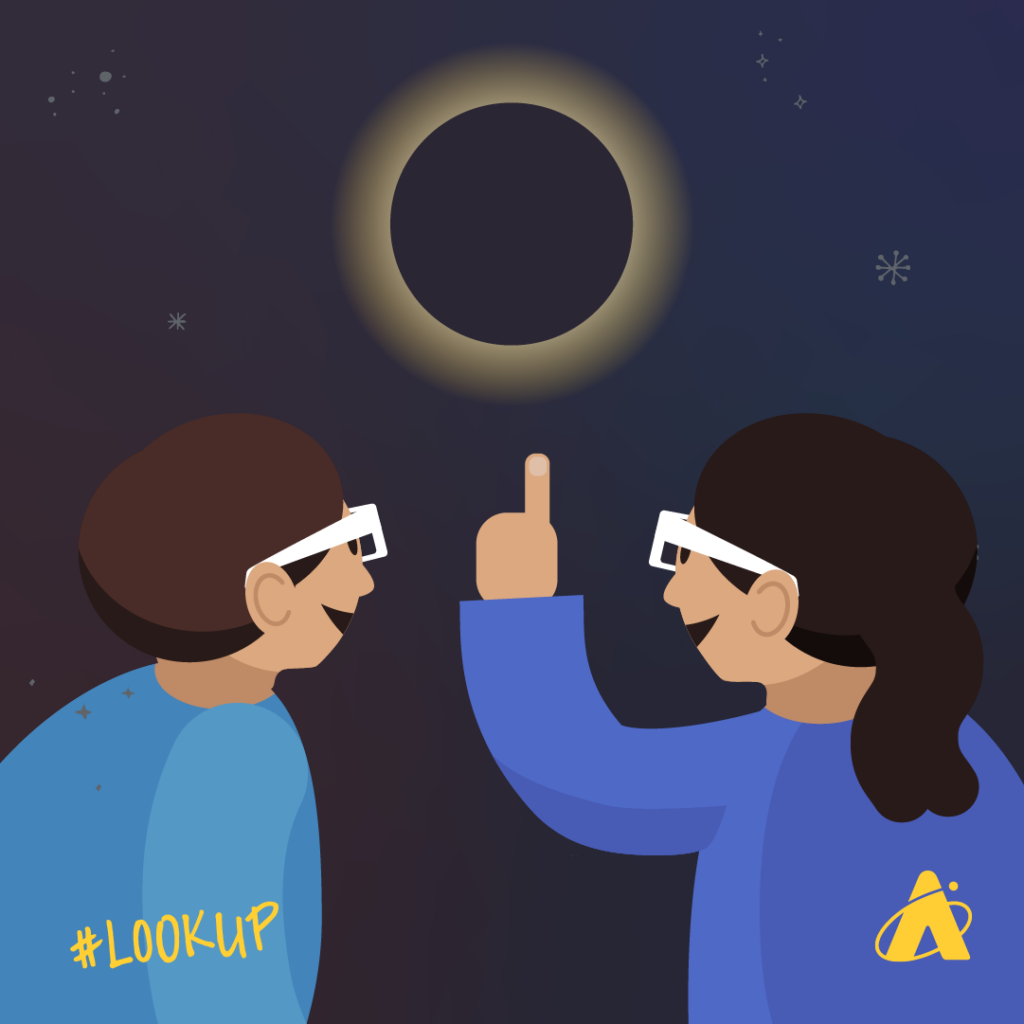 A solar eclipse occurs when the Sun, the Moon, and Earth line up, and the Moon (which is between the Sun and Earth) temporarily blocks the Sun's light. The kind of eclipse you see from your location depends on the Moon's orbital path across Earth's surface and how far away the Moon is from Earth and from the Sun.
There are three different types of solar eclipses: partial, total, and annular. A partial solar eclipse is when the Moon partly covers the Sun—it usually looks like a bite has been taken out of it! A total solar eclipse is when the Moon totally covers the Sun. An annular solar eclipse happens when the Moon appears a little smaller in the sky than the Sun, so it cannot fully block the Sun's rays. During an annular eclipse, you'll see a bright ring around the edges of the Moon with the Sun peeking out from behind it.
The solar eclipse on October 14, 2023, will be either an annular or partial solar eclipse depending on your location. The April 8, 2024, solar eclipse will either be a total or partial solar eclipse depending on your location. Learn what type of solar eclipse you'll be able to see (if it isn't cloudy, of course!).
How To Safely View Solar Eclipses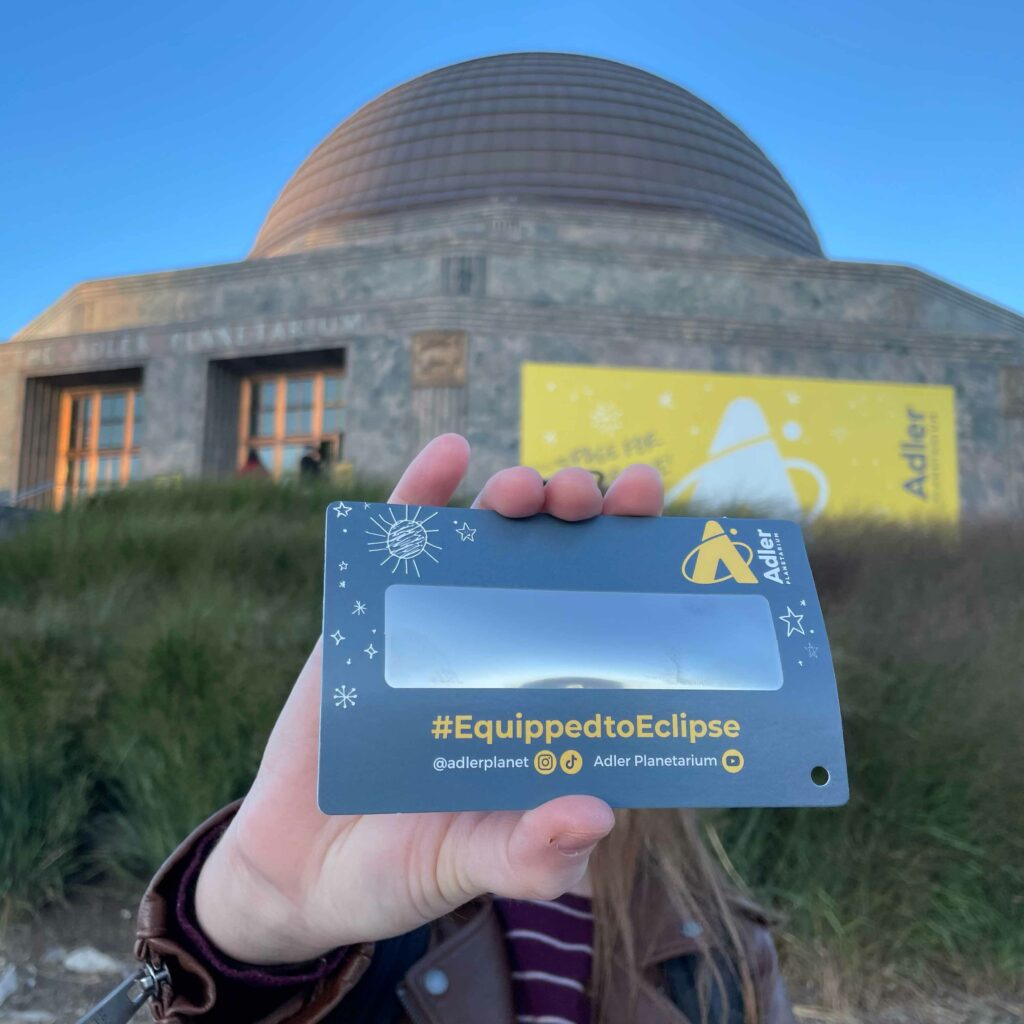 You must always use proper solar viewing equipment when looking up at any type of solar eclipse. Regular sunglasses are NOT safe for viewing an eclipse, and irreversible eye damage can occur in seconds.
Certified solar viewing glasses or viewers are the best way to protect your eyes so you can look up during an eclipse! 
From now through April 8, 2024, buy or renew a Star Pass and receive a free solar eclipse viewer that can be used to view the Sun safely during the upcoming October 14, 2023, and April 8, 2024, solar eclipses. Limit of one viewer per order, while supplies last. Just show your Star Pass purchase or renewal confirmation email to a member of our Space Shop staff on the upper level of the Planetarium to redeem.
You can also purchase solar glasses from our Space Shop (starting in late September).
If you can't get your hands on a solar viewer or pair of solar glasses, make a pinhole projector to see the eclipse!
Eclipse Encounter '23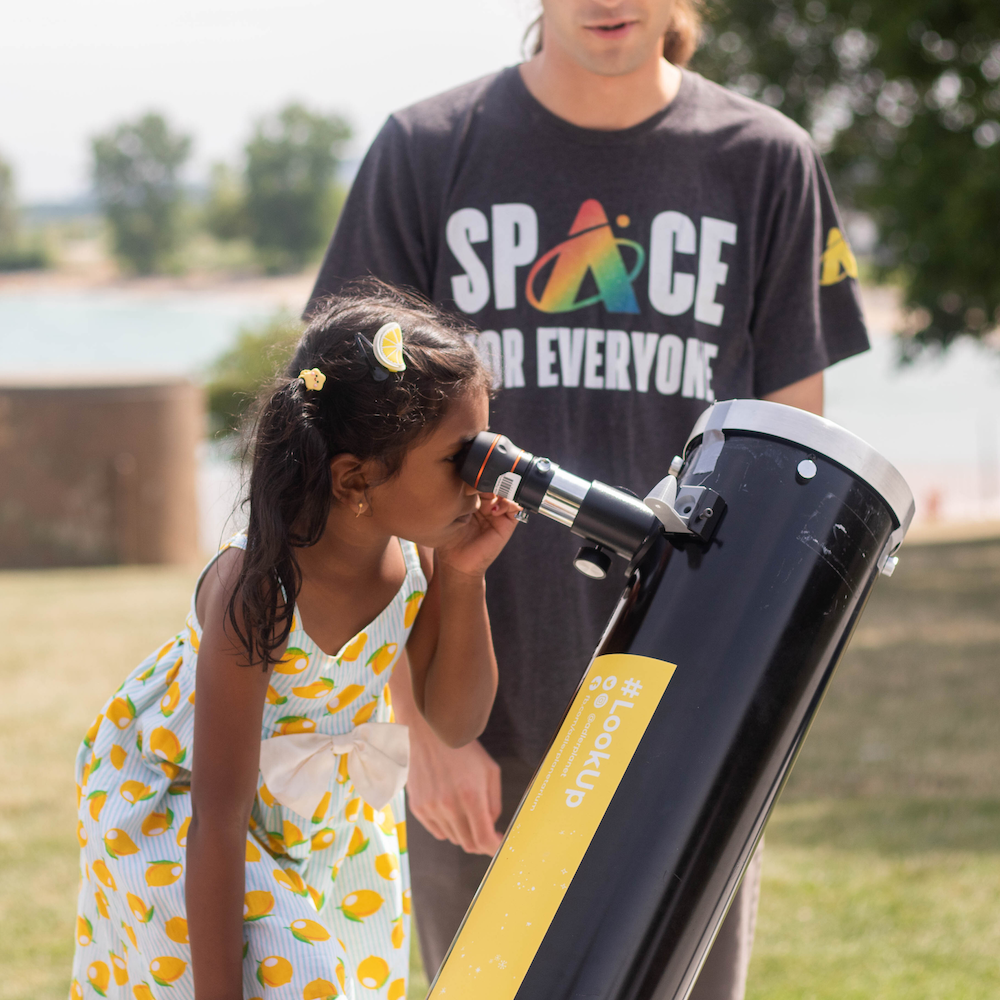 Celebrate the annular solar eclipse this fall at the Adler Planetarium! On October 14, 2023, everyone's favorite star (the Sun) and our rocky celestial neighbor (the Moon) are lining up to give us an opportunity to see a partial solar eclipse from Chicago.
During our free outdoor Eclipse Encounter '23 event, we'll have activities around the outside of the planetarium where attendees will be encouraged to walk around, hang out, and observe the sky while the eclipse is happening.
Tickets are not required for this free outdoor (weather dependent) event. The Adler Planetarium will be open regardless of the weather—all tickets for Museum Entry to go inside the planetarium must be bought online, in advance of your visit and all sales are final.
Astro Road Trip
We're packing up our solar observing telescopes, putting gas in the Adler van, and heading down to Southern Illinois in 2024!
During Astro Road Trip, our astronomy educators will visit libraries, schools, restaurants, and science centers where you can participate in hands-on astronomy activities and (weather permitting) look up at the Sun through our specialized solar-filtered telescopes.
Southern Illinois University Eclipse Event
Stay tuned for more information about a public solar eclipse viewing event with the Adler Planetarium at Southern Illinois University for the April 8, 2024, total solar eclipse.
Watch The Wow! Signal Space Comedy About Solar Eclipses
Wow! Signal returns with a (safely filtered, mostly musical) look at solar eclipses! In this episode, Meredith's friends won't let her look directly at the Sun for some reason; a raccoon is late for work (or IS he?); a sparkly dancer finally gets the attention he deserves when the Moon blocks out the Sun; three bros pick the perfect solar event to hit up this weekend; a solar eclipse ruins a potentially great love story; and we send a little love to partial solar eclipses.
Thanks To Our Sponsors
Our solar eclipse project is made possible in part by ITW, ComEd & Exelon, and the Institute of Museum and Library Services MA-251510-OMS-22.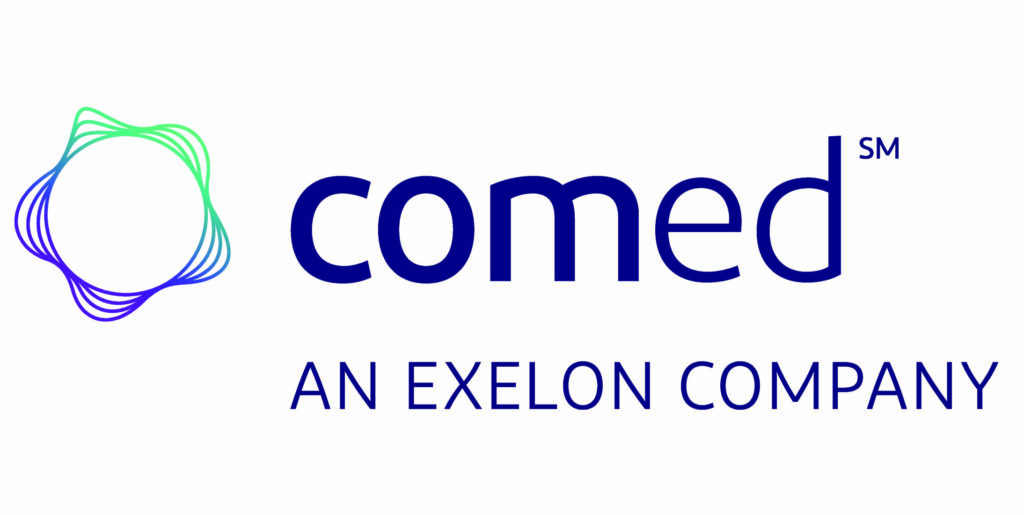 PURCHASE TICKETS
Your all-access pass to our universe!