10 Things At The Adler Planetarium You Don't Want To Miss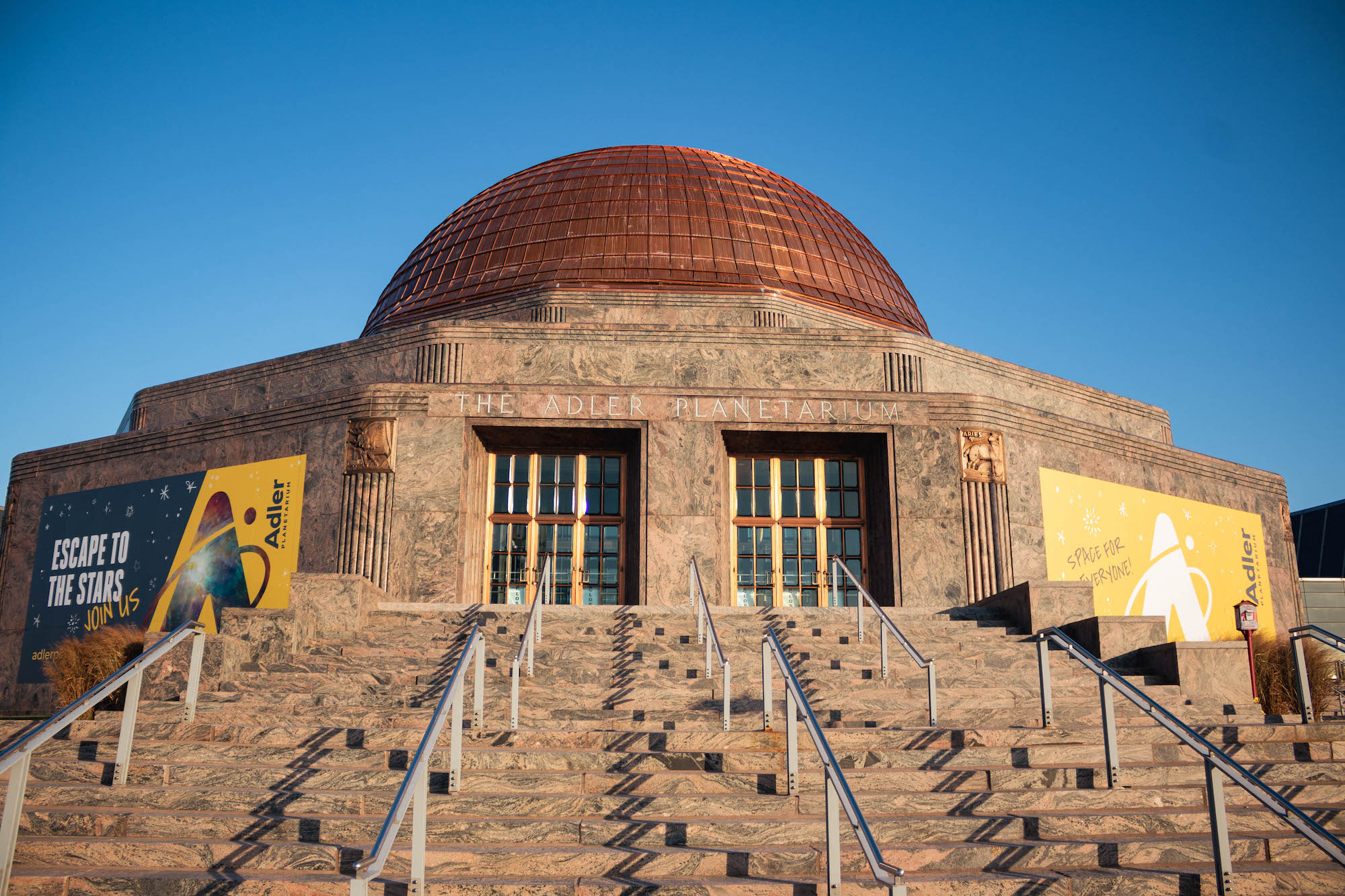 Header Image: Adler Planetarium December 2021.
Editor's Note: Updated in January 2023 to reflect more current and updated exhibit information.
As the first planetarium in the Western Hemisphere (and one of the historic attractions located on Chicago's Museum Campus) we've got some pretty stellar exhibits you don't want to miss during your visit! Read on to check these experiences off your Chicago museum bucket list and learn some behind-the-scenes tidbits along the way.
#1 Our Newest Exhibit: Chicago's Night Sky
Did you know in a dark sky, you can see about 4,500 stars with the naked eye, but in Chicago's sky, you can see only about 35? Debuting in 2019, this exhibit explores the wondrous human tradition of looking up through artwork and astronomical objects, while also showcasing the work Adler Teens have done to raise awareness about light pollution and protect our dark skies. Our historic Atwood Sphere—aka the oldest operating sky simulator in the world—is located in this exhibit, and gives you a look at Chicago's starry sky back in 1913.
#2 Sky Shows Under A Dome Theater
One of the coolest things about the Adler Planetarium is that we have not one, but two dome theaters! Fun fact: we were also the first planetarium in Chicago to open a dome theater back in the day. When you step inside a planetarium dome theater and take a seat, you become immersed in spectacular space visualizations that transport you across time and space. Imagine the Moon is a sky show that explores how the Moon has inspired human creativity, learning, and exploration ever since we have looked to the sky. Skywatch Live! turns down the city lights and cranks up the stars to show you the night sky over Chicago like you've never seen it before. Pluto is not our solar system's ninth planet, but might there be another planet lurking in the outer depths of our solar system? Watch the sky show Planet Nine to find out!
#3 Say Cheese and Take A Selfie
We love our solar system, you love learning about our solar system, so we have an entire exhibit dedicated to our celestial neighbors! When exploring Our Solar System, there are a couple of awesome selfie spots where you can take pictures with large models of Saturn, Jupiter, Neptune, and Uranus hanging from the ceiling. Don't forget to stop by the real meteorite from the Arizona desert and snap a picture with it. There are eight different Selfie Spots around the museum—can you find them all?
#4 Astronomical Objects Everywhere
The Adler has the best and most comprehensive sundial collection in all of North America, but we also have a ton of other collections objects too! You can learn about different cultures through these objects like astrolabes and celestial globes on display. We've also got a lot of space artwork featured throughout the museum. In Chicago's Night Sky there is a stellar piece of artwork by Frederick J. Brown titled, "Milky Way." This work of art weighs in at about 375lbs. To secure it to the wall we used a series of special hooks and 5 staff members to lift it up!
#5 The Doane Observatory
Did you know the Doane Observatory is home to the largest publicly accessible telescope in Chicago? Since opening in 1977, the observatory in Chicago has had several telescopes within its walls, and these telescopes have given Chicagoans the opportunity to look up at the Sun, the Moon, stars, nebulae and planets despite light pollution's interference in the city. The Doane is open (weather permitting) during select Adler at Nights throughout the year. To know when the Doane will be open, join our Facebook Group. You can also check in at the box office on the evening of your visit to inquire about the availability of the Observatory.
#6 Spaces For Collaboration, Curiosity, and Experimentation
Around the Planetarium are several Community Design Labs that are flexible spaces for guests to learn through play, test ideas, create art, and reflect. The Community PlayLab is located in the Planet Explorers exhibit and is great for children six and under and their families. The Community Star Studio is located in the Chicago's Night Sky exhibit and is great for all ages! Each space is open from 10:00 am–2:00 pm Tuesday, Thursday, and Friday–Sunday pending staff availability.
#7 Architectural Secrets
In 1930—the year the Adler Planetarium opened—Italian-American sculptor Alfonso Iannelli built and installed a dedication plaque in what is known as our Rainbow Lobby. To get into the museum, you walk up the front steps and pass through this lobby! Why is it called the Rainbow Lobby you ask? Around sunset every single day, the Sun's rays pass through our glass angled prism-like front doors causing the light to bend and the colors in the Sun's light to spread out, creating lots of tiny rainbows! Fun fact: the Rainbow Lobby's dedication plaque is not the only sculpture around the building created by Alfonso Iannelli. Outside and inside the Planetarium are 12 zodiac constellation plaques that match the Rainbow Lobby's plaques that depict the planets!

#8 An Out-Of-This-World Stomp Rocket
Located in our Mission Moon exhibit, there is an interactive stomp rocket where you can build your own foam rocket and try to send it up as high as you possibly can through the atmosphere (aka a very large tube)!
#9 Brand New Telescope Terrace
Our new telescope terrace is located to the right of the Accessible Entrance of the Adler Planetarium! When the skies are clear and the weather is nice, our public observing educators and telescope volunteers will be out on the terrace with small 'scopes for daytime observing fun.
#10 City Views
There's lots to look at on the inside at the Adler, but what about the outside? We've been located on Chicago's lakeshore for almost 93 years, and the views of the city are unbelievable! Fun fact: there is a huge sundial out in front of the Adler. Have you seen it before?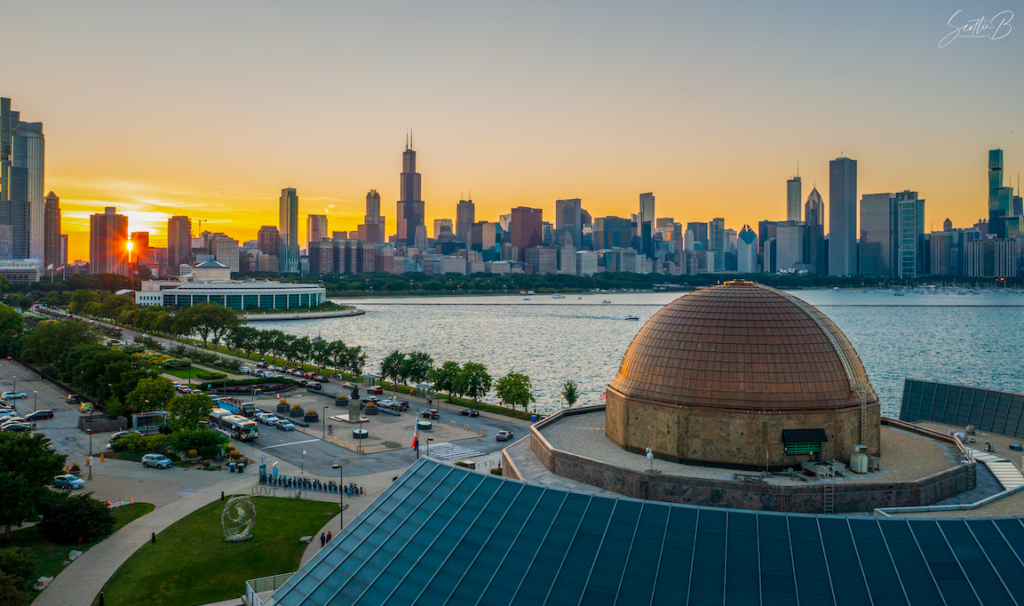 Choose Your Space Adventure—Get Tickets
Tickets for your next space adventure are on sale now!