Different Types Of Solar Eclipses Explained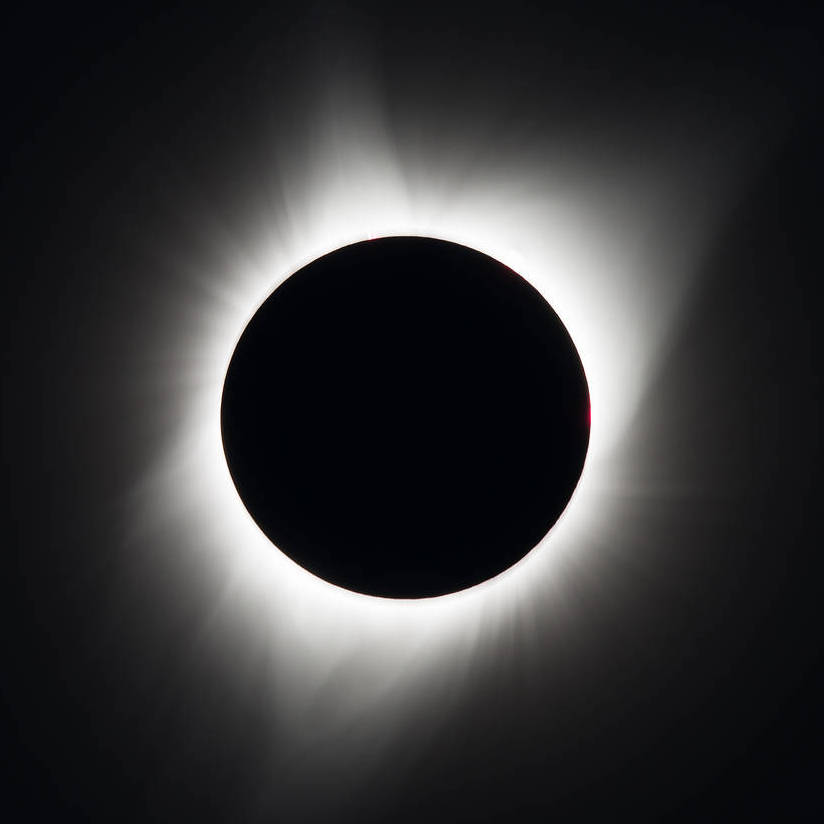 Header Image: A total solar eclipse seen on August 21, 2017 above Madras, Oregon, USA. Image Credit: NASA/Aubrey Gemignani
It's eclipse season! Here at the Adler Planetarium, we've been busy getting ready for not one, but TWO solar eclipses that will grace our skies in 2023 and 2024. The first solar eclipse we'll see is an annular solar eclipse on October 14, 2023. Then on April 8, 2024, parts of North America will have a chance to see a total solar eclipse!
But what exactly is a solar eclipse? And what are the different types of solar eclipses? Let's talk about it!
What Is a Solar Eclipse?
A solar eclipse is a temporary lineup of the Sun, Moon, and Earth, where the Moon blocks our view of the Sun. Solar eclipses occur when sunlight falls on the Moon, casting a shadow into space. When the Moon's shadow happens to fall on the Earth, those who are within the region where the shadow falls will see an eclipse!
But not every Sun-Moon-Earth alignment will cause a solar eclipse. It will only cause an eclipse when the alignment lands on a new Moon. New Moons occur when the Moon is between Earth and the Sun—the same alignment that creates a solar eclipse.
Do we get a solar eclipse at every new Moon?
Nope! The Moon's orbit around Earth is angled a little with respect to Earth's orbit around the Sun. Because of this angled orbit, the Moon's shadow at new Moon usually misses the Earth. When the Sun, Moon, and Earth line up just right and the Moon's shadow falls on the Earth, then we see a solar eclipse!
What Are The Different Types Of Solar Eclipses?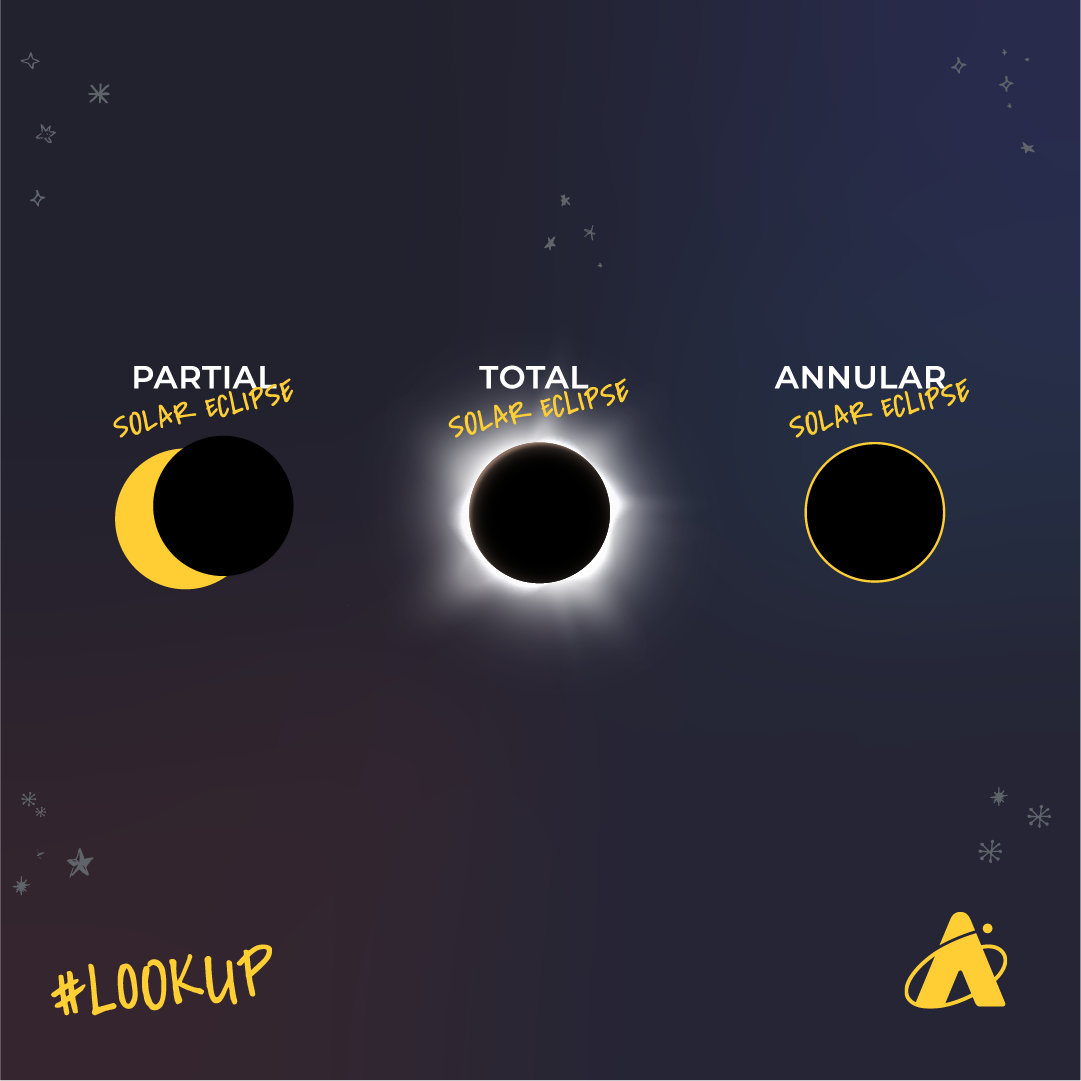 A total solar eclipse occurs when the Moon appears to completely cover the Sun. This phenomena happens when the Moon is close enough to Earth in its orbit that it appears big enough to fully cover the sun, creating a total solar eclipse!
An annular solar eclipse occurs when the Moon is farther away from Earth in its orbit, making it appear smaller than the Sun. This creates a ring of light around the Moon as it eclipses the Sun. The term annular comes from the Latin word annulus, which means ring.
The Earth-Moon distance varies by about 12%, and the Earth-Sun distance varies by about 3%. The result of those changing distances means that the apparent sizes of the Moon and Sun in our sky both change a little bit. Sometimes, the Moon appears large enough to fully cover the Sun and we get a total eclipse. Sometimes, the Moon isn't large enough to fully cover the Sun, and we get an annular eclipse.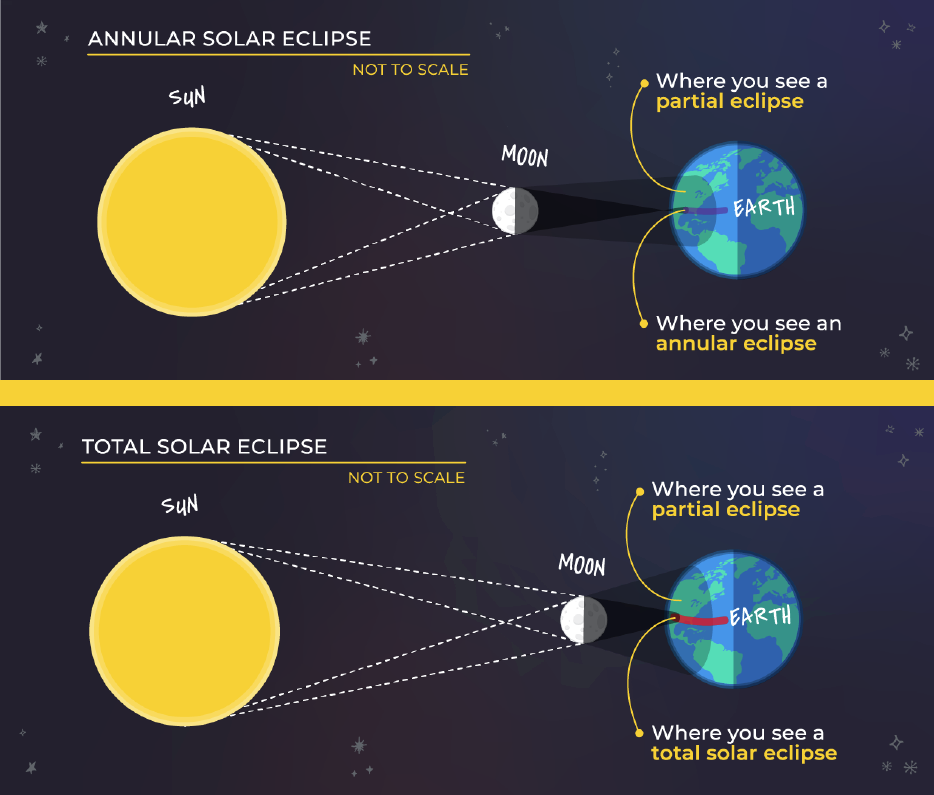 Now, what about a partial solar eclipse? A partial solar eclipse is when the Moon partially covers the Sun, almost like someone has taken a bite out of it! A partial solar eclipse will occur during a total solar eclipse in areas outside of the path of totality. Similarly, they can also occur during an annular solar eclipse, in areas that are surrounding the path of annularity.
Not everyone on Earth will see a solar eclipse when it occurs. The specific Sun-Moon-Earth lineup is temporary, so your part of Earth needs to be facing the Sun when the lineup occurs AND you need to be somewhere within the shadowed area to see it.
Learn about the differences between solar and lunar eclipses here!
How To Safely View The Upcoming Solar Eclipses
Much of North and South America will be able to see the annular solar eclipse on October 14, 2023, also known as the Great American Eclipse. In the Chicago area, we see a partial solar eclipse. In Illinois, it will begin at 10:27 am CDT and end at 1:22 pm CDT. Not in Illinois? Check out this map to determine when you'll see the eclipse in your city.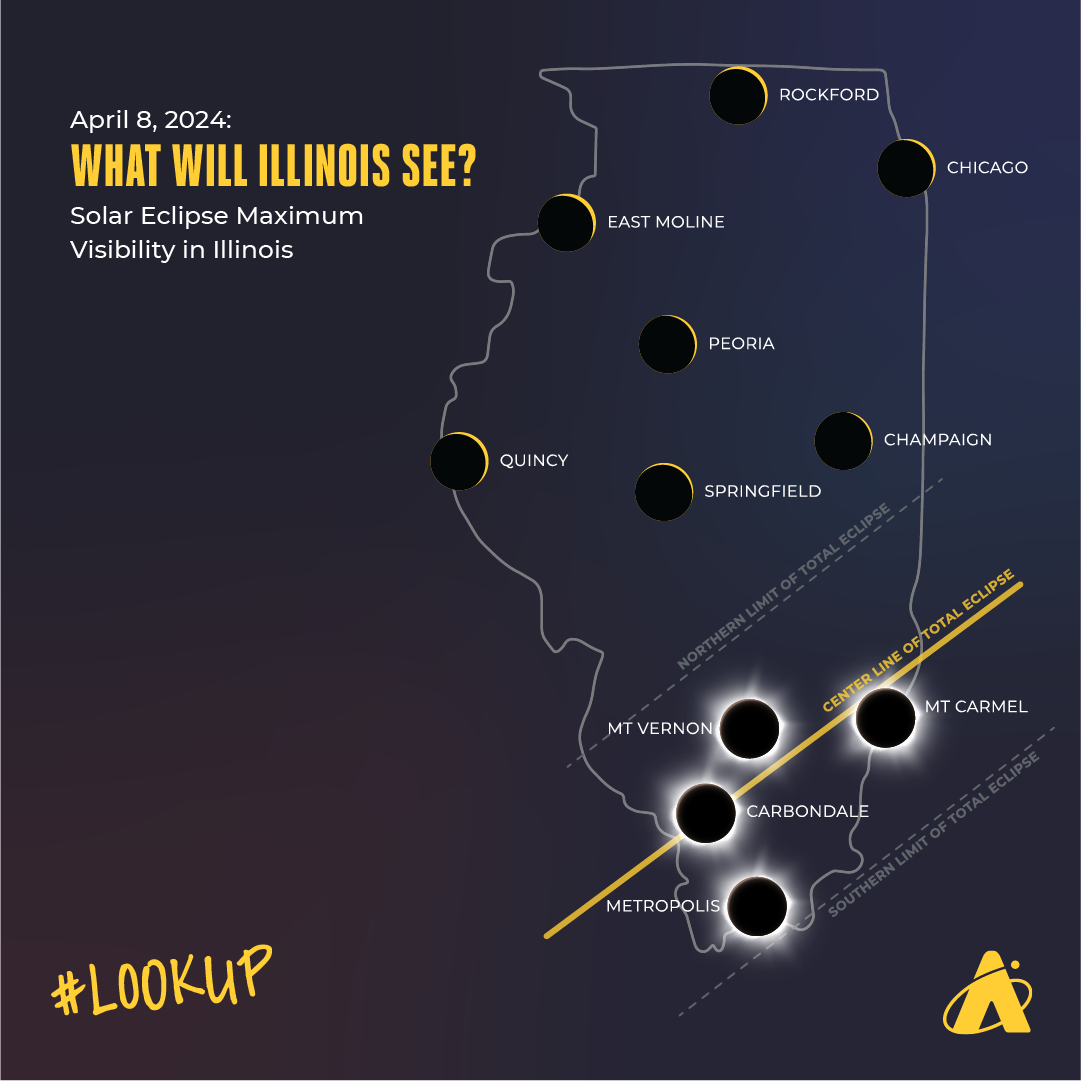 Much of North America will see the total solar eclipse on April 8, 2024. In the state of Illinois, the path of totality will pass through the southern end of the state! While Chicago will not see totality on April 8, 2024, cities such as Carbondale, Mount Vernon, Mount Carmel, and Metropolis, will reach totality. The total eclipse will begin around 1:59 pm CDT in Illinois and last for about 4 minutes.
To view ANY of the different types of solar eclipses, you will need proper solar viewing glasses to safely view the Sun. Do not look directly at the Sun without certified solar eye protection.
If you have glasses or viewers left over from the 2017 solar eclipse, only use them if you have stored them away from light, heat, and humidity and you are certain they do not have any pinholes or punctures. If you aren't sure if your viewers are safe, when in doubt, buy new ones.
Need a new pair of viewers? From now through April 8, 2024, buy or renew a Star Pass and receive a free solar eclipse viewer that can be used to view the Sun safely during the upcoming October 14, 2023, and April 8, 2024, solar eclipses. Limit of one viewer per order, while supplies last. Just show your Star Pass purchase or renewal confirmation email to a member of our Space Shop staff on the upper level of the Planetarium to redeem. Or you can buy solar eclipse glasses from our Space Shop.
If you can't get your hands on a solar viewer or pair of solar glasses, make a pinhole projector to see the eclipse!
Learn (And Laugh!) About Solar Eclipses
Who said science isn't a laughing matter? Take a safely filtered, mostly musical look at solar eclipses in everyone's favorite space comedy show, Wow! Signal. Laugh, sing along to catchy original songs, and oops, you might just learn something new!
Learn From Our Astronomy Educators 
Watch exclusive live episodes of Sky Observers Hangout! Learn how to observe upcoming cosmic happenings, enhance your astrophotography skills and see celestial objects through a telescope virtually with our astronomy educators. Check out Michelle and Hunter's latest episode, Solar Observing Live. With the help of specialized solar viewing telescopes, our astronomy educators show you our favorite star up close, like you've never seen it before!
Check Out Our Online Exhibit About Everyone's Favorite Star
The Sun rules over our planetary system and is our main source of light and heat. It occupies a prominent place in cultures around the world, has shaped our sense of time, and remains a gateway to better understand the universe. Join the Adler in celebrating the Sun and solar observing throughout the centuries.
Want A Little Sunshine In Your Inbox? 
To stay up-to-date on all things solar eclipse, sign up for our email list and select Eclipses Across Illinois + Solar Eclipse Info. You'll be the first to hear about eclipse related news and all of our solar eclipse offerings!